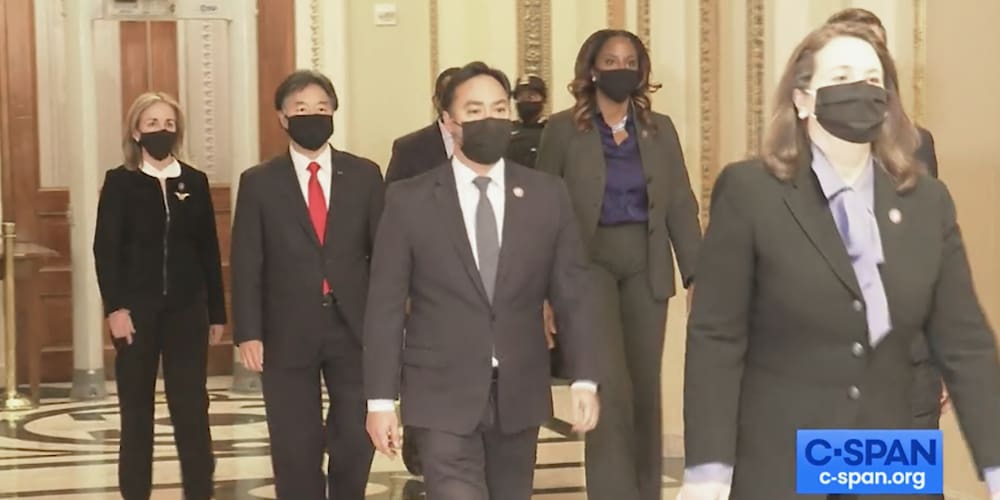 As Virgin Islanders tuned in to the State of the Territory address Monday night, V.I. Delegate to Congress Stacey Plaskett was on a more somber mission, taking part in the delivery of an article of impeachment from the House to the U.S. Senate.
It was a solemn moment, said Plaskett, who is one of nine impeachment managers selected by House Speaker Nancy Pelosi to preside over the Senate trial of former President Donald Trump. That trial is slated to start on Feb. 8.
Her thoughts during that walk, through halls that had been overrun by a violent mob on Jan. 6 as Congress moved to certify the election of President Joe Biden, were mixed.
"One, recognizing that I was walking through a crime scene as I was going from the House over to the Senate, and really feeling very solemn about what an absolute sad event to have to be a part of, to have to accuse and bring an impeachment article over to the Senate for a president of the United States who basically attempted to overthrow our government," Plaskett said.
"And also, in awe that we live in a time in America, and people have elected me, and the speaker would honor me, to be a part of that group," Plaskett said. "A young girl who grew up in the Kennedy projects in St. Croix and the projects in Brooklyn, to be named as one of the prosecutors of the president of the United States and to be with colleagues who look so much like America – to be doing that was just an incredible feeling."
Now, with the clock ticking down to the trial's start, the team is ramping up its preparations, Plaskett said, speaking by phone from Washington, D.C., late Monday night.
"We're working as a group. I can't really talk about the specifics of it, but we're going to be using these two weeks to prepare even more than we already were for the trial when it commences, and to ensure that the 100 members of the Senate hear the details of the crime that they not only witnessed but were actually victims of," said Plaskett.
As for whether she thinks that 17 Republican senators will be persuaded to join their Democratic colleagues to provide enough votes to convict Trump, Plaskett was noncommittal. "People want the answers to this, but we're really just focused on preparing for the trial," she said.
"Now that the articles of impeachment are over there, I will be putting my head even further down to ensure that we make the best presentation, so none of us are really trying to have conversations about the details of what we are going to be doing, we just want to focus on preparing ourselves so we represent the people of America appropriately in the Senate," said Plaskett, who asked for continued "positive energy and prayers for myself and our team and our families as we go through this."
Given her impeachment duties, Plaskett had time to catch just the tail-end of Gov. Albert Bryan Jr.'s State of the Territory address on Monday evening, though she had read the speech.
"I was really heartened to hear the number of projects that he believes are shovel ready, the range of work that's going to be done. I'm really hopeful that Virgin Islanders will be able to benefit from this, in terms of jobs, in terms of contracts, to ensure that those actually come to fruition and are completed. But also, really very grateful and proud of my team who worked so hard to ensure that the governor had the funds to be able to do so many of these projects," Plaskett said.
She and her staff "spent many sleepless months" to ensure the territory received funding for its damaged infrastructure after hurricanes Irma and Maria in 2017, Plaskett said, and again when the COVID-19 pandemic struck, ensuring not just testing capacity and vaccinations, but also addressing issues such as computer tablets for students to be able to continue their schooling remotely.
"In this last round of coronavirus funding, the Virgin Islands Department of Education will be receiving $69 million to ensure that young people, our teachers and staff can get back to campus safely or be involved in hybrid learning, and supporting families as they are attempting to create some normalcy in their lives after the COVID pandemic," she said.
"I thought that the report was very comprehensive, and I know that the governor is working on a lot of other things as well," Plaskett said. "I was glad that he mentioned that rather than always looking to the federal government, that he talked about the fact of the local government needing to tighten their belt-straps. To be more aggressive even in terms of tax collection, which they've done an excellent job, and to have new revenue streams, new businesses, new revenue coming in. I would love to see the specifics of what some of those might be. That would be just one area that I would be happy to support him with."
While she declined to comment on Bryan's call to merge the V.I. Port Authority and the West Indian Company Ltd. – "I'm waiting to see the details," she said – Plaskett expressed optimism about the year ahead, given the many projects on tap for the territory.
"As the governor said, we have huge opportunities to be an incredible example in the Caribbean," said Plaskett. "We'll be able to be much more resilient, with not just new, but resilient infrastructure that I think can be an example to other islands. I talk with the prime ministers of other Caribbean countries who are really envious of our plans and what the American government is able to support us with," she said.
At home, "I also look forward to working with the governor to create support for our young people, so they can have opportunities," said Plaskett. "We have so much support in broadband that's coming in, in alternative energy and solar systems, that we need to not only be an example to the Caribbean but also use that as a basis and foundation to grow our economy to support local new businesses as well."
As for a letter she sent to Biden on Friday, seeking to replace U.S. Attorney Gretchen Shappert, a Republican appointee under Trump, the delegate said, "Let me just suffice it to say that the U.S. attorney position in every district is a political position, and elections have consequences," said Plaskett.
"Which means that, in all administrations, the U.S. attorney leaves, offers their resignation or is removed when a new president comes in. So, for people to think that that wouldn't happen in this instance, it's inappropriate. We have a new president who is a Democrat. U.S. Attorney Shappert was appointed by a Republican president, and now it's time to turn the leaf and enter a new chapter," Plaskett said.