V.I. nurses' unions have dropped their months-long civil complaint seeking a permanent injunction against the COVID-19 vaccine mandate at the territory's hospitals.
The decision comes in a proposed order filed jointly Tuesday in V.I. Superior Court by the unions and the defendant in the case, the V.I. Government Hospital, and Health Facilities Corporation. In it, they ask Judge Harold Willocks to dismiss the case without prejudice, with each side to bear their own legal costs and fees.
Willocks had not ruled on the proposed order as of Tuesday evening. To dismiss a case without prejudice means it may be brought again, though, in recent months, the unions had missed several court deadlines to file a first amended complaint or face dismissal.
The complaint was brought in August by the V.I. State Nurses' Association Collective Bargaining Unit and the Registered Nurses' Leadership Union, who claimed a COVID-19 vaccine mandate imposed on hospital workers that same month by the Government Hospital and Health Facilities Corporation violated their collective bargaining rights.
The mandate, adopted on Aug. 4, required hospital employees to either get vaccinated against the virus or request an exemption for medical or religious reasons by Oct. 1 or face termination.
Instead of a vaccine mandate, the unions proposed other measures to prevent the virus, including proper use of personal protective equipment, sanitization stations, separation of COVID and non-COVID areas, indoor ventilation systems, social distancing protocols, employee education, and regular testing.
They also warned that the mandate would result in crippling staff shortages at the territory's two hospitals as those unwilling to take the vaccine would either quit or be fired.
Nurses, other hospital workers, and their supporters mounted protests against the mandate outside the hospitals on St. Croix and St. Thomas, though they were short-lived.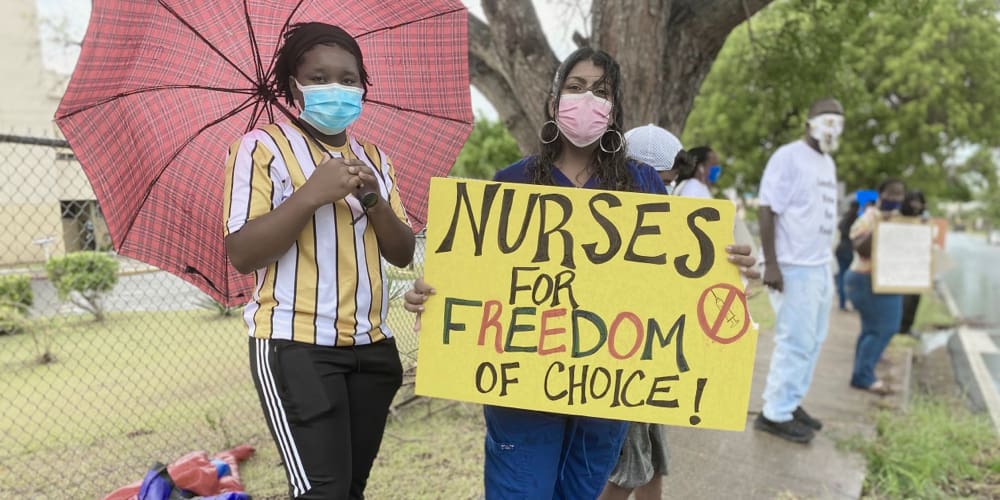 For its part, the government asked multiple times for Willocks to dismiss the case, though he denied those motions and granted extensions to the plaintiffs to file a first amended complaint to comply with V.I. Code governing labor disputes, essentially establishing that the unions had exhausted mandatory administrative procedures in seeking the temporary restraining order, preliminary injunction, and permanent injunction.
The government contended that filing an amended complaint was futile, as the court had ruled that the matter was a labor dispute and jurisdiction was limited, but also because the vaccine mandate was already in full effect, and more so, the hospitals were under a federal order to ensure healthcare workers were vaccinated or lose Centers for Medicare and Medicaid funding.
"This case was initiated on or about August 4, 2021, as an emergency action to enjoin a policy from taking effect. In the interim, the challenged policy has taken full effect," the hospital corporation wrote in a Feb. 3 response to the unions' motion for another 30-day extension to comply with the court's order.
"Indeed, the VIGHHFC is also now under federal mandate – recently upheld by the United States Supreme Court – to ensure that all of its healthcare workers are vaccinated (by January 5, 2022) as a condition of continued employment or risk losing all federal funding to its hospital facilities from the Centers for Medicare and Medicaid Services ('CMS')," it said.
Chris Finch, chair of the V.I. Government Hospital and Health Facilities Corporation, said Tuesday that the territory's hospitals were in no position to forgo CMS funding, which comprises two-thirds to three-quarters of their revenue, and that the vaccine mandate it initiated in August met federal standards to enable it to continue to receive that money.
Today, about 90 percent of Schneider Regional Medical Center employees and 80 percent of Gov. Juan Luis Hospital employees are vaccinated, said Finch, with the remainder receiving exemptions.
The Source sought information on the number of hospital employees who were terminated under the vaccine mandate but did not hear back by the time of publication. It also reached out to Scot McChain, attorney for the nurses' unions, but did not receive a return call.