St. Thomas/St. John Interscholastic Athletic Association basketball season came to an end on Thursday as Charlotte Amalie High School Varsity Girls basketball team, and the Ivanna Eudora Kean High School Boys basketball team were crowned champions.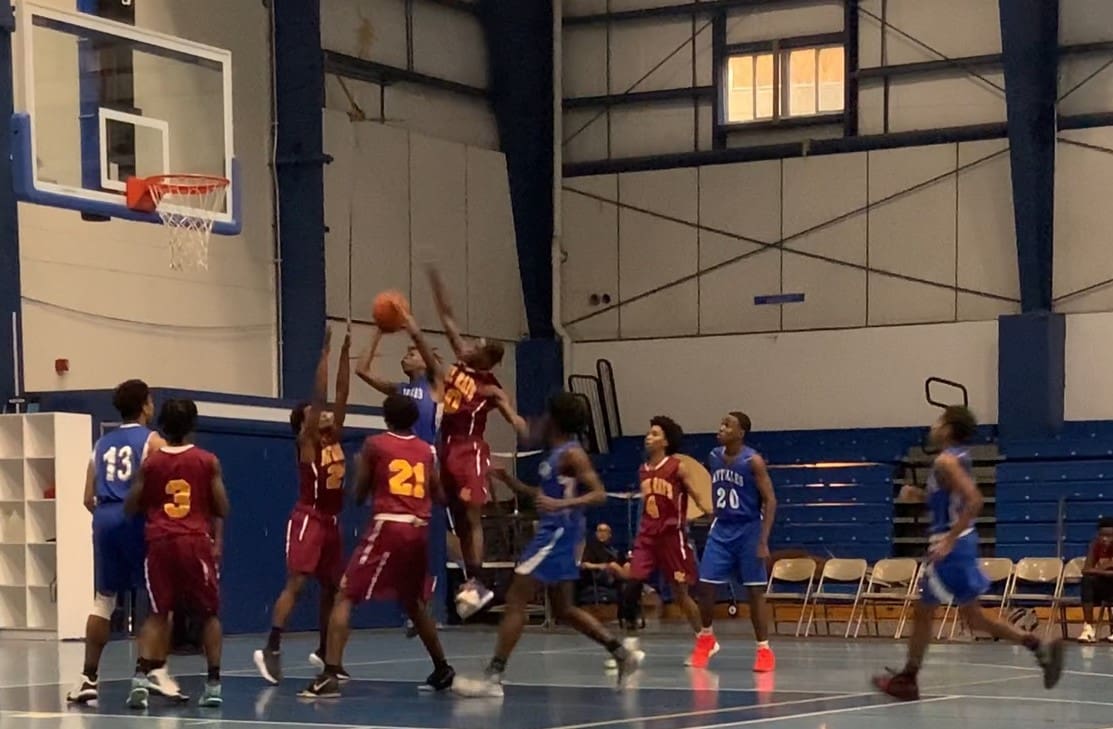 Varsity Girls Championship Series – Game 2 – CAHS 45 – IEKHS 31
Jahnesha Gomez, CAHS, saved her best game for the final game of the year as she scored 26 points and corralled 12 rebounds to lead the Charlotte Amalie High School Lady Hawks to the 2022 St. Thomas/St. John IAA Championship. The Hawks got off to a slow start trailing Ivanna Eudora Kean Lady Rays 15-6 at the end of the first quarter. Coach Lionel Gumbs, CAHS, imposed a full-court press in the second quarter yielding 10 Lady Rays turnovers and holding them to scoring only 5 points in that frame. The game was never in doubt in the second half as the Lady Hawks cruised to the championship. Gomez was the top performer for Charlotte Amalie High School. Kayla LaPlace collected 13 rebounds for the league champions. Jada Isaac led Ivanna Eudora Kean with a double-double, 12 points, and 11 rebounds. J'niaa Celestine added 11 points and six steals for the Lady Rays.
Varsity Boys Championship Series – Game 2 – IEKHS 70 – Antilles 64
Ivanna Eudora Kean Varsity Boys Basketball Team came out on a mission in Game 2 of St. Thomas/St. John IAA Basketball Varsity Championship Series against Antilles School. In Game 1, Vern Frett kept the Rays in the game with timely baskets and was his team's top scorer. In this contest, Frett controlled the game on both sides of the ball. He came up with steals, rebounds, and even a big blocked shot to help stymie the Hurricane offense. When his team needed a basket, he either scored himself or dished out one of his game-high five assists. "He is my maestro," said Ivanna Eudora Kean Head Coach Ronald Cummings when asked about Frett's play during the game. "He has the ability to take over any game."
When Frett found himself with four fouls going into the fourth quarter. Coach Cummings had faith in him that he could play through that adversity. "This is the type of relationship I have with my players," said Coach Cummings. "I told him, I want to sit you down to start the fourth quarter because you had four fouls. But I will leave that decision up to you." Frett assured his coach that he would not pick up another foul and remained in the game until the final buzzer.
The Hurricanes did make a final push to close the gap, but the Rays held on for the six-point victory. Te'Shawn Hill led the Rays with 17 points, six rebounds, and three steals. Jayden Dixie had a double-double with 17 points and 12 rebounds. Guyma Phebe also added 13 points for the League Champions. Trevor Prince led the way once again for the Hurricanes with 18 points and seven rebounds. Lorenz Penn dropped 14 points, and Onyx Reid contributed 11 points and nine rebounds for Antilles School. Ivanna Eudora Kean High School boys are the 2021-2022 St. Thomas/St. John IAA Varsity Basketball League Champions.