Virgin Islands Horse Racing Commission members Wednesday appeared ready to move beyond the legal complications that have kept horses off the tracks for half a dozen years and, at least, get the track on St. Thomas ready to go.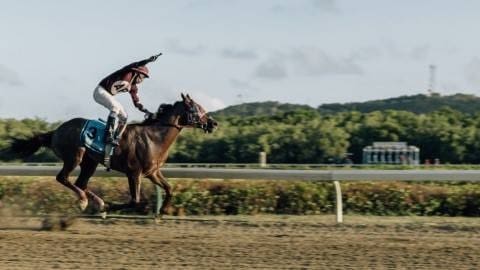 In a public meeting via Microsoft Teams, the commission members voted in favor of going out for bids for the cleanup of Clinton E. Phipps Racetrack and using funding from the Horse Racing Improvement Fund.
Commissioner of Sports, Parks, and Recreation Calvert White said he would be working with the Property and Procurement and Finance departments to get contracts through as quickly as possible. He said his timeline for the project was "as soon as possible."
His argument to justify swift action on the contracts was the "deplorable" condition some of the horses were approaching as they had no place to exercise.
Hugo Hodge, chairman of the Commission, named several areas where the cleanup needed to take place. He said the grass was growing on the tracks, the infield needed work as small trees were taking root there, and some mangroves "needed manicuring."
White said no mangroves were being cut, only pruned, and he was not sure if a permit was needed from the Department of Planning and Natural Resources.
Sheldon Turnbull, a member of the Commission, said there was also a problem with a pack of wild dogs that "looked like coyotes" hanging around the track. He said he spotted them this week and talked to others who had been seeing them.
Commission member and veterinarian Dr. Laura Palminteri said the Humane Society had traps for wild dogs, but she did not know if it presently had a person who did the trapping. When it was suggested that the dogs be taken care of after the cleanup, the subject was dropped.
White said Southland Gaming of the Virgin Islands is just waiting for an agreement with the territory granting Southland full access to the track before it makes some minor repairs that will lead the way to its operation of races.
No traditional carnival races have been held since 2016. The territory's two district horse racing commissions were merged in December 2017.