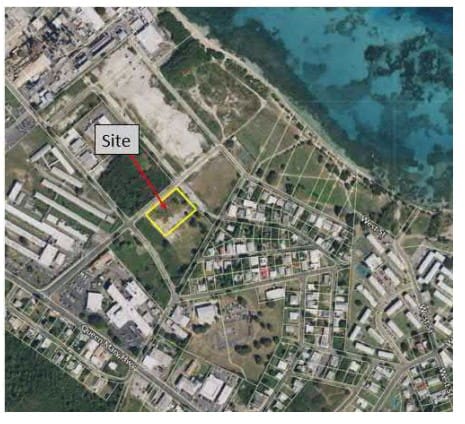 The St. Croix Coastal Zone Management Committee Tuesday heard plans to relocate the public health laboratory, the EMS administrative offices, and support buildings during the reconstruction of the Charles Harwood Memorial Complex.
The Committee in September OK'd the Health Department application to demolish the Charles Harwood Hospital and construct a replacement building. The public has a week to comment on the relocation plans. The Committee will schedule a decision meeting on the relocation project within a month.
The Health Department is proposing to relocate the temporary facilities one block to the north of Charles Harwood, on a vacant lot that previously was part of the Chabert Housing Project that was demolished in 2015.
Assistant Health Commissioner Reuben Molloy, who led the presentation at the public hearing, was asked about previously aired plans to replace Chabert with a modern housing project. He said that the Housing Authority was negotiating a land swap that would allow the housing project to be built elsewhere. The. Health Department will be leasing the land from the Housing Authority for the relocation of the modular buildings.
Health Commissioner Justa Encarnacion, who was out of the territory during the hearing,  wrote to the committee that since her department "provides public health services to the entire population and critical clinical services targeting our vulnerable population, we have established a plan to ensure the continuation of services to the people of St. Croix."
Paul Silverberg, representing the architectural firm of record for the project, said in his presentation, "The Department of Health Lab is the only public health lab facility in the territory. The lab and its staff have been highly instrumental in the success of the USVI Department of Health's response to the COVID-19 pandemic."
He added, "The decision to relocate the lab and its storage facilities to this new location is based on its proximity to the Charles Harwood Hospital complex. This will allow for the efficient and swift provision of services for the hospital and precludes the need to hire additional staff for another offsite location."
Much of the discussion during the hearing concerned tanks for storage of storm runoff.
Committee member Kai Nielsen wanted to know why the capacity of the system was for a one-year storm instead of a 10-year storm. After the capacity of the system is reached the storm runoff will go into the street and run less than 1,000 feet to the ocean. Nielsen also questioned whether there were plans to keep the stored stormwater clean for it to be used for other purposes when a drought occurs.
Committee members present besides Nielsen were Chair Masserae Sprauve Webster and Carl Simmonds.