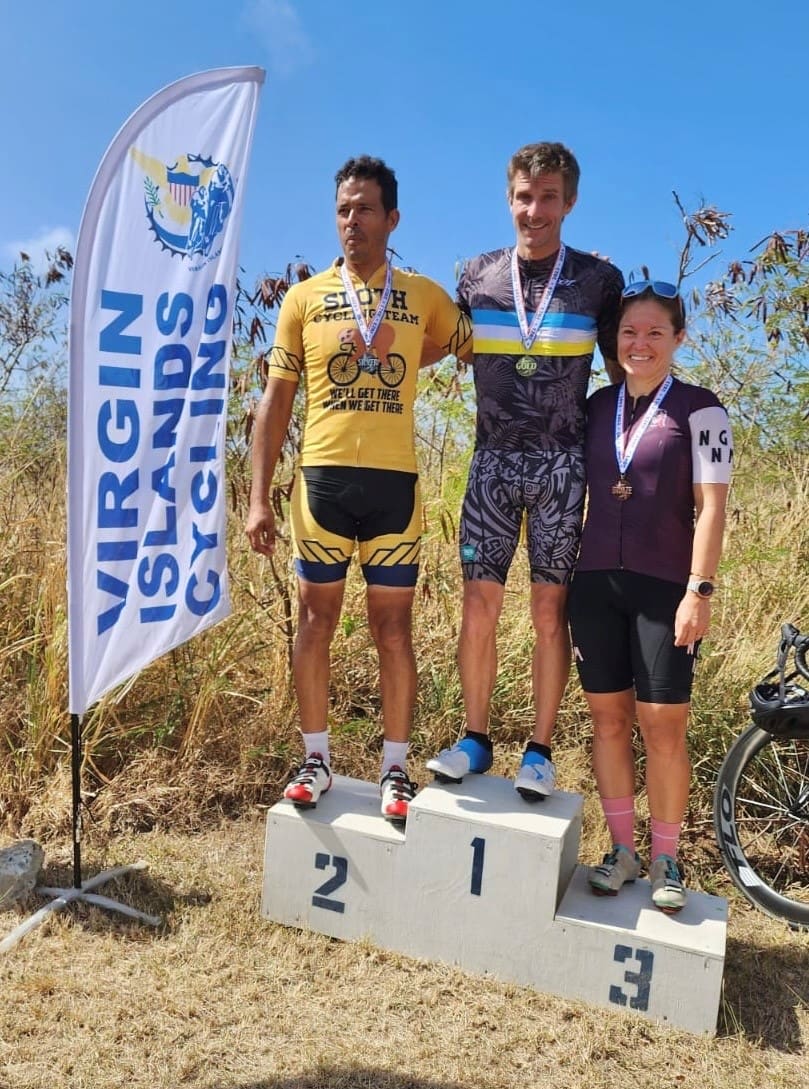 St. Croix's Southside Road came alive on Sunday, March 19, as thirty-five cyclists of all ages competed in six divisions at the Virgin Islands Cycling Federation's (VICF) Pot O' Gold Road Race. That "Pot of Gold" was not easy to attain as heavy winds added another element to this already challenging course. This 7-mile course started at the entrance to Ha'Penny Bay Beach Club. Bikers then pedaled past Cane Garden. Then navigated their way through Castle Nugent and finally ended where it all started at Ha'Penny.
The most rigorous division was the Elite Division. Four cyclists embarked on this 49-mile excursion. For the first 21 miles, all four bikers were coasting through the race. Stephen Swanston took a one-minute lead over Alex Betancourt and David Parris 28 miles into the competition. Swanston held on to win the race in a time of 2:27.22. Betancourt finished second in a time of 2:30.41. The only female competitor in this race, Robin Seila, crossed the finish line in a time of 2:40.39, earning her third place. Parris, unfortunately, suffered a flat tire late in the competition and wasn't able to complete the event.  
The division that saw the most participants was the Expert Division. Thirteen cyclists wheeled their bikes to the starting line and ventured out on their 35-mile journey. Mat Porporato is new to VICF, but is obviously no rookie, as he recorded the fastest opening time of everyone in the entire competition, finishing the first 7 miles in 20 minutes and seven seconds. He continued to flex on the competition registering sub-20-minute splits for the next three laps. Porporato pedaled through the finish line in an impressive time of 1:39.44. Portorato had to stay focused in this race as 3 seconds separated the second through fifth place in this division. Elijah Payeur and David Morales both turned in a time of 1:44.01. James Bates finished just off the podium with a time of 1:44.03. Wayne Nichols was only a second behind Bates ending the course in 1:44.04.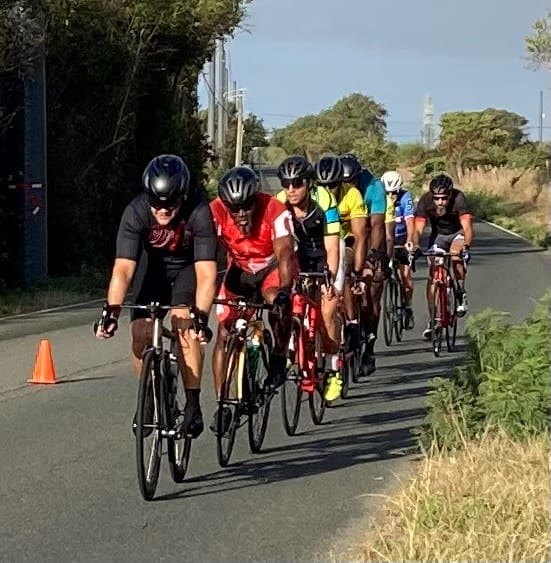 The Expert Division featured a battle for second place, but in the next two categories, the battle was for the top prize. Twenty-one miles was the distance in the Sports and Masters levels. In the Sports Division, six cyclists darted for the finish line with only half of a second separating first from sixth place. Diego Lima III, of Left Lane Cyclers from St. Thomas, emerged golden as he finished in a time of 1:05.48. Morgan Theophane was hot on his spokes claiming silver in a time of 1:05.51. Brian Otis's time of 1:05.52 was good enough for third place. Matt Sims, Chris Dorsey, and Tom Scull were all in the hunt registering times of 1:05.53, 1:05.58, and 1:06.03 respectively. Four seconds was all that separated the first-place winner from the third-place finisher in the Masters' Division. Angel Ventura completed the 21-mile course in 1:10.26. Joseph Thomas crossed the finish line in 1:10.28. Yves Abraham finished third in a time of 1:10.30.  
The Women's Division was also 21 miles long. Laverne Fredericksen was the top cyclist recording a time of 1:12.48. Jody Goodrich registered a time of 1:15.32. The third-place finisher in this category submitted a time of 1:29.53.    
The final level of the day was for our youngest participants. There were only three who entered. Each was accompanied by an escort to ensure their safety. Eleven-year-old Xander Morales, won this division completing the 14-mile course in 49.24. KoleBert Daisley (12) edged out Randy Williams (13) to claim second place. They both finished in a time of 52.47.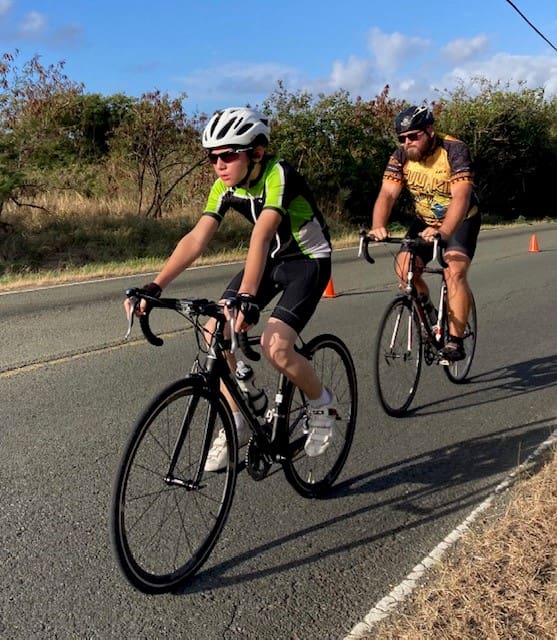 Next up for the Virgin Islands Cycling Federation is a short-time trial. This a new event for VICF. It will start from Divi Carina Bay Resort and run to the top of Point Udall on Sunday, April 2.  The starting gun will fire at 7:00 am, for more information call 340-643-5050 or email vicfsecretary@gmail.com.