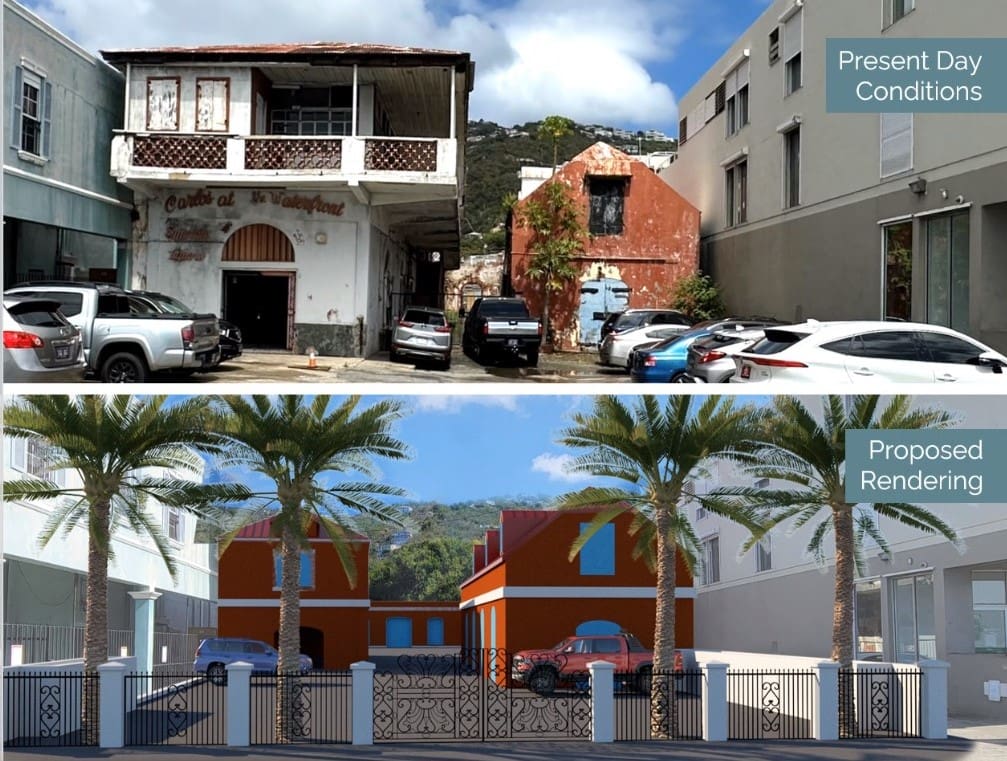 A project to renovate two buildings on the waterfront in Charlotte Amalie was put on hold by St. Thomas-St. John Historic Preservation Committee Wednesday as it includes the demolition of some historic brick arches.
The team presenting the plan for Curacao Gade 9 and 10 said speed was necessary for investors to get the tax breaks making the project financially doable.
Committee member Aki Petersen said the presentation covered a lot of ground, but a site visit was necessary before a decision could be made.
Sean Krigger, director of the State Historic Preservation Office, said he had many questions about the project. However, he said it was up to the Committee on what its members wanted to preserve and what it could sacrifice. He added that in the visits he made to the site, he did not see any arches so degraded that they could not be preserved.
Erika Kellerhals, the legal representative on the team of presenters, said if the project did not happen, the buildings, which are in a dilapidated condition now, would naturally deteriorate further.
Committee member David Knight Sr. said he had "a whole lot of reservations concerning the project." He said he wanted to remind his colleagues that this was a Historic Preservation Committee, not an economic development committee.
The presenters emphasized several times that there was a parking problem downtown and that this project would add more than 40 parking spots.
Knight said that the small number of parking spaces would have very little impact on the parking problem. He said the parking spaces would be quickly leased to the "highest bidders."
Kellerhals said the tight timeline was a good and bad thing. She said the good part was that to recoup the Qualified Opportunity Zone tax breaks, the project had to be done by June of 2024, which is much quicker than most territory projects are completed.
The project would include 5,160 square feet of commercial space. It would restore the waterfront façade and the façade facing Curacao Gade. It would entail the demolition of the northern ruins and a modern structure on the south end.
Damian Cartwright, an engineer representing the developers, said, "We do have a responsibility to preserve what we can, but there are limitations."
Before considering the Curacao project, the Committee had quickly approved three other projects. One project was to repair the damage done to Garrison Hall on Water Island during the 2017 hurricanes. Another was a sign at Downtown Sips in Frangipani Square in Cruz Bay.
The third project was for a paint color at Kronprindsens Gade 80.