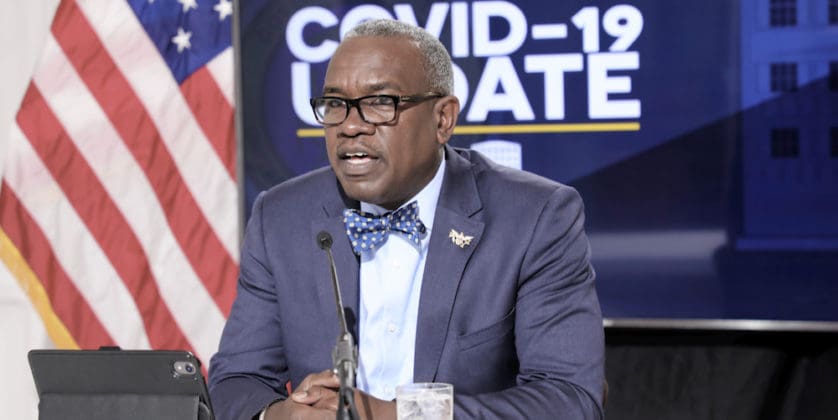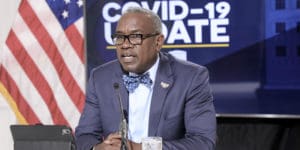 A burst of new COVID-19 cases on St. Thomas and St. John is putting pressure on the U.S. Virgin Islands' positivity rate, which in the previous week had dipped to 1 percent, Gov. Albert Bryan Jr. said on Monday.
"The COVID-19 pandemic is still here. We can debate and protest the guidelines put in place – wearing a mask, not wearing a mask – but these guidelines have kept us safe, and the fact remains that as long as this virus is still in our community, it will remain a threat to every one of us, especially those of us who aren't vaccinated," Bryan said Monday as he announced a jump in weekly positivity numbers to more than 3 percent.
Last week the numbers had fallen to a little over 1 percent, down from 3.33 the week before, but Bryan said during the weekly press briefing that more active cases on St. Thomas and St. John have pushed them back up again.
"While the numbers on St. Croix look good, the number of active cases on St. Thomas and St. John are trending in the wrong direction, and if the numbers are trending in the wrong direction on one island, there is a potential for them to trend in the wrong direction on all islands," Bryan said. "Please, we are urging you to remain vigilant so that we don't erode the progress we have made. It only takes one person to infect hundreds."
As of May 22, a total of 111,921 COVID-19 tests have been administered to residents, with 3,353 testing positive and 108,568 negative. Currently, the Health Department is tracking 77 active cases, of which 64 are on St. Thomas, including four patients at Schneider Regional Medical Center, while eight are on St. Croix and five are on St. John.
"We must continue to wear masks, practice social distancing with people outside our immediate households, avoid mass gatherings and get vaccinated now," Bryan said. "This is our only way out."
Meanwhile, 50.2 percent of residents eligible to receive the COVID-19 vaccine have taken at least one dose, with 39.9 percent, or 31,645 residents fully vaccinated. Speaking during the briefing, Bryan said the goal is still 50,000 vaccinated residents by July 1, but that overall, 70 to 80 percent of the population would be needed for the territory to achieve herd immunity and be able to resume less restricted activities.
Open Manhole May Be Causing St. Croix Odor
The government is still working to identify the source of a noxious odor on St. Croix which has permeated the area west of the island's industrial corridor. Speaking Monday, Bryan said while Limetree Bay Refining has "admitted that they have had releases" of gas, there are still odors of "some sort" that don't "correlate to what has been going on at the refinery."
An open manhole at the Anguilla Landfill may have "solved some of the mysteries" that have stumped the investigating environmental teams.
"We have had a difficult time matching up some of the readings of the gaseous odors detected in the community with events occurring at the refinery," Bryan said. "This additional source that was unaccounted for is very significant."
While the governor said the investigation is still ongoing to confirm the exact source, he added that the manhole is a likely suspect.
"We have not had concrete, solid proof that this is the source that is causing all the problems, but we do know that this manhole was having elevated levels of this odor in this area," Bryan said.