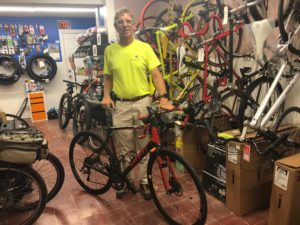 Considering the island's steep hills and narrow, winding roads, it seems reasonable to assume fans of bike riding would be dissuaded from pursuing the pastime on St. Thomas. However, a closer look reveals a number of residents have found creative ways to address the challenges of an unforgiving terrain. It turns out bike riding for fun and exercise has become a popular pastime in paradise. In fact, some islanders have gone the extra mile to support the sport and invest in its growth.
One notable supporter is local entrepreneur, Walter "Wally" Bostwick. In addition to owning and operating First Resort Painting for the last 15 years, Bostwick recently opened the doors to Healthy Habit Sports. "I was able to turn my hobby into a new business," Bostwick said. In operation since January of this year, Healthy Habit Sports has cleverly combined an old-school workshop atmosphere with the practicality of a downtown retail shop offering state-of-the-art restoration and repairs. Items for sale include automobile bike racks, bicycle tires, chains, and helmets. The shop carries components from two major manufacturers: Shimano and Sram.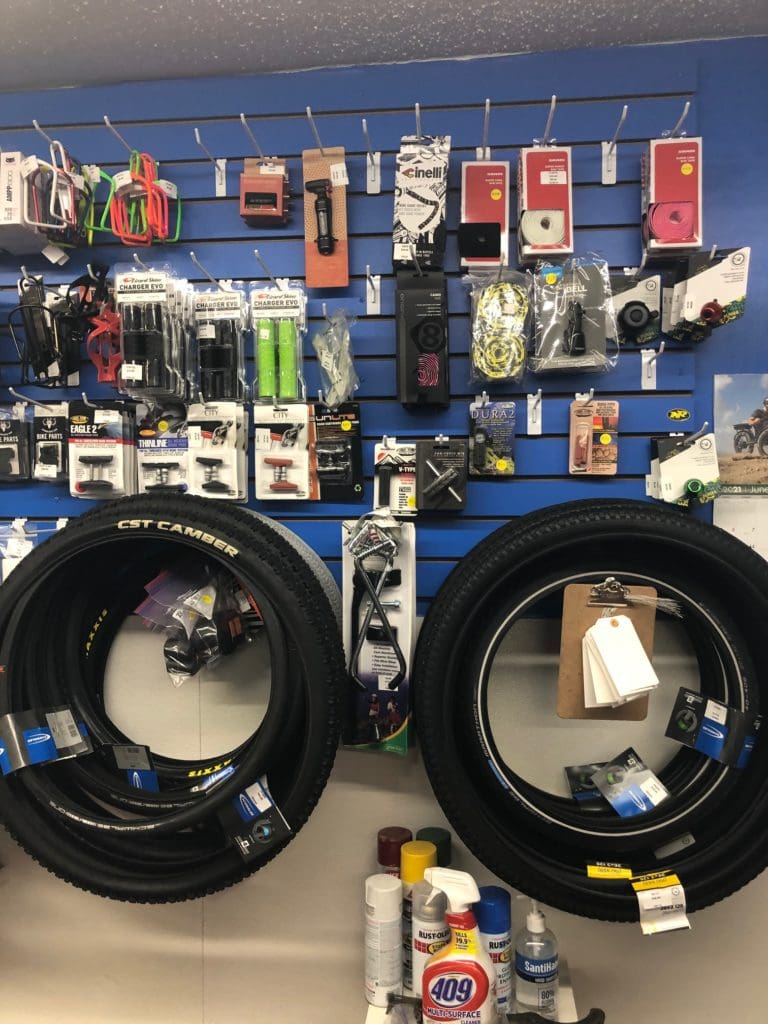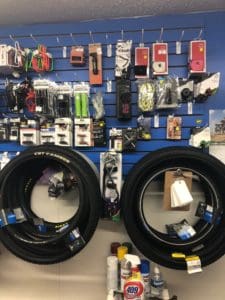 Located next to Franklin D. Roosevelt Memorial Park, Healthy Habit Sports caters to everyone on wheels — novices to seasoned cyclists. The shop's down-to-earth unpretentiousness sets it apart as a comfortable place to "talk bikes" with those in the know.
The mission statement at Healthy Habit Sports is: "To advance the use of pedaled powered mobility within the Virgin Islands and to promote safe riding areas. "
With that in mind, the new Veterans Drive Improvement Project provides a pedestrian promenade all along Charlotte Amalie harbor and the expanded sidewalk ensures a safe, stress-free sightseeing experience. What a perfect place for cycling!
Notably, its proximity to the brand new promenade adds even more appeal to Healthy Habit Sports. When you enter the shop, odds are you'll be greeted by mechanic-in-residence Luce Robnett. Don't be surprised if he is immersed in a fascinating restoration project. That means you'll get a first-hand look at what goes on behind the scenes.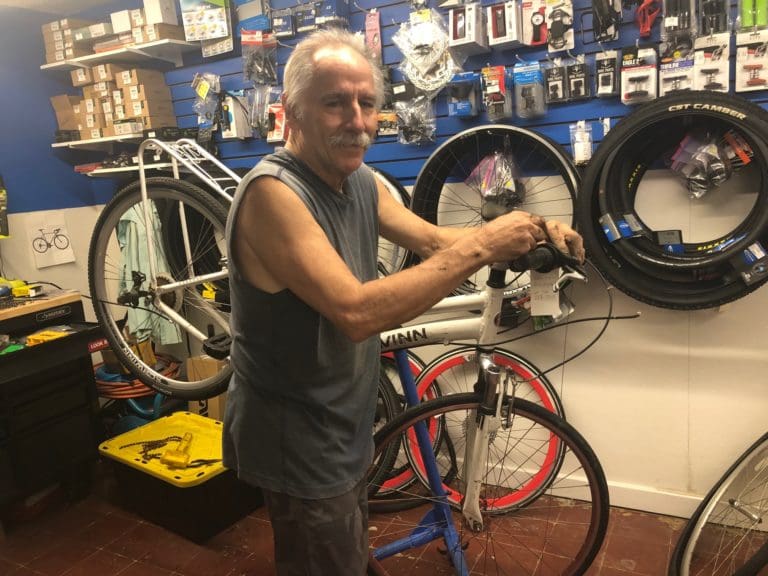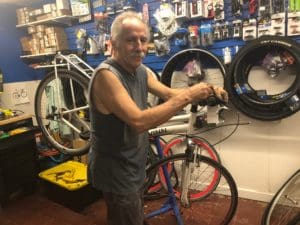 Known throughout the local cycling community as "The Bikesmith," Robnett has earned an impressive reputation for his ability to repair and restore all types of bicycles — from basic kid's bikes to high-end, high-performance cycles, mountain bikes and electric bikes, too.
"The pandemic contributed to major changes in the market," said Robnett. "Demand is high. More people want bicycles because they are spending more time at home. Bikes are efficient, save money, and are great for healthy exercise. " He explained that temporary halts in manufacturing, as well as shipping and delivery delays, resulted in supply issues. "If reconditioning the bike you have makes sense, that's what we can do," he said. By the way, since the shop opened, Robnett has worked on bikes as high in value as $10,000. By contrast, he also restored several Schwinns a family had essentially discarded on their back porch.
"I brought them back to life," he said. Multitalented Robnett also created and maintains the shop's website; Bostwick handles the shop's Facebook updates. If you get the impression Bostwick and Robnett are adept at pooling their respective talents, how right you are! Referencing his personal evolution through the cycling world, Bostwick explained that after spending his early childhood in Florida, he attended high school in Puerto Rico. Recalling teenage years, he said, "Traffic was so dense in Puerto Rico, I could leave the house 20 minutes later if I rode my bike to school instead of taking my mother's car. I'd still get to school on time." After graduation, Bostwick relocated to St. Thomas with his parents. "My father was campus architect for what was then the College of the Virgin Islands," he said.
Although his parents left island in the early 1990s, Bostwick has remained a proud St. Thomas resident and business owner. His reintroduction to bike riding took place 13 years ago during the holidays. "My wife gave me a mountain bike for Christmas," he said. "She's a jogger, but I don't like to run." The gift inspired Bostwick to adopt his own unique exercise regimen. "I used to ride from one Gourmet Gallery to the other along the waterfront," he said, adding, "It was all flat riding. " Essentially the route took him from Crown Bay to Havensight and back.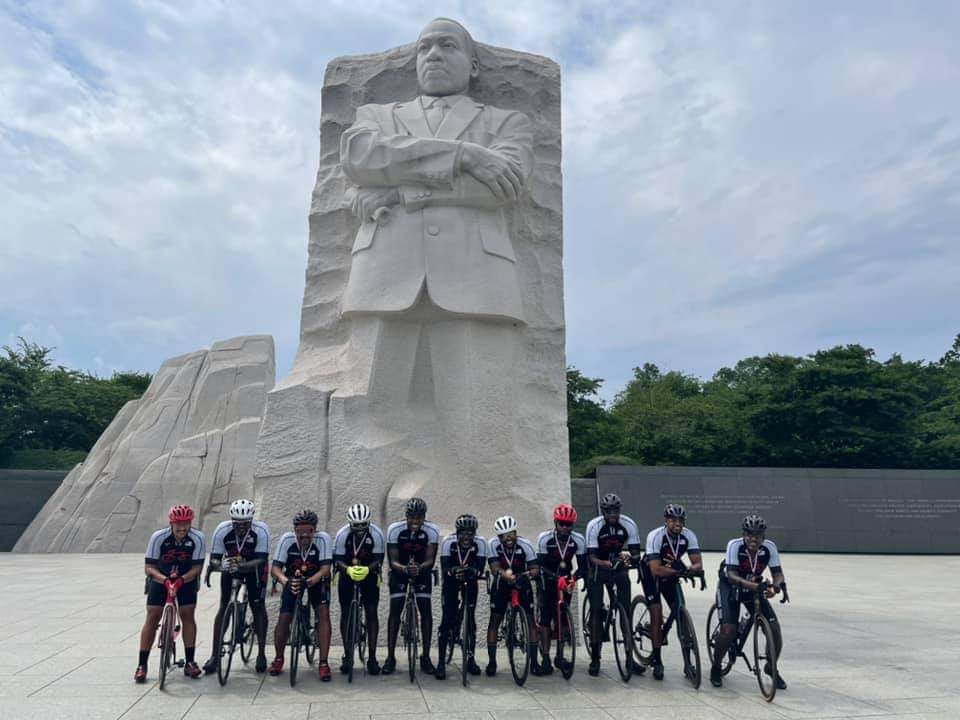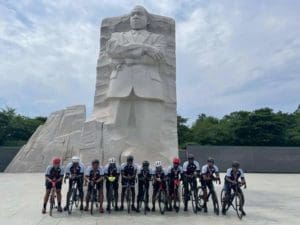 Over time, Bostwick became more adventurous and his explorations led him to connect with cyclists known as the Fortress Storage Riders. "We rode at five o'clock in the morning to avoid the traffic and the heat," he said. "Today, there is a newer group called Left Lane Cyclers," said Bostwick. "They are very active in the community. Several members went up to a Juneteenth ride in Washington, D.C. "
Whether you are a member of a cycling group, enjoy biking with friends and family, or appreciate the concept of scenic solo exercise, Healthy Habit Sports is equipped to meet all your cycling needs. "We are here to keep you rolling," said Bostwick. Hours of operation are Monday through Friday from 9 a.m. to 5:30 p.m. and Saturday from 9 a.m. to noon. For additional information visit healthyhabitsports.com, follow on Facebook, stop by the shop at 14A Norre Gade or call 340-626-5633.
Editor's note: Walter Bostwick is married to V.I. Source Publisher Emeritus Shaun Pennington.