This story initially appeared in the Source two years ago, on July 31, 2017. It is being rerun to commemorate Pride in the territory.
Readers who want to share their own stories, good or bad, with the Source can send them by email to visource@gmail.com or reach out to the Source on Facebook.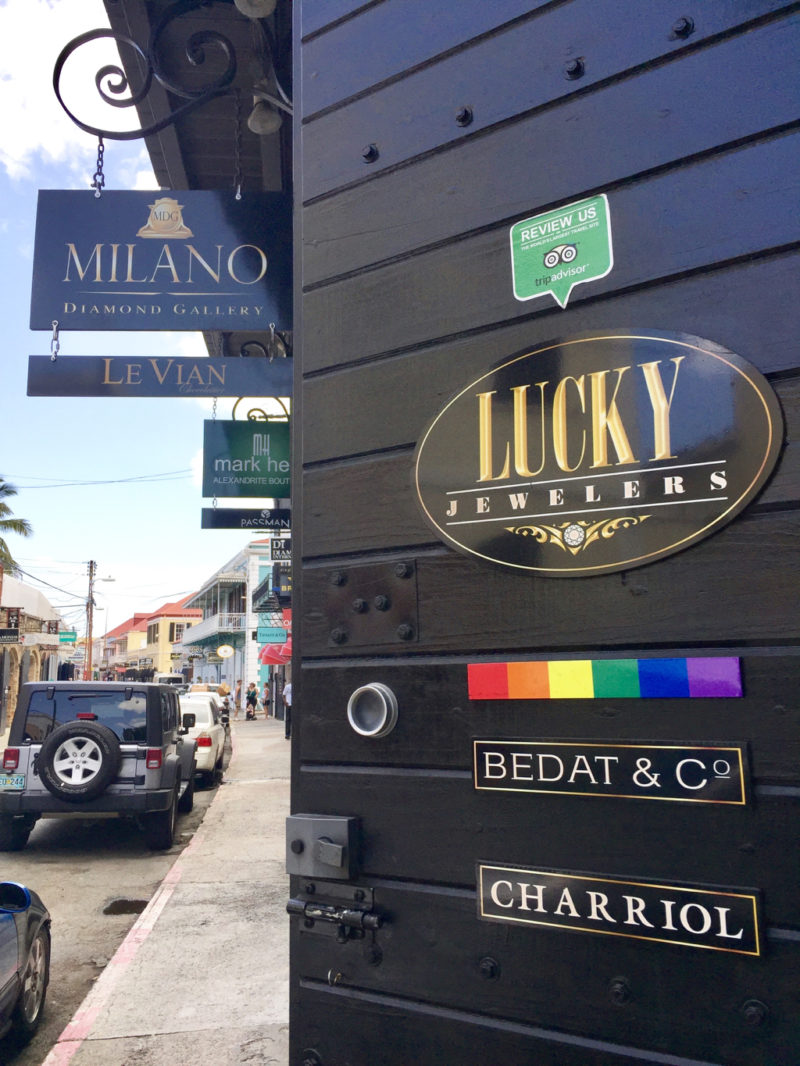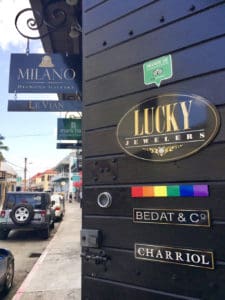 For many Virgin Islanders, it may come as a surprise to learn that St. Thomas was a mecca of Caribbean gay life from the mid 1960s to the early 1990s. Today, the experience of being lesbian, gay, bisexual, transgender, questioning or queer – known by the initials LGBTQ – in the Virgin Islands is far from the decadence of the old days. Island society has thrown itself back in the closet during the time mainstream America has been clawing its way out.
A number of gay Virgin Islanders, male and female, black and white, born-and-raised and newly arrived, still report experiencing discrimination, even despite recent successes such as the passage of marriage equality in 2015.
Following the annual, international celebration of Gay Pride month in June, the Source spoke with LGBTQ Virgin Islanders about the status of the community in the territory. Some names (indicated with *) have been changed to respect the anonymity of individuals.
'It was a mecca'
Some stores on Main Street in St. Thomas display rainbow flags to let the LGBTQ community know they are welcome.
Recollecting the days when he first moved to St. Thomas more than 40 years ago, Albert Strong*, a local business owner in Charlotte Amalie, said, "They had a scene here, a real great scene, an international scene." From the 1960s to the '80s, there were a plethora of bars, restaurants and guest houses that catered to gay clientele.
Strong remembered fondly nights out on Backstreet.
"You're on the dance floor down at Safari and Grace Jones would be dancing next to you and then Halston would be over there with a group. The only Studio 54 they had outside of New York was here."
These bars and club were filled with tourists and locals alike and were not all exclusively gay. At a time when gay culture was confined to cities and just emerging in the states, it was booming on St. Thomas.
"You had a thriving community of artists and freaks and fun people," said Jerome Callahan*, a born-and-raised St. Thomian now in public affairs. Referencing scenes from Herman Wouk's "Don't Stop the Carnival," Callahan described this era as a "gay mecca" during his teenage years.
Even Desmond Luzon*, who was a teenager on St. Thomas during the '80s, remembered, "There were one or two 'gay' bars, but everyone went there. My parents would go there to dance."
However, by the late 1980s, this progressive era of thriving gay culture was almost wholly on its way out.
"One hurricane hit, mash up the place. Then another hurricane hit, mash up the place. Then AIDS came onto the scene, mash up the scene completely," said Strong, summing up this decline. He, of course, is referring to Hurricanes Hugo in 1989 and Marilyn in 1995, which had massive economic impacts on the islands. Many of the gay-owned or gay-friendly business suffered or closed up completely.
Most agree that these two storms, and the wrath of the HIV/AIDS epidemic, are what led to the end of this queer cultural renaissance in the Virgin Islands. Although the territory was once an LGBTQ haven, attitudes here have acted almost inversely compared to those stateside.
'You shouldn't fly a flag'
Today, "homosexuality is a very hush hush thing in the Virgin Islands … to identify as openly gay, lesbian, or transgender [is] extremely taboo, different is not acceptable," said Sherene Bonelli, who was born, raised and recently returned to St. Thomas. She is one of many LGBTQ Virgin Islanders who have left and spent a number of years stateside because they feel they cannot live openly at home.
"At times I feel uncomfortable and judged for my lifestyle, which I was already prepared for when I moved back," Bonelli said. "I also take into consideration my family, being that it's so small here, even though I am out to everyone, I still try not to push it."
This seems to be common for most LGBTQ people in the Virgin Islands. Even if they are 'out' to varying degrees, the culture of the islands still makes these individuals constantly think about their surroundings and how they express themselves. This is not only stressful; it is a damaging mental weight that cisgender heterosexuals fail to understand. To be cisgender means to identify with the gender you were assigned at birth.
Being out in the Virgin Islands "varies by situation," Luzon said. He hides it in normal everyday situations, but explains it is different with friends.  He said most of his friends are straight "and I've got no problem being out and open around them."
There are a number of theories about the rise in pervasive homophobia over the last couple of decades. Strong speculated it has to do with the religiosity of the islands.
"They still have these preachers out there that preach fire and brimstone," he said.
Luzon offered up another hypothesis for men: "It might be a cultural thing. You're seen as less of a man."
It is still common to hear homophobic lyrics on local radio stations. Derogatory terms such as anti-man and batty boy are still used by some populations to refer to gay men. Cultural influence from Jamaica – which has gained notoriety in recent years for being one of the most intolerant countries in the world for LGBTQ people – is strong in the Virgin Islands.
Stigma in the Caribbean is partially driven by high rates of HIV infections. But stigma, fear, discrimination and homophobia also place people at a higher risk for HIV, since it leads to less awareness and less willingness to get tested. As of the CDC's 2015 HIV Surveillance Report, the U.S. Virgin Islands has the third highest rate of people living with diagnosed HIV infection compared to other American territories and states. The territory has consistently been in the top three of this ranking for over the past decade.
It is not easy for men or women. Discrimination manifests itself in different ways. Some do point to a shift in cultural attitudes for the better when in 2012 President Barack Obama spoke out in support of same-sex marriage.
At the time, Anna Fitzgerald, who now co-owns a café with her partner Grace Lili on St. Thomas, was living on St. John. "I got a lot of hostility. It was rough," she says, "I'd be driving to work and [guys] would be yelling at me, like, 'Hey, you f—— dyke!'"
Though it may be easier to remain discreet on the more populous islands, Shane Kuhlmann, a gay business owner in Christiansted, echoed Fitzgerald's experience.
"[My partner and I] hold hands on occasion and people have had comments about it."
The experiences of LGBTQ Virgin Islanders all signify a culture that still has progress to make, but all seemed to also hold some vision of hope.
'Live and let live'
Friday nights at S.O.S., the café owned by Fitzgerald and Lili, are probably some of the only times one might feel the heartbeat of queer culture on St. Thomas. Last year, after the Pulse Nightclub shooting in Orlando, they held a pride celebration to raise money for the families of the victims.
"I thought a lot about it because of how people can be targeted," Fitzgerald said, "but once we had it, … I felt the support from the island. That's when I knew we can go ahead and people can know us as a "queer café.""
"We didn't mean to become a gay hub," Lili said. "We are a community café, which makes everyone feel comfortable."
Although they acknowledge the risk of discrimination, there are still quite a number of LGBTQ-owned businesses popping up throughout the islands.
It is also hard to deny the economic power that is held by the LGBTQ community. In the United States, as mainstream society has shifted in support of this community over the past decade, there has been backlash against individuals, brands and locations that have been deemed homophobic or transphobic.
"I meet a lot of different people, many whom are gay and like to come to a business that is gay-owned," Kuhlmann said. "The atmosphere here is wonderful."
Diversity helps local businesses thrive. A number of jewelry stores on Main Street in St. Thomas prominently display rainbow placards on the shop's doors alongside the brands they carry to let the LGTBQ community know they are welcome and accepted there.
There were efforts in 2004 to pass marriage equality in the territory and market it as a way to revive St. Croix's economy. Pastors and senators alike, however, rallied against the idea, a prime example of how the religious climate of the islands hinders wider acceptance even if being gay friendly makes economic sense. But even with the 2015 legalization of same-sex marriage in the territory, the LGBTQ tourism market seems all but tapped.
Vocal government support of the LGBTQ community would surely have implications on the territory's tourism. Unfortunately, the widely known personal closets of many highly placed elected officials seem to be the largest structural impediment for cultural progress in the Virgin Islands.
While his birthplace was more open during the 1960s, bisexual Virgin Islands' boxing champion Emile Griffith had a tumultuous time dealing with his sexuality living and training in New York. Today, Griffith, for whom a St. Thomas baseball park is named, is one of the only prominent Virgin Islanders that has spoken openly about his sexuality.
One of the biggest challenges going forward seems to be the lack of community among LGBTQ Virgin Islanders.
"Unlike other places where people come together if someone gets beat up or if there's a piece of legislation, it's really hard to get people out of their little, safe neighborhood, house, life, to get them to stand up … they don't want to be ostracized," Callahan said.
While this sentiment is felt by many, others offer a more hopeful outlook towards the future.
"I am disappointed [with the status quo], but you know something – it will come. It's changing organically," Strong said.
"People fear what they don't know," Bonelli explained, "so I do feel I have an obligation to my family and my community and will continue to educate and inspire."
Many recognize change will not come overnight. But no matter how small and sleepy, the LGBTQ community of the Virgin Islands will persist.
"I always want to believe in hopeful change," Lili admitted. "Why not?"