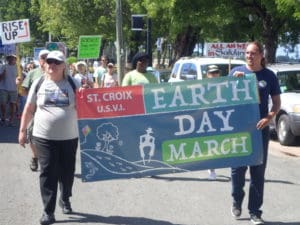 For the 50th anniversary of Earth Day, the planet will have the place to itself for the most part as people of the world shelter in place. To commemorate the day, people will need to join virtual observances – on their computer or other device.
On April 22, 1970, Americans joined people in hundreds of other cities to protest environmental ignorance. It is now recognized as the world's largest civic event. The Clean Air, Clean Water and Endangered Species acts and the Environmental Protection Agency were created in response to the first Earth Day.
Though this year there will not be any large-scale marches in the streets, organizers are not letting social distancing stop them.
"While the coronavirus may force us to keep our distance, it will not force us to keep our voices down. The only thing that will change the world is a bold and unified demand for a new way forward," the Earth Day website states.
V.I. National Park
Friends of Virgin Islands National Park is going virtual, hosting a series of virtual seminars ranging from updates on the turtle program to Island Green Living's recycling program. Call in numbers are sent to everyone who registers here.
The Friends are also running a poster competition for April and encouraged everyone to get out and clean up beaches.
Each seminar is free and runs 30 minutes. They are open to 50 people. Information on the seminars and information on registering are available by clicking on the links.
11 a.m. – Call of the Wild! How Nature's Sounds Tell Us About Our Wildlife
12 p.m. – What Does Reef Safe Sunscreen Mean?
1 p.m. – Recycle It! Reducing and Reusing on St. John
2 p.m. – How Are Our Turtles Doing?
3 p.m. – Can Saving Land Save Ourselves?
4 p.m. – VI VOAD: Active and Determined
Poster Competition
Get out your crayons, pencils and paints and get creative.
Deadline: April 30
Beach Cleanup
This is now a solo affair. We encourage everyone to do what they can to pick up trash on our beaches.
Other virtual activities
Earth Day: Learn about the history of Earth Day and participate in virtual activities at the top of every hour for 24 hours on Earth Day.
Education.com: Activities for children include making recycled paper, scrap art, wire sculpture, how to make geodes, whales and moss terrariums and many other projects.
The Old Farmers Almanac: Make a bee-friendly garden, repurpose garden and household items, grow wildflowers for the pollinators, plastics recycling, organic gardening and kids' planting activities.
Reviewed.com: 19 environmentally friendly projects including tin can wind chimes and cereal box guitars.
Rainforest Active Network wants photos of people with protest signs for a virtual protest march.
NASA: Download a stay-at-home toolkit, special videos and Junior Ranger SpaceTech Explorer activities.