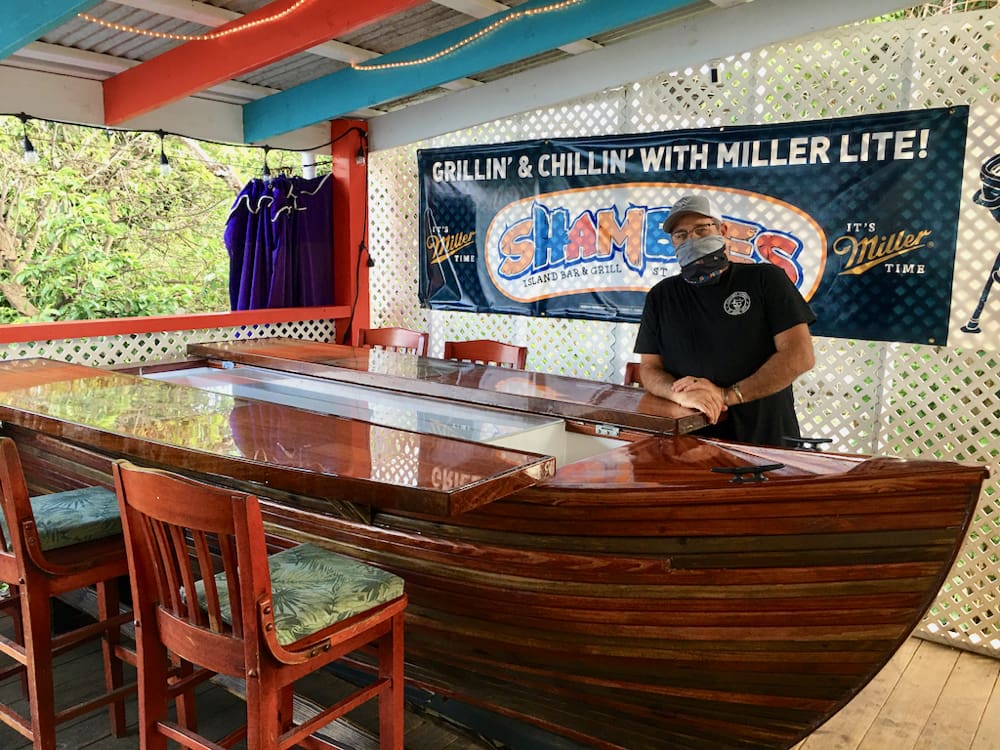 This is the third in a series of stories on St. John's bustling restaurant scene.
Before the pandemic, Susannaberg, the formerly quiet part of St. John, offered no more than one place to stop for food and drink.
Now five thriving outdoor venues are within a quarter-mile of each other, including two new restaurants specializing in West Indian food, something that's getting harder to find in Cruz Bay.
More and more frequently, locals are seeking food options far from Cruz Bay, where it's sometimes difficult to park a car and dine without a reservation, especially on weekends.
The area around Susannaberg has been slowly evolving from the sleepy countryside, where drivers must routinely stop for a herd of cattle crossing the road, to a growing commercial district with a clinic, car repair shop, veterinary office, laundromat, and a big lumber and hardware store. These are not the only businesses nearby. Another lumberyard,  as well as a truck depot, concrete plant, and gas station have been built within a half-mile towards the east.
Most of the development is taking place on land once owned by Neptune Richards. Some of his 21 heirs and their descendants are now looking to open businesses or lease land to entrepreneurs who see opportunity in this part of the island, which borders the Virgin Islands National Park.
Smitty's Island Breeze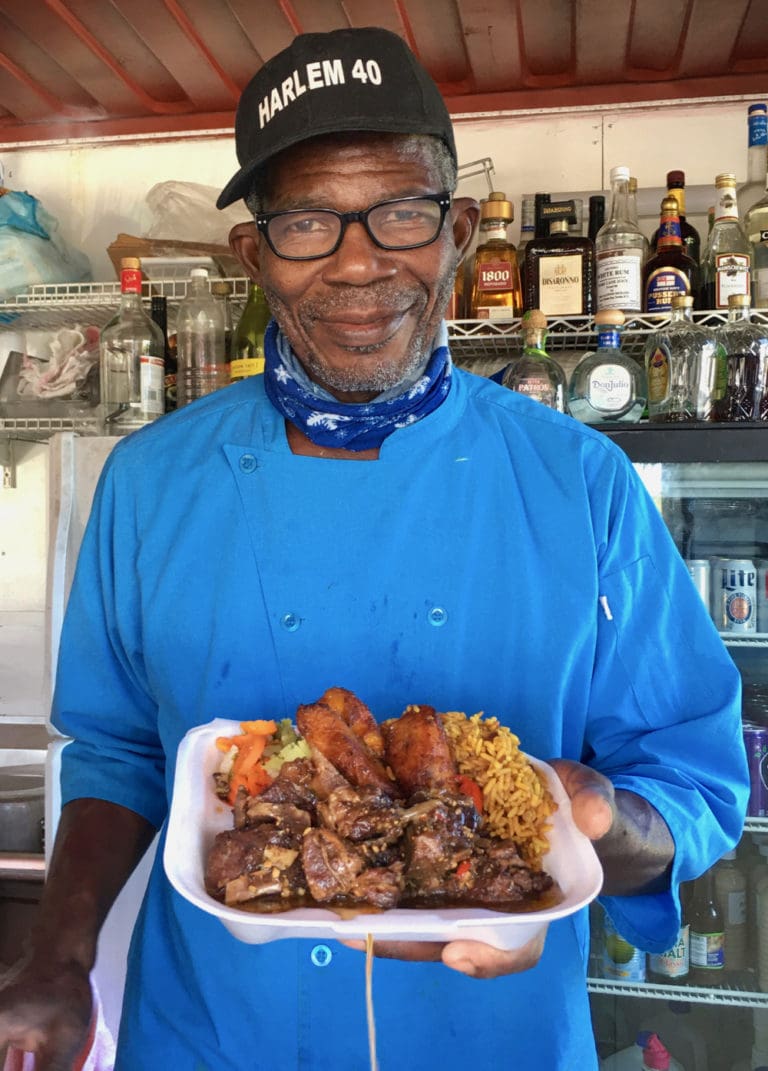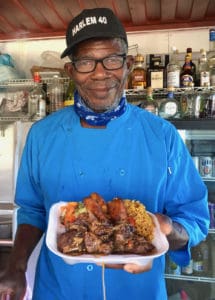 One of the new restaurants in Susannaberg is Island Breeze. It operates out of a converted container on Route 10 (Centerline Road) between Paradise Lumber and the entrance to the Windmill.
Owner Elvis "Smitty" Smith often arrives at 7:30 a.m. to start preparations and may stay as late as 11 p.m. Closing time depends on the customers.
"I'm never in a hurry as long as I have customers and product," he said.
The unhurried pace hearkens back to an earlier era on St. John when West Indian food was always available. Keeping with island ways, Smitty cooks up curried mutton, stewed pork chops, and, on Thursdays, he serves oxtail, one of his specialties.
On Saturdays, he features soups – goat water, pea soup with pigtail and kallaloo. On Fridays and Saturdays, he has bullfoot soup.
Smitty also fires up the grill on the weekends, serving chicken, pork and fish. Customers flock to his roadside spot on Saturdays for chicken pelau, which he serves with rice, beans "and carrots for color," he said.
Making food look appetizing is something that is part of his trade. Smitty worked in the kitchens at Caneel Bay Resort for 30 years and prepared food at High Tide in Cruz Bay and Aqua Bistro and Miss Lucy's in Coral Bay.
In 1984, he moved to St. John from Nevis, where he used to play tuba in a symphonic band. Back in the day, he took up flying single-engine planes; it's been a while, but he's thinking about getting back into flying again.
Up until a few months ago, fans seeking out his cooking could rely on finding it at his booth in the carnival village during the St. John July 4th Festival.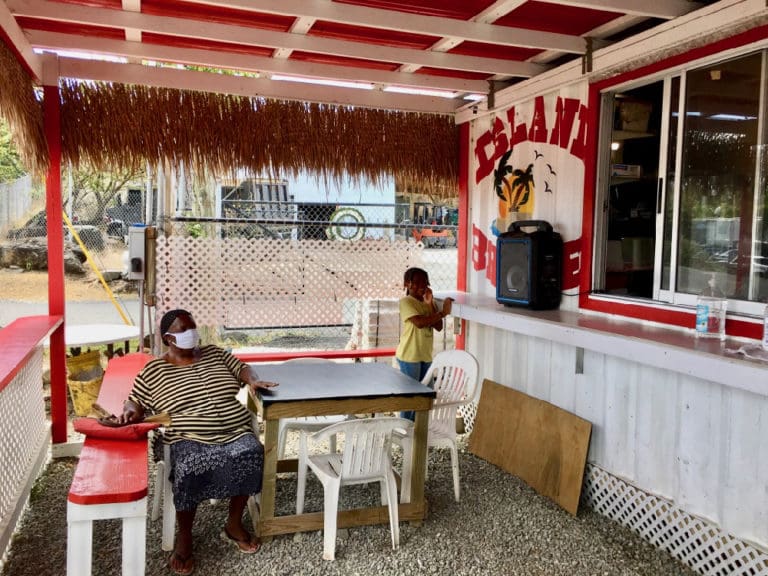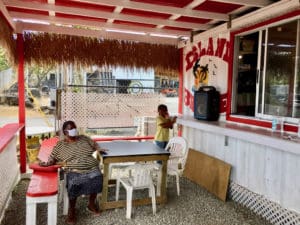 Now it's available year-round and locals are well aware of that. On one sunny weekday afternoon, West Indians kept stopping by to get a plate to go or sit down with old friends on a bench for a glass of rum or a local drink (peanut punch with sea moss, sorrel, tamarind – if in season).
One longtime resident popped by to pick up a pate, which Smitty insisted on preparing fresh upon demand.
"I came all the way across the island for this," the patron said. "You can taste the love in the dough."
Further information is available by calling Smitty at 340-201-0812.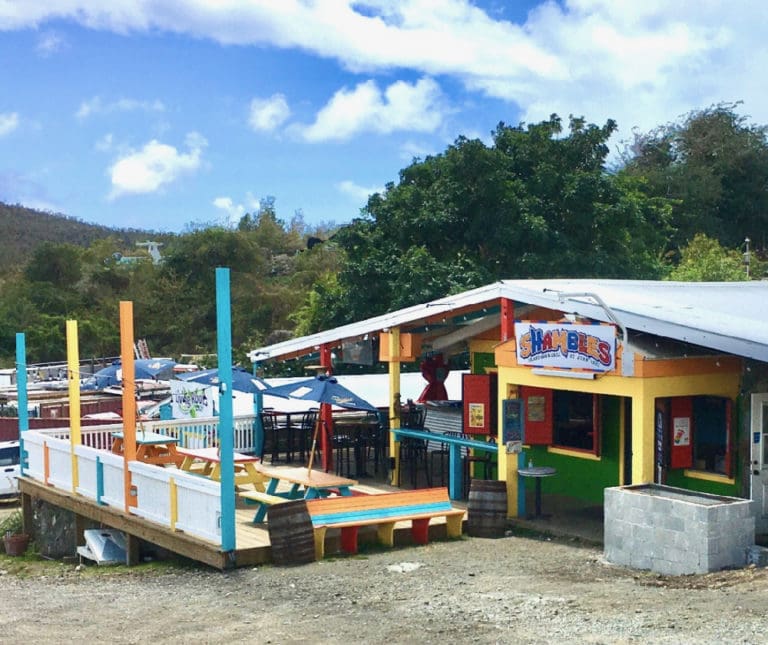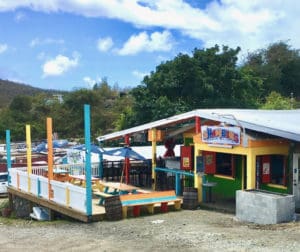 Shambles Bar and Grill
Directly across the road from Smitty's Island Breeze is Shambles Bar and Grill, a brightly painted restaurant and bar that opened in July 2019. Though it isn't exactly new, Shambles' owner has new partners who have taken over operations and are making changes.
The evolution of Shambles reminds us that in a world with hurricanes and pandemics, "The best laid plans of mice and men" often go awry.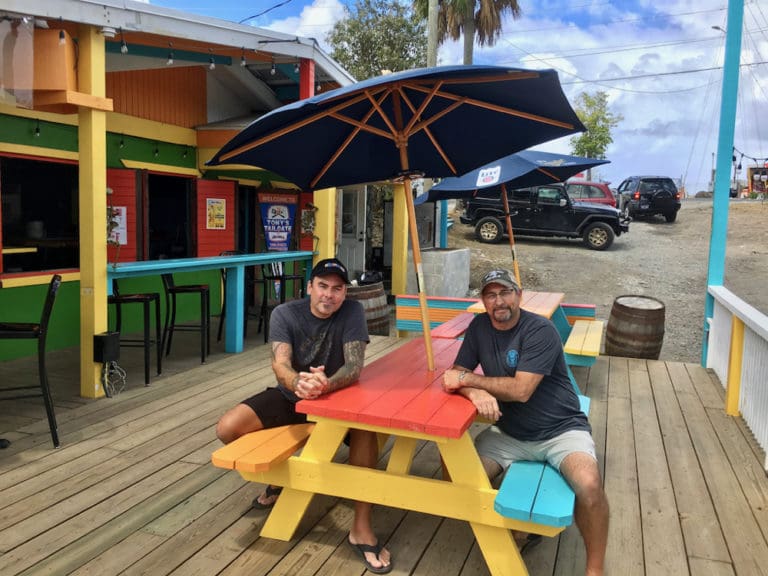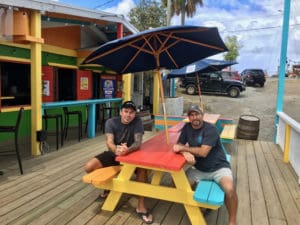 Dave Baysden built Shambles in Susannaberg after Driftwood Dave's, his restaurant in the lower level of the Lumberyard Complex in Cruz Bay, was blown to pieces by Hurricane Irma.
The storm also destroyed plans made by Lauren Boquette, the manager of the Barefoot Cowboy restaurant located upstairs in the Lumberyard. Boquette had sold everything he had and moved his family to St. John in the spring of 2017 with the idea of converting Barefoot Cowboy and Driftwood Dave's into a two-story venue with live music. In the aftermath of the hurricane, Boquette returned to the states while Baysden moved up Centerline Road to open Shambles.
Shambles was open for only about seven months when the pandemic hit, and Baysden had to deal with new restrictions affecting bars and restaurants. The open-air design worked well for socially distant dining, but mandatory bar closures were more of a problem as rates of COVID transmission rose.
Baysden decided he wanted a change. (More about that will be in an upcoming story about Coral Bay.) He contacted Boquette to see if he was interested in taking over. Boquette was, and he knew someone else who wanted to operate a restaurant – Tony Kuehl.
Kuehl was another prospective business owner whose plans were trashed by Hurricane Irma. He had moved to St. John just prior to the storm with the intention of starting a boat charter business. After the hurricane, recovery and rebuilding prevailed over recreation, so Kuehl went back into construction. When Baysden and Boquette approached him with the idea of re-tooling Shambles, he was ready for a new venture.
Boquette and Kuehl took over in November 2020 and hired Jeh Roberts to run the kitchen. Kuehl describes the menu as "bar food with a little healthy aspect."
Roberts knows something about healthy eating. He's a vegan, but he's also had years of experience with a range of food at JJ's Texas Coast and St. John Catering; he now prepares most of the items at Shambles from scratch.
Shambles will soon be offering Roberts' vegan ice cream; Kuehl, a confirmed carnivore, swears it's better than any dairy ice cream he's ever eaten. Smoked meats are more his specialty, and he's recently started operating an onsite smoker.
Under current restrictions, Shambles can seat 80 customers. Boquette, who has experience managing bands and nightclubs, said he's looking forward to bringing live music to Shambles "when people can be free to enjoy it and dance."
In the meantime, Kuehl says he enjoys setting a "relaxed, country atmosphere." When first-time visitors show up expecting brisk service, he gently reminds them, "This is an island, it's slower-paced. Look around and enjoy your surroundings."
Shambles has a website.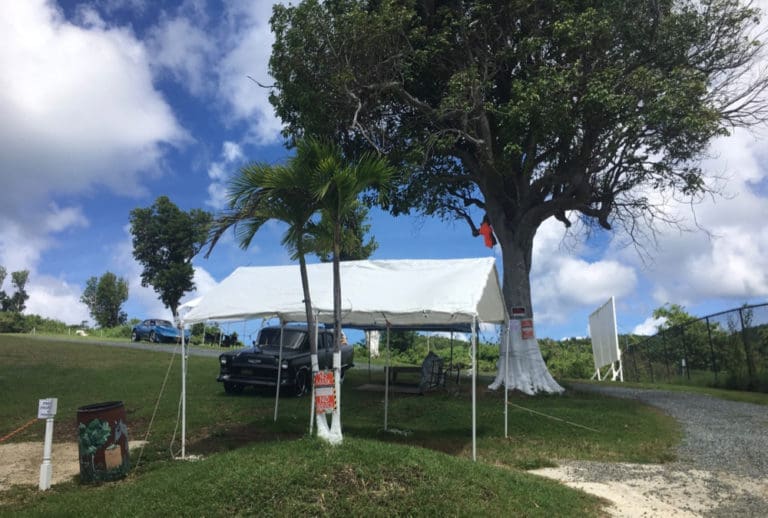 Two other Susannaberg Venues
Susannaberg has two other sites nearby that are attracting local customers. Although they are almost within sight, it's dangerous to walk to them because there are no sidewalks, and the road is curvy.
One is the St. John Classic Outdoor Entertainment Venue.
Since opening in October 2020, it has featured drive-in movies, classic car rallies and special events.
The Classic Outdoor Venue borders another new restaurant, Heading East, which also operates out of a brightly painted converted container. The Source was not able to catch up with the owner, but a chalkboard on the road lists a menu featuring West Indian cuisine. Judging by the number of cars parked nearby, it appears to be a particularly lively scene on weekend nights.
Also in the Series
– STJ Restaurants, Intro: St. John Restaurant Scene is Bustling
– STJ's Restaurants, One: Shaibu's Garden Oasis Blends Local and Global
– STJ Restaurants, Two: Landowner Turns Family Land into an Attraction