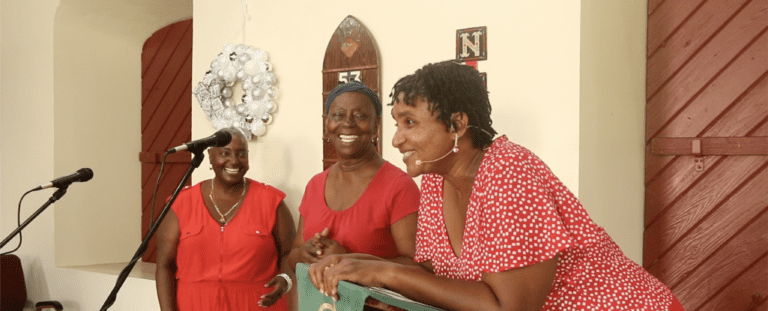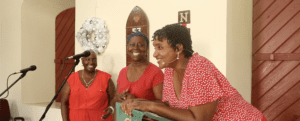 If you like to sing – especially during the holidays – but you have concerns about singing in person with others because of the COVID-19 pandemic, tune in to WTJX Channel 12 on Thursday evenings at 6:30 p.m. and Saturday afternoons at 3:30 p.m.
That's when the local PBS television station airs "The Senior Singalong," a new series produced by Sing St. John, a 501c3 non-profit dedicated to providing accessible singing for all ages.
The show features members of the Emmaus and Bethany Moravian Church choirs who lead the television audience in singing holiday classics and spirituals.
"We've chosen songs from the public domain that are simple and straightforward so that anyone who wants to can hum or sing along," said director Winifred Powell.
"Music can play a big part in mental health and wellness," added Powell, who works as a health care professional. "Singing makes you feel like you're part of something else. It ties the world together; it brings together all races and cultures."
The television show grew out of an initiative that began in the summer of 2019 on St. John. That's when Kristen Carmichael-Bowers, executive director of Sing St. John, got a grant from the Community Foundation of the Virgin Islands to initiate summer camps for children and thought about offering an additional program for seniors. With permission from CFVI, she used some of the funding to launch a week-long program for elders in the community at Our Lady of Mount Carmel Catholic Church.
When the program for seniors ended, the participants clamored for more, so she offered the program on a monthly basis at the senior center at St. Ursula's Episcopal Church.
"We were just learning more challenging songs and getting ready to sing out in public when the pandemic hit; then the last thing anyone needed was to sing live," said Carmichael-Bowers.
In response to the pandemic, Carmichael-Bowers turned to technology. She learned how to direct the St. John Recovery Choir (for adults) and Ocama (the select children's choir) by Zoom, but many of the elders she had worked with lacked the equipment or the skills to master Zoom.
She approached Lucia Francis, the director of the Moravian Church Choir, who recruited fellow choir members Winifred Powell, Gwenavire Hyndman, Bodicea Gordon, and accompanist Julie Jones.
Carmichael-Bowers decided television would be the best method of delivery, but she had no idea how challenging it could be to produce quality footage for broadcasting.
"We spent six hours taping the first episode, and then we ended up throwing it all away and starting over again," she said.
"We had to do so many re-takes," said Gordon, one of the three Moravian Choir members currently featured in the program. "I love to sing, and I'm comfortable singing with others, but it's another thing when there's only one voice on a part. You have to learn to hold your own."
Each of the 12 episodes begins with simple breathing techniques and gentle stretches to warm up the voice and the body, then Winifred Powell teaches the other singers the melodies and harmonies using a call-and-response format. The television audience gets to sing along as the entire piece comes together.
"The point of the program isn't to look like professional singers," said Carmichael-Bowers. "The point is to have community members you know invite you in to sing songs you know, and to hold a place until we can get back together again to sing."
"You'll see the singers on the program grow," she continued. "Their tone becomes stronger, their pitch becomes better, and their presence grows, as with any real choir."
The first episode, featuring the song "Go Tell It on the Mountain," was broadcast on Dec. 2. Gordon said she enjoyed watching it with her 85-year-old father Selwyn Powell.
Since then, people have been calling Gordon to ask how come she was smiling so much. She said smiling for the camera was easy; Carmichael-Bowers delivered the cues and kept the singers entertained "with all kinds of craziness."
"I could see everyone's inner child come through as they were singing," said Carmichael-Bowers, who relishes the entire process. She said they saved the mistakes made during the taping for a blooper reel at the end of each episode.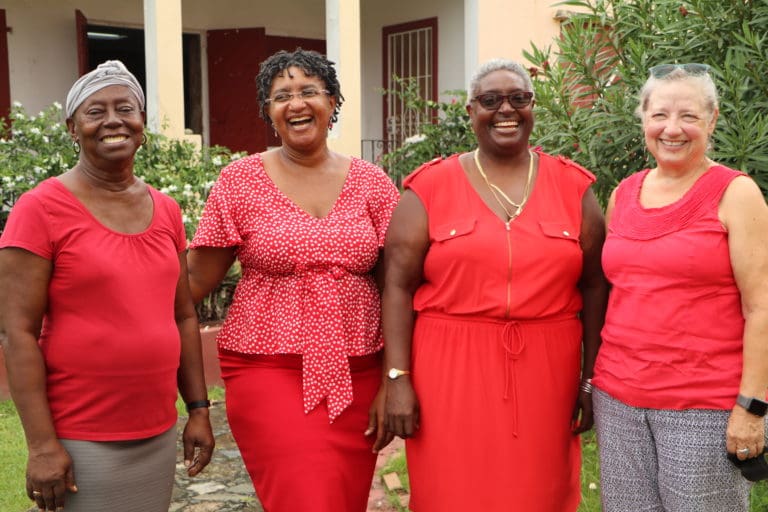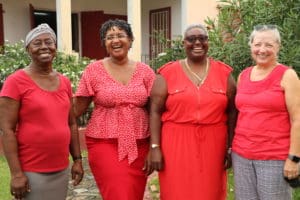 For this project, Carmichael-Bowers said she chose singers who knew each other well and were part of the same "social pod," so they would be comfortable singing together without masks during the tapings.
Each episode focuses on learning a particular song. On Dec. 9, the audience will learn "Hark, the Herald Angels Sing; on Dec. 16, it's "Auld Lang Syne"; and on Dec. 23, all the songs in the previous four episodes will be reviewed for a final singalong before the holiday break.
Carmichael-Bowers plans eight more episodes starting in January, and she's hoping to find a funding source to keep the series going. For now, she's producing the series on a shoestring. Luckily, her husband, Jay Bowers, heads up JB Technology Consultants and is able to provide the audio expertise while St. John videographer William "Bill" Stelzer operates the cameras.
She looks forward to the day when the singers can gather together, but added, "There will always be seniors who are unable to leave their home; they deserve engagement. They deserve to feel connected."