Editor's Note: The Source has replaced the previous headline and photo for this story as, together, it could be inferred that the current WAPA leadership team was blamed in the Senate discussion. That was not the case, as is explained in the story itself.
Senators at the Committee of the Whole on Monday asked Kyle Fleming, chairman of the Water and Power Authority Governing Board, and Andrew Smith, chief executive officer of the Authority if a report from the Inspector General detailing serious flaws in the WAPA-VITOL contracting process should lead to a criminal charge.
Both avoided direct answers.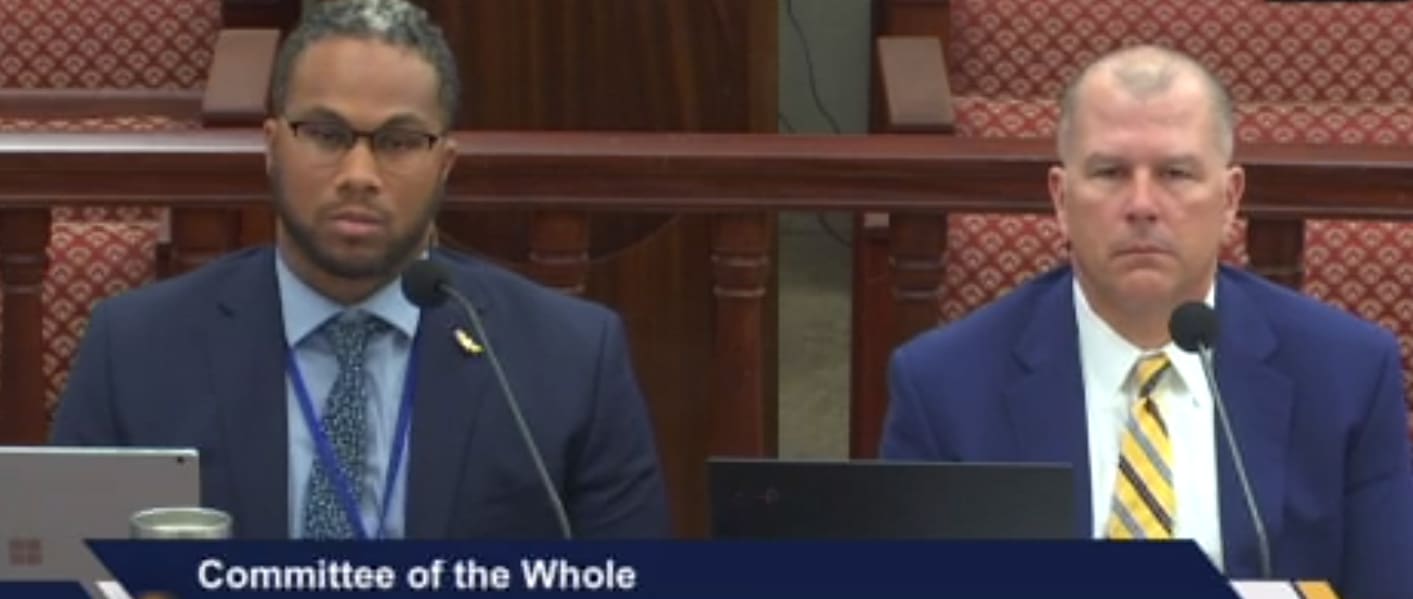 Fleming testified, "The goal of my testimony today is not to harp on the unfortunate decisions of our past, but rather to highlight the opportunities before us."
Smith said he would not be privy to a criminal investigation and that it would be up to law enforcement officials to initiate an investigation. The contract signed in 2013 went from $87 million, skirted diligent process, and rose to almost $200 million, according to the IG's report.
Sen. Kenneth Gittens said, "No one is being held accountable … This is fraud."
Sen. Alma Francis Heyliger also saw potential criminal activity by WAPA taking employees' contributions to the Government Employee Retirement System out of their paychecks but not turning the money over to GERS. She asked Smith, "Where did the money go?" He answered that it went to pay other bills. She said, "It is called embezzlement." She said no one is being held accountable at WAPA, and residents are forced to foot the bill.
Senators also appeared to be upset when they heard that Smith's starting salary was $325,000 and he was getting a $45,000 housing allowance. His new management team included a chief operating officer with a salary of $230,000 with a housing allowance of $45,000 and a chief finance officer at $180,000, also with a $45,000 housing allowance.
Gittens said the situation was "ridiculous," with financial officers receiving about a half-million in salary, and yet the Senate was not getting the answers to many of its financial questions. He also said it was odd that WAPA could also pay these salaries and yet not be able to pay GERS.
The lack of payments to GERS was brought up again when Smith said Ernst & Young was hired as a consultant firm and was receiving payments of $150,000 a month, and those payments were not interrupted. Smith said that GERS was now receiving employee contributions, and payments were being made to catch up on missed contributions.
However, the employer contributions to GERS were still not being made. Several senators pointed out that if employer contributions are owed to GERS, employees can't retire and get a retirement check.
Sen. Kurt Vialet was concerned about $48 million coming from the General Fund to prop up WAPA this year. He asked if, when that money ran out, could WAPA's situation "explode in our face." The government started bailing out WAPA to pay VITOL bills in 2019 when VITOL stopped delivering propane until it was paid.
Smith said WAPA was not on the brink of bankruptcy, but it was "like a rubber band stretched as far as it could be stretched and any more stretching and it will break."
Senators did like some news they got at Monday's hearing. Smith, who has been on the job for four months, said he does not plan for a rate increase. WAPA's present kilowatt per hour rate is 41 cents. The average in the United States is 14 cents per kWh.
Senate President Donna Frett-Gregory said her colleagues had been calling for a hearing with WAPA ever since the IG's report came out at the end of last year. She said the hearing was delayed at the request of Fleming so Smith could be on board a while and have a handle on the situation.
Monday evening after the hearing, Gittens issued a press release stating that he was asking senators to reconsider authorizing an independent investigation of WAPA to address ongoing concerns. He is quoted in the release saying, "While I do think some positive steps have been taken, to date, no one has been held accountable for the waste, fraud, and abuse at WAPA, and we have yet to realize the long-awaited promise of lower electricity bills."
In his testimony, Smith said, "I was not part of the process of selecting VITOL as the LPG, or propane, supplier to the Water and Power Authority. Nor was I part of any subsequent engagement with VITOL as it relates to the LPG infrastructure. In fact, none of those privy to the process undertaken a decade ago currently remain with the Authority."
In attendance at the hearing were Sens. Novelle E. Francis, Marvin, Blyden, Genevieve Whitaker, Samuel Carrión, Dwayne DeGraff, Heyliger, Gittens, Javan E. James, Franklin D. Johnson, Carla Joseph, Steven D. Payne, Milton Potter, and Vialet.