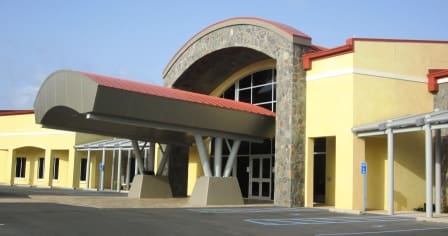 St. John is about to get its library back, but St. Thomas will be without one for many months due to ongoing repairs.
That's the word this week from the Department of Planning and Natural Resources, which oversees the Division of Libraries, Museums and Archives.
Meanwhile, the department is just beginning a major restoration project of territorial archives that were damaged by time and hurricanes. All three projects are primarily federally funded.
In an interview with the Source Tuesday, DPNR Commissioner Jean-Pierre L. Oriol said the Elaine Ione Sprauve Library and Museum of Cultural Arts on St. John will reopen next week, on Sept. 13.
It has been closed since 2019 for renovations necessitated by the 2017 hurricanes, with delays in the reopening drawing considerable public criticism.
Last week, the department abruptly announced the Charles Wesley Turnbull Library on St. Thomas was closed for repairs and would reopen "in 2024." Given past experience, Oriol said he was reluctant to suggest a more precise reopening date.
He said the contract with Four Star Construction Company calls for completion of the St. Thomas library repairs within 180 days, or roughly six months, a timeline ending by March. But realistically, it may take longer because of factors beyond the control of the contractor or the government, particularly long delays for importing materials due to the supply chain issues that have become a nightmare in recent years.
Actual construction of the Sprauve Library, for instance, grew from a 150-day project to a 15-month slog, Oriol said. That was in addition to other delays in the total process of the project.
The Federal Emergency Management Agency first announced a $2.9 million grant for the Turnbull Library repairs in February 2021.
The grant was meant to restore the facility to its 2017 pre-disaster condition by installing new roofing materials, ceiling tiles, interior walls, light fixtures, solar panels and guttering, according to a press release at the time.
Oriol said the construction contract includes all of that work. Additionally, there will be some improvements. Specifically, roofing will be replaced with smaller sections so that future repairs can be more targeted. Also, mold-resistant materials will be used in the building.
It's hard to judge how much the closure will affect the public.
"There's been so much on and off, on and off with this building," Oriol said, that it's not really possible to document how much the public has been using it.
It seemed plagued from the start. Built in 2008, it didn't really open until 2013. A malfunctioning chiller closed it down for several weeks in 2017 (months before the hurricanes).
Again because of the chiller, it was closed from February to June in 2022, Oriol said. Then there was the lightning strike that knocked out electricity and air conditioning and closed the library for several months. In between, there were several closings for days or weeks.
"That building's been just such a sick building," Oriol said. Hopefully, the restoration work will be a turnaround.
Originally, the FEMA grant was also intended to cover the cost of restoring documents and other historical items housed at the Turnbull Library and other facilities in the territory, including, according to the press release, "a number of archival materials, books, photographs and negatives, framed artwork, documents, paintings and microfiche."
But costs grew from 2020, when DPNR applied for the FEMA grant until it had the money in hand, Oriol said. So now plans call for funding the archive rehabilitation from a separate grant.
In May of this year, the Interior Department announced a $3 million grant to DPNR for developing a "Climate Adaptation Roadmap for the USVI" and also for restoring "historical documents that were damaged by repeated heavy storms" and to "harden existing infrastructure that houses archival documents for the territory."
Among the concerns are cadastral records going back to colonial times, copies of Caribbean publications, church records, birth and death records and assorted historical documents.
"It's mainly mold" that has caused the damage, Oriol said. But there is also some decay of microfiche. Years ago, the territory used microfiche as the state-of-the-art method for preserving records, but "They've started to wear."
So now, plans call for digitizing the collection, using the originals.
"A whole lot of it is still available," Oriol said.
The government is working on a contract now to bring in former libraries and archives staff to make an assessment of what needs to be done, he added.
On another positive note, DPNR is extending library hours. The Sprauve Library will be open Tuesday through Saturday, starting at 10 a.m. On weekdays, it will stay open until 7 p.m., and on Saturdays, it will close at 5 p.m.
Oriol said the department will stagger shifts for the staff to accommodate the evening and Saturday hours. He's also hoping to hire more staff to enable the library to open on Mondays in the future.