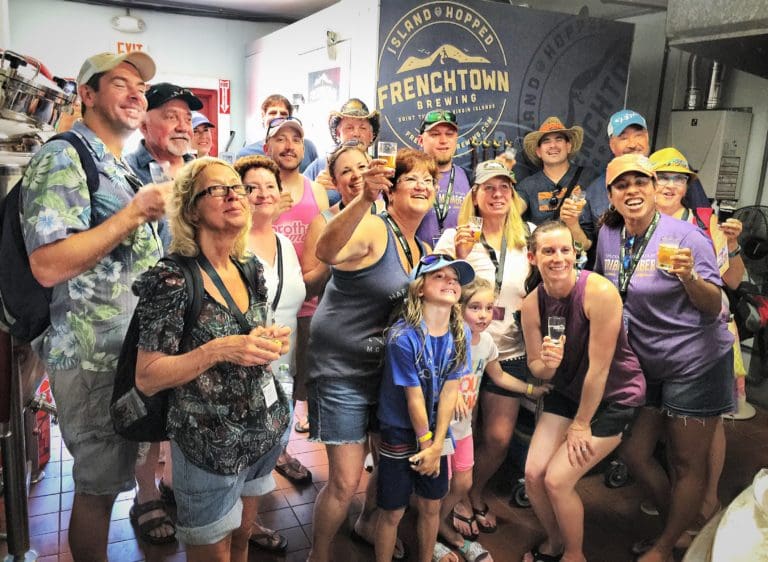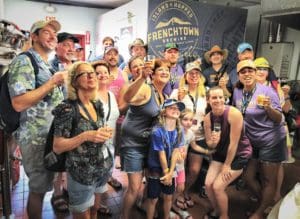 An excited group of thirsty craft beer fans traveling aboard Royal Caribbean's Harmony of the Seas descended on Frenchtown Brewing last Wednesday. As part of a growing trend in leisure travel, the group was visiting island breweries and distilleries on their "Brews Cruise."
The group of 44 had Tomoka Brewing Company in Port Orange, Fla., in common. Travel agents Danny and Melissa Wentworth love craft beer. A recent brewery tour took them to the nearby Tomoka Brewing where they came up with the idea of getting people together for a Caribbean Craft Beer Cruise. Tomoka's owners and their families jumped right in as well as their patrons from as far away as Denver and Philadelphia.
Danny explained that groups are a big part of their business. "Families and groups look for local activities and experiences they can enjoy together as they travel. The Brews Cruise, featuring local island brewers and distillers, really made this a memorable trip for our group."
Frenchtown Brewing co-owner Terri Brown welcomes travelers to the brewery. "With 22 percent of cruise ship guests to St. Thomas returning for the fourth or fifth time, there is a need for new local experiences. A visit to the brewery is about more than tasting a locally-brewed craft beer; we explain the brewing process, give the history of Frenchtown, and make sure kids are having as much fun as their parents."
According to Julia Herz of the Brewers Association and publisher of www.CraftBeer.com, craft beer tourism is thriving. "Small and independent craft brewers are part of the DNA of their communities. They are becoming mainstay attractions for travelers."
Gov. Albert Bryan Jr., declared May 2019 as Virgin Islands Travel and Tourism Month throughout the territory. He has suggested that USVI residents take this opportunity to visit local attractions like Frenchtown Brewing and see the islands through the eyes of the nearly 1.9 million annual visitors to the U.S. Virgin Islands.
Frenchtown Brewing Company opened their doors in 2015. The Brewery and Octopus Lounge Tasting Room is located in historic Frenchtown in the Frenchtown Mall Building above Sea La Vie restaurant.
For more information, contact Terri Brown at 690-2104.