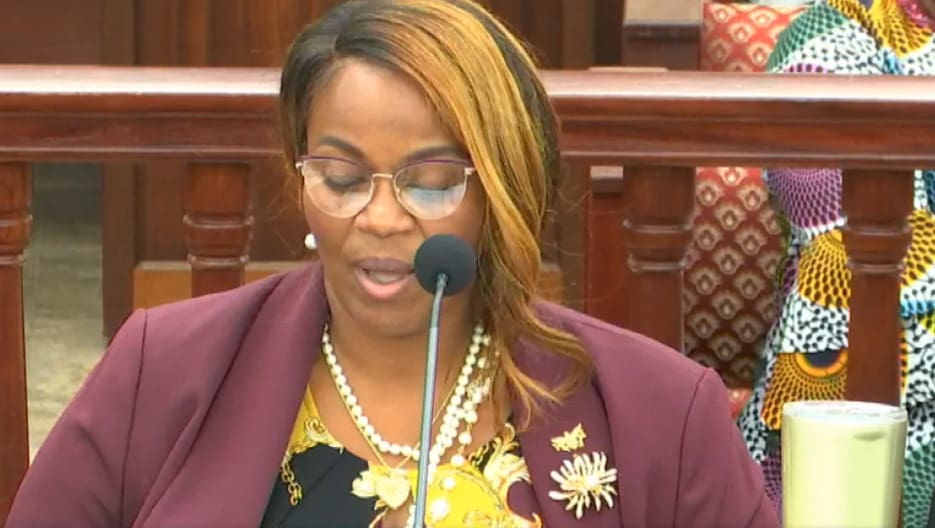 Sen. Steven Payne Sr. began the Senate Committee on Homeland Security, Justice, Public Safety and Veterans Affairs hearing Thursday with a long list of complaints about the way the Bureau of Corrections is being run under director Winnie Testamark. The complaints painted a picture of a demoralized agency from which employees are leaving in disgust.
However, after a 15-page testimony read by Testamark and eight hours of discussion, an alternate picture emerged, one that encouraged a few senators to praise Testamark's leadership abilities.
"If I offended anyone in my zeal to turn things around at the bureau, I am truly sorry," Testamark said.
Sen. Donna Frett-Gregory said the apology was not necessary. "If a bulldog approach is necessary to change what is wrong, don't apologize," she said.
Testamark addressed some of senators' complaints directly. "The depiction portrayed in the online blog – of widespread resignations and dismissals – is inaccurate. Some of the persons in the positions listed resigned before I ever joined the bureau. Some left because they were in exempt positions, and there was a change in administrations. This is common in government, not just at the bureau. Some left to take more lucrative jobs elsewhere. We lost some employees to the Limetree Bay Terminal and Refinery on St. Croix. As the Virgin Islands economy strengthens, some employees may decide to take advantage of the benefits of working in the private sector. Bureau salaries, especially in the health field, are not competitive with salaries elsewhere."
Sen. Novelle Francis Jr. said he is torn on whether to support Testamark because of how many complaints there have been from a variety of sources.
Payne said the complaints came from management "all the way down to janitorial services."
Testamark responded to the senators saying that when "dysfunctional is the normal, change is resisted."
Most of the Corrections management team present – all of whom were placed in their positions during the year Testamark has been head of the bureau – expressed strong support for her leadership.
Discussion at the hearing focused on the federal consent decrees faced by the territory's two jails. The St. Croix jail has been federally monitored for 34 years and the St. Thomas jail for 26 years. Testamark could not give a timeline when the jail would progress enough to satisfy the federal government, but she said progress is being made and recent reports have been positive. She also said there is a case in court to force the St. Thomas jail to be taken over by federal authorities. She said, "As we sit here today, there is a petition on Judge Gomez's desk that would allow for a federal takeover of the St. Thomas Jail. We are only a hair's breadth away."
Two-hundred and thirty-two inmates are presently lodged in the two jails. The bureau also oversees the incarceration of another 180 inmates off island.
"Upon taking command at the bureau, I found an agency in crisis," Testamark said. "We were in a nosedive, as it were. I had no choice but to take immediate, corrective action to avoid disaster."
She then gave a list of what she saw as bureau accomplishments under her tenure:
– Reduced accounts payable by 70 percent,
– Hired a procurement specialist, Peter Abrahams, who is also the program and grants manager,
– Created a Labor Relations Unit to handle employee grievances,
– Hired a new chief inspector, Anthony Hector, a former police detective and former head of the Law Enforcement Supervisor's Union,
– Conducted more correctional officer training last year than at any other time in bureau history,
– Completed a needs assessment for all inmates to prepare them for reentry into society,
– Started a platform for live video visitations at both Golden Grove and the St. Thomas jail,
– Created a project for a unit for the mentally ill,
– Revived the Inmate Work Program, and
– Partnered with schools to help keep youth out of the system. The bureau has partnered with two schools – Eulalie Rivera Elementary School and Arthur A. Richards Junior High School on St. Croix – to help break the classroom to prison pipeline.
"This is an exciting time to be at the bureau," Testamark said. "We are no longer an agency in crisis; we are an agency in transition."