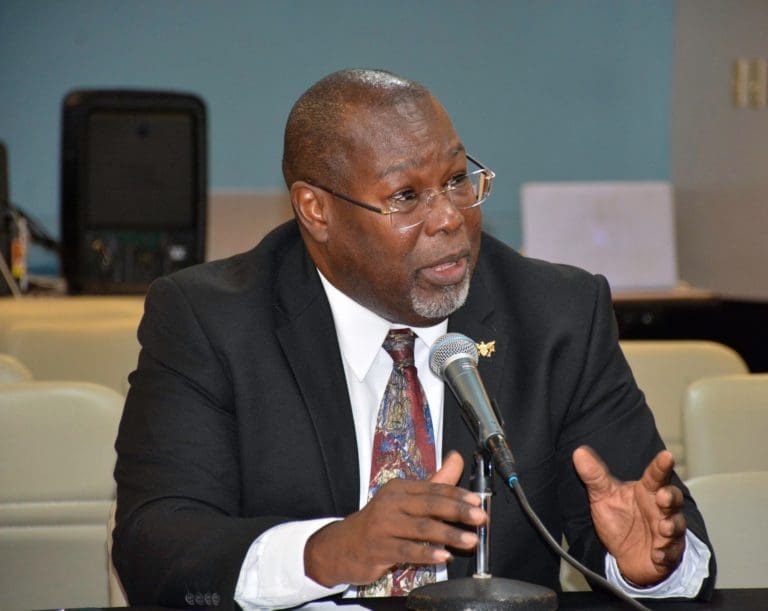 Unemployment insurance payments are starting to flow to V.I. residents suffering layoffs because of the coronavirus, but the logistical strain on the system means it's going to be a while before all needs are met.
The Labor Department is struggling under an unprecedented volume of claims at the same time it is forced to create new systems to accommodate federal programs aimed at temporarily expanding unemployment throughout the country.
"Right now we have approximately 4,000 applications and counting," Labor Commissioner Gary Molloy told the Source Friday. About 2,500 of those have made it through the first phase of the application process and some 700 to 800 of those have been completed.
"So, individuals are getting checks," he said. The department is processing checks "two to three times a week."
In December, according to Labor's website, the V.I. workforce stood at a little under 36,000 total (25,279 in the private sector and 10,610 in government), so 4,000 claimants is significant but it is only a fraction of what is to come.
Molloy said the government is expecting to see about 12,000 coronavirus-related claims that would be covered under the regular system, plus an additional 20,000 claims from people who normally are not covered by unemployment insurance.
The $2 trillion package Congress passed to provide relief for businesses and workers effected by coronavirus slowdowns and shutdowns, known as the CARES Act, contains several provisions designed to boost unemployment benefits.
Two of the best known involve federal funding to cover an additional payment of as much as $600, on top of weekly state unemployment payments and an extension of the benefit payments from the normal state limit of 26 weeks to 39 weeks.
Under a provision called Pandemic Unemployment Assistance, the act also provides for unemployment payments for a large group of workers who are generally ineligible for regular unemployment, most notably independent contractors, self-employed workers, those who have little work history and those who have exhausted their rights to regular benefits.
All that is great news for workers and the communities they live in, of course, but as Molloy noted, "the devil is in the details."
Workers who are not yet in the system have to get into it. They will not be eligible for PUA unless and until they have applied for regular assistance and been denied.
"Our system will have to be reprogrammed" to accommodate the PUA program, Molloy said. There are about 10 different criteria that Labor must consider in determining PUA eligibility. "It's a very cumbersome process that we have to go through to be able to distribute" the federal assistance.
And there are "nuances" to other special assistance in CARES. Molloy said department attorneys meet with their counterparts from across the country two days a week just to get instructions and try to figure out how to implement the various provisions that will satisfy federal requirements.
Federal money is involved, so local governments have to be careful to comply with all regulations, Molloy said.
"We're going to be audited."
Meanwhile, the department continues to respond to an onslaught of regular claims.
Molloy said he's getting substantial support from Gov. Albert Bryan Jr. – himself a former Labor commissioner – in efforts to streamline the system and "get the money on the street" where it will help the individual worker and family, and boost the economy as it circulates through the community.
A major part of the effort is further automating the system, so people will be able to complete applications and follow up online. Currently, they can do much, but not all, of the paperwork electronically.
Labor began that effort months before it became critical because of the coronavirus. A firm was contracted last August to work on automating the department.
"We're trying to speed up" the work, Molloy said. "I don't want to jinx it," but he is hopeful the system can be fully automated well before the contractor's original September deadline.
The department is also working "feverishly" to set up electronic payments, he said. Currently, it is using checks only.
The territory has received a waiver from the U.S. Labor Department that should cut down on some of the volume of paperwork the local government has to process, as well as promote social distancing. Workers who are receiving benefits will no longer have to return each week to show they have been actively looking for work. Instead, Molloy said, they can use Labor's online system to search for jobs electronically.
Despite initiatives that cut down on the workload, the department still finds itself short-handed. Molloy said the administration has agreed to temporarily shift some personnel "who meet the criteria" from other departments to Labor, where they are being trained to help fill in. The first of those transfers begin this week, and Molloy said he is hoping to get about 50 people eventually.
The turn-around time for regular assistance was about two weeks before restaurants, hotels and other businesses were forced to close. Now it is about three weeks, he said.
That's assuming there are no problems with the application, no problems with eligibility and that the applicant's employer has paid into the system as required.
Unfortunately, the current crisis is highlighting cracks in the system. Some businesses have failed even to register with Labor, and some have been underreporting the number of employees they have and paying a lower unemployment tax, Molloy said.
"It becomes more frustrating for the employees" when that becomes apparent, he said. And, "it's going to create a nightmare" for the businesses that have been doing it.
It has consequences for the whole territory too. If there isn't enough money in the unemployment fund to cover all those who should receive benefits, "that's going to force the Department of Labor to borrow earlier from the National Trust Fund," Molloy said.
On the other hand, Molloy said many businesses not only routinely comply with requirements, in this crisis they are "really helping us out." Some even assist their workers in applying for unemployment.
Government workers are also eligible for unemployment benefits if they are laid off. But Molloy explained neither the government nor nonprofit entities pay into the fund like businesses; rather they pay by reimbursement if and when a worker receives benefits.
The territory's unemployment rate is expected to soar in the coming weeks. Molloy said it stood at 5.2 percent in December, before the virus became an issue. By January it was at 8 percent. Typically, there is a lag of about two months in establishing the figure, so "the last thing I saw" was the 8 percent.
However, Molloy said, "It's significantly higher now."