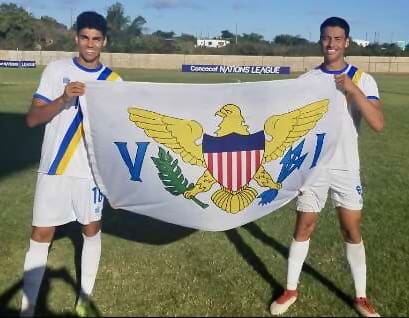 Konner and Karson Kendall grew up on St. Thomas and have represented the U.S. Virgin Islands Senior Men's National Team. They were playing soccer at high levels in the United States when COVID-19 began to shut down sports.
Konner completed a trial for The Villages SC, a semiprofessional team in Florida that plays in USL 2 – a semiprofessional league that helps players gain skill and exposes them, to professional clubs. He planned to sign up and play in the U.S. Open Cup, but a day before he was supposed to officially sign up he received a phone call that the league would be postponed.
The full season for USL 2 has since been cancelled, but Konner is looking to get on a squad and get some playing time with clubs beginning to play in scrimmages.
"Whether there is an opportunity or not right in your face, if you do want to be a pro player that part doesn't matter," Konner said. "You have to be on it all the time, whether you know you're going to a team in a month or not, because the game is so wild and unpredictable you can literally get a phone call tomorrow and someone is like I found this team for you, they've seen your tape, they really like you and we need you here next week."
He was a walk-on at a Division I soccer program at Elon University, but injuries and coaching changes made the transition to the mainland difficult. He said he used the experience to "realize how much work I have to put in."
Karson, who plays center back for High Point University, had more than half of his spring season cancelled due to the COVID-19 pandemic and playing spring soccer is "a big factor" headed into his sophomore season.
"You have a group of guys working in the spring after a lot of seniors left, it was a senior heavy team and the group of younger guys working in the spring creating a bond, style of play and really getting to know each other and to have that cut in half is a bit difficult going into the fall," he said.
He said he expects to be able to return to campus in July and seemed confident that the fall NCAA season will happen.
In Karson's freshman season, he started in 17 games and made the All-Conference Freshman Team. High Point lost in the Big Sky Conference championship and played some notable teams in his first year, including national runner-up Virginia, narrowly falling 1-0 on the road in September 2019.
Karson went to Kansas City at 15 to play in an MLS academy, Sporting FC, before moving to High Point University last fall.
The experience at 15 was an "eye-opening experience to the amount of talent people had."
Both Kendall brothers know how much faster and technical the game is at the high level on the mainland and how there was an adjustment period when they first started playing in the U.S.
They both most recently represented the Virgin Islands for the Men's National Team in the inaugural season of the CONCACAF Nations League.
For Konner, the experience of playing for the national team in meaningful games that the Nations League provided gave him experience that drove him to keep pushing and inspired him to improve as a player.
The Nations League also provided Konner a look into a higher level of commitment that comes with being a full-time soccer player. He said he had to learn certain off-the-field aspects of "being a professional in a profession I am striving for."
Karson had a different experience. Nations League play took place at the same time as his collegiate season and navigating both schedules "is a bit stressful for players that are playing college as well, but luckily for me I had really good coaches on both ends."
He had to miss some college games and picked up an injury against Barbados, but said he sees the benefit of the league.
"It's good for smaller Caribbean nations, especially for those that might not have the best professional league, for their good players to have consistent training and consistent games."
Both are living on St. Thomas right now and staying in shape, getting in running and weight lifting sessions and doing what they can to use the unique time period to find creative ways to get better, even if that's practicing their touch on a small patch of grass with each other as opposed to practicing on a full field with teammates.
Karson has been following a conditioning program provided by his university as well.
They both understand the importance of the hard work to make it from the Virgin Islands to playing in the states.
Asked what advice he'd give younger players trying to pursue a soccer career, Konner encouraged them to never stop pushing themselves.
"You have to be competing against yourself," he said, "knowing that if you aren't putting in the work someone else out there in the world is, and there is only so many soccer teams out there – granted there are a lot, but there's so many people in the world that play the sport and only X amount of spots – you have to fight all the guys, it's a grind all the time."
Karson cautioned young players from the islands that they may have to make hard decisions about where they live to pursue their dreams.
"My advice isn't necessarily to leave, but if you are really really serious about it at this time you might have to look for opportunities elsewhere to improve your game," he said.
Karson also echoed his brother, encouraging players, "Just keep working, keep grinding through these uncertain times. There are still opportunities and there is definitely an end to all this … use this time as a chance to get better instead of getting worse. Try and use this time to better yourself, strive to get more fit, get better touches and be a better version of yourself, because this too shall pass."
Highlights video of both players are available online:
Karson Kendall
Konner Kendall