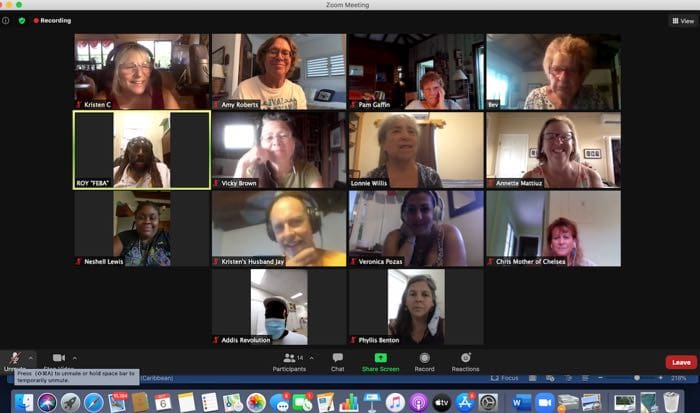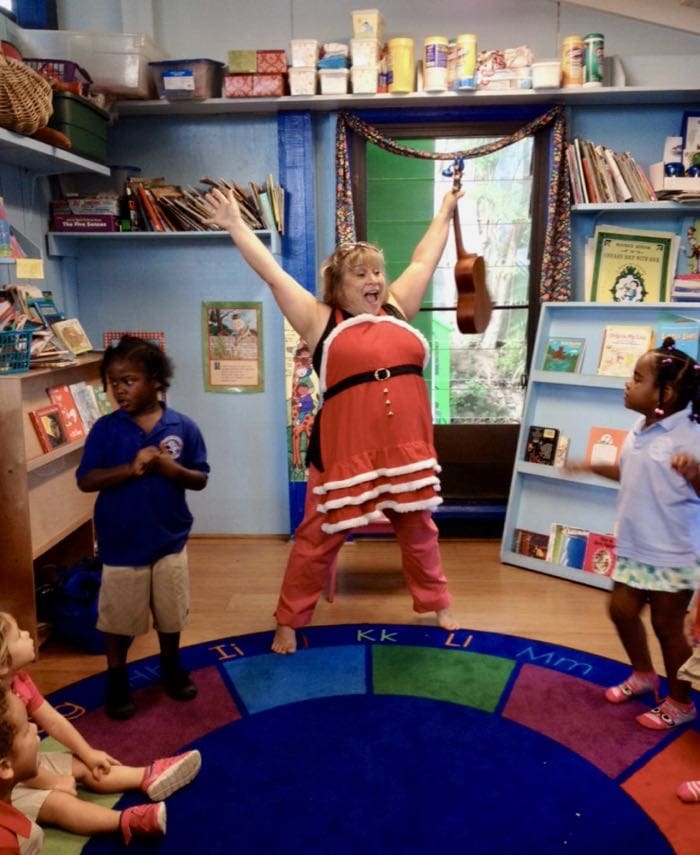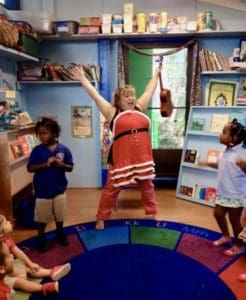 Giants walk among us, but sometimes they come in small packages.
One of these "jumbo shrimps" is Kristen Carmichael-Bowers. She's only 4 feet, 7-and-a-half inches tall, but when she stands up to sing at a community event in Cruz Bay, her voice fills Franklin Powell Park (and beyond), even without a microphone.
Carmichael-Bowers once trained as an opera singer, but it's not as a performer that she has become known on St. John. It's her role as a choir director, working with children, adults and seniors, that has sent ripples through the community.
In her six years living on St. John she's launched five choirs, four of which are active. In these days of COVID-19 – when gathering together for the purpose of singing is practically forbidden – this is nothing short of miraculous.
How does she do it? By gritting her teeth and mastering Zoom – the technology we're all learning to use – and summoning her many skills as a veteran teacher. Plus, she has a special power – an irrepressible sense of joy.
Before the pandemic hit in March, Carmichael-Bowers was one week away from conducting a concert featuring every willing child on St. John from kindergarten to second grade. She was working with local quelbe and reggae musicians to present a concert of Caribbean music with her adult community choir in April. She was prepping her children's honors choir to sing at a Transfer Day ceremony, and she was planning an expanded summer program for senior citizens.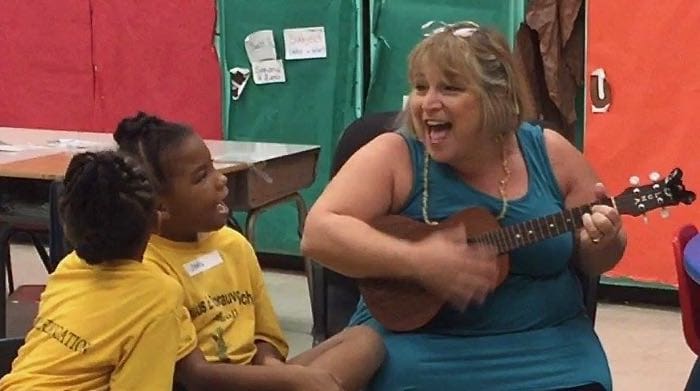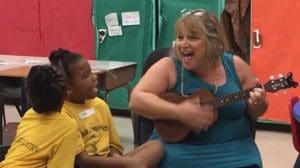 At the same time, Carmichael-Bowers was also trying to figure out how to make a living and develop Sing St. John, the nonprofit organization she has nurtured to support her various efforts.
Knowing of her tireless work, a pair of "angels" came forward. Martha and Dana Robes, who own a home on St. John, set up a matching grant of $40,000 with the idea that twice that amount would fund Carmichael-Bowers' efforts for the year.
The Robes' set a deadline of Nov. 1, and Carmichael-Bowers is eager to get the word out that "to sustain these choirs, now is the time to open your hearts and your wallets." Donations can be made at the Sing St. John website.
Anyone who wants to open their voice as well is invited to join the St. John Recovery Choir.
Rehearsals are being held via Zoom from 5:30 to 6:30 p.m. Tuesdays and Thursdays, and there is still plenty of time to join, she said.
Carmichael-Bowers started the choir to support St. John's long-term recovery effort from the hurricanes of 2017. Since then, members have come together to present concerts featuring the music of Motown, songs of resilience and holiday music from diverse traditions.
Moving to an online platform is challenging, but Carmichael-Bowers is looking at the bright side.
"With Zoom, it doesn't matter where you live or how well you sing. You just hit the 'mute' button and sing as loud as you want," she said.
Tuesday rehearsals will focus on reggae and quelbe music, with the goal of presenting a spring Zoom concert with local musicians, including Addis Smith, Haile Israel, Lemuel "Beeble" Callwood, Aswad Pickering and Mahlon "Koko" Pickering.
Thursday rehearsals will focus on learning harmonies to holiday music and will culminate in a livestreamed event on Dec. 19. Regular attendance at Zoom rehearsals isn't mandatory at this point.
"Come as often as you want," said Carmichael-Bowers. "Those who learn their parts and want to be recorded will be given the opportunity to lay down tracks for the December Zoom concert."
The music is simple and a lot of fun, she said, but because of security issues on Zoom, registration is required. Members who enroll can also attend weekly free courses in sight-singing and vocal technique.
Carmichael-Bowers also plans October as the start of the St. John All Island Children's Choir, which will also be virtual this semester because the public schools have moved to a distance-learning format.
Last year this choir became part of the regular school-day program so that all children attending the Julius E. Sprauve School, Gifft Hill School and St. John Christian Academy as well as home-schooled children could attend.
Almost 250 children performed songs in English, Spanish, Haitian Creole and languages of the African continent.
"We know that the strength of a community lies in diversity. It's true in nature and society," Carmichael-Bowers said.
"Singing is a birthright," Carmichael-Bower believes, and singing together teaches youngsters valuable social skills. "Music helps us to be more cooperative, to listen carefully."
Being a part of a choir gives children an opportunity to shine that they might not find elsewhere, she said.
"There are so many talented kids who don't necessarily find academics to be their forte, but find themselves excelling in the arts," Carmichael-Bowers said. "Research is showing there are so many different kinds of intelligence."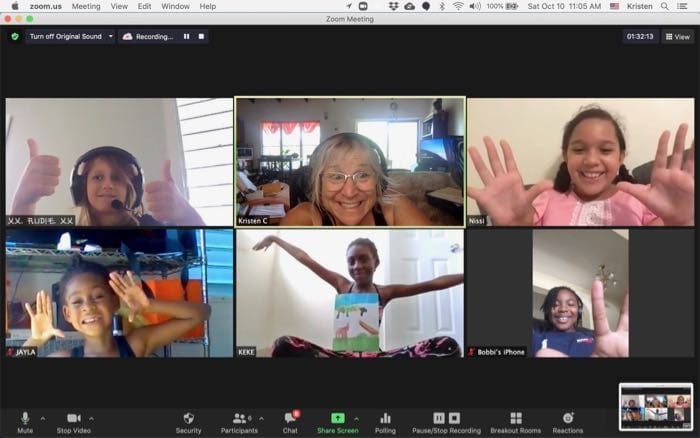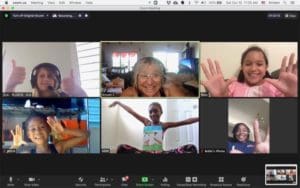 Youngsters in third through eighth grades who thrive in the All Island Children's Choir are invited to join the "honors" ensemble known as "Ocama!" which is the Taino word for "Listen!"
"For 'Ocama!' the discipline is central," Carmichael-Bowers said. "It's work. Families have to sign a contract, not only for behavior but for timeliness at practices It's about seeing music for what it is; it's an art, not just a form of recreation."
Since there is such a wide range of ages, older children are expected to mentor the younger ones.
When she finds a child with talent and motivation, Carmichael-Bowers does whatever it takes to encourage their participation.
"I text. I go to people's houses. I meet the parents at their work. The communication barrier can be exhausting for parents who don't speak English fluently, so the effort to do outreach has to be on my part."
Membership for Ocama! is still open. Rehearsals are being held from 3:30 to 4:30 p.m. on Thursdays and 10 to 11 a.m. on Saturdays.
Working with such a broad range of ability and experience wasn't what Carmichael-Bowers was accustomed to when she first came to the island from Vermont in 2011. Back then, she was used to working intensely as a vocal coach with adults and with middle and high school students.
"They were kids who had ambitions and saw music in their future. They came to me to prepare for roles or they had performance goals," she said.
Carmichael-Bowers arrived as part of a team from the New England Youth Theater to prepare students at the Gifft Hill School for their Spring Cabaret.
The "more chill, less driven" lifestyle on St. John proved to be a welcomed change. After two years of teaching part-time on St. John, her and her husband, Jay Bowers, made the big move to St. John in 2014.
She still draws upon her training in vocal pedagogy, but her teaching has evolved.
"I allow for more time for process, and trust that 'we'll get there' when it comes to performance standards," she said.
Further information is available by contacting Carmichael-Bowers by phone at 802-380-0761, by email at kristen.carmichael.bowers@gmail.com or on the Sing St. John website.
Editor's note: Reporter Amy Roberts, who wrote this story, is a member of the Recovery Choir and on the board of Sing St. John.