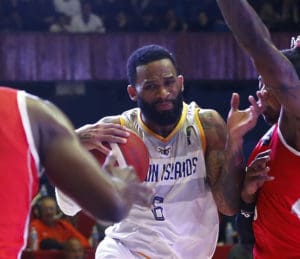 The U.S Virgin Islands Men's Basketball team will take to the road this weekend to play the Dominican Republic in the third FIBA Americup qualifier.
The game will take place at 5:30 p.m. Sunday and can be watched with an ESPN+ subscription.
The Virgin Islands roster for the game is Walter Hodge, Deon Edwin, Ivan Aska, Trivante Bloodman, Georgio Miligan, LaRon Smith, Jason Perry-Murray, Xavier RIchards, Jervan Jackson, Devon Peltier and Leonardo Castillo.
Hodge leads the team with 22.5 points per game and five assists per game. Jackson led the team in rebounds with 8.5 per game while Hodge claimed 7.5 rebounds in the opening set of games.
The team will be coached by Donald Bough and Kevin Sheppard.
The team was supposed to have played Canada on Monday but did not travel, because doing so would contradict the recommendation of medical professionals, Canada Basketball said in a press release. There has been no announcement on when or if this game will be rescheduled.
In the first window of games, the USVI won one and lost one against Cuba. The Dominican Republic and Canada also split their two match-ups which leave all four teams at 1-1 in the group. The Dominican Republic is in first place based on point differential, followed by Cuba. The USVI is in third place and Canada is fourth.
The Dominican Republic will play Cuba on Monday.
Each team is expected to play six games, health and pandemic issues allowing, and the top three teams will advance to the FIBA AmeriCup in the summer. In the 2017 Americup, the USVI's fourth-place finish was the territory's highest FIBA AmeriCup finish ever.
The next window of games will take place near the end of February.