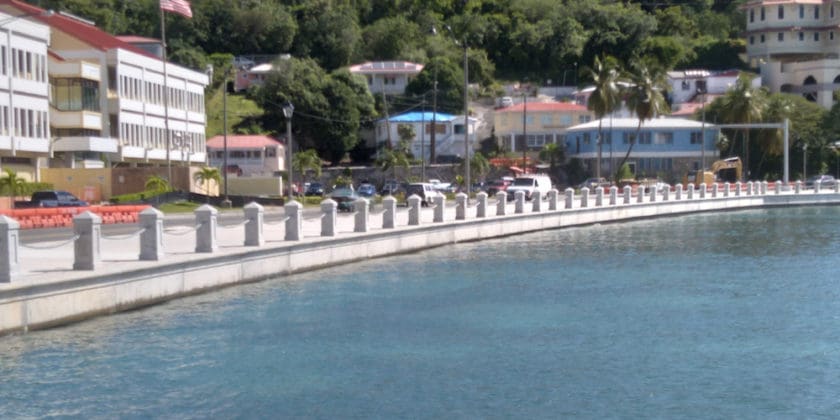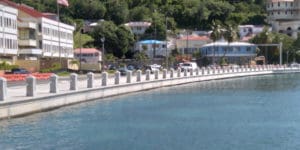 One day, back in January or February, Gregory Guannel was on St. Croix when he got a stark reminder of why his work is important.
"It was a sunny day, with large swells," said Guannel, director of the Caribbean Green Technology Center at the University of the Virgin Islands.
He was in Christiansted when he witnessed something that's not supposed to happen: Seawater was splashing up from an inland grate. Rather than groundwater flowing from the town to the ocean, the ocean was invading the town – just a little.
In mid-November, he witnessed a similar phenomenon on St. Thomas. This time it wasn't a surprise, because he was looking for it.
Scientists say that a "king tide" – a periodic, but abnormally high tide in any given region – illustrates some of what will happen as sea levels continue to rise because of global warming.
What Guannel saw, and photographed, in downtown Charlotte Amalie during a king tide last month, was the harbor risen to a level just slightly lower than Veterans Drive/Waterfront Highway. What concerned him most were the numerous outflows along the coastline.
"They were completely underwater," he said. "This didn't happen 20 or 30 years ago."
It doesn't happen often now, of course, but Guannel said it could be as little as five to 10 years before the outflows, as they are now configured, will be below the normal water line.
Warnings about the sea-level rise from climate change scientists have been getting louder in recent years as research has shown that it is accelerating at a rate surprising even to the experts.
A November article in the magazine Science quotes a study concluding that the overall rate of rise is not 3.2 millimeters (1/8 of an inch) per year as commonly held, but rather 4.8 millimeters, or 3/16 of an inch. Perhaps more compelling for the average person is a 2019 study published in Nature Climate Change that determined that the world's oceans have risen 20 centimeters (or close to eight inches) since 1900 and that the increase began to speed up in the late 1960s, not in the 1980s as previously believed.
The primary causes are melting glaciers and ice sheets and the thermal expansion of ocean water from global warming, according to the Science article.
In an email response to questions from the Source, Felix Landerer, a sea-level scientist with NASA's Jet Propulsion Laboratory, said, "Climate scientists have long predicted that sea-level rise will increase and likely accelerate, in particular in a world where heat-trapping greenhouse gas emissions continue unabated. The effects of sea-level rise compound over time, tilting the odds in favor of extreme events that cause flooding, erosion and an overall strain on the coastlines and infrastructure close to the sea."
Determining just how high the water will rise in the next decades remains a challenge, Landerer said.
"But as we get more and better observations of ocean warming and glacier melt, unequivocal evidence is piling up that sea levels are rising faster today than they have ever been over at least the last 100 years," he said.
The problem is compounded in some parts of the world where land masses are lowering as waters are rising, Guannel said. On the Gulf Coast of the U.S., for instance, the land is getting lower because of the extraction of gas and water. In other areas, including parts of Canada, shifting plates are causing changes in land height.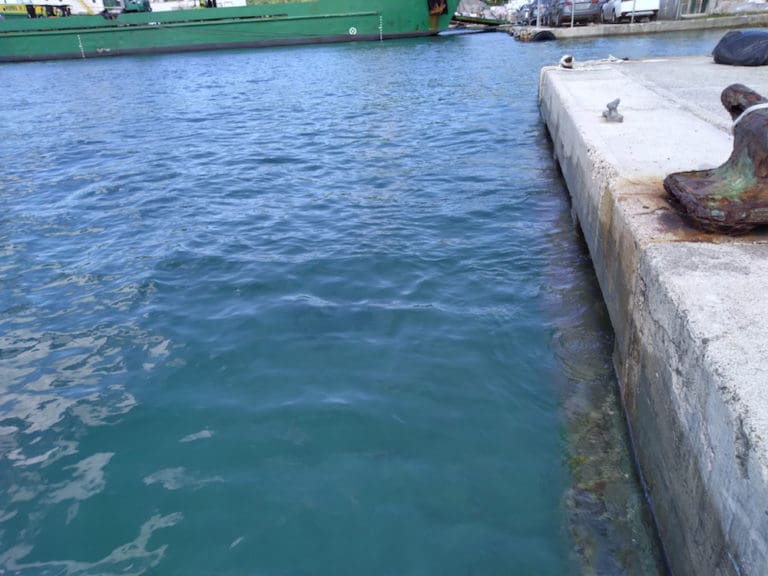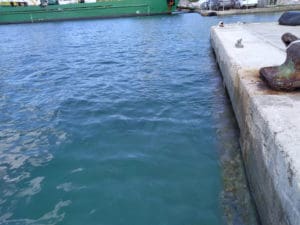 Neither of those is a problem for the Virgin Islands, he said. And the islands have a few other advantages.
"The good thing that we have is our topography is varied," Guannel said.
Unlike some islands that are predominately flat and expected to suffer major erosion, the Virgin Islands begin to rise not far from the coastline.
"It's mostly our beaches that are going to be impacted," he said, although he also said, "We can see a lot of erosion in Christiansted."
But for immediate practical impacts of sea-level rise, "the issue is drainage," he said.
As hard as it may be to know precisely how high ocean levels will be in the near future, it is difficult to document how low they were 50 or 100 years ago. At least in the area of the Virgin Islands, there are no detailed measurements, Guannel said.
Old photographs and old memories offer anecdotal comparisons and researchers can give educated guesses.
"I think these phenomena [water backing up outflows] were not happening back in the '90s," Guannel said. People couldn't hear sea water running in guts as they can occasionally now.
Sea-level rise is only one of a multitude of climate change effects, Guannel noted. Another of particular significance for our area is an increase in the frequency and intensity of droughts, as well as of tropical storms.
In fact, according to researchers, virtually all aspects of life are being affected by global warming, but despite its importance, it still gets relatively little attention in many communities.
"In the V.I. it has not been a priority," Guannel said.
In recent years there have been more immediate concerns, including a faltering economy, devasting hurricanes and the novel coronavirus.
However, citing public-private collaboration on hazard mitigation as an example, he said climate change is not being totally ignored. Another sign of attention: he's working with the Department of Planning and Natural Resources to take advantage of federal assistance to hire a climate adaptation program specialist for the territory.
"Things are going to happen," he said.