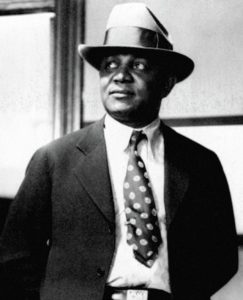 Operating an illegal numbers game in New York in the early 20th century could get you beaten and held for ransom if you made millions of dollars from the game. This is what happened to native Virgin Islander and millionaire Casper Holstein.
Though Holstein's success put him on the radar of police and several news outlets, he also became a prominent figure in Harlem society. He also spearheaded philanthropic and social justice projects in his native Virgin Islands before his downfall.
The Society of Virgin Islands Historians along with the St. Croix Friends of Denmark held a lecture on Holstein, "Casper Holstein, a Man of Influence and Philanthropy in the Virgin Islands."
Due to social distancing restrictions in place as a result of COVID-19, the St. Croix-based society hosted its annual lecture via Zoom. Making it a virtual conference and possible for viewers throughout the territory to witness the lecture firsthand.
The event included speakers Ronald Hewitt, Carl Christensen, Chester Williams and Elizabeth Rezende.
Rezende, the society's president, said she looked forward to having the event focused on Holstein. She said she "wanted to emphasize his philanthropic works."
Members of the society knew that along with Holstein's famous illegal numbers game he was a charitable and humanitarian figure, and they wanted to highlight those aspects about him.
Holstein was born on St. Croix, in Christiansted, in 1876, a few decades after the emancipation of enslaved people in the Danish territory and right before the Labor Revolt of 1878. As a result of being born at this time, presenters said, Holstein was familiar with the mistreatment of Black natives and their efforts to fight for better living standards. This would in turn push him to also be a trailblazer for the rights of natives.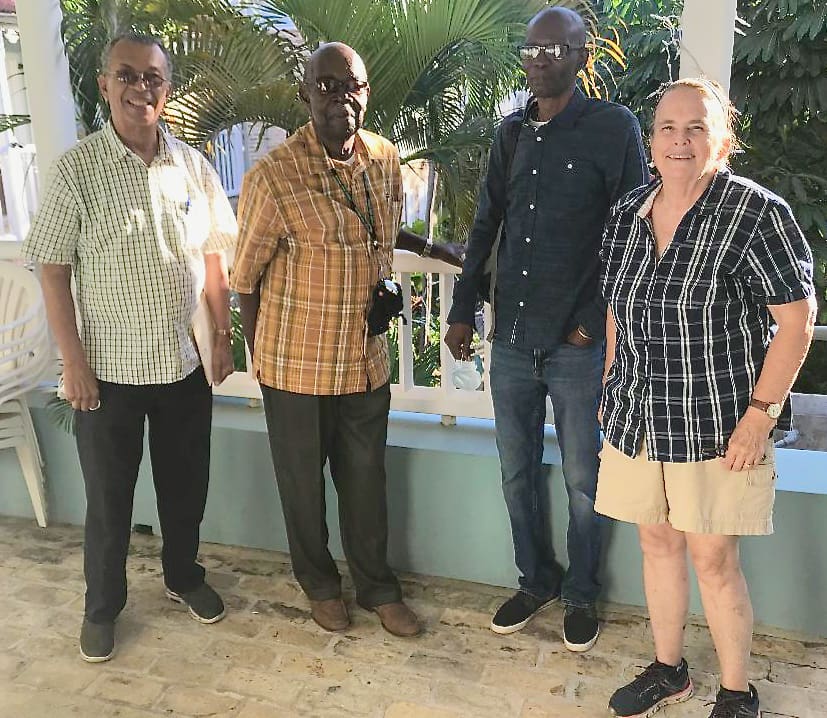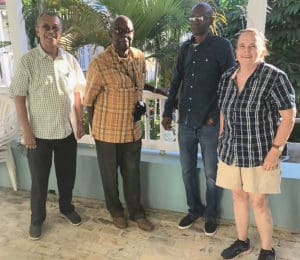 Holstein's birth name was Egbert Joseph. According to presenter Christensen, Holstein moved with his mother to Harlem, New York, at the age of 12 to create a better life. At the time, living on St. Croix in the area known as Free Gut (an area where the free blacks were relegated to live) came with challenges, Christensen said.
Hewitt said at the time, "People in these colonies struggled significantly. They didn't do well."
The Danish would regulate what emancipated people could wear, where they could work and in which areas they could live, making it tough for locals to secure better living standards.
"People in the Danish West Indies were doing poorly," Hewitt said.
In New York, Holstein started to secure himself financially. Christensen compared some key components of his life with that of Holstein's, such as being born on St. Croix, moving to New York at a young age with his mother, graduating from high school, joining the Navy and working on Wall Street.
Another speaker, Williams, talked about Holstein joining New York media and political groups.
"I found out about the V.I. organizations in New York and moved in that direction," Williams said. He said Holstein joined the New York V.I. Association and the V.I. Congressional Council in 1920.
As a result of Holstein's time on Wall Street, he created his numbers racket, or lottery, a game he developed called "Bolita." During Prohibition, the time known to history as "The Roaring '20s," Holstein reportedly made as much as $12,000 a day, earning the nickname "Bolita King."
"By the end of the 1920s he had become a millionaire and a dominant figure," Christensen said. He was also regarded as a hero for giving back to the community. He would give away 500 baskets of food and gifts for Christmas, build dorms for Black colleges, provide funds for figures in the Harlem Renaissance such as Langston Hughes, fund a Baptist school in Liberia, fund Black magazines and newspapers and much more. He even financed efforts for Marcus Garvey and his Black Star Line.
In 1918 Holstein made his first trip back home to the Virgin Islands. Hewitt said, "He didn't really come back to do any political work or anything like that. He came home to visit." During this time the transfer of the Danish West Indies to the United States of America kept the territory under the rule of the U.S. Navy. People were told that under naval rule conditions would get better, things such as sanitation and voting restrictions. But they didn't.
"It turned out the Americans did almost nothing for them. If you were a Black Virgin Islander at the time you didn't gain any power. The conditions didn't get any better … improvement also has something to do with fairness and equality, and that didn't change," Hewitt said.
"The Navy mistreated the Virgin Islanders," Rezende said. "They were never considered for government positions and not able to vote or petition."
In response, Holstein worked with St. Croix labor leader and newspaper Publisher David Hamilton Jackson to fight for better treatment of the locals. Holstein used his lobbying experience to help discontinue naval rule and grant Virgin Islanders the rights of U.S. citizens.
When the hurricanes of 1924 and 1928 struck the Virgin Islands, Holstein took it upon himself to donate supplies and money to rebuild the territory. According to Hewitt, Holstein even purchased land in estates Hope and Jerusalem, now the Hess Corporation, and developed it into a dairy farm to produce milk for the people of the Virgin Islands.
But his gambling past caught up with him, and in 1931 – at the peak of his success – Holstein was kidnapped by mobsters from the Bronx, who were trying to push out Black numbers racketeers. They forced Holstein out of his legendary lottery game.
"The white gangsters, mainly Dutch Schultz, started taking over," Christensen said. "They sort of pushed out the Black numbers operators."
Holstein was held for ransom but ended up being returned without paying it. When dealing with law enforcement after the kidnapping, he did not want to identify his kidnappers.
Holstein was a major player in the lottery and that seems to have put a target on his back. However, Hewitt said Holstein's involvement in racketeering has been overemphasized and that even the numbers game was overlooked by law enforcement.
"The truth of the matter is Casper Holstein was never involved to the point where he was on the FBI radar," said Hewitt.
Hewitt shared details from a letter written by J. Edgar Hoover, director of the Federal Bureau of Investigation to a worker for the V.I. Cooperation who complained about Holstein creating corruption and inciting laborers in the Virgin Islands. In the letter, Hoover said, "We don't deal with that." This implies to Hewitt that Holstein was not involved in any activity that was significant.
Overall, the lecturers presented Holstein as a philanthropic and admirable figure. Though he may be recognized for controversial actions during his early years, he left a distinctive mark on the mainland and the Virgin Islands.
"Even before the public series of events, the raid on his home, the kidnapping and the loss of his nightclubs, Casper Holstein had turned his attention to finding solutions for the conditions of the Virgin Islanders both in Harlem and in the islands," Rezende said.
Hewitt said that Holstein demonstrated "political leadership and generosity to the Virgin Islands."
Casper Holstein died in April 1944. Hundreds showed up to his memorial service at the Lutheran Church on St. Croix, paying tribute to a Virgin Islands hero.
More about Holstein is online here: "Black History Spotlight: Casper Holstein."