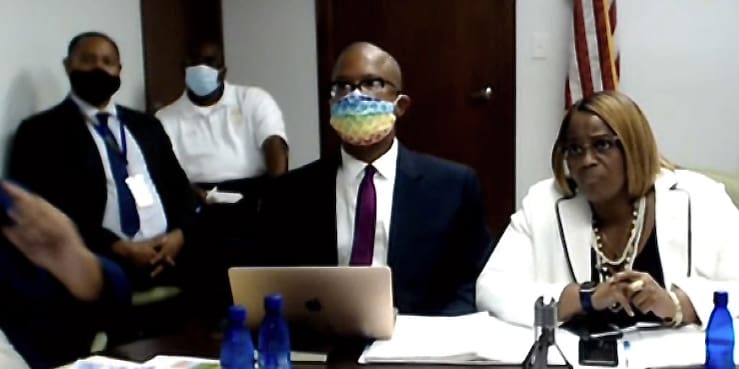 Wynnie Testamark, director of the Bureau of Corrections, told lawmakers about a year of successes at the bureau, but some lawmakers had a different view, with one saying he was "disgusted" at the way the bureau has been managed.
At a meeting on Tuesday of the Senate Committee on Homeland Security, Justice and Public Safety, Testamark read a 16-page report lauding what she called department successes last year despite the challenges caused by COVID-19. Sen. Franklin Johnson, on the other hand, said, "I am disgusted, depressed and disappointed in how you run this department."
Johnson, who spent 20 years in the Corrections Bureau, questioned why Testamark hired people who had no corrections experience for high administrative positions. He also said she was bringing down morale in the department.
Testamark appeared to resist answering some questions from Johnson, who said she got her job because of her "DNA, not her resume." She has an uncle who works in Government House.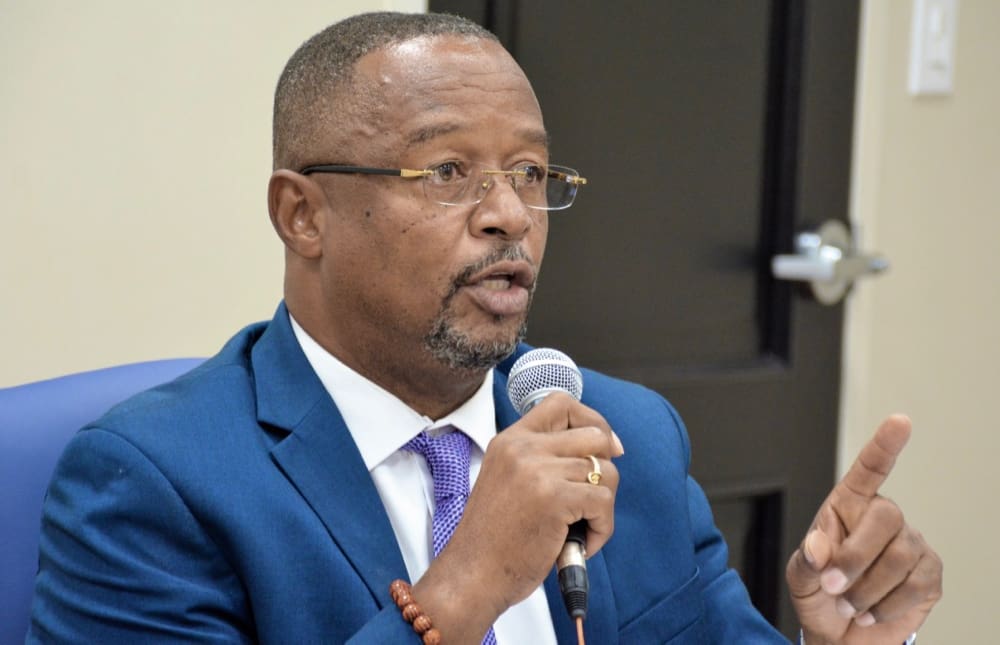 Sen. Dwayne M. DeGraff chaired the hearing because chairman Sen. Steven Payne Sr. has been diagnosed with COVID-19.
DeGraff said he supported Testamark and that she was doing a good job. However, he added she needed to answer Johnson's questions.
"If you expect everyone to be nice to you, you are in the wrong profession," he said.
Testamark touted the bureau's effort to prevent COVID-19 from spreading.
"Early, decisive steps to mitigate the COVID-19 threat have borne fruit," she said. "We have no reported or suspected cases of COVID-19 at either facility right now. John Bell on St. Croix [the John A. Bell Adult Correctional Facility, typically referred to as Golden Grove] has remained COVID-19 free since the pandemic began."
At the St. Thomas jail there was a COVID-19 outbreak in August, that infected 36 inmates and 11 staff members, Testamark said. No inmate required hospitalization nor did any die.
Testamark said the administration appreciated the staff and was doing everything it could to support them. Johnson said he had a report of a staff member who was still owed $3,000 in pay from last year.
She said the administration was working out the glitches in the payroll system and she had instructed the "payroll team to do whatever it takes to make sure our correctional officers are correctly paid."
According to Testamark, the bureau houses 228 inmates and detainees locally: 143 at John A. Bell Adult Correctional Facility on St. Croix and 85 at the Alexander A. Farrelly Criminal Justice Complex on St. Thomas. Of the inmates housed locally, 217 are male and 11 are female. Also, the bureau houses 148 inmates off-island: 100 at Citrus County Detention Facility in Florida and 48 at prisons in Virginia. These numbers do not include the 17 inmates with serious mental illnesses housed at Wellpath in South Carolina.
Sen. Kenneth Gittens said as far as the Bureau of Corrections was concerned, he was not sure "we are putting our best foot forward."
He said he could not understand why the bureau was struggling with staffing issues when half the inmates were now housed stateside.
Testamark in her testimony said, "We now have a total of 21 correctional recruits in various stages of the onboarding process: 15 on St. Thomas and six on St. Croix. This is by far the largest group of correctional recruits in recent memory."
Gittens also questioned whether enough was being done to get inmates in programs to learn a trade or get an education that would keep them from coming back to prison.
Testamark agreed with the importance of preventing recidivism.
"The bureau recognizes the need to train returning citizens in high-paying, technical jobs," she said. "We are collaborating with the Department of Labor to help our inmates with technical skills find jobs once they return to our community. For example, the bureau recently awarded culinary certificates to three inmates who participated in a culinary program at John Bell."
Present at the hearing were Sens. Novelle Francis Jr., Javan James Sr., Milton E. Potter, Johnson, DeGraff, Alma Francis Heyliger and Gittens.