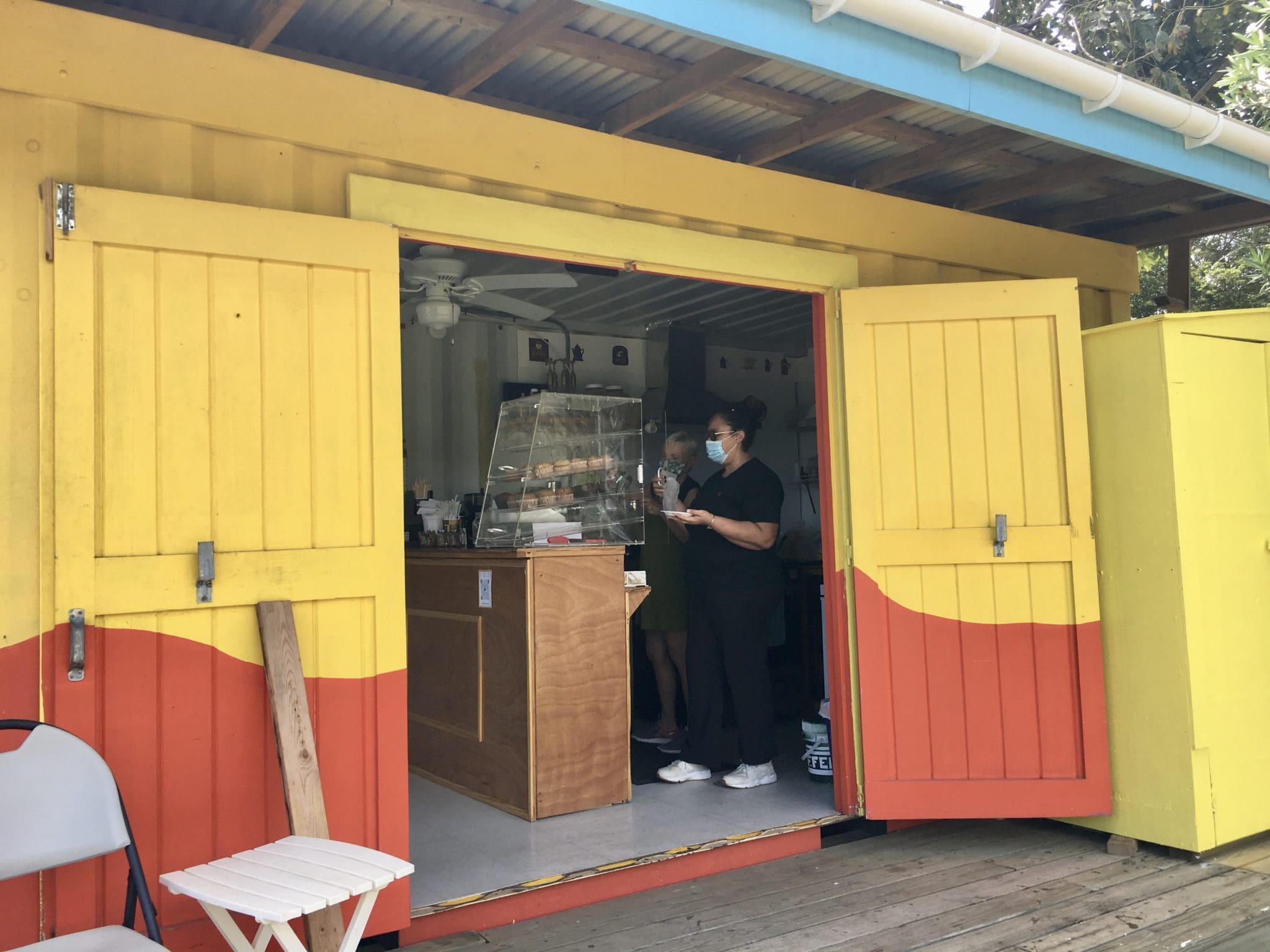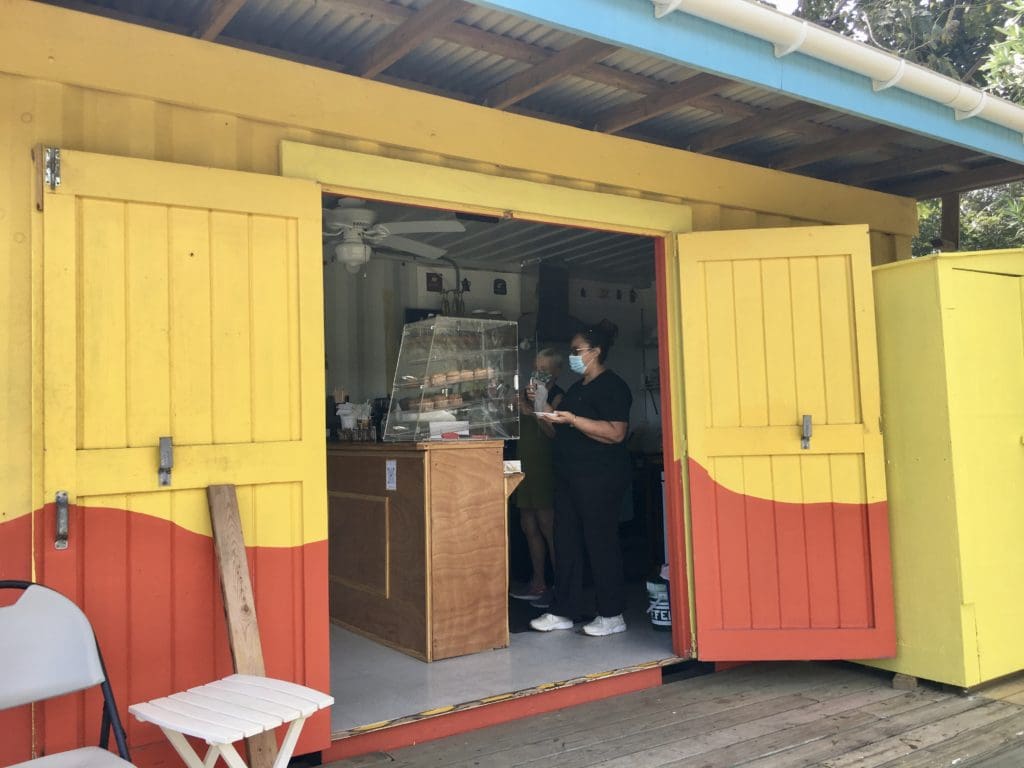 This is the fourth in a series of stories on St. John's bustling restaurant scene.
While Cruz Bay is thronged with tourists who can now dine in upscale restaurants and browse in chic shops, Coral Bay still retains a laid-back, unpolished quality that is dear to the hearts of many of its residents and visitors.
After Hurricane Irma hit in 2017, Coral Bay lagged behind Cruz Bay in terms of reconstruction, but after a year of stagnation businesses slowly started to recover. When the COVID-19 lockdown began just over a year ago, Coral Bay once again became a sleepy little town.
Now that many pandemic restrictions have been lifted, activity in Coral Bay is stirring once again.
Over the last few months, several new eateries have opened or changed ownership while one popular spot has shut down.
Here's a look at the new food options.
Love City Café Serves Breakfast and Lunch
Almost two years ago, two St. John women – Ann Monsanto, who works for the Bureau of Motor Vehicles, and Brenda Sonson-Stephenson, who has a villa cleaning service – began talking about starting a business of their own.
"We thought about what people might look for on this side of the island," said Monsanto, referring to Coral Bay. Sonson-Stephenson had an answer to that: since the hurricanes of 2017, there was no place to get breakfast, much less an espresso, within miles. The demand for caffeine-based beverages became their catalyst for launching Love City Café.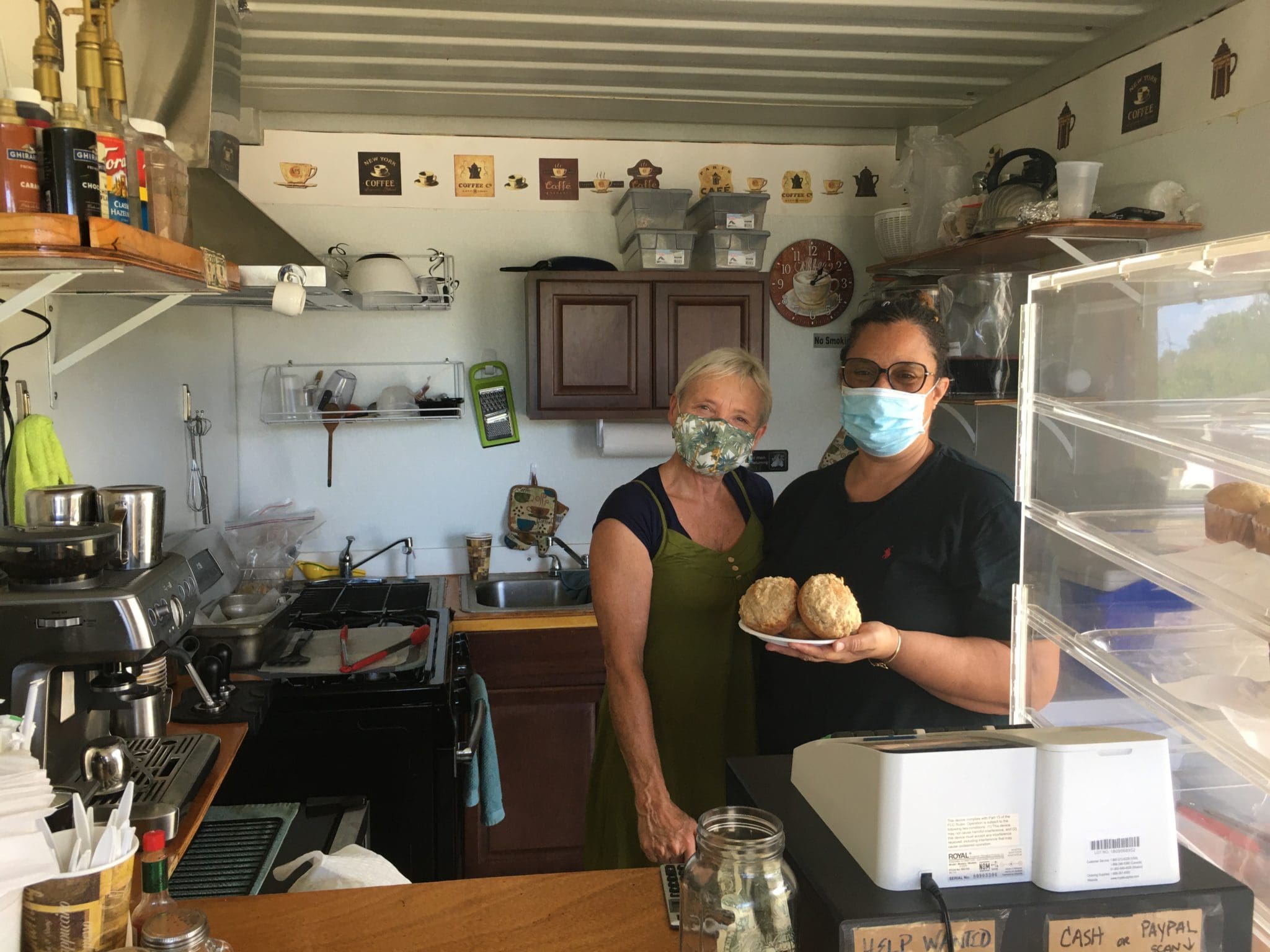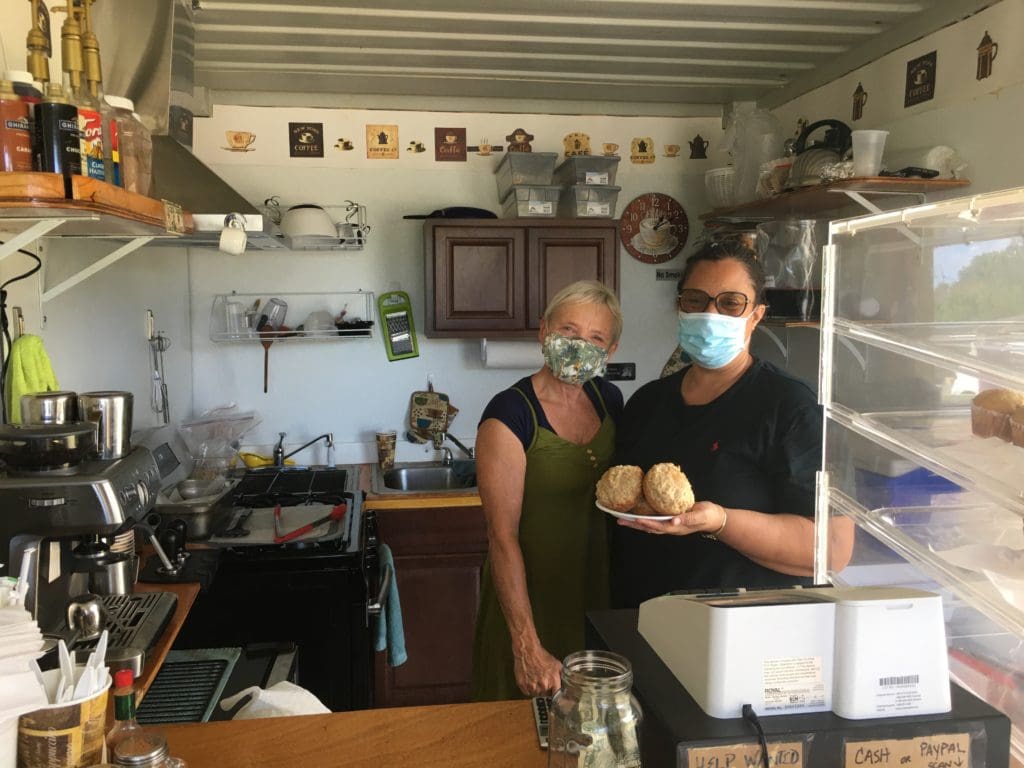 The two women found the perfect spot – a brightly painted container near the junction of Centerline Road and Route 107, the road heading to Salt Pond, next to Pickles Deli. (Prior to the hurricane, it was a shop selling a unique line of T-shirts known as the Dancing Rooster.)  As Monsanto and Sonson-Stephenson were thinking about renovating the container and installing plumbing for food preparation, COVID hit.
The pause gave them time to apply for licenses and master other aspects of starting a new business. After many months of posting "Coming Soon!" announcements on Facebook, Love City Café opened its doors on Feb. 1. Since then, it has been doing brisk business selling lattes, smoothies, breakfast and lunch items to locals and visitors.
Sonson-Stephenson makes the local juices they sell while Monsanto, who had always baked for her family, learned to scale up her recipes. She makes a variety of items, including vegan and gluten-free muffins and beef and veggie pates – baked rather than deep-fried for health reasons.
At this point, there are only a couple of chairs and a small table outside where people can eat, so grab and go is what most people do.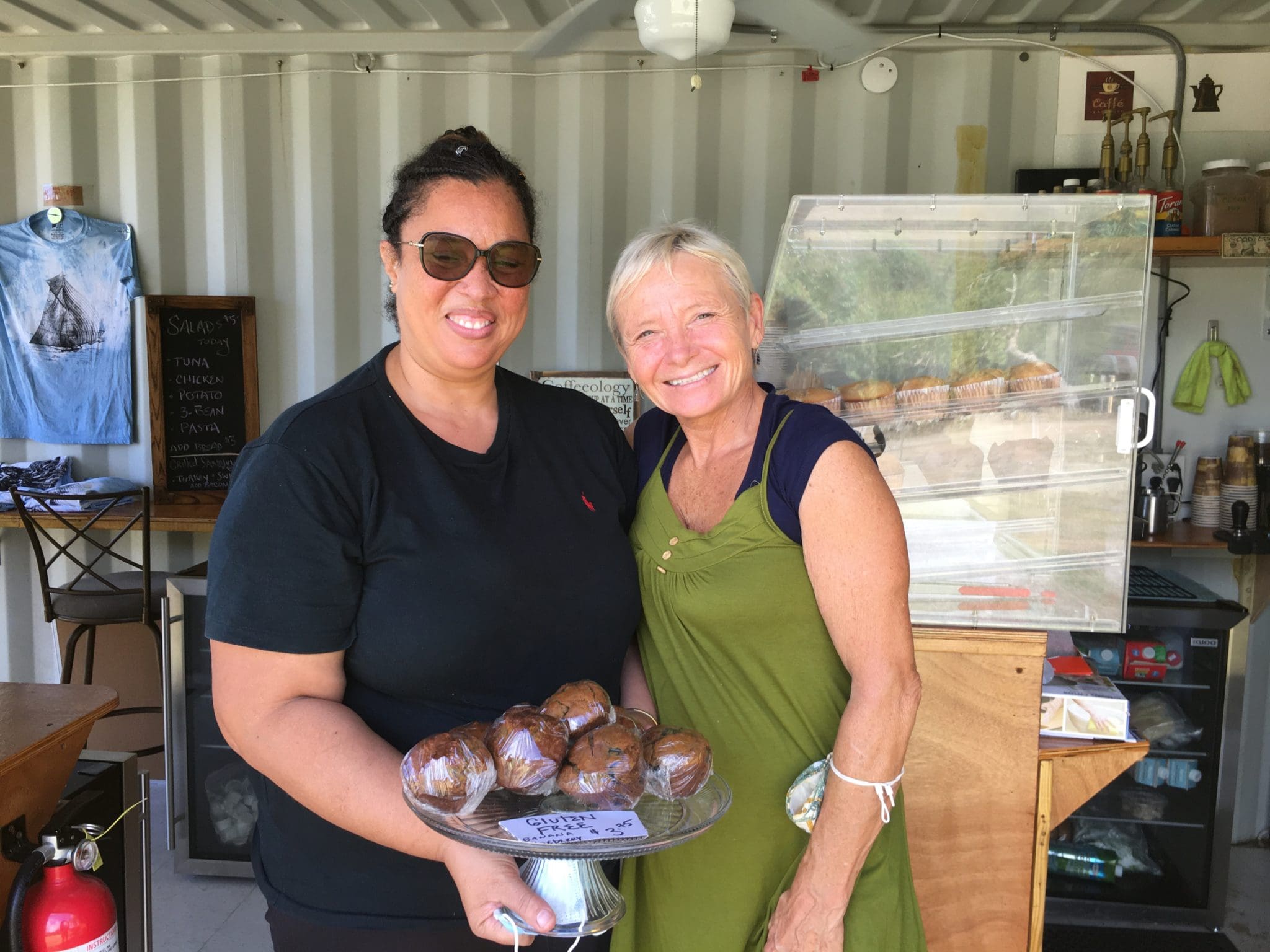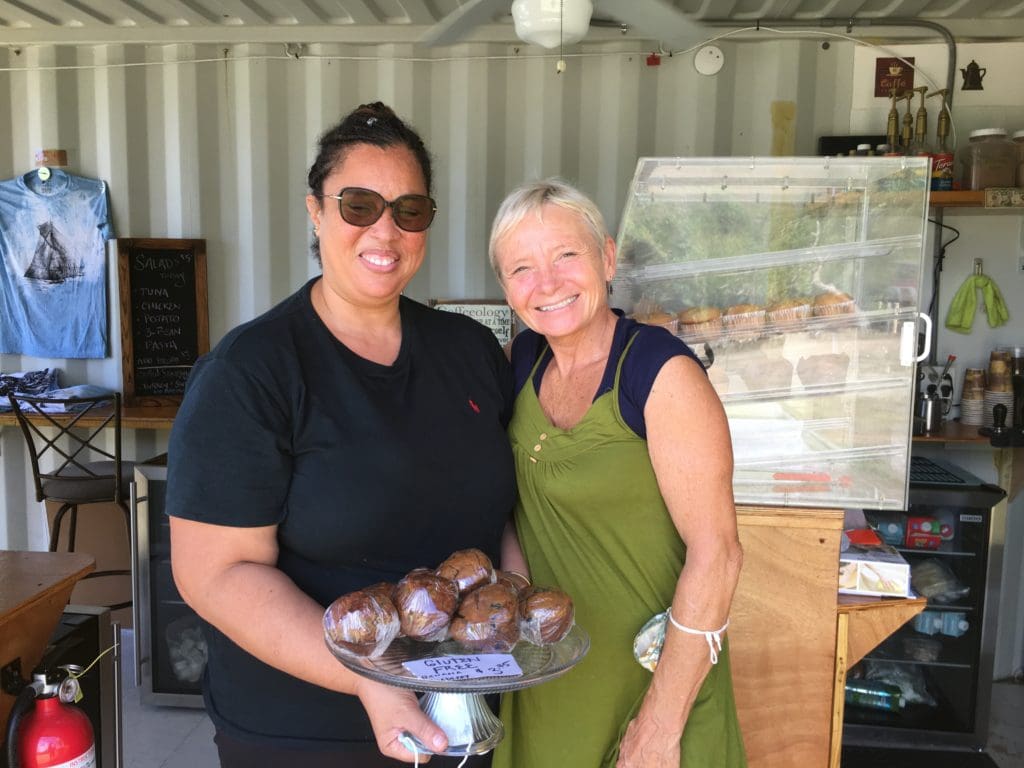 Love City Café is open Monday through Saturday from 7 a.m. to 3 p.m. During the week, Jani Hamilton is often behind the counter, serving breakfast items, wraps, grab-and-go salads and taking orders for provisioning. To place an order, call 340-473-6228.
The Former Pickles Deli is Now Under New Ownership 
Pickles, the funky deli and bar that has served as a meeting spot for yoga classes, open mic night and community events, has a new owner. Last summer, Beverly Melius sold the property to Dawn McCandless, the owner of Agave Mexican Bistro, a successful Mexican restaurant in Newburyport, Massachusetts.
McCandless first came to St. John two years ago looking for an opportunity. (She had recently closed a second restaurant in Portsmouth, New Hampshire.) "I love the island life," she said. "I wanted the second half of my life to be more casual and fun."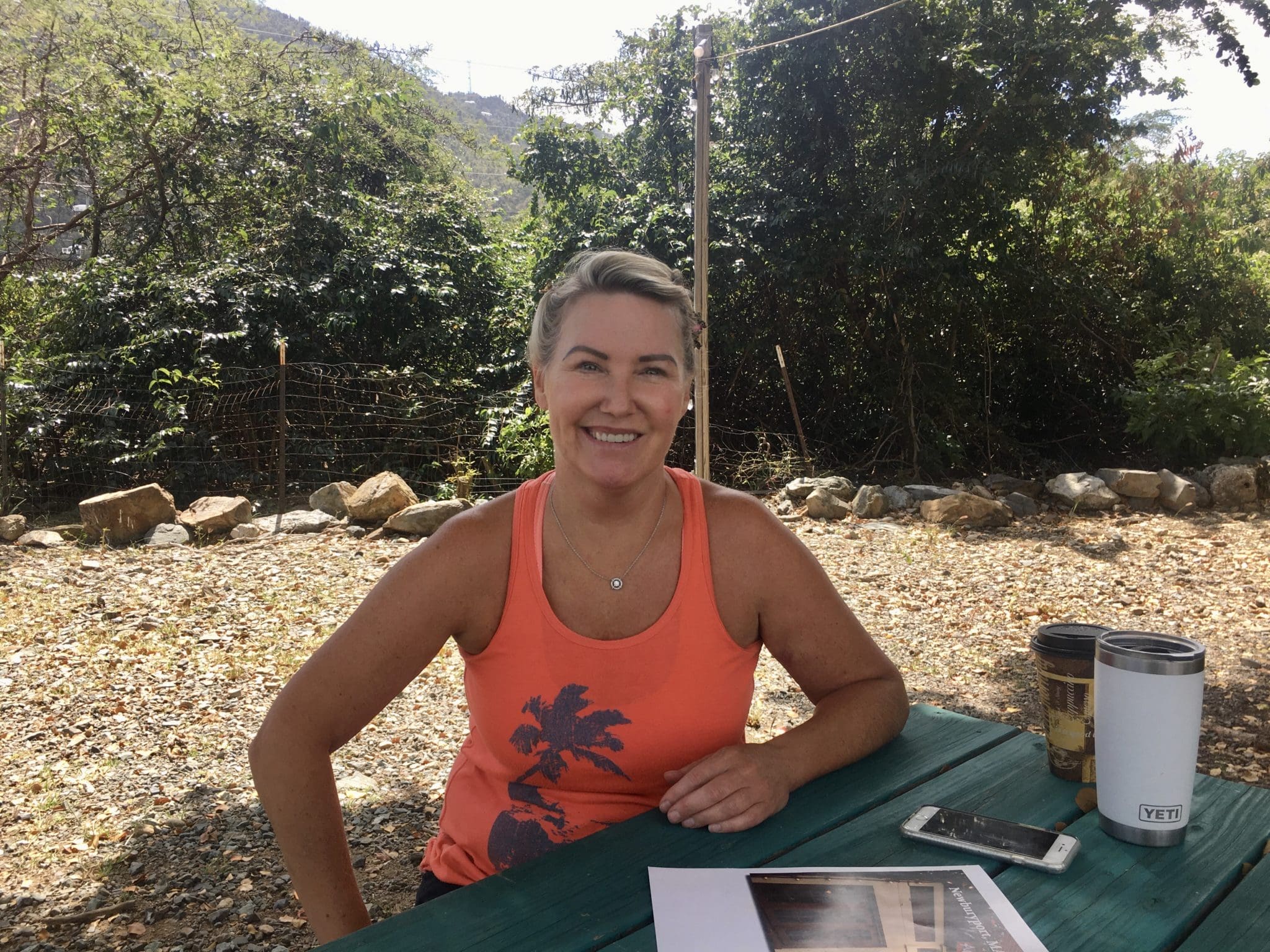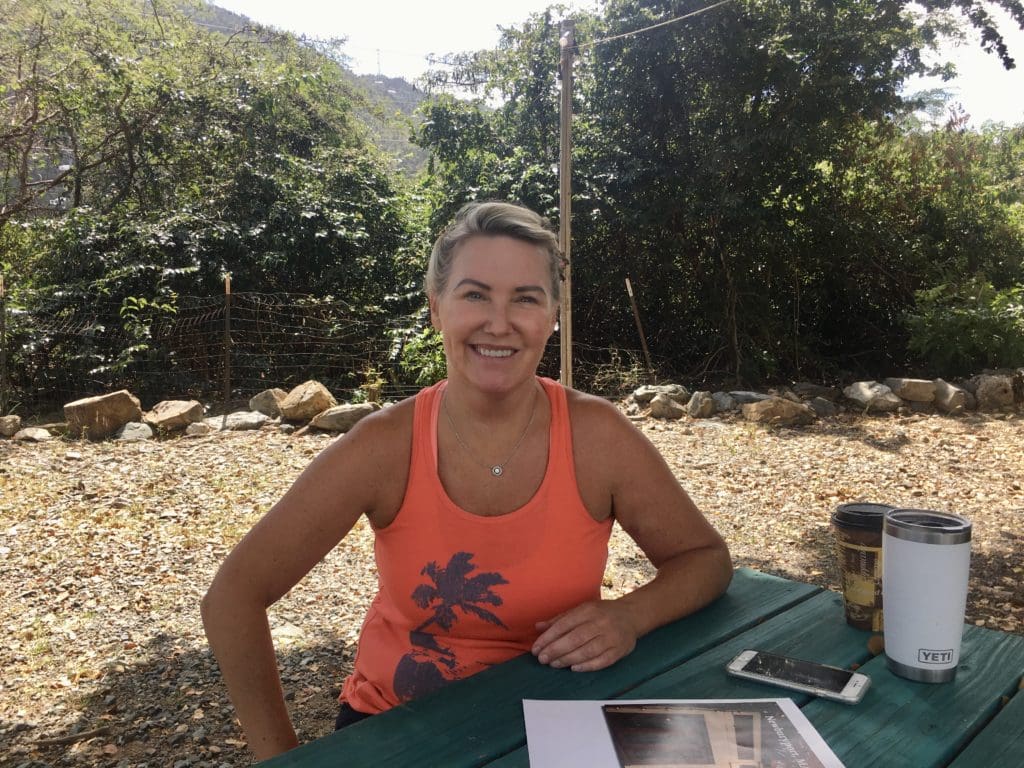 She arrived on the island looking for a place where she could be a landlord. After dealing with the restrictions of renovating restaurants in historic districts, McCandless wanted the freedom to develop the property to her taste. She looked around Cruz Bay, but there was nothing available. When she learned from a real estate agent that Pickles was for sale, she jumped at the chance and moved to St. John on Sept. 1.
McCandless is now working on upgrading the property which has several other ongoing businesses on the premises, including Love City Café, a chiropractic office, shops for owners in the building trades and a busy pottery studio and gallery. She's putting in new windows and floors in the main building, improving the landscaping and installing fencing and gates to keep out foraging deer and donkeys.
Progress has been slower than she had anticipated, and McCandless has modified her plan to open in phases. In the first phase, the building will open as a deli and bar. The second phase, which may take years, will require renovations to the roof to accommodate an expanded kitchen.
Once those improvements are in place, Agave en Parisio (Agave in Paradise) will offer the Mexican menu McCandless has perfected through her decades of experience with her New England restaurants.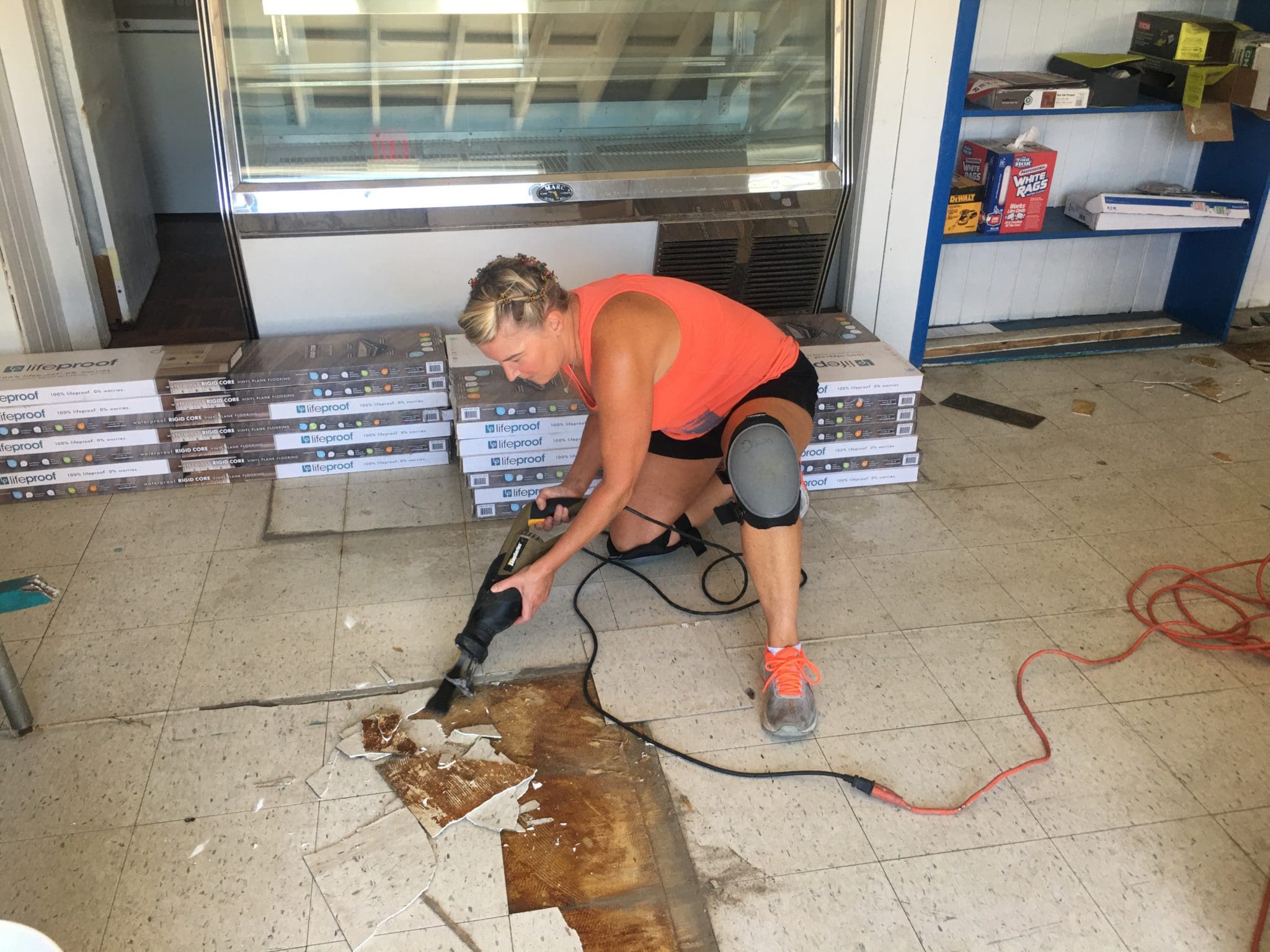 Coral Bay residents first became aware of McCandless' presence when she sponsored an initiative to give out turkeys, hams and Christmas stockings during the holidays organized by the Coral Bay Community Council.
Although she has an ambitious vision for the restaurant's future, McCandless plans to keep the site available for community events. "I believe this island is so nice," she said. "I've never met so many people who were so kind. I know why it's called Love City."
Homemade Meals to Go Opens in Isola Shoppes
As the owner of the hurricane-wracked Driftwood Dave's in Cruz Bay and then Shambles in Susannaberg, Dave Baysden has years of experience in the restaurant and bar business on St. John.
After moving to Coral Bay – "the last frontier," he jokes – Baysden started to think about what he could do to support the community. He realized people living on the east end of the island had few choices for takeout meals, especially during the pandemic. That led him to find an unoccupied space in Isola Shoppes (formerly known as Voyages), a shopping complex where several upscale restaurants have opened and closed over the years.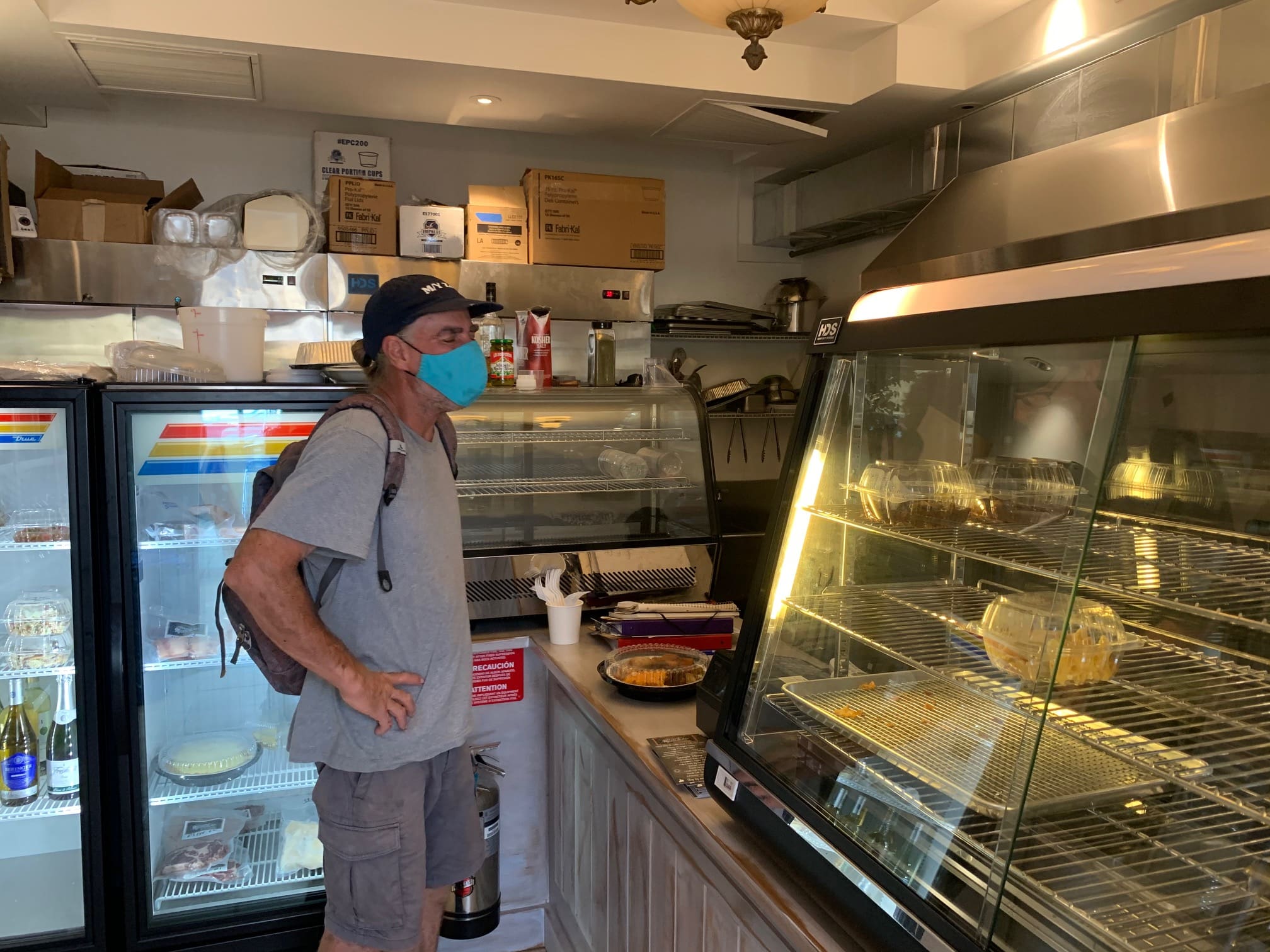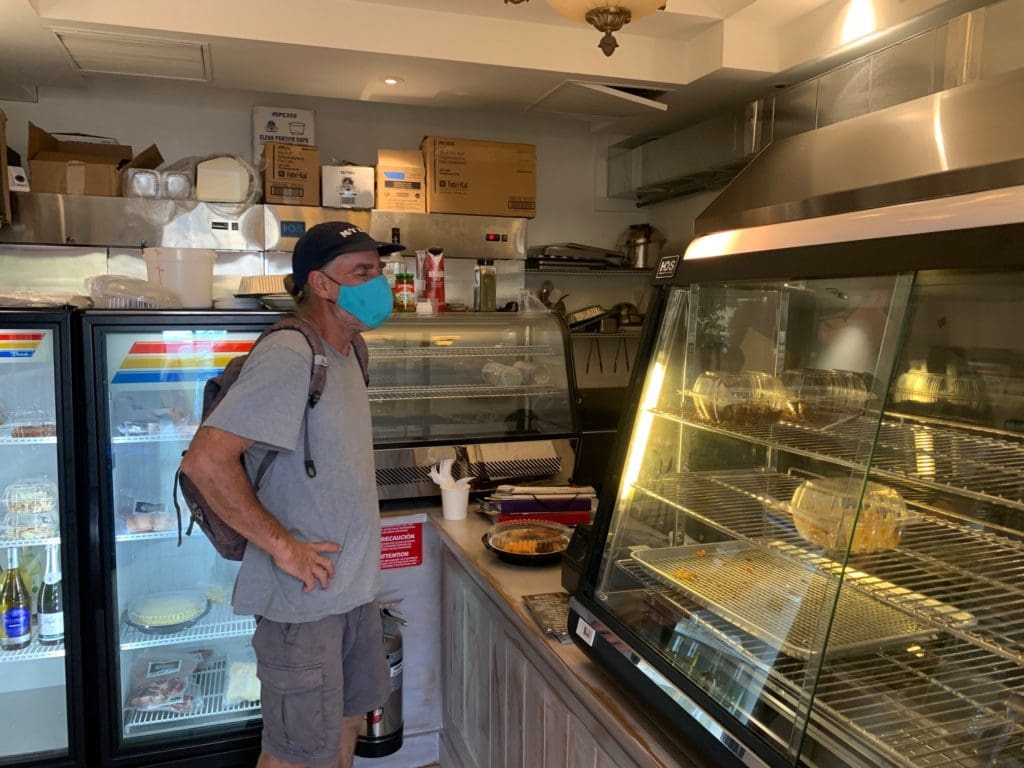 Baysden spent three months building a kitchen, and in March he launched Homemade Meals to Go. The shop has a changing menu, but Baysden always prepares fried chicken, whole rotisserie chicken and a meat option with two veggies.
Baysden is now expanding to add other provisions, including wine, key lime pie, steak and a variety of seafood, which he purchases through a wholesaler and then vacuum-seals for resale.
The idea of selling fish came from his personal frustration with buying fish elsewhere. "I'd ask, 'When did this come in? May I smell it?' Of course, during the pandemic, that became impossible, and Baysden said he was disappointed when an expensive piece of fish turned out to be "nasty."
Baysden seems content to fill a niche by providing a service for people who wonder as they head home after work, "What am I going to eat tonight?"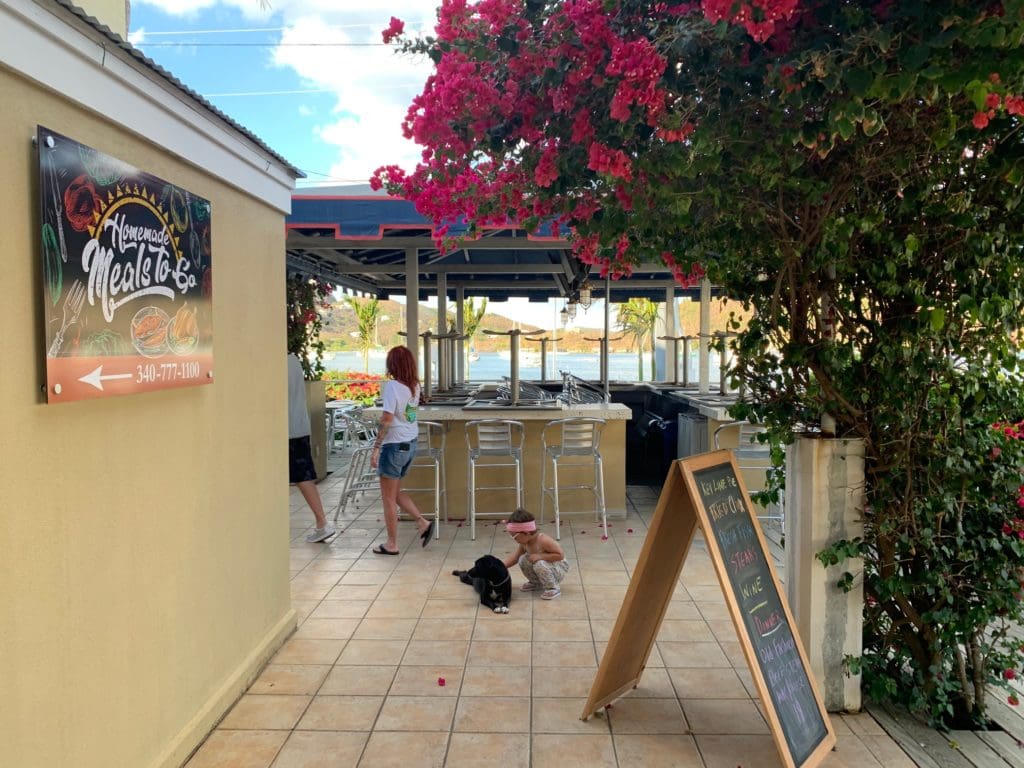 Homemade Meals to Go is open Wednesday through Sunday from 10 a.m. to 7 p.m. Call 340-777-1100 for further details.
Salty Mongoose and Rum Bar Draws Crowds for Seaside Pizza
In the same complex as Homemade Meals to Go is a popular outdoor pizza parlor known as Salty Mongoose Pizza and Rum Bar.
Kimberly Alvarez and her son Sean "Tarzan" Phillippe opened the venue in August 2020. (Phillippe, who was born on St. John but grew up stateside, earned his nickname because of his previous work installing ziplines.) Neither had experience owning a restaurant before, according to Phillippe, but they seem to have correctly gauged the public's appetite for pizza.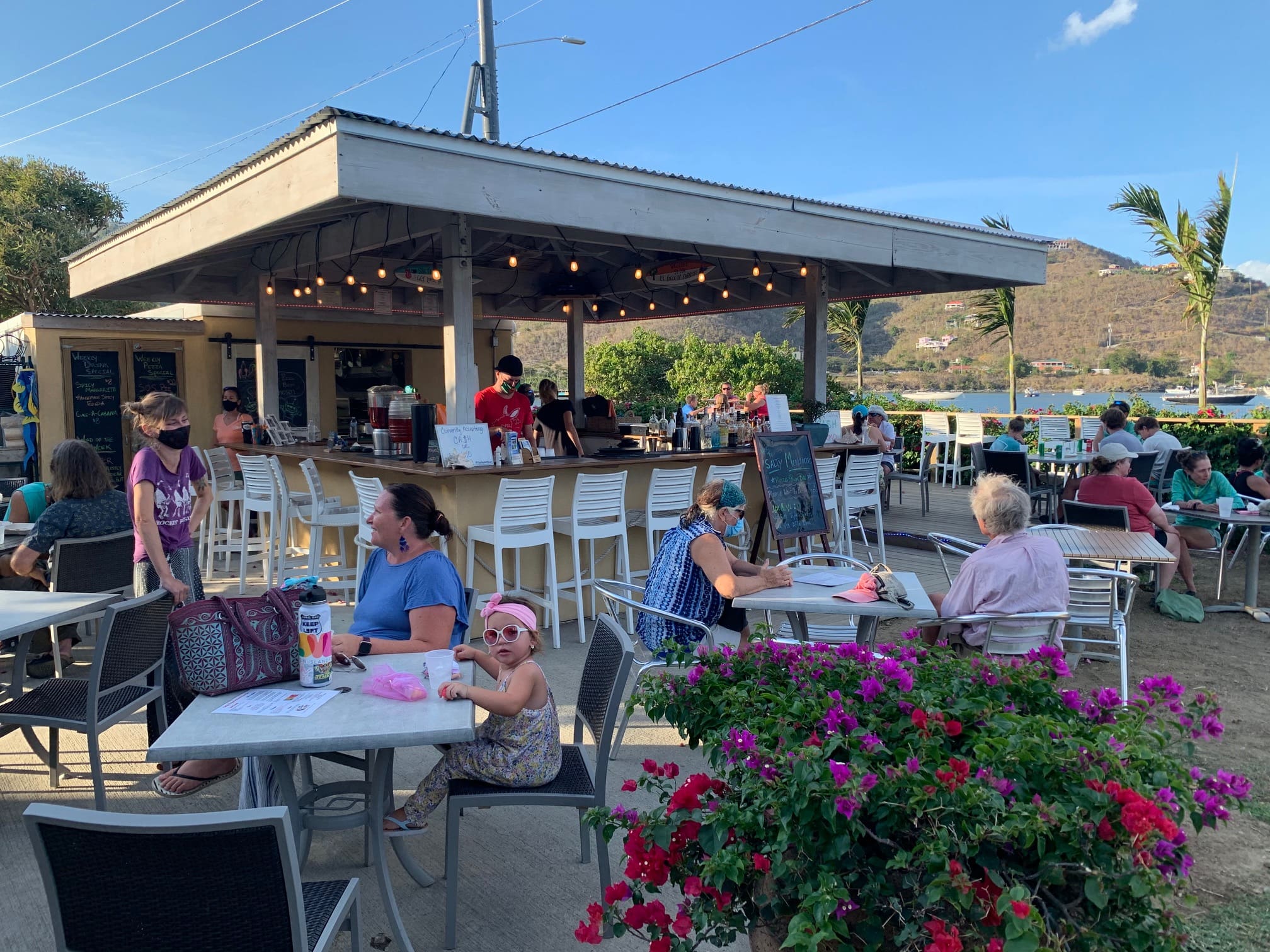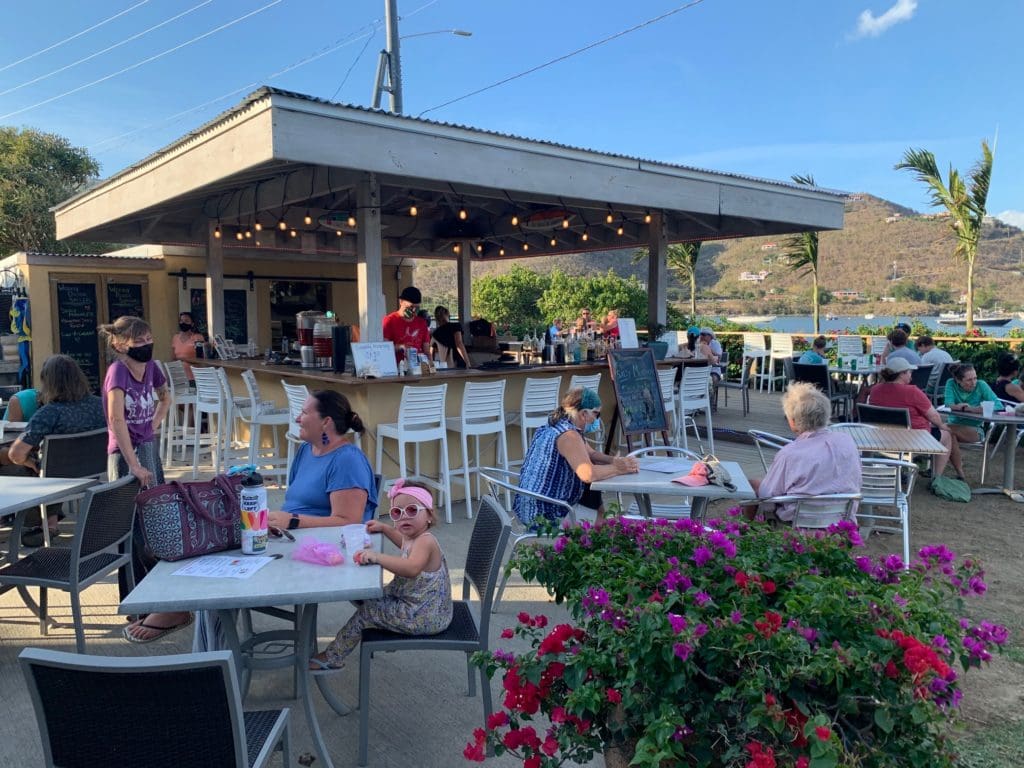 Especially now that they often have live music starting around 5 p.m., their business has been going strong. The secret to their pizza is that they prepare everything fresh, said bar manager Brian Olson. The dough is made the day before, and the pizza is hand-tossed (but not too high, given the height of the kitchen ceiling).
The restaurant is open every day (except Thursday) from noon till 8 p.m. (and 9 p.m. on Saturdays).
Wednesdays have evolved as trivia night in Coral Bay, and the popular event is now held at the Salty Mongoose starting at 6 p.m. Players are requested to order their pizza in advance at 340-643-8486 and send a message to the trivia group's Facebook page with a contact name, phone number and number of people in their party. Proceeds from the event are given to local nonprofits.
And if you're wondering how the name "Salty Mongoose" came into being, Phillippe said it was a playful attempt to continue a trend – a bar and restaurant (now closed) known as the Thirsty Donkey had been located just down the road.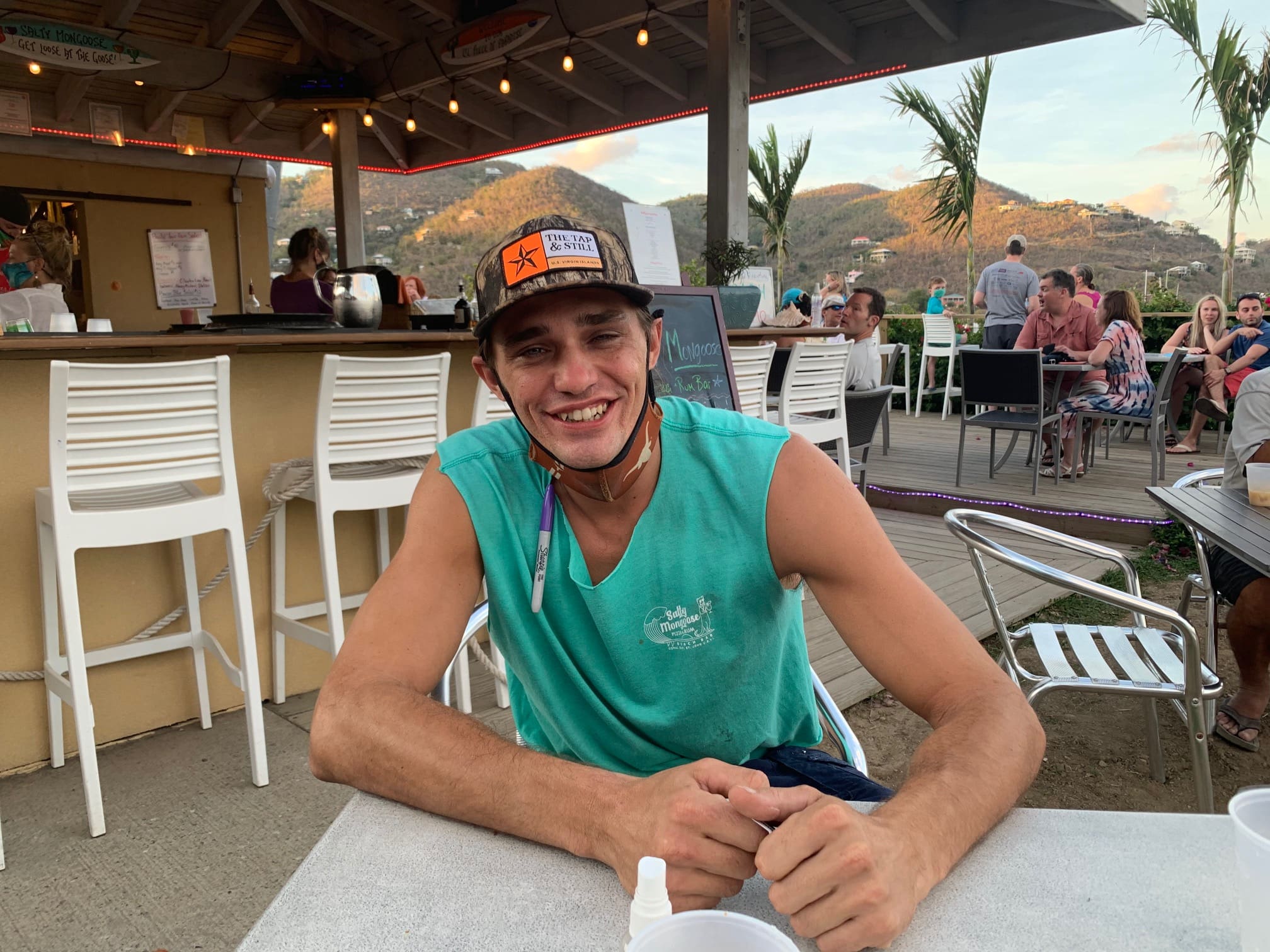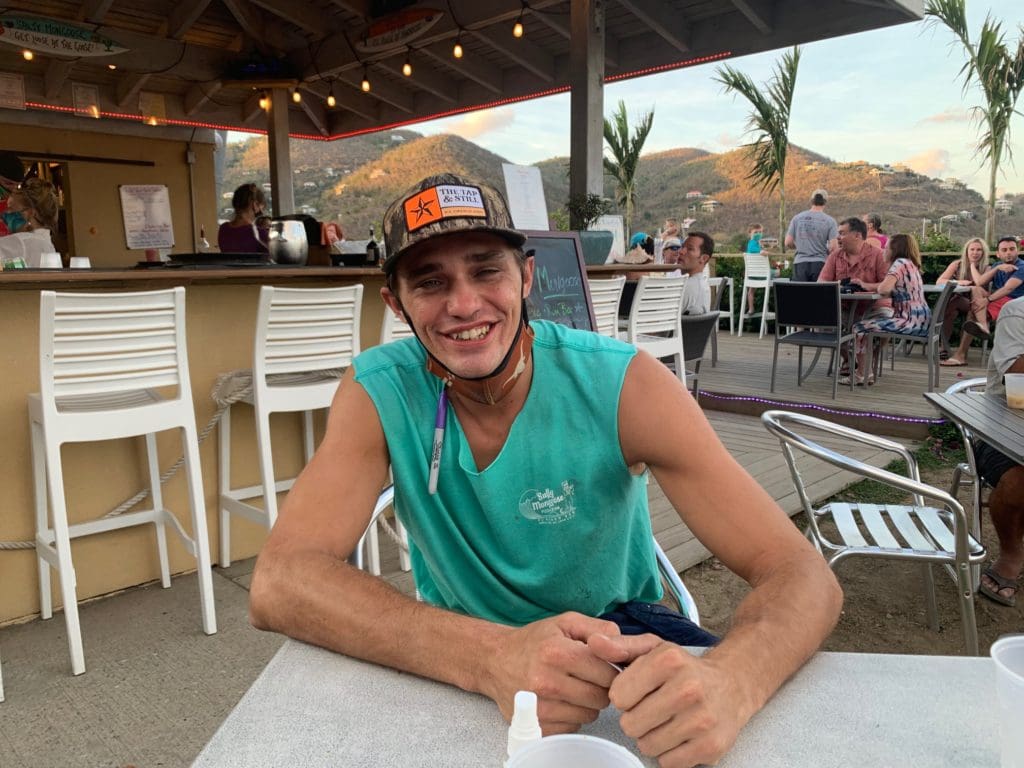 The Danforth, an upscale restaurant at Isola Shoppes, has closed permanently, a casualty of the twin hurricanes of 2017 and the pandemic of 2019. However, another venue, Wok on the Beach, is scheduled to reopen in mid-May under the ownership once again of Bruce David.
More in this Series on St. John Restaurants:
– STJ Restaurants, Intro: St. John Restaurant Scene is Bustling
– STJ's Restaurants, One: Shaibu's Garden Oasis Blends Local and Global
– STJ Restaurants, Two: Landowner Turns Family Land into an Attraction