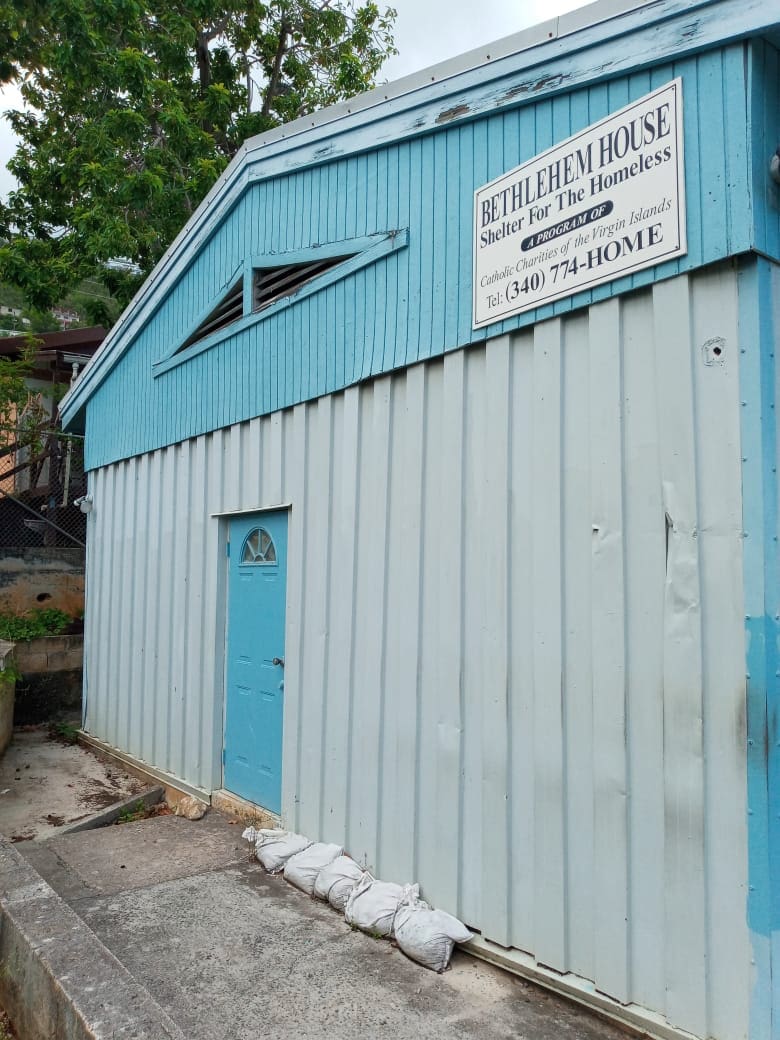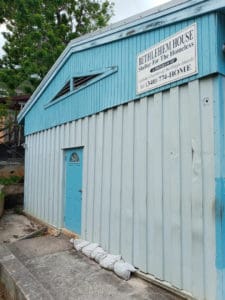 No one knows better how long it takes to turn vision into brick-and-mortar reality than Richard Bourne-Vanneck and Andrea Shillingford. The board chairman and the executive director, respectively, of Catholic Charities of the Virgin Islands, are spearheading efforts by the board and the small staff to upgrade and/or replace facilities for homeless people throughout the territory.
CCVI opened its first homeless shelter in 1987 on St. Thomas and named it Bethlehem House, an obvious reference to the biblical story of the hunt for shelter for the birth of Jesus. Bethlehem House on St. Croix followed.
Both were designed to provide temporary housing for people in crises; the standard length of stay is meant to be no more than 30 days although there are exceptions depending on circumstances. Hundreds if not thousands of residents have passed through their doors.
Now both are in dire need of replacement – one because of the ravages of time and one because of the rage of the 2017 hurricanes. Meanwhile, the need for a third shelter – on St. John – has been growing.
Plans for each are in various stages of development. All rely heavily on federal funding in the form of Community Development Block Grants administered through the V.I. Housing Finance Authority.
The organization's premier shelter consists of two adjacent structures on the property in Hospital Ground that is owned by the V.I. government, assigned to the Department of Human Services, and leased by Catholic Charities. Already dated when the shelter opened more than 30 years ago, the property has deteriorated.
"It's very near the end of its useful life," Bourne-Vanneck said in an interview this week.
The government has left the upkeep to CCVI, according to Shillingford. Repairs and improvements have been funded through CDBG grants and donations from private individuals and groups.
That's the reason the organization plans to rehabilitate and expand a nearby building at 24 Remainder and 25 Hospital Ground.
"This is our property. We own this property," Bourne-Vanneck said. "It's going to be the new Bethlehem House."
CCVI acquired the property about 15 years ago, he said, and at one point there were hopes of turning it into a rehabilitation facility. Currently, it is being used as transitional housing for clients and also is home to the Bethlehem House shelter manager.
The project has already been in the works for several years. Shillingford said current work is being funded with a 2017 grant.
"It will be done in phases," she said. The architect (John Woods of Jaredian Group) has told her part of it could be ready in two years.
Woods reported on the project this month to the Historic Preservation Committee, but there already appear to be some changes in the works. Bourne-Vanneck said CCVI will seek a zoning variance and add a third floor to the plans. It will not be just for women but will be open to men, women and families with children.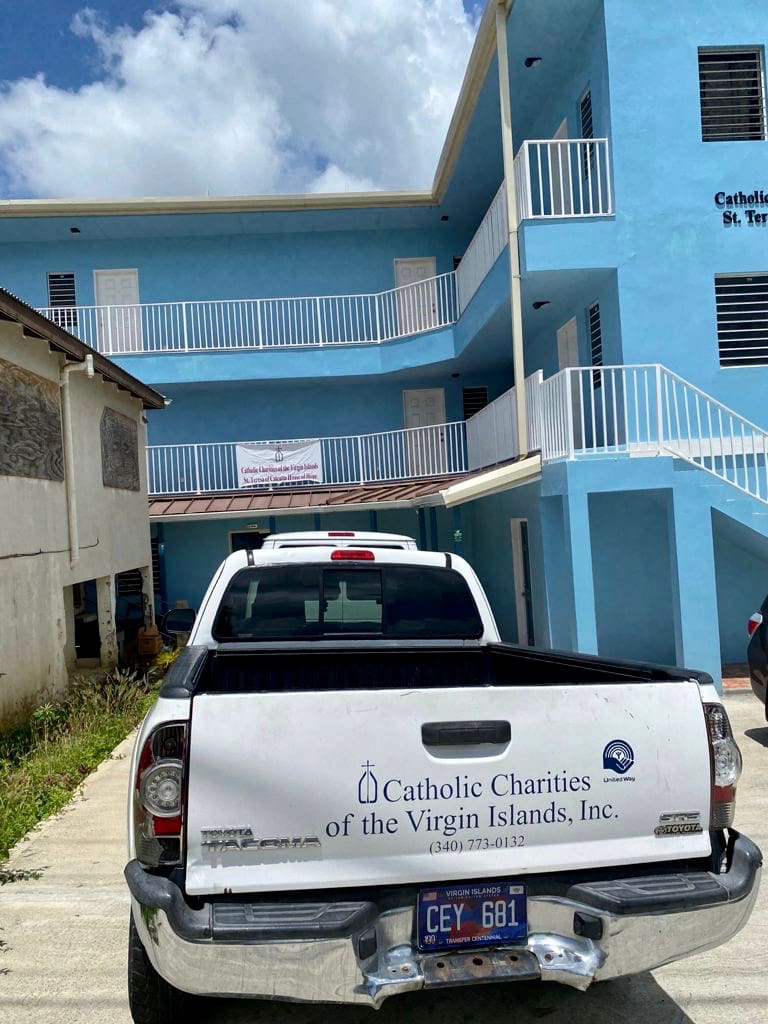 Currently, 20 men and 17 women live at Bethlehem House on St. Thomas, Shillingford said. In the women's quarters, there is one bathroom, with separate stalls, for all the occupants. There is one unit that can accommodate a single woman with children, but if there are multiple family occupants at the same time, they must double up. There are washing machines and dryers in the common area.
In contrast, the proposed facility will have more family units, she said. Individual rooms will be larger than the existing rooms and all will have bathrooms, and there will be a separate laundry room. There will also be a meeting room that can be used as a gathering place and for training sessions.
Like the existing facility, the proposed shelter will also have a unit that is compliant with the Americans with Disabilities Act. It will be wheelchair accessible and be fitted with grab bars and other equipment to accommodate a person who is disabled.
In general, Shillingford said, "there's a greater demand for male accommodation than for female," however, since the hurricanes in 2017, "we have a lot of demand for single women with children."
It was the back-to-back storms in 2017 that changed everything on St. Croix.
First Hurricane Irma badly damaged Bethlehem House which was in the Kings Hill area, rendering it uninhabitable. Plan B was to move residents into an existing structure, the former Retreat Center in Frederiksted, owned by the Catholic Diocese, Shillingford said. Then Hurricane Maria hit and left the Retreat Center in no better shape than Bethlehem House.
Considering the damage to both entities, "the bishop [now retired Bishop Herbert Bevard] transferred a portion of the [Retreat Center] property to Catholic Charities," Shillingford said.
It will require extensive repairs and renovations, she said. For starters, walls need to be reinforced and the roof needs to be replaced.
CCVI already has received some money through CDBG and has applied for more, Shillingford said. It will soon put out a request for a proposal for architectural services for the project.
The intent is for the center to include both individual rooms and some family units, with an overall capacity equal to the old structure, which could house up to 40 people at one time.
If the necessary grants are approved, "maybe by 2023, we should be up and running," she said.
While the absence of a St. Croix temporary shelter is frustrating, CCVI does have a success story for the island.
About two years ago, it was able to open a facility for transitional housing. St. Teresa of Calcutta House of Hope in Christiansted has 11 efficiency units, eight of which are currently occupied. Two units can't be used until a kitchen vent is renovated and, currently, there is no call for the ADA-compliant unit, Shillingford said.
While Bethlehem House is intended as emergency housing, people in transitional housing may stay as long as two years. During their stay, CCVI works with case managers to help residents become independent, she said. Services include mental and medical checks, and assistance with job searches, job interviews and applying for public assistance and housing.
Shillingford said a lot of the clients come to CCVI through referrals from other private or public organizations, family members or other members of the public, and "some of them just walk in."
It took years to get the House of Hope up and running, but it may serve as inspiration for continued diligence on other projects.
"We've been talking a long time about a St. John shelter," Shillingford said. Currently, services are limited to a soup kitchen and outreach services, primarily to the homeless population. Monday-Friday, the organization serves food to about 75 people a day. That is up from an average of 50 per day before the storms, so the need is increasing.
Now there's reason to think St. John may, eventually, get its own shelter.
CCVI has a 15-year lease on property owned by the diocese in Coral Bay, and early this year, it applied for a $300,000 CDBG grant to cover the initial fees that would be associated with designing such a project.
It would be a "complete, new building" that could house up to 20 people at a time, Shillingford said.
If the funding is there, and all goes well, "I would say by 2024 we should have it up and running," she said.
Chasing grants, administering funds and overseeing building renovations and construction projects is time-consuming but, as Shillingford said, "it's not all that's happening for us." Her small staff of just over 20 people is responsible for ongoing operations, ensuring COVID-19 protocols are followed, getting food and toiletries delivered to scores of individuals who live on the street, providing regular meals at soup kitchens and aiding clients with resources for physical and mental health. All of it on three islands.