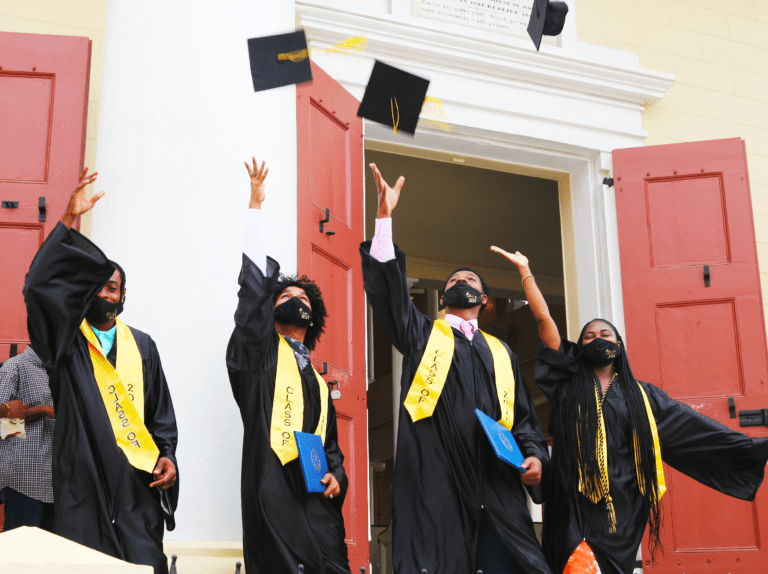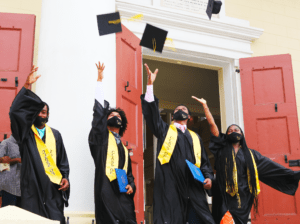 Seven students were lauded Saturday at a ceremony on St. Thomas celebrating their graduation from Penn Foster High School through the My Brother's Workshop Education program.
Tatyhane Colbert, Angel Cruz, Nickelle Lake, Akeem McIntosh, Bakabu Patrick, Alan Sprauve and Amon-Re Smith earned their accredited high school diplomas from Penn Foster, and MBW trainee Kielli Donaghue received a certificate in jewelry repair and design.
A ceremony to mark their achievements was held at St. Thomas Reformed Church, where MBW founder Scott Bradley started the nonprofit 14 years ago. The mission of MBW is to end youth crime and violence in the territory through mentoring, counseling, education, on-the-job training, and job placement.
"Remember, in life, you do not always have to take the well-traveled road. It's OK to be different. You can create a unique path for yourself, but you must work hard and believe in your ability to succeed," Senate President Donna Frett-Gregory, the keynote speaker, told the graduates.
Congratulations also came from V.I. Delegate to Congress Stacey Plaskett, who reminded the graduates that "Whitney Moore Young Jr., an American civil rights leader, once said, 'It is better to be prepared for an opportunity and not have one, than to have an opportunity and not be prepared.' You all have been prepared to begin your journey towards adulthood and your future by your experiences over these past few years of your life and have a number of different opportunities before you – be it college, starting a professional career or going to trade school – I urge you to make the most of every opportunity!"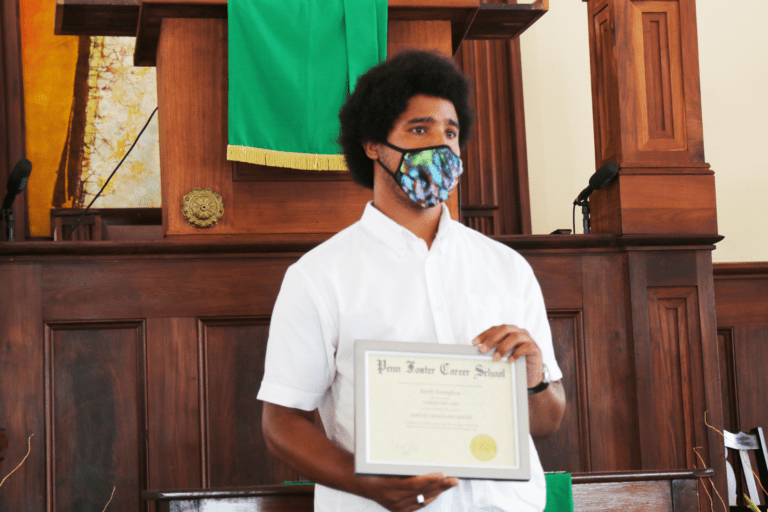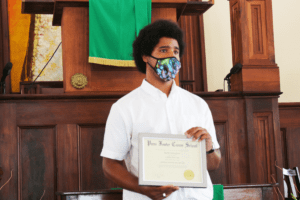 Plaskett added, "Remember that hard work beats lazy talent 10 times out of 10, so always be willing to work your hardest, even when you think no one's looking. I commend each of you for the resilience and amazing fortitude you have demonstrated in pushing through this program while dealing with the pandemic. I am so proud of you!"
"As career, technical, and high school diploma graduates, you have earned credentials that are of value to this community through your preparation for local and global competitiveness," V.I. Board of Education Chairman Kyza A. Callwood said in a statement congratulating the graduates. "The last several years of your journey have not been without tremendous challenges to student achievement and excellence: but your course of study has strengthened employability skills, knowledge of the industry, career pathways, and occupations leading to entry into the workforce and your success."
V.I. Education Commissioner Racquel Berry-Benjamin commended the students for their perseverance.
"Your decision to finish high school, despite the challenges of a global pandemic, along with obligations of family and work, is truly admirable. You have persevered and overcome the odds, and we are very proud of your accomplishments," said Berry-Benjamin.
"While this is a time of tremendous promise for you, it is also a time of great responsibility. Over the last year, you have gained academic knowledge, and have learned a great deal about life, yourself and others. With these important skills, you now have the responsibility to do the most good and make a positive impact, wherever life takes you," said Berry-Benjamin.
Family and friends of the graduates, dignitaries, volunteers and supporters, and MBW board, committee and staff members attended the celebration, with The Eljhaie Brathwaite Project playing the processional, "Pomp and Circumstance."
Chrystie Payne, MBW communications director, served as emcee. Julius Jackson and Bradley welcomed the crowd and thanked everyone for their support. Pastor Jeff Neevel of St. Thomas Reformed Church, a MBW board member, delivered the invocation, followed by the national anthem played by The Eljhaie Brathwaite Project.
MBW Executive Director Jenny Hawkes recognized three honors graduates who earned a GPA of 3.4 and above:
Colbert, Cruz and Sprauve. She also presented the Outstanding Academic Performance Award to Cruz, the Achievement Award to Smith, and the St. Thomas Reformed Church "Love Your Neighbor Award" to Lake for outstanding character and exemplary community service.
Following the presentation of diplomas, Hawkes conferred with the graduating class, asking them to turn their tassels to the left and throw their caps in the air in a moment of pure jubilation. The class processed out to the sounds of Voice's "Cheers to Life" by the Eljhaie Brathwaite Project. MBW Café and Bakery provided to-go snacks and refreshments following the service.