(This is the first in an ongoing series of features designed to answer the question of "whatever happened to …" various individuals who played significant roles in the Virgin Islands community in the past but who more recently have largely dropped out of the V.I. scene.)
For 20 years, he was there. Starting in 1995, after Hurricane Marilyn battered St. Thomas and left people throughout the islands teetering on the verge of despair, Alex Randall showed up bearing optimism.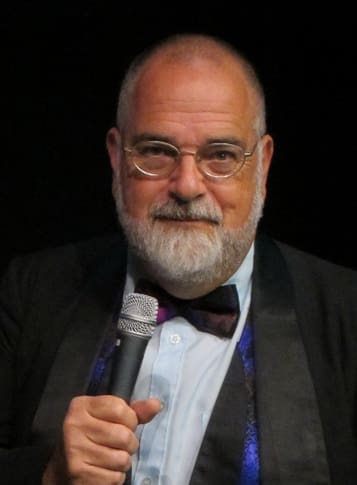 Coming from Pennsylvania via New Jersey and New York, Randall had been a lifelong visitor to the territory but had only just moved to it and was living on Water Island when the world went whirling.
Even today, he delights in telling the tale of how he kept making the trek to the studios of WSTA Radio, the only St. Thomas station still operating after the storm, lobbying for a job on-air until he was hired and dubbed himself  "the Good News Guy."
No grim reports on the Randall segment. No gloom and doom. And if he just had to deliver a negative report, he'd find a silver lining in it. Randall's light, bright, breezy style was a perfect fit with the upbeat outlook of his boss, Addie Ottley.
As the years wore on, from one technological advance to the next, Randall assumed a second role as unofficial tech expert and computer whiz, advising Ottley and radio listeners on the latest innovations.
Meanwhile, he was pursuing his academic career.
According to his Curriculum Vitae, Randall has a bachelor's degree in psychology and advanced degrees in general systems research, international education development, educational technology, psychology and anthropology.  As a young man, he taught in those fields and in management systems and communication.
In 2001, while he was becoming a household name because of his radio work, he began a long association with the University of the Virgin Islands. He has taught various communications and psychology courses there, including one he created focusing on the psychology of sleep and dreaming. He spearheaded the creation of student-run university radio stations, WUVI-AM and WUVI 1090 AM, and established a communications lab and a digital lab to digitize analog media materials.
In his spare time, he also created an annual classical music festival on Water Island, bringing in musicians from the mainland annually to perform in small venues open to the public.
Then, sometime around 2015, Randall left WSTA. And a few years later, he left the Virgin Islands too.
There were many reasons for his departure, Randall said. Everything seemed to point in a northernly direction.  Hurricanes Irma and Maria supplied the final push in 2017.
It's one thing to meet the challenges of hurricane recovery when you are young or middle-aged. It is quite another when you are pushing 70. And living on his beloved Water Island, where everything has to be brought from St. Thomas, made it that much harder.
Randall said he was making dinghy trips back and forth getting fuel to keep his generator going – an estimated three tons of it a week – and then hauling it to his home.
"It was just another level of craziness," he said.
About a year after the storms, he relocated to Princeton, NJ, where he is living in anything but isolation.
"I'm an eight-minute walk from campus," he said, adding that he frequently makes that trip to his alma mater. "All I see out the back door is green," and, he said, he has family members living on both sides of Princeton.
That might add up to a comfortable return to the past. But Randall doesn't move that way.
Rather, he is smack in the middle of his latest pursuit. He's already published three children's books and drafted several chapters of the fourth. They are all part of his Dream Wizard series, which is at once playful and symbolic.
"I'm picking up on a theme that's always been around for me," he explained. A person living to the average life expectancy can spend 21 years sleeping and, of those, eight years dreaming.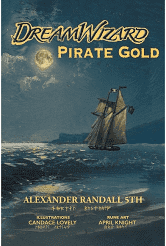 Randall believes that a person's dream life is full of significance and that a person dreaming is really speaking to themselves in "dream-ease."
He recommends keeping paper and pen handy at bedside, ready to record a dream upon waking, so it isn't lost and forgotten, something he said he's been doing for at least 25 years.
"If you pay attention to it, what can it do for you?" he asked.
Randall wrote his dissertation on his theories about dreaming. But, he said, dissertations are "turgid" and not exactly widely read beyond a handful of graying academics.
On the other hand, an adventure tale is exciting and can reach the young audience that can most benefit from learning "dream-ease."
Thus, he has taken his boy hero, "Sandy" through an introduction to the power and control of dreams in "Dream Wizard Conquers His Knight Mare" to a kidnapping and release in Boston in "Dream Wizard Escapes" and, most recently, to Water Island where he must use dream clues to solve the secret of the treasure map in "Dream Wizard Pirate Gold." The books are available on Amazon.
"Sandy" was Randall's childhood nickname, and the author may share a few more traits with his main character.
"I'm busy inside my head all the time," Randall said. There are at least 30 times in his life that he says he started with a "blank page" and somehow – tapping into his dreamworld – created something seemingly out of the nothing on that page.
To cite a couple of examples, there was the public address system he rented to musicians in his college years that developed into organizing bands and then into hosting music festivals. Then there was the co-founding of what was, in 1981, a revolutionary kind of retail store, selling computer ware online, which "turned out to be a smash hit" although, necessarily, customers were limited to people already involved with computers.
Randall has raised five children. He and his first wife, Cameron Hall, adopted three children, Alexander the sixth, better known as "Sander," Rose and Marshall. They worked together for 25 years until Cameron's death left Randall a widower and "a single father with three little kids."
In 1998, he met Dr. Beverly Banks through an online dating service.  They married; she moved to Water Island and took a position at the Schneider Regional Medical Center. In 2001 their daughter Grace was born, and in 2002, Lexington "Lex" was born.
Although he voiced no regrets about his move to Princeton, Randall said there are many things he misses about the Virgin Islands. Not the beaches but the friends he made and the interaction with his students at UVI. "I thrived on having kids" who would, essentially, "play" with him as they learned.
"In this town I'm invisible," he said, speaking of Princeton. While that can have advantages, he misses the friendliness of people in the Virgin Islands and the vibe of familiarity that guarantees a warm greeting almost anytime you go to the Post Office or into a store.
"I cried in front of the Ace Sea Chest store when I left," he recalled.
And he speaks lovingly of "Water Island – the end of the universe," where he watched the sun set every night for 25 years and "the full moon going down" each month and felt a sense of his place on earth.
Randall still has a foot in the territory, or at least a few toes.
He continues to teach some courses remotely at UVI and says, "I will do it until I die. I love UVI. It's my favorite university."
Moreover, his wife is living on St. Thomas, continuing to work at Schneider.  She has a couple more years before she is eligible for retirement.
"We see each other basically every month, for a week," he said. Sometimes she travels to Princeton, and sometimes he returns to the Virgin Islands.
Meanwhile, he's working on his next book. In this one, Sandy is a young man. He's graduated from high school and is attending Altered State University, where all of his courses somehow revolve around dreams.