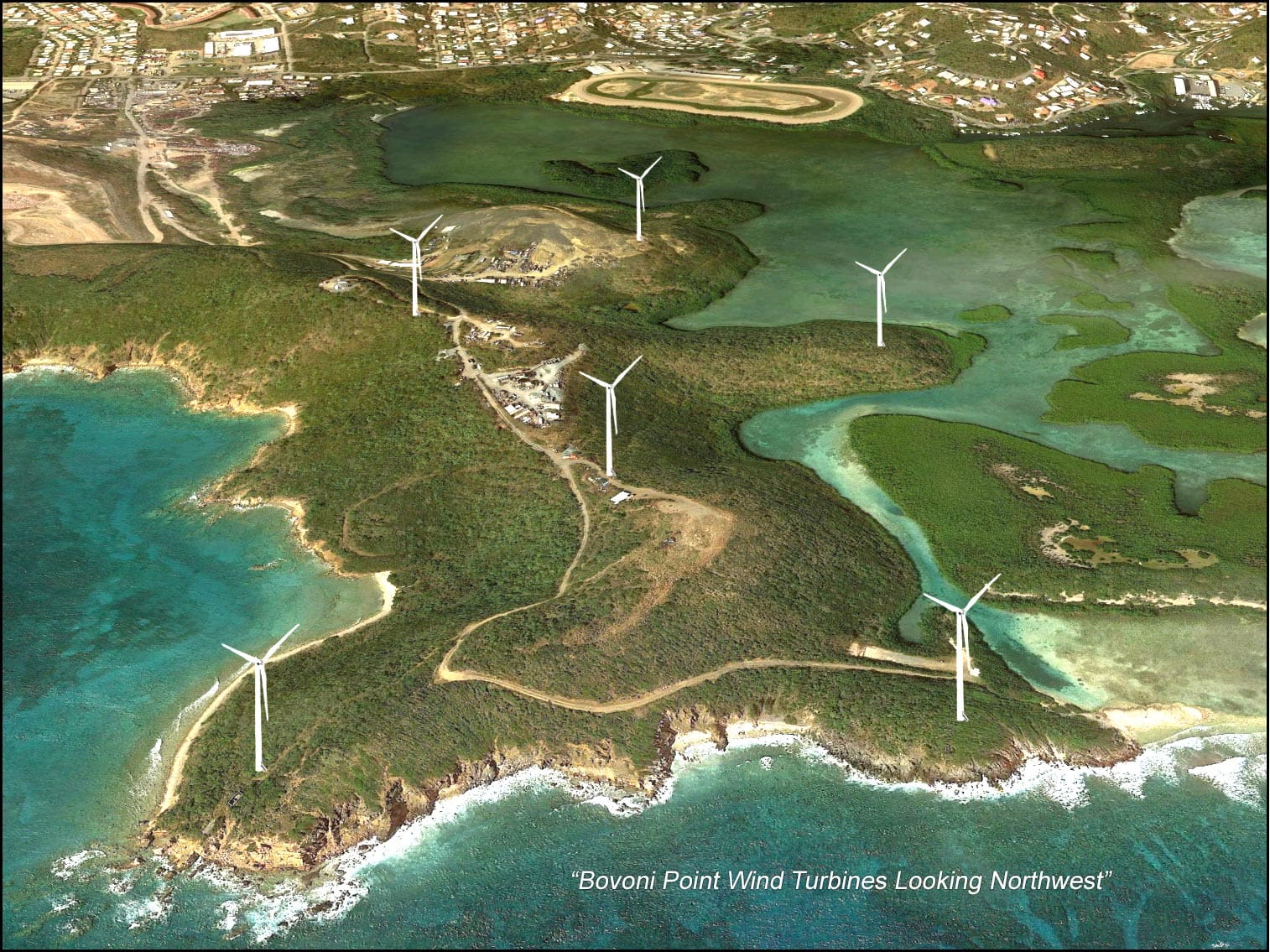 The Public Services Commission Tuesday approved the Water and Power Authority's purchase of power from Advance Power — again. This time it is getting a much better deal on its wind-energy purchase, according to Andrew Smith, the CEO of the Authority.
In March 2021 WAPA's Governing Board approved a power purchase agreement with Advance Power, but because of legislative and executive branch concerns the project fizzled.
Smith told the Commission that recent investment tax breaks for alternative energy are helping Advance Power lower what it will charge WAPA from 16 to 18 cents per kilowatt hour to just under 11 cents. Also bringing the price down is the "economy of scale." In the agreement two years ago, Advance Power was only going to build one 10-megawatt wind farm on St. Thomas. The new plan has WAPA buying power from Advance Power for 25 years and the company supplying power from a 30-megawatt farm on St. Thomas and from a wind farm between 15 and 20 megawatts on St. Croix.
Plans for WAPA to buy power from a qualified wind power producer have been around for over a decade. The federal government was scoping out Advance Power's proposed site in Bovoni in 2012.
Joel Hart, representing Advance Power, told the Commission that St. Thomas was a good place to produce power with wind and St. Croix was "exceptional." Advance Power became a certified power producer in the territory in 2014 and had its status extended in 2017.
Sen. Carla Joseph attended her first meeting as a member of the Commission. She asked Hart whether Advance Power had the financial wherewithal to develop such a large project. He replied that he had several lenders just waiting to get started. He said the "appetite" for funding alternative energy projects is high now.
Smith also discussed with the Commission negotiations that were ongoing for a contract with a qualified solar power producer. Commissioner Andrew Rutnik told Smith to move as quickly as he could, adding, "I can't wait for solar much longer. I am getting old."
Smith replied that if negotiations go well, a contract might be before the PSC in April.
The residential rate for water was set to expire at the end of this month. The Commission extended the present rate until mid-July. Smith said that, because of inflation, the Authority might be asking for a water rate.
Rutnik told Smith that billing for water consumption on St. John was erratic. Smith replied that the automatic meter reading system was flawed and the Authority was working on fixing it.