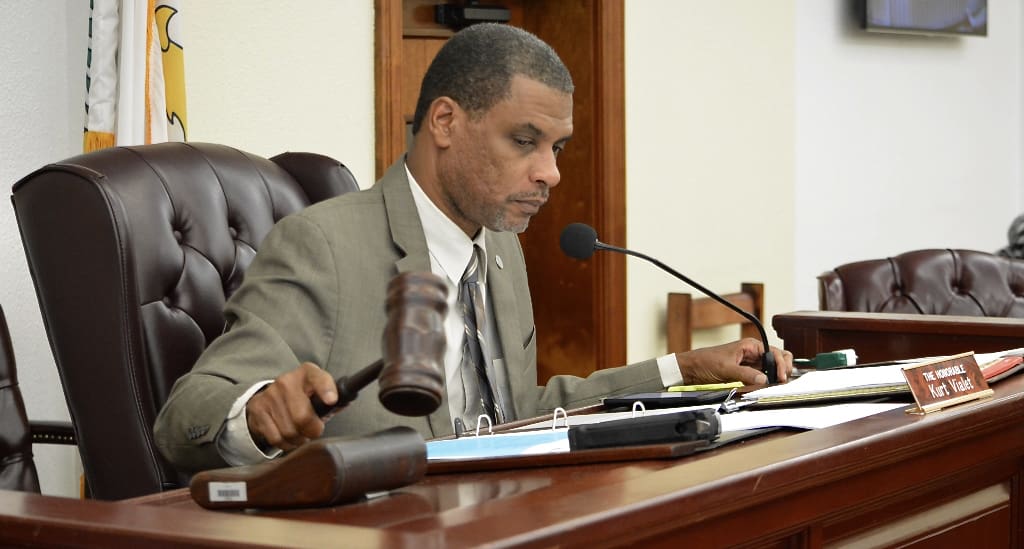 The Senate Finance Committee on Thursday moved 31 bills involving the appropriation of money and fiscal year budgets for government entities to the Rules and Judiciary Committee. The action took two hours.
Of the 31 bills, only three sparked any contention.
Most bills were moved unanimously by the seven senators who were present for the Finance Committee meeting: Sens. Oakland Benta, Marvin Blyden, Dwayne DeGraff, Donna Frett-Gregory, Kurt Vialet, and Janelle Sarauw. Sen. Allison DeGazon was absent for the majority of the voting but was present for the third block.
None of the bills were discussed publicly in any detail by senators, including the three bills that senators did not unanimously favor.
Frett-Gregory and DeGraff voted "no" on Bill 33-0187, an act meant to amend part of the Virgin Islands code relating to the balance in the insurance guaranty fund. The amendment would change the currently required $10 million amount, which was set to increase to $50 million on Sep. 30, 2019, to $20 million.
DeGraff alone voted "no" to Bill 33-0172, which would appropriate $5 million from the Virgin Islands Insurance fund as a contribution to the general fund for the fiscal year ending Sep. 30. The bill was at request of the governor and proposed by Sens. Vialet and Novelle Francis.
Frett-Gregory also voted no on Bill 33-0170, which is to provide lump sum appropriations for salaries and operating expenses for the Office of Management and Budget, Division of Personnel, Department of Property and Procurement, and the Division of Finance. These funds are to be appropriated from the indirect cost fund. The bill would appropriate $1.6 million to the Office of Management and Budget, $530,867 to the Division of Personnel, $233,043 to the Department of Finance, and $185,310 to the Department of Property and Procurement, a total indirect cost of $2.56 million.
All three bills, along with the 28 others, were passed by majority vote and await the next committee meeting.
"We are moving these bills onto the Rules Committee and in the Rules Committee we will make a request that they be passed on to the full body under the closed rule. We can't close them in Finance, but we can close them in Rules. So that recommendation will be made that when Sen. Sarauw has a meeting next week that she moves them under the closed rule," Vialet said.
Under the closed rule policy senators will not be able to make any more amendments when the bills come to the floor again and does not allow for any further discussion or debate.