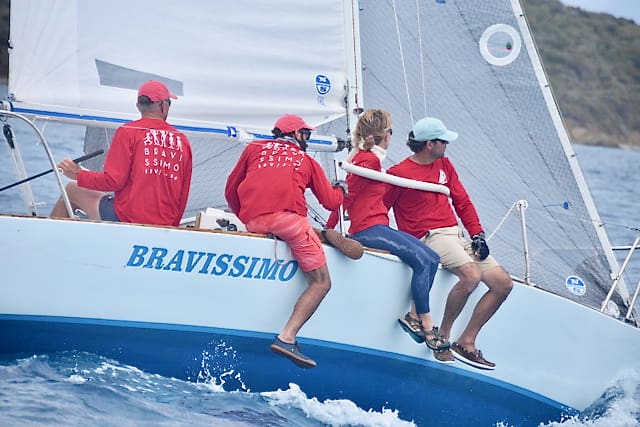 The St. Croix Yacht Club hosted its 27th annual international regatta this weekend and attracted top Virgin Island racers along with spectators, old salts and party lovers.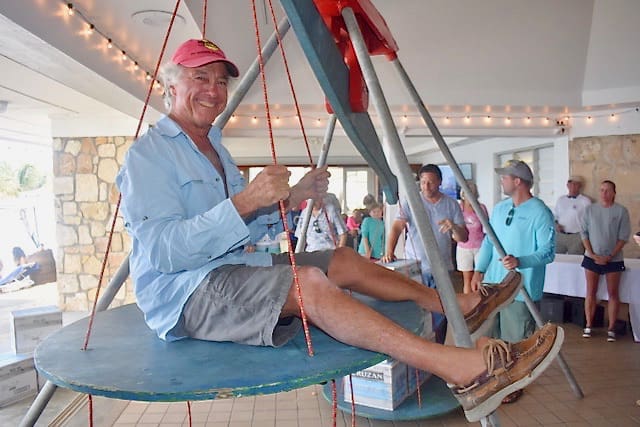 Moderate seas and light winds prevailed over the three days of races that began Friday with the Captain Nick's Races, a tribute to 94-year-old Nick Castruccio who founded the regatta in 1992 and secured Mumm's Champagne as sponsor. Called the Mumm's Cup, that regatta drew 69 sailors from up and down the Caribbean chain of islands – thanks to Castruccio.
More formal back then, everyone dressed for dinner and entertainment after the races in the early years. These days, flip flops and topsiders rule day and night.
The Yacht Club welcomed the public to all regatta festivities.
"The place was packed, lots of non-members came out, it was really nice," Regatta Chairwoman Karen Stanton said of Friday night's party, that La Reine Chicken Shack catered.
The club kicked off events Thursday with its classic Cruzan Rum party and music by Moose Dem. Other weekend entertainment included R&B Connection and Kurt Schindler playing on the Heineken barge Friday and Saturday nights respectively, Coral Fire Dancers on the beach, a pig roast and rubber duck races for the kids. Mutiny Vodka and Leatherback Beer set up tents outside.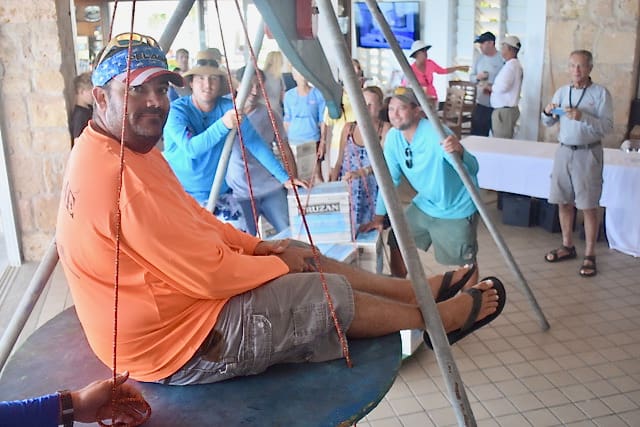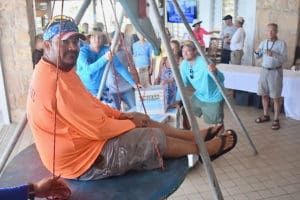 Back at the helm, nine boats started in the Captain Nick's races but only five finished in shape to continue racing in the regatta, according to Julie San Martin, race committee chair.
"We had an incident Friday," she said. "Hotel California went on the reef after a sail handling error. They got too close to the reef and couldn't push off."
Steve Schmidt, Hotel California's owner, races throughout the Caribbean and attends the St. Croix International Regatta most years. He has loyal Crucian crews and, this year, he included a number of the younger sailors, too.
"They got themselves off the reef. Steve is a great sailor; he's just shaken up figuring out what to do now," San Martin said. "The kids were fine, and they have a very exciting story to tell."
Schmidt and crew jumped aboard Dave Sommer's boat, Island Time, the next morning and carried on racing, according to San Martin.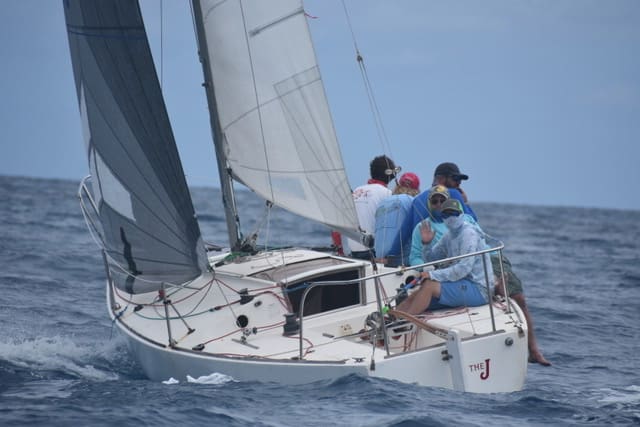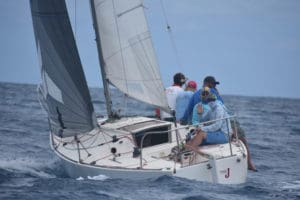 Captain Nick's winning skippers: Chris Stanton aboard Margaret in the non-spinnaker class, Larry Ketten on Morello in the multihull class and Scott Stanton on Rhode Devil in the Rhodes 19s.
On Saturday and Sunday 11 boats competed in the official regatta, two from St. John – Bravissimo and Rhode Devil.
And the winning skippers in the larger classes of boats – as is tradition in the St. Croix International Regatta – take their turn sitting cross-legged on one side of a great set of scales while folks stack cases of rum on the other, amid much ado. Beecher Higby, owner and skipper of Ava, won first place in the Rhodes 19s class, while Chris Stanton, aboard Margaret, an Alerion 27, took honors in the non-spinnaker classification. Both took home their weight in Cruzan Rum, enough rum to last a long while.
Other 2020 regatta winning boats include Morello, skippered by Ketten, in the multihull class and Cruzan Confusion, skippered by Scott Stanton, in the spinnakers.