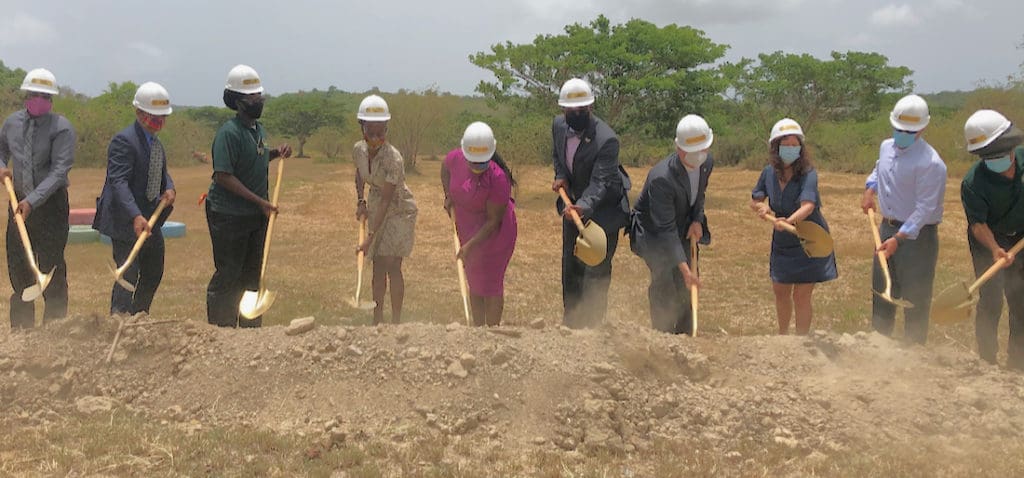 After several years of planning, government officials, members of Farmers in Action and Fresh Ministries broke ground on a plot of land in Estate Bethlehem's coconut grove for an agribusiness center for aquaponic farming.
The project began seven years ago when Gov. Albert Bryan Jr. and Sen. Allison DeGazon met Rev. Robert V. Lee III of Fresh Ministries. Degazon worked at the Labor Department and Bryan was commissioner of Labor at the time. Several members of Lee's staff had aquaponics training at the University of the Virgin Islands, and the three officials began planning for a new aquaculture system for St. Croix. Lee secured a $2 million grant from the U.S. Economic Development Administration, and Bryan and DeGazon worked to find a suitable location.
Aquaculture is farming animals such as fish, crayfish, prawns or even snails, fish, crayfish or prawns normally found in the sea, and hydroponics is cultivating plants directly in liquid (water and nutrients in solution) rather than soil. In an aquaponic system, both seagoing creatures – typically tilapia – and plants can be grown together in one hydroponic system, with the water from the fish being circulated through a hydroponic plant system that uses the fish waste matter to fertilize the plants. The cleaned water is then recirculated back to the fish.
An aquaponic system can be built on one-seventh of an acre and raise its crop on 96 percent less water than a comparable, traditional farming operation.
During Saturday's groundbreaking ceremony, Lee talked about the work and programs of Fresh Ministries. In January 2019, the nonprofit organization announced a partnership with the Desmond Tutu Project for Global Hunger. The initiative created an agricultural business incubation program in the Virgin Islands and Haiti. The program was described as "state-of-the-art, climate-resilient greenhouse farming" in areas that import most of their food. Lee has met with Desmond Tutu several times, and the St. Croix program was one of his last sponsorships.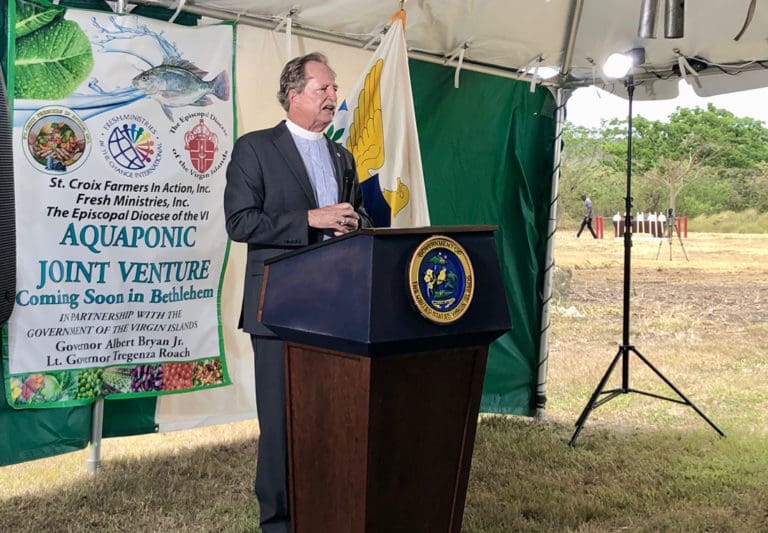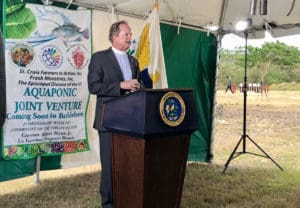 "Desmond Tutu put his name on this program right here," Lee said.
Bryan talked about his long friendship with Rev. Lee and the Fresh Ministries aquaponics center in Jacksonville that has become a tourism product in its own right. He said the St. Croix project has multilevel economic development aspects and job opportunities for farmers to feed their families.
"On a 2,000-square foot farm you can make $100,000 in revenue, working just two to four hours a day," Bryan said.
"The program is no longer about soil and the sun breaking our backs. It is about science," DeGazon said.
Deputy Agriculture Commissioner Diana Collingwood said the "initiative screams food security."
Bryan said they envision greenhouses and water catchment units but have no specific design plans for the St. Croix center yet.
Lee said there have been conversations with the University of the Virgin Islands about working with the UVI aquaponics program, which pioneered the system.
"We're hoping these two converge," he told the Source.
For more than 30 years, Fresh Ministries has helped people around the world learn life skills, prepare for jobs and start business incubators. The aquaponics program focuses on education, training and production of fresh, nutritious produce.
The aquaponics program also is sponsored by Farmers in Action and the Episcopal Diocese of the Virgin Islands.