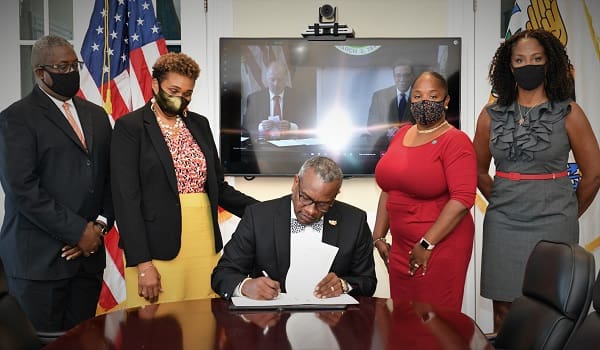 The U.S. Interior Department signed a "preliminary agreement" with the V.I. government on Thursday to pursue a St. John land swap that could bring decades-old hopes for a new St. John school closer to fruition. The agreement is non-binding.
Public education on St. John is currently only available through the eighth grade. In order to complete their high school education, students must commute by boat to St. Thomas each day during the school year.
Most of the land on St. John is within the V.I. National Park and the administrations of Govs. Charles Turnbull, John deJongh Jr., Kenneth Mapp and now Albert Bryan Jr. have all pursued a land swap with the National Park Service. The effort had been going on for three decades already when Turnbull focused on it in 2006.
But Bryan appears to be the first to get this far.
"Today's historic progress is long overdue," Assistant Secretary for Fish and Wildlife and Parks Rob Wallace said in a statement from Government House. "It marks the first time the two governments have made a commitment to initiate the official process towards a final agreement. The Trump administration and the U.S. Department of the Interior are determined to get this done for the people of St. John," Wallace said.
"This preliminary agreement is a promissory note to the students of St. John," Bryan said in the Government House release.
"We need this land exchange to finally guarantee an excellent, safe education for all USVI students," he added.
In September, the Interior Department Office of Insular Affairs provided $300,000 to the National Park Service to help pay for the necessary environmental assessment, according to Government House. The environmental compliance process will evaluate the impacts of the intended use on cultural and natural resources and allow public input.
Under the non-binding preliminary agreement, the Interior Department and V.I. government plan to work together over the year to fully evaluate the opportunity for a land swap. The proposed exchange involves an 11-acre parcel within the V.I. National Park and an 18-acre island currently owned by the territorial government that is surrounded by Park Service land and waters. Steps that were taken between 2012-2014 reportedly identified the 11-acre park parcel within the Catherineberg Estate as a possible school location. In November 2019, Governor Bryan offered the small island of Whistling Cay for consideration in an exchange.
The Virgin Islands National Park was established in 1956 and encompasses about 60 percent of the island of St. John. Land for the park was gifted to the federal government by Laurance S. Rockefeller for the purpose of establishing a national park.