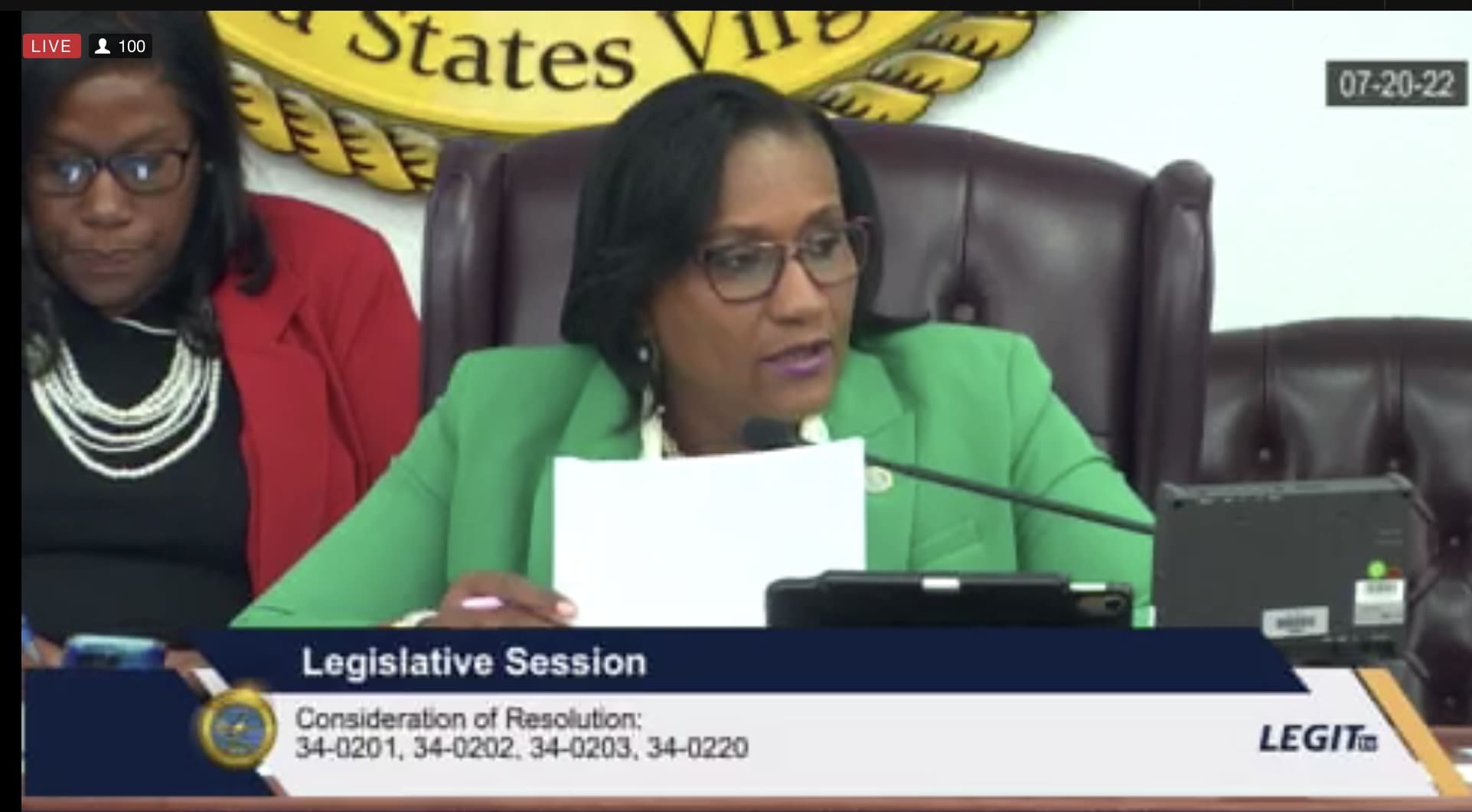 The Legislature unanimously approved three new members to the cannabis, chiropractic, and conservation boards, and honored two other Virgin Islanders for their work. It also recognized a half-century of excellence by organizers of the territory's annual Agrifest.
Diane E. Brooks has been a driving force behind the recycling efforts in St. Croix. Senators named her to the long-dormant Virgin Islands Conservation District. Sen. Marvin Blyden said it was the first addition to the board since 2002.
Bradley Keys was added to the V.I. Board of Chiropractic Examiners. He has practiced on St. Thomas since 2015 and is the owner of Tradewinds Chiropractic on St. Thomas. Keys is a member of the International Chiropractors Association, the Academy of Chiropractic and the U.S. Virgin Islands Winter Olympic Committee. Keys holds 10 post-graduate diplomas including three in primary spine care and mild traumatic brain injury/traumatic brain injury. His additional training includes multiple courses on primary spine care, neurology of ligament pathology, several in orthopedic testing and numerous certifications on spinal biomechanics engineering.
Licensing and Consumer Affairs Commissioner Richard Evangelista was added to the Cannabis Advisory Board. Evangelista is a St. Croix native who graduated from Good Hope School. Previously he served as the territory's assistant attorney general. He has been general counsel, acting human resources and acting chief executive officer at the Juan F. Luis Hospital. From 2012 to 2014 he served as senior policy advisor for Gov. John deJongh Jr.
St. Croix native Kemit-Amon Lewis was honored for his work as a marine scientist, environmental advocate, tennis player, scuba diver, choreographer, photographer, and world traveler. With degrees in Marine Science, Lewis worked with the Virgin Islands government, the St. Croix Foundation, and the University of the Virgin Islands on St. Thomas and St. Croix. Then, as coral conservation manager with The Nature Conservancy, he developed a coral reef restoration program throughout the Caribbean and the world, including Cuba and China.
Lewis established a coral reproduction program in 2012 that bloomed new coral in 2017. He then helped establish coral nurseries in the British Virgin Islands, the Bahamas, Curacao, the Dominican Republic, Grenada, Guam, Jamaica, and other countries.
Lewis also developed the Reef Responsible Sustainable Seafood Initiative in the territory, managed the sea turtle conservation project at Jacks and Isaacs Bay on St. Croix. He has been recognized by the International Coral Reef Symposium for his photography, named Scuba Diving Magazine's sea hero, by the Caribbean Journal as one of 12 people making the Caribbean a greener place, and was featured in the Women's Coalition of St. Croix's USVI calendar.
Eugene "Genix" Thomas was honored posthumously for his contributions to the Virgin Islands community as a baseball, softball, and life coach.
Born on St. Croix and graduated from St. Patrick's Catholic School in 1956, Thomas trained young people and adults for 39 years, some of whom competed in V.I. and national championships, including the Cinderella Softball World Series, V.I. National Softball Team, Thymes, St. Croix Central High School Varsity and Junior Varsity, the St. Croix Interscholastic Girls All Star Softball Team and many others. Thomas was a thoroughbred horse owner, breeder and trainer and mentor to many horse owners. He is recognized also for the many poems written about his pride and love of the island.
Alvin Delano Burke Sr. was born on St. Croix and graduated from St. Croix Central High School. He earned a bachelor's in Community Planning and Development, and master's in Urban Affairs. He served for 12 year with the V.I. Housing Authority, as chief planner, executive director and assistant commissioner. He is recognized for service and contributions to basketball, horse racing and the people of the Virgin Islands.