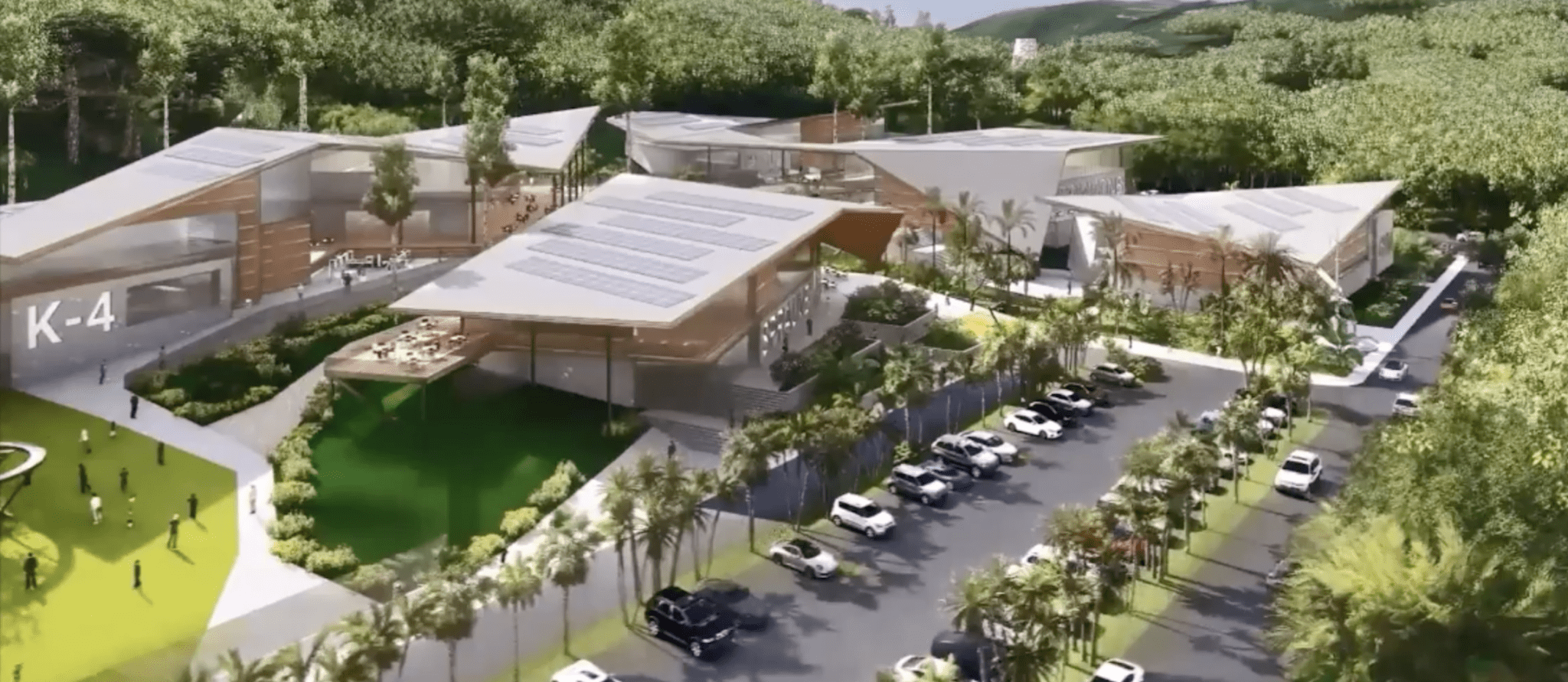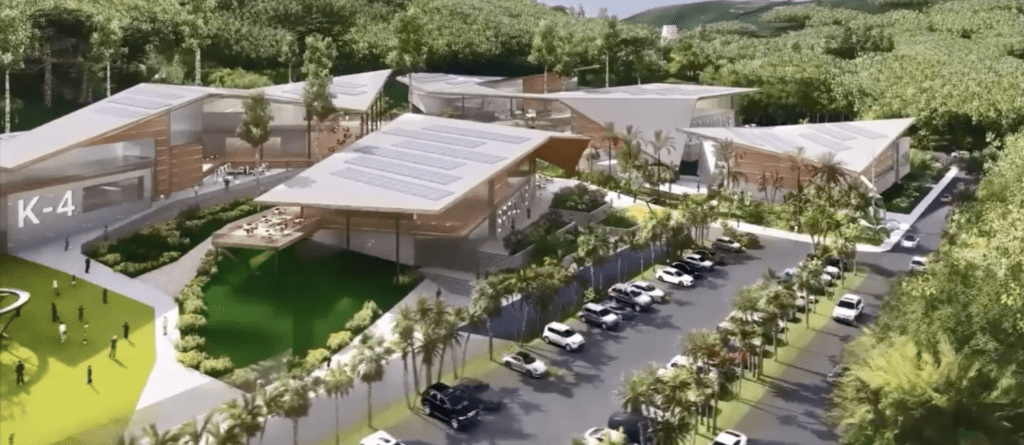 The National Park Service has agreed to grant an extension to a comment period that will give the public more time to weigh in on a proposed St. John land swap between the federal and territorial governments.
The public comment period on the Land Exchange Notice of Realty Action was set to expire on Feb. 21 at midnight but has now been extended through March 15.
The exchange of properties would allow the territory to take advantage of FEMA funding to build a new Pre-K–12 school in Estate Catherineberg on St. John.
Comments on the land exchange may be made by clicking here. Letters may be mailed to:
Land Resources Program Office National Park Service. 2975 Horseshoe Drive South, Suite 800, Naples, Florida 34104.
Alternatively, comments may be emailed to russell_webb@nps.gov.
The comment period was extended in response to multiple requests made by ancestral St. Johnians, culminating in a three-hour online town hall meeting held Monday afternoon.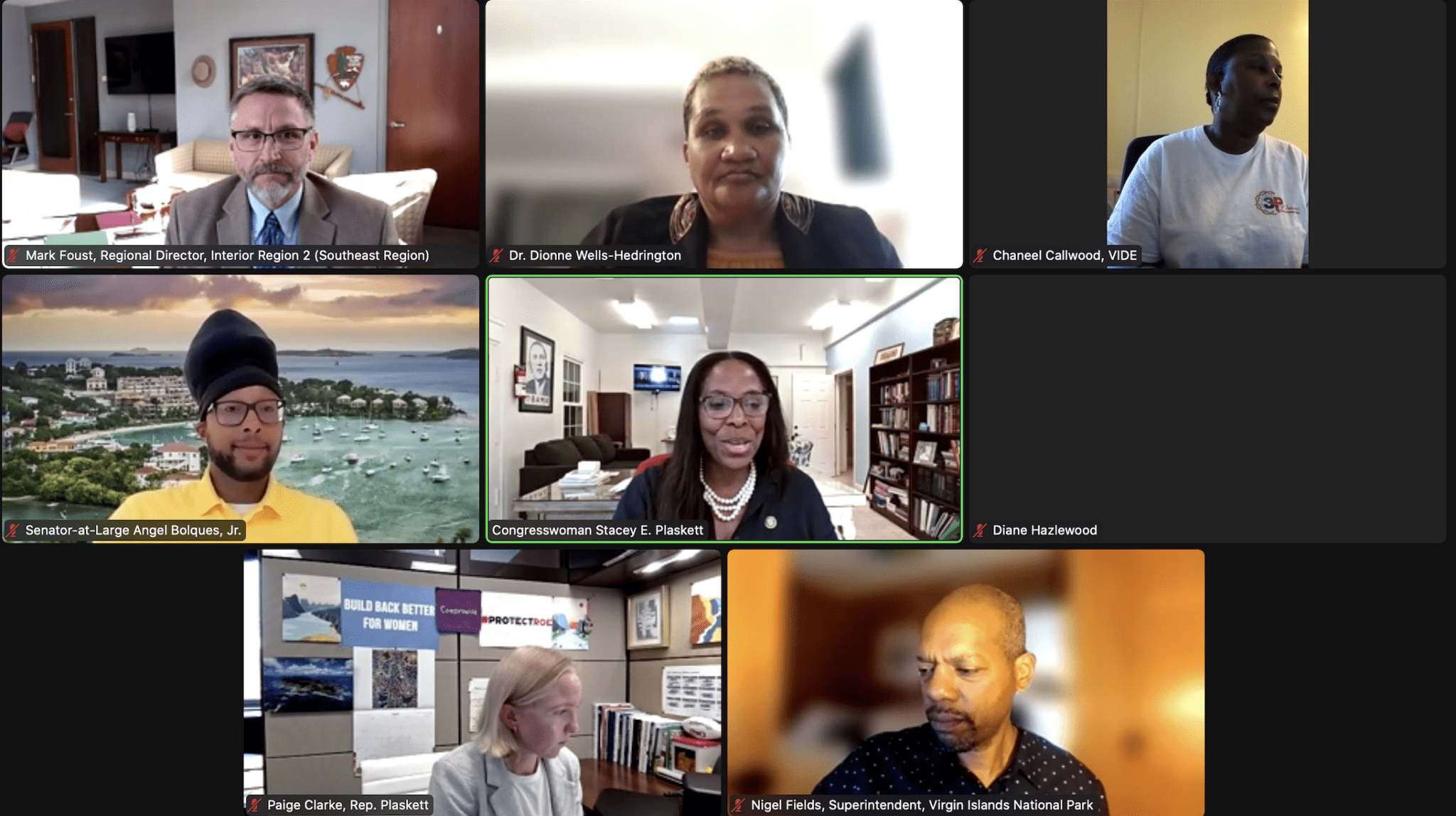 A video of the meeting, co-hosted by V.I. Delegate to Congress Stacey Plaskett and Senator-at-large Angel Bolques, is available on Plaskett's Facebook page.
Under the proposal, the government of the Virgin Islands would give the National Park Service title to 17.9-acre Whistling Cay.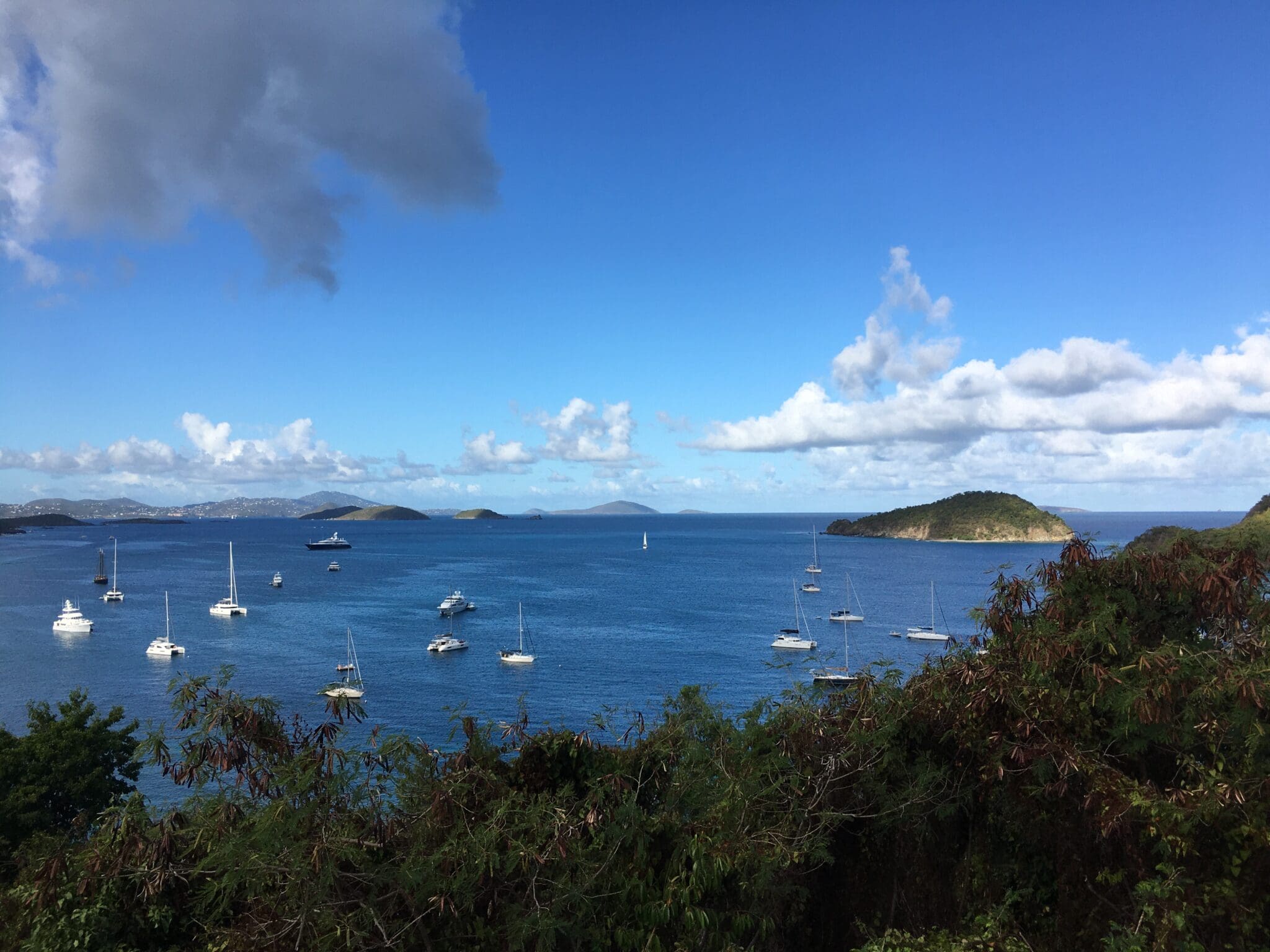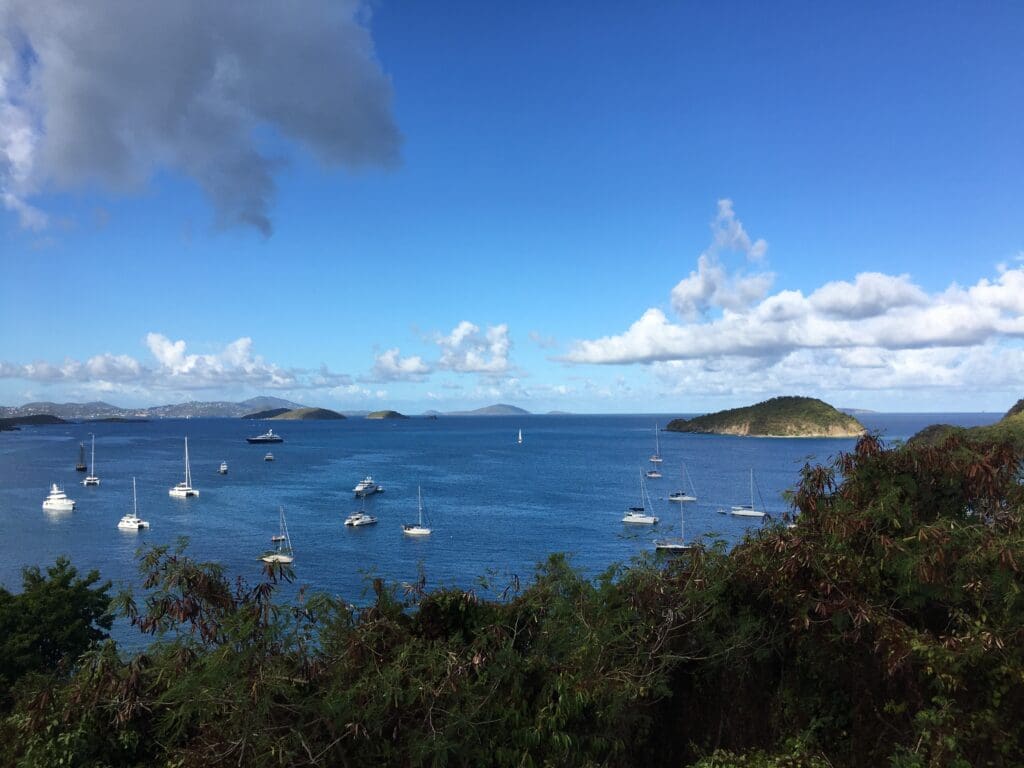 In exchange, the National Park Service would give the territory 11.3 acres of property in Estate Catherineberg and a cash payment of $210,000. Details of the proposal are available here.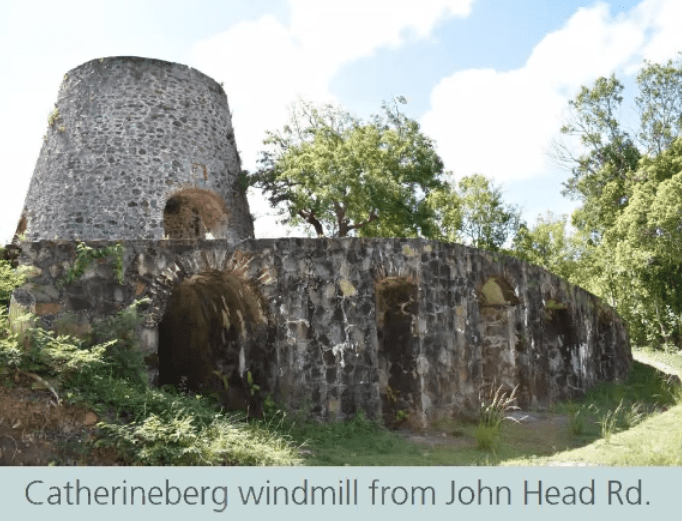 At Monday's meeting, there was little disagreement about the value of building a new school on St. John. Students attending the Julius E. Sprauve School — St. John's only public school — have been attending classes in temporary modular units since Hurricane Irma hit in 2017.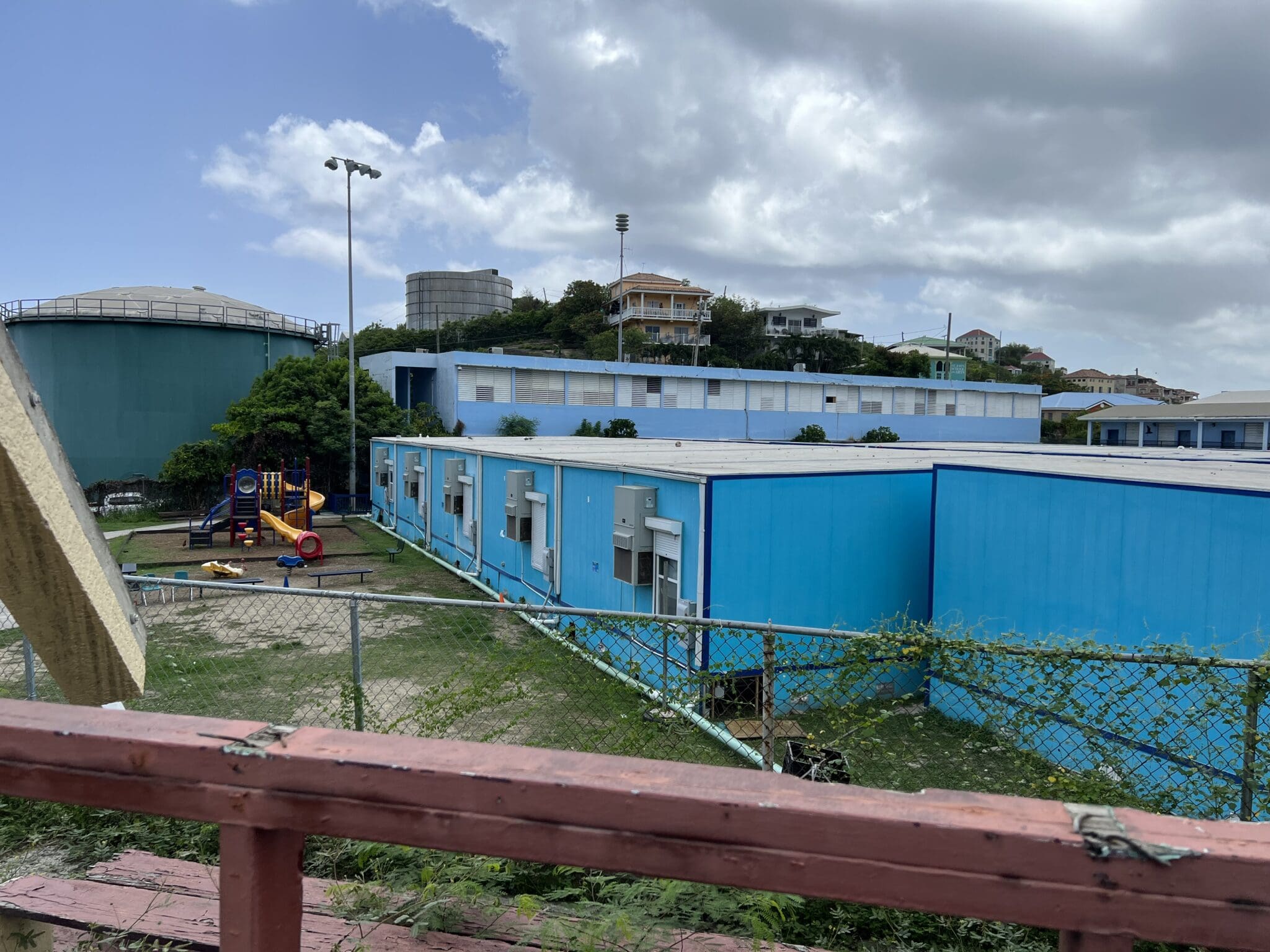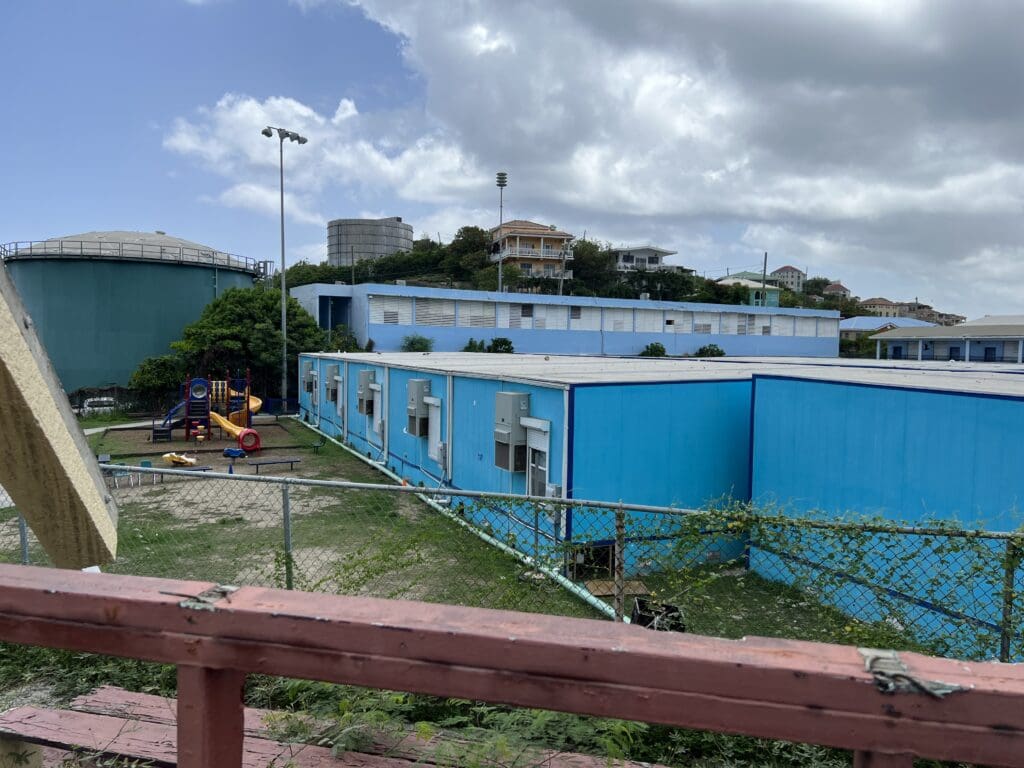 However, there was deep disagreement about the proposed land exchange. During the meeting, a half dozen ancestral St. Johnians said the federal government should simply give the land to the people of the Virgin Islands rather than requiring the territory to relinquish title to Whistling Cay.
They said their families had already sold or donated land when the Virgin Islands National Park was established, and it's time for the federal government to give something back.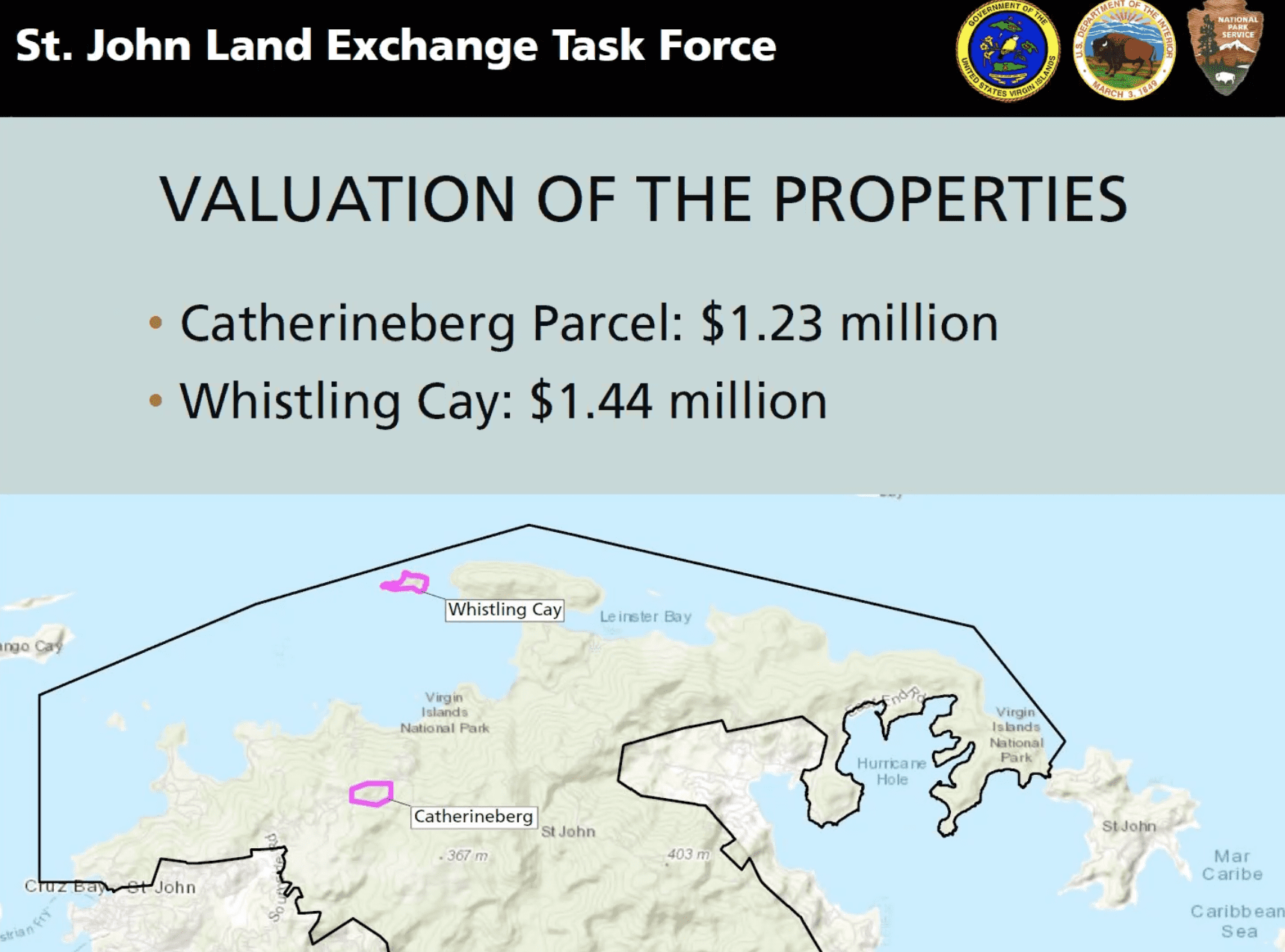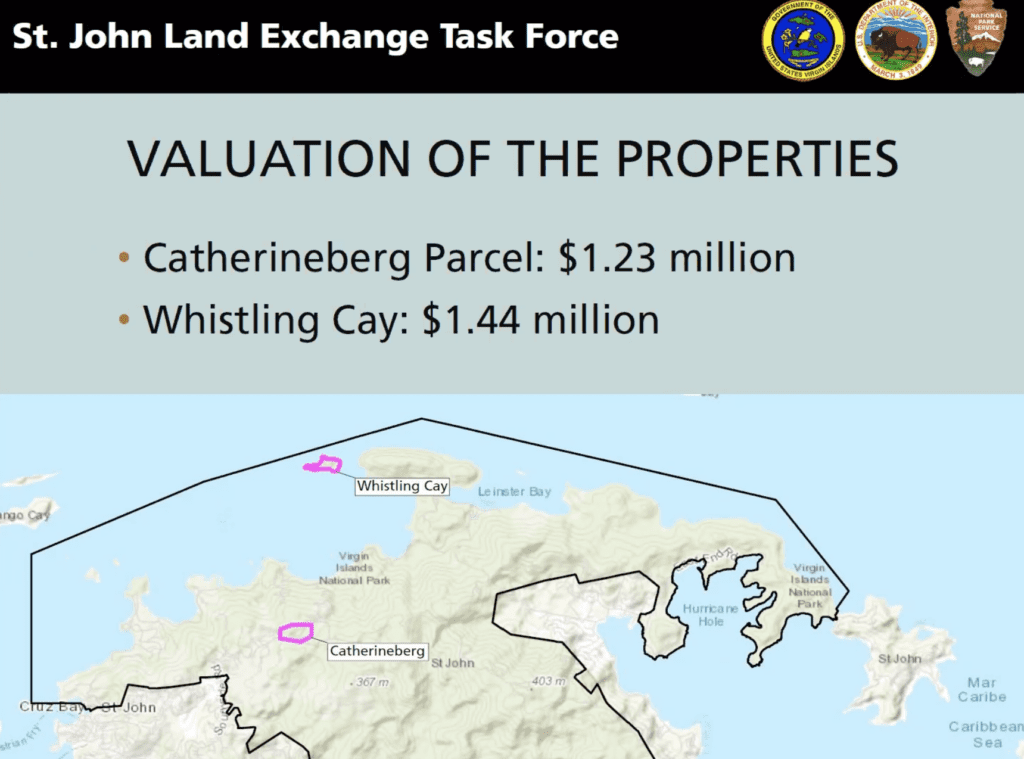 "I'm in favor of the school, at that location. I just don't believe in the swap," said Lucia Francis, a former Virgin Islands National Park ranger and retired public school teacher. "The park is part of the community. There is a need here. I'm asking that we walk together."
"No more land should be acquired by the National Park Service," said Abigail Hendricks, directing her comments to NPS officials. "I am appealing to your heart. Stop being a bully. You already have three-quarters of St. John. Give up what is owed to our people."
(Following the meeting, VINP Park Superintendent Nigel Fields clarified that the park owns approximately 60 percent of the land on St. John.)
Myrtle Barry described the hardship she underwent as a public high school student who had to commute to St. Thomas to attend school, as students still do today. "Delegate Plaskett, please litigate for us," said Barry. "Why do we have to trade?"
Plaskett said, "Under federal law, the National Park Service cannot donate land for any purpose. This question keeps coming up." (According to an NPS St. John Land Exchange fact sheet, "NPS has no legal authority to donate the land. Federal law [54 U.S.C. §102901] prohibits conveyance of property from National Parks.")
But Barry and others countered that a precedent for giving away parkland has already been set, referring to a pending agreement between the NPS and the town of Bar Harbor near Acadia National Park in Maine.
Under that agreement, a 55-acre tract within the park would be transferred to the town to build affordable housing for residents and park staff.
Plaskett explained that enacting a similar agreement for St. John could take up to 10 years if it could be done at all. Her predecessor, Donna Christensen, attempted to get legislation passed to have the Park Service donate land for a school. That legislation made it through the House Natural Resources Committee but was never approved by the House.
The proposal to donate land in Acadia National Park was first discussed in 1986. It was revived in 2015 by Sen. Angus King of Maine, who had bipartisan support for the plan in his state. After seven years, the proposal finally made it to the floor of Congress in 2022.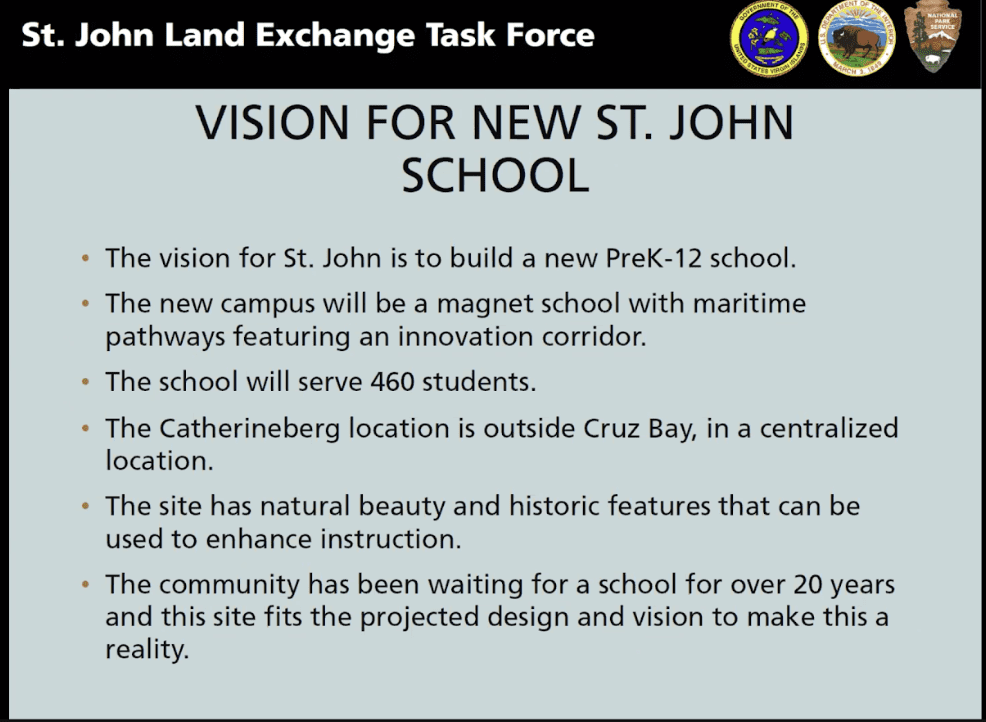 A bill to donate land to the Virgin Islands would be even more challenging, Plaskett continued. She represents the territory in the House, but the Virgin Islands does not have representation in the U.S. Senate. Few politicians would seek to oppose the Park Service's policy concerning relinquishing land, and finding senators who would choose to spend their political capital joining this fight would be difficult, she said.
Another concern, Plaskett said, is that some members of the House have recently suggested taking back disaster funding that has not been obligated, including FEMA funding set aside for rebuilding Virgin Islands schools. "This is a Congress that may take the money away," she said.
V.I. Education Department officials said they hope to have the money for rebuilding territorial schools obligated within the next couple of months to avoid that outcome.
Although Plaskett sympathized with the St. Johnians who objected to the land swap, she said, "It is the most expeditious way to get a world-class school built within the time frame presented by FEMA."
The concept for a new school on St. John was first presented in 2020. Plans are now 35 percent complete, according to Chaneel Callwood, the architect who heads up school reconstruction for the Education Department. "We are looking forward to working on the design with the community," she added.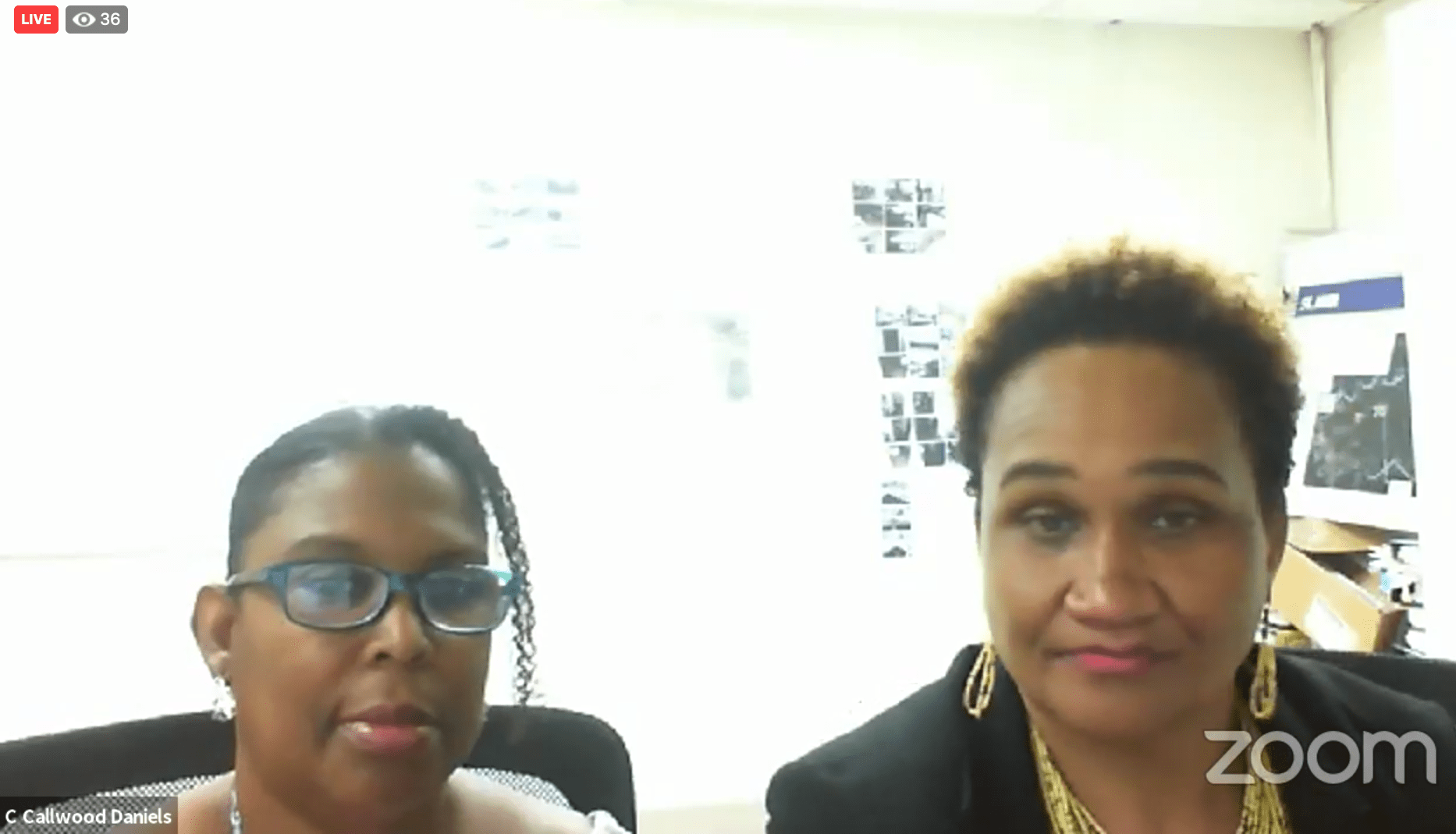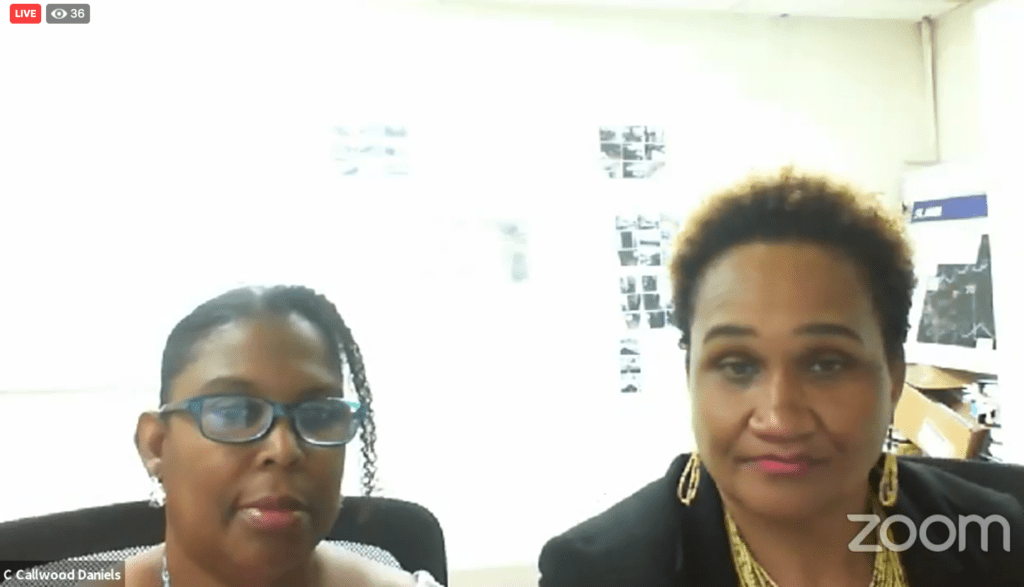 Dionne Wells-Hedrington, a St. Johnian who served as a teacher and principal on St. John and now is the commissioner of Education, has been a passionate proponent of moving the Sprauve School from Cruz Bay to Estate Catherineberg.
She said delaying the department's plan for a land swap could result in other problems as construction costs continue to rise. The amount of funding that's available now may not be enough to complete the project if it is delayed by even two years, she said.
Bolques agreed. "In a perfect world, I wish we could get the land donated," he said. "If we don't move forward now, it could set us back five or 10 years."
Toward the end of the meeting, retired educator James Provost said there were really two discussions going on in the meeting. One was about building a school for St. John, and the other was about the relationship between the people of St. John and the National Park.
The two issues are now somewhat in conflict, Provost said. "As far as whether and what the NPS owes to the people of St. John, this is not the time. We should stick to the discussion of the opportunity we have now, at this moment, to have a new school at an ideal location. I'm entirely behind Commissioner Wells-Hedrington and say, 'Let's do it now.'"
Lorelei Monsanto, who has been a strong advocate for the NPS to donate the Catherineberg property, said she will continue to knock on doors and make sure all voices on St. John are heard. She urged those submitting comments to make copies of their remarks and have them stamped as proof of submission.
Further details regarding the Notice of Realty Action are posted on an NPS Park Planning webpage originally published in 2022. (Readers should be aware that the deadline listed on this page for submitting comments has been extended to March 15.)