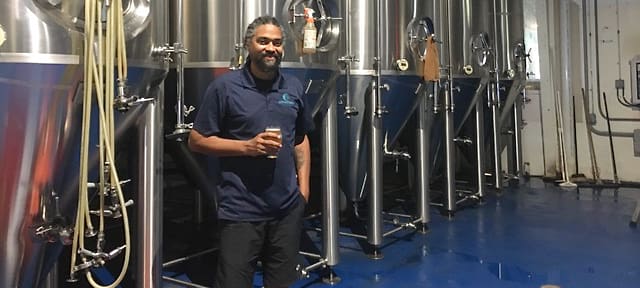 After starting a career in New York City, experiencing the 9/11 terrorist attack on the city, coming home and then relocating to Colorado, Nicholas Cherubin returned to his home island last year. He is making the most of his knowledge and stateside experience and accepted a dream job at St. Croix's Leatherback Brewery.
Cherubin graduated from St. Croix Central High School and then moved New York for three years, where he landed jobs with the Barefoot Contessa and then the World Trade Center Deli. At the Tuscan Deli, Cherubin made lunch and friends with workers from American Express, Lehman Brothers and other corporate staff housed in the twin towers.
On the fatal day, the young Crucian was told to come into work later than usual and was walking down Wall Street when the first tower collapsed. He walked the streets all day, from pay phone to pay phone, calling relatives to let them know he was all right and to find out if they had survived.
Cherubin said his reoccurring memory, to this day, is the smoke blowing towards New Jersey and scores of people streaming away from the site.
"It kind of prompted my first move back here. That did a lot for where I am at now," Cherubin said, adding that he came home soon after the disaster to rebuild his spirit.
For the next five years, he worked in the kitchens of several popular restaurants including Savant, Bacchus and Dashi.
He also fell in love, and the couple eventually decided to try the mainland again and moved to Fort Collins, Colorado.
"We both wanted to buy a home and get some experience outside of what St. Croix had to offer at the time," Cherubin said.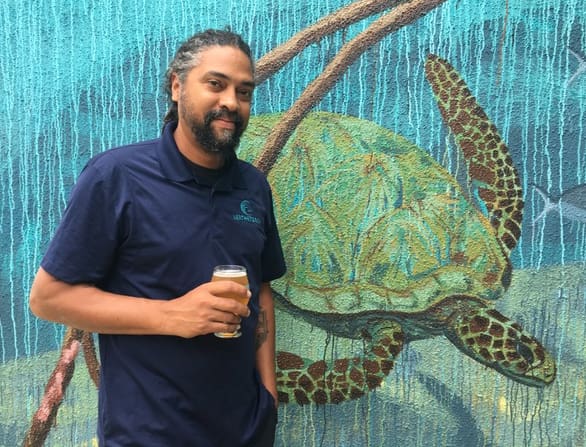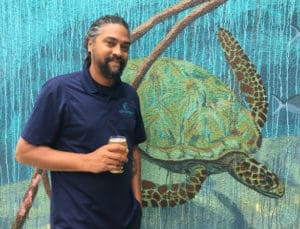 For two years, Cherubin cooked as a sous-chef for Whole Foods deli which involved catering for the local breweries.
Eventually, one of the hops companies lured him away. He started at the bottom, loading and unloading pallets. He worked his way up to assistant manager, and eventually sales. He delivered cases and kegs of Odell beer around the metro area, produced events and managed festivals.
Cherubin expanded his horizons and moved into sales with brew giant Oskar Blues for the next three and a half years. He covered northern Colorado, Wyoming and eventually Montana. During that time, he orchestrated the Great American Beer Festival – the largest such festival even in the United States.
After Hurricane Maria in 2017, Cherubin visited the island and started feeling the tugging of his heart strings from home. He said he was overwhelmed by the way people worked together and took care of each other. The family started talking about moving back to St. Croix.
Cherubin first visited Leatherback Brewery in 2018, when he came to the island for his brother's wedding.
"If these guys were in Colorado, where they have 27 breweries, they would be big," he raved as he sat at the bar with a friend. Odells made a quality product as did Oskar Blues, the third largest brewery in the state.
After talking with the bartender, Cherubin sent his resume later in the day. He was offered the marketing job with Leatherback and the family discussed the move seriously. They were "on board" right way, he said.
"It was meant to be. We fell right back into place," he said.
It was a tough decision, Cherubin said, debating the pros and cons of such a move. There was health care and insurance to figure out. The cost of living, housing, utilities and schooling is much higher on St. Croix and he wanted to make sure the children would have good schooling.
"My parents did that and I want to be able to do that for my kids," he said.
At Leatherback, Cherubin is in charge of sales and distribution. He manages St. Thomas and St. John with the help of two sales representatives and delivery representatives. He also coordinates events and services for the vendors.
The brewery is introducing products to Puerto Rico and the British Virgin Islands and hopes to become the regional favorite.
"We're taking care of our own back yard, first," he said.
Cherubin brewed beer at home when he was young and has always liked craft beer. He said the Leatherback products are of the highest quality. He also appreciates that the company is community minded and environmentally conscientious.
"I saw their vision and bought into the vision. I'm home doing what I love," he said.