The first person to die of COVID-19 in the U.S. Virgin Islands was an 85-year-old man from St. Thomas, the Department of Health reported Monday morning.
The deceased, the first person to die in the U.S. Virgin Islands of COVID-19, also had underlying medical conditions, which the report does not detail. He unknowingly came into contact with a confirmed COVID-19 case that traveled to the island from Anguilla. He was not hospitalized at the time of his death and died at home.
"We are saddened by the news of the territory's first confirmed COVID-19 death. On behalf of my staff at the Department of Health, I send my deepest condolences to the family of the deceased," Health Commissioner Justa Encarnacion said in a statement.
According to the Health Department, while this death was not a result of community transmission, people may come in contact with someone who is infected without knowing it. By avoiding contact with others, avoiding non-essential travel and practicing good hand hygiene and other precautionary measures like social distancing, you can limit your risk of spreading and also acquiring this disease.
As of Sunday morning, the number of confirmed cases had risen by two for a total of 42. Of those, 28 were on St. Thomas, 12 on St. Croix and two on St. John. A total of 266 Virgin Islanders, roughly 0.0026 of the population, or a quarter of one percent, have been tested. Of those, 206 tests have come back negative and 18 tests are pending. Thirty-four people have recovered, and one has died. A second person, a UVI employee, has also died, but was not in the territory at the time. (Update: As of Monday, April 6, in the afternoon, the territory had tested 283 individuals and of those, 222 tests had come back negative, 43 were positive and 20 were still pending.)
Statistically, so far the territory is faring better than most states and territories, in terms of progression. The 91-DIVOC web project, which collates CDC data, indicates the U.S. Virgin Islands has the lowest rate of spread of any U.S. state or territory, after controlling for population size. Being an isolated island able to restrict access and getting an early start on social distancing when the number of cases was still small may have been factors.
Whether the epidemic strains V.I. hospitals depend heavily on how well residents practice social distancing for the next month or so.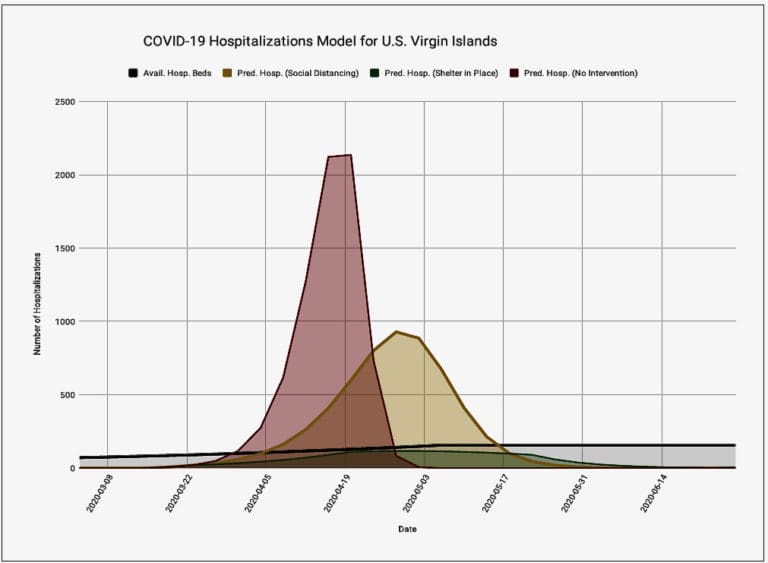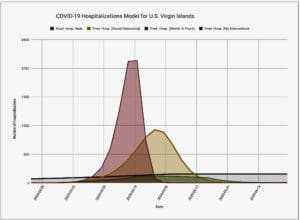 If residents are less rigorous, the disease will spread, with substantially more people sick, requiring hospitalization and more fatalities. Health officials say anyone experiencing symptoms – including a persistent cough, fever and shortness of breath, should self-quarantine and contact the Health Department by telephone at 340-712-6299 or 340-776-1519.