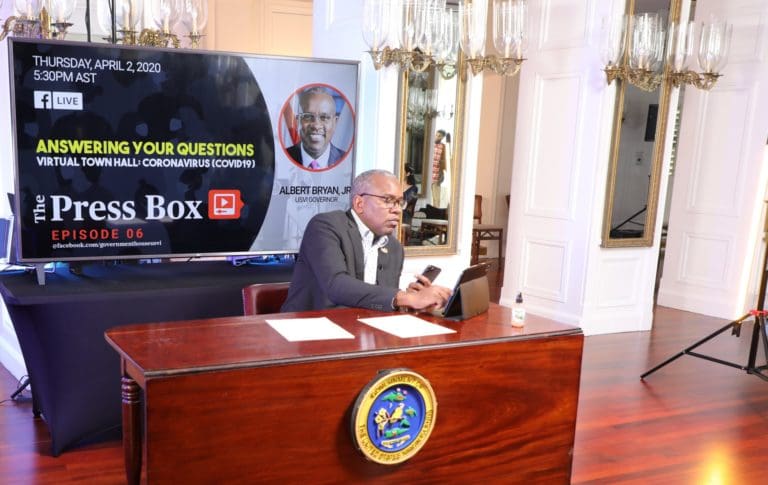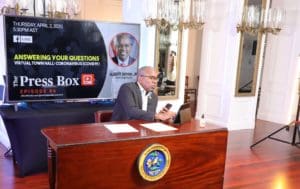 When Government House launched its weekly 'The Press Box' live broadcasts in January, the words COVID-19, pandemic and social distancing were yet to become a part of the everyday lexicon of Virgin Islanders.
Fast-forward seven months and the shows – livestreamed on the administration's Facebook page and Channel 27 at 5:30 p.m. every Thursday from the ballroom at Government House on St. Croix – have become a conduit for residents to interact directly with officials on a variety of topics. In recent months the broadcasts have largely dealt with the pandemic.
The show features discussions between the guests and a host, with viewers weighing in with comments and questions that are addressed in real-time.
The July 16 episode will feature Education Commissioner Racquel Berry-Benjamin, Health Commissioner Justa Encarnacion and district superintendents Carlos McGregor and Stefan Jurgen discussing school reopening plans.
The series began in a bid to boost government transparency, said Richard Motta Jr., Gov. Albert Bryan Jr.'s communications director.
"It was originally, really, Governor Bryan's idea – to go live on Facebook and have a conversation with whoever was paying attention. He wanted to have a conversation with everyday people, and the Government House communications team wanted to tell the administration's story – beyond the stories and headlines written by journalists, editors and bloggers," Public Information Officer Christine Lett, who spearheads the weekly production, said via email.
"It started with informal sit-downs with the governor and local media consultant Brad Nugent, who helped us brand The Press Box," said Lett.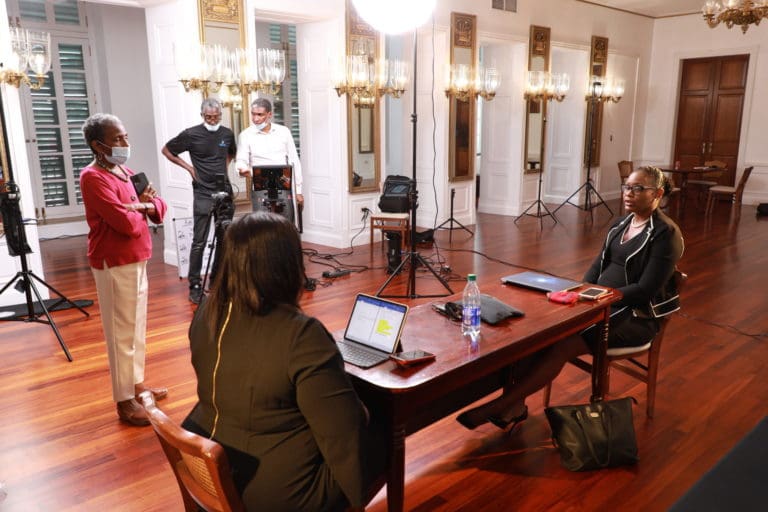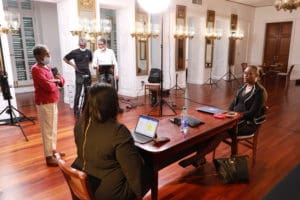 After a few shows, Bryan decided he wanted to take questions live, said Lett, so the team shifted to a virtual town hall format. "We pivoted, and it changed a lot for us. People felt more engaged and connected with whoever was speaking, and they especially liked being able to speak with Governor Bryan directly."
And then came COVID-19.
"Once COVID hit, there was a need for more personal information" as the administration was deluged with calls and questions, said Motta, and The Press Box became the perfect vehicle.
"The most challenging aspect – from a production standpoint – is that we have all the elements for a successful show that is pleasing and entertaining for the viewer," not just talking heads sitting and spewing information, said broadcast and production manager Garry Anthony, who produces the show with Lett and partners MediaOne and The Strategy Group.
Even after 30-plus years in television, the format is new for Anthony. "Because we are live on Facebook, it's very interactive. It's a really cool thing. You never know what people are going to say. But we've never had any surprises, per se," he said. "It really helps us to keep the pulse of the community. You can't help and do what is best for people if you don't know what their concerns are."
Lett agreed. "Social media has really expanded how we gauge where people stand on the issues. We don't necessarily owe that to COVID-19, it's just the way the world and technology is today, but it does fill the gap of not being able to hold in-person events such as town halls," she said.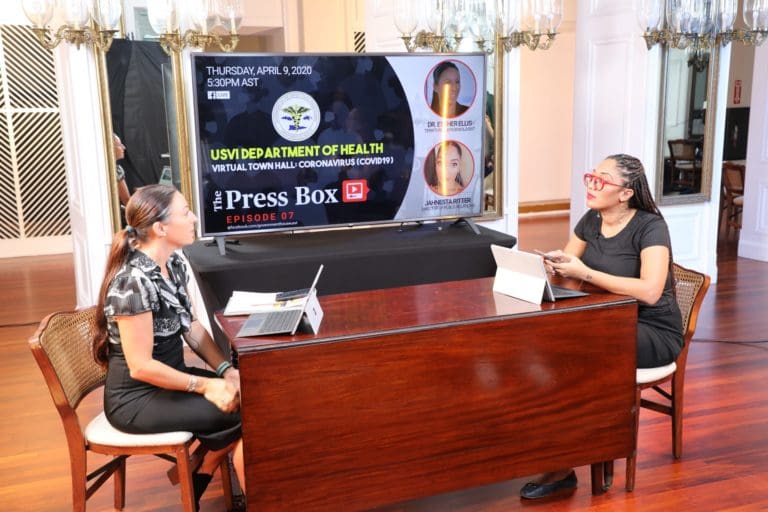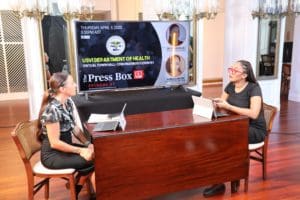 Feedback has been plentiful, and not always complimentary, and that is fine, said Lett. "People use this platform to tell us their concerns and even their experiences with the delivery of government services, and they hold our feet to the fire as far as whether our policies work for them – and we really appreciate that. The great thing about The Press Box is that it lives on our Facebook page and people can view it anytime they want to. We may have only a few hundred viewers during the live show, but by the end of the week thousands have viewed it."
Motta said the administration also plans to roll out other initiatives soon, "to build on our effort to build two-way communication."
One will be regular news broadcasts on the government access Channel 27. "The government has a TV network that is underutilized," said Motta. The initiative is especially important because many Virgin Islanders do not have access to the internet or social media, he noted. "We are looking at WTJX, too, to make it available via antenna," especially during events such as hurricanes, he said.
The administration also is utilizing direct messaging, as most people have cellphones. That outreach initially was developed in early March, as the pandemic took off, and now has 13,000 subscribers, said Motta. People can sign up for notifications by texting COVID19USVI to 888777.
All of the efforts are "really just our continued attempt to not only inform the public but also solicit feedback from our constituents. That really informs the governor's policy positions. What the public thinks and feels weighs heavily on the governor," said Motta.
"It's easy to have a platform and priorities, but the public might have a different focus. It's very important to stay engaged. I'm excited about the opportunity to let folks know the why behind all of what we are doing."
The Press Box, featuring interviews with Bryan/Roach administration officials, is livestreamed at 5:30 p.m. every Thursday on the Government House Facebook page and government access Channel 27. Previous episodes can be found at facebook.com/GovernmentHouseUSVI.