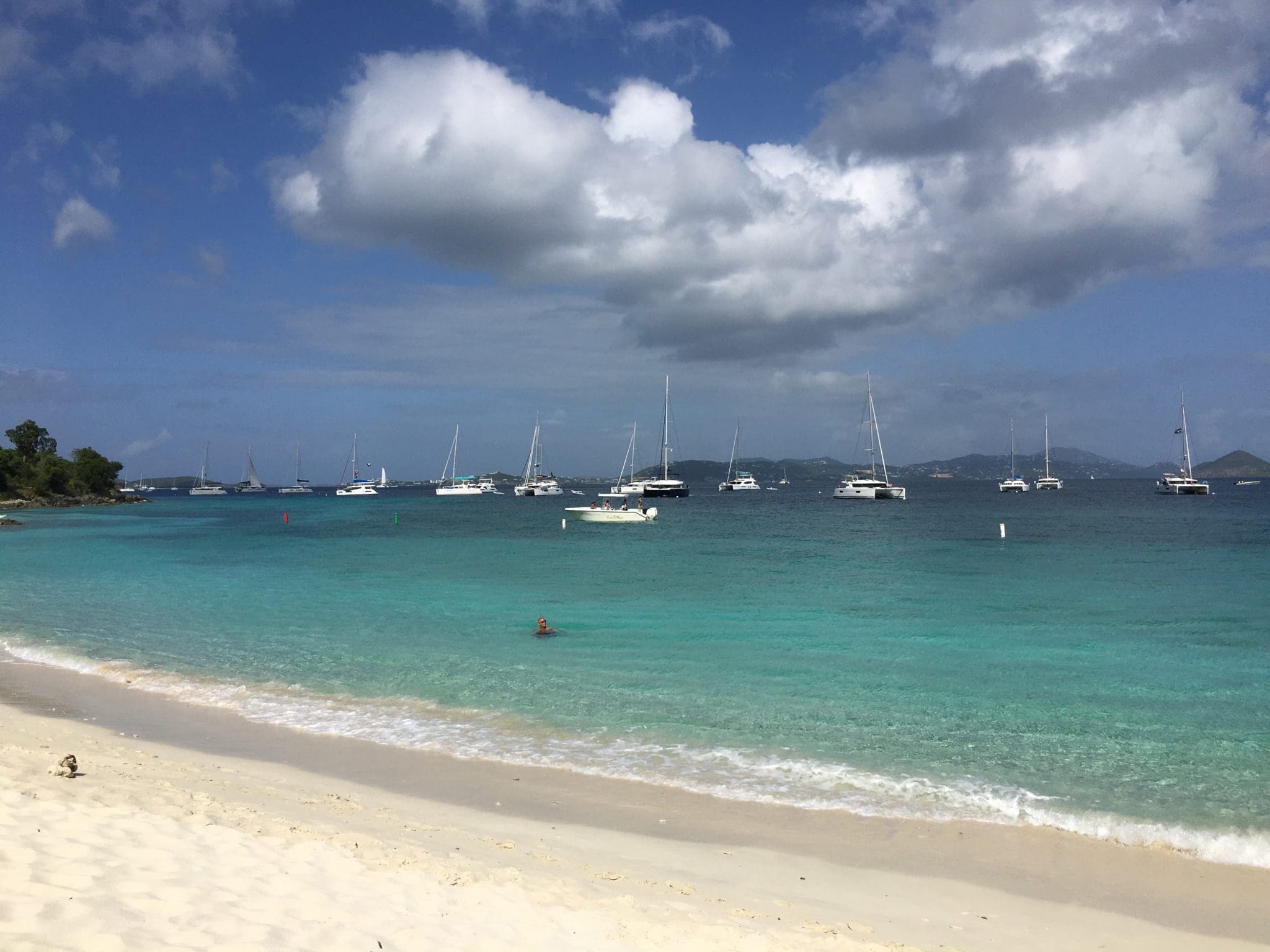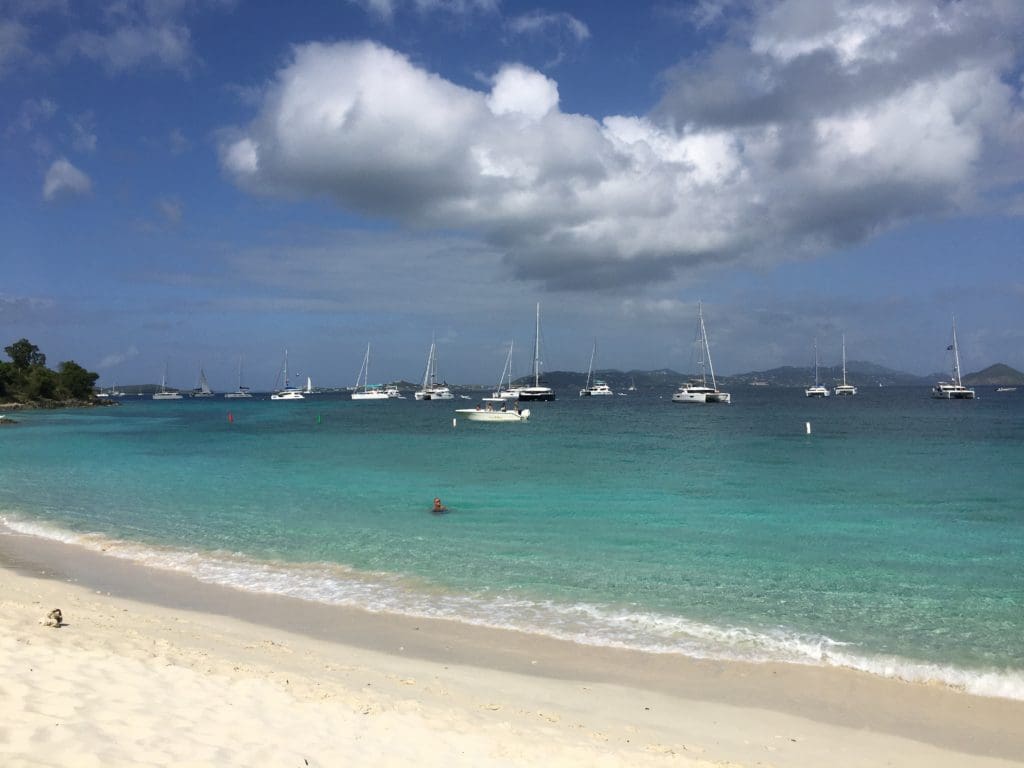 This is the seventh in an ongoing series on the boating industry in the U.S. Virgin Islands. Earlier stories can be seen at the links at the bottom of this story.
Essentially, due to the COVID 19 pandemic, the recreational boating industry surged in St. Thomas and St. John during the 2020-2021 season.
Recognizing an opportunity to regrow the marine sector of the economy, Gov. Albert Bryan Jr. kept USVI ports open throughout the pandemic while the British Virgin Islands, an increasingly popular cruising area, essentially shut their doors to foreign recreational boaters.
Although the increase in boating traffic brought in much-needed revenues, it also made visible several weaknesses in the industry.
For example, the demand for places to anchor has led to conflicts in previously quiet bays, pitting boaters – many of whom are environmentalists – against other environmentalists who worry about damage to marine life from overcrowding, incompetent anchoring, and negligent waste disposal practices. The most extreme example of this has occurred on Round Bay on the East End of St. John.
The Source asked readers to share their experiences and suggestions about the situation this past year, and several did, including "Anne," a local boat operator who described a stressful situation this past season.
"When the homeowners of Round Bay started making noise, Department of Planning and Natural Resources began strict requirements for anyone wanting to drop anchor in Round Bay," she wrote.
"This June, while on our sailboat, the weather kicked up, and we traveled from the north side of [St. John] to Round Bay, "We knew it to be protected and a safer place for us for the night. No sooner had we properly and carefully set anchor than we were approached by DPNR and told we had to have an anchoring permit or leave."
"The only way to get a permit is in person at the DPNR office on St Thomas," she continued. "Given that it was already 5 p.m. and we could not go to St. Thomas to a closed office, we sailed on to Rendezvous Bay, arriving after dark. The moorings in Salt Pond Bay and the Lameshur Bays [within the V.I. National Park] were all in use. This had never happened before 2020-2021. Frankly, the requirement to travel to St. Thomas to apply for and obtain an anchoring permit to spend even one night in Round Bay is ridiculous."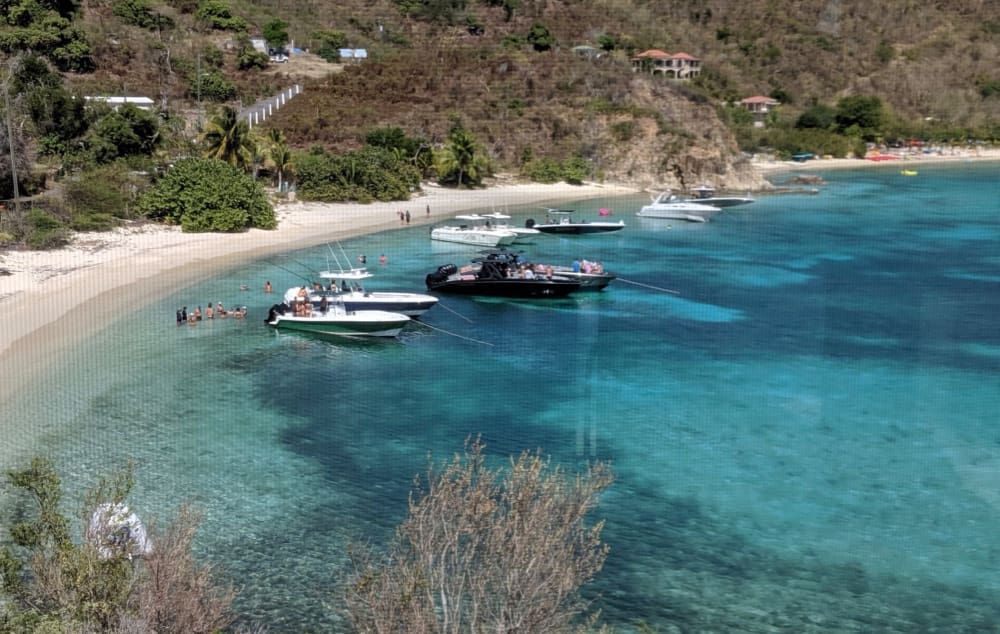 Abrie Cilliers, president of Offshore Marine [Offshore VI], said the impact of the increase in recreational boating could be felt throughout St. Thomas and St. John. "We physically don't have enough space for all the boats who want to be here," he said.
Members of the boating community have been looking forward to the installation of 200 new mooring balls, which were slated for installation this fall.
"The installations are imminent," said Oriel Blake executive director of the Virgin Islands Professional Charter Association. "The U.S Army Corps of Engineers has approved the installation. We're just awaiting the final certificate."
The Professional Charter Association hosted its annual USVI Charter Yacht Show from Nov. 7-10, [Crewed Yacht Charter Season Launches], drawing 110 brokers in person and another 40 virtually.
"The season is looking incredibly strong," Blake said, noting that bookings increased during the pandemic, and "happy clients" are now rebooking.
The question now is, will the territory be able to accommodate an increase in recreational boating this year?
"In the charter industry, we're waiting to see what happens when the season kicks in," said Cilliers, adding that he counts the number of executive jets parked at the airport to get a sense of the number of high-end visitors and potential yacht activity.
Cilliers said he thinks this year will be different from last year. "Now, a lot of other islands are opening up. I believe the problem [of overcrowding] we faced is short-lived. As the British Virgin Islands open up, the Puerto Rican boats will skip the USVI and go back to the BVI where they can raft up and do what they want to do," he said.
The BVI has eclipsed the USVI in attracting charter yacht business in recent years for a number of reasons. "Charter companies and personal cruisers prefer the BVI to the USVI because the BVI is very accommodating to boaters," said Anne. "There are defined rules, plenty of moorings, marinas, etc., all of which do not erect barriers but rather allow the welcoming of boaters while preserving the bays. The USVI has always neglected the boating community and seems more interested in driving it away than turning it into an economic engine which could actually help prevent coral reef damage."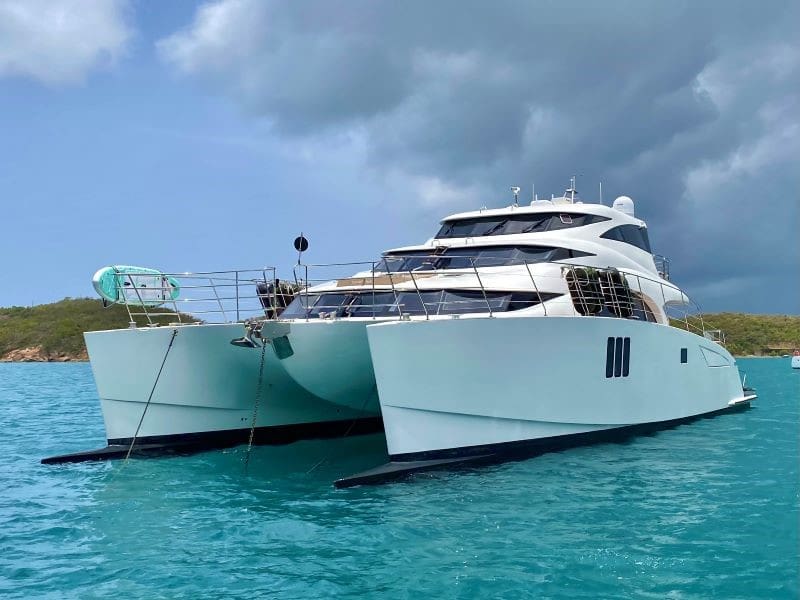 "The BVI is super welcoming," said Lee Stanciauskas, who spent many years as a liveaboard and still cruises with her husband Larry Best whenever they get a chance. They're staying out of the BVI for now, she said, because the costs of COVID testing to clear in and out of the BVI and the USVI amount to hundreds of dollars in addition to already steep customs and immigration fees.
Stanciauskas said this year has been incredibly stressful for local USVI boat owners who have been unable to find space to drop an anchor or pick up a mooring because of the increase in commercial charter boat traffic.
"It's a bummer when you're only out for a day or two. I feel local recreational boaters are ignored by everyone," Stanciauskas said. She would like to see some system – perhaps stickers to identify local boaters – to allow them access to moorings within the Virgin Islands National Park beyond the 30-day limit or when bays fill up in territorial waters monitored by DPNR.
The BVI has solved many anchoring problems by allowing private companies to install moorings, which can be reserved online through a sophisticated reservation system. BoatyBall is one of these companies.
Pete Mottl, who co-owns Soulshine, a 44-foot catamaran charter boat, is a huge fan of the system. "BoatyBall is an app-based mooring ball system. At 7 a.m., they open up for a one-day booking, and some popular spots, like Cooper Island, sell out within 30 seconds," he said. He added that savvy charter captains know to wake up early and be ready to put in their reservation at precisely 7 a.m.
For those who don't care to rise early, BoatyBall now offers a premium service that allows a select number of boaters to reserve moorings in advance for – wait for it – $479 for seven consecutive nights.
The BVI also offers "party spots" for boaters, as one reader, Tom Krise, pointed out. "There are a few places around the BVI that we've all come to expect to be noisy and boisterous: Great Harbour on Jost Van Dyke (home of Foxy's and other bars), the Bight on Norman Island (thanks to the Willie T that has been there off and on,) and Trellis Bay at Beef Island (especially for the Full Moon party.) So it seems OK to me to have a few of those, but we should all try to preserve the natural beauty and peacefulness of the V.I. for people on land and sea — it's an important part of what makes them so special."
Mottl said Soulshine regularly cruised the BVI until the pandemic when the company shifted exclusively to USVI-based itineraries. That change altered his life considerably. In the past, his responsibilities were primarily engineering and maintenance while a co-owner captained the vessel. Once the BVI closed down, he became a daily "go-fer" as well, delivering ice to Soulshine and carrying away their trash from wherever the vessel was anchored around St. John.
Mottl bristles at the failure of the USVI to provide access to services for boaters: places to get ice and other supplies, bins to dispose of trash, accessible restaurants for guests who want to sample island cuisine, and dinghy docks to make it easy to bring guests ashore.
Although there are several places to stop and find lunch around St. John, there are no food markets or places to eat dinner onshore between Cruz Bay and Coral Bay. That is partly because the National Park Service limits commercial development within the Virgin Islands National Park on St. John and partially because several resorts have not reopened since Hurricane Irma hit in 2017.
The situation on St. Thomas is not much better. Except for areas like Red Hook, Charlotte Amalie, the boatyard area near the Lagoon, and Crown Bay, accessibility by boat to restaurants and supplies is limited.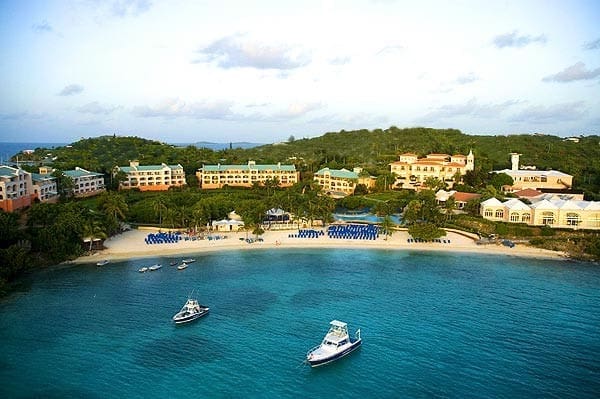 Mottl said his company has looked for new destinations to expand their cruising grounds. This past year, some of their guests have been very pleased with the array of amenities offered in Christiansted and have enjoyed a night in Frederiksted. But the crossing from St. Thomas to St. Croix takes five or six hours and can be rough, so it's not for everyone.
The geography of the islands in the BVI – with many small islands clustered near each other – allows for calmer waters and easier access to shore than in the USVI, Mottl said. "From a geography standpoint, we can't fix that. But we [in the USVI] can provide more mooring balls and docks."
The Source will focus on how technology can further the recreational boating industry while preserving marine, coastal, and cultural environments in an upcoming story. We welcome your comments and suggestions. Please send them to amy.roberts@visource.com.
We also will publish a story on the growth of the charter business from the early days. If you have photos or anecdotes to share, please send them to amy.roberts@visource.com. Be sure to include the approximate dates and names of any people, boats, and locations in the photos and give credit to the photographer if possible.
To read the earlier installments of the Boating in the USVI series, follow the links below.
Part 1 – Recreational Boating Industry Thrives on St. Thomas and St. John
Part 2 – Laws to Create Restricted Areas Offer Inadequate Protection
Part 3 – Tensions Mount in Quiet East End of St. John
Part 4 – Pandemic Leads to Crowding at USVI Anchorage
Part 5- Boating in the V.I., Part 5: Resident Argues for Preservation of Round Bay
Part 6- Boating in the V.I., Part 6: Residents Make Arguments for Managed Development