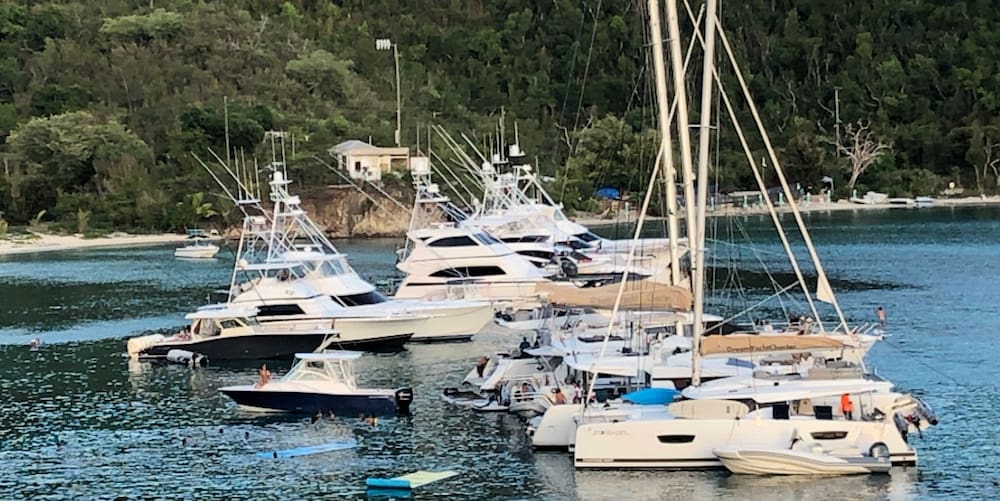 This is the fourth in an ongoing series on the boating industry in the U.S. Virgin Islands. Earlier stories can be seen at the links at the bottom of this story.
A quiet bay in a remote part of St. John has become the center of a sometimes-raging battle between those who want to see it preserved as a marine sanctuary and those who want to see it developed and managed for the recreational boating industry.
Although isolated problems have occurred for years, the COVID-19 pandemic has aggravated tensions since 2020.
In March 2020, scarcely two months after the floating taco bar in Round Bay was shut down, the COVID-19 pandemic hit, closing ports throughout the Caribbean. USVI ports remained open, however, attracting mariners that were denied entry in other countries; meanwhile, boaters who expected to travel on to other destinations rushed to find suitable anchorages in the USVI. With only four designated mooring sites on St John – Cruz Bay, Great Cruz Bay, Chocolate Hole and Coral Bay harbor – the situation became critical.
Boats started pouring into Round Bay and stayed for days, weeks, even months.
Members of the Friends of Round Bay worried about the damage to the fragile seagrass beds and coral reefs.
They also worried about sewage disposal since there are no sewage pump-out services for boats anywhere on St. John. Their fears were realized when sewage dumps were found on a beach, even as recently as this summer.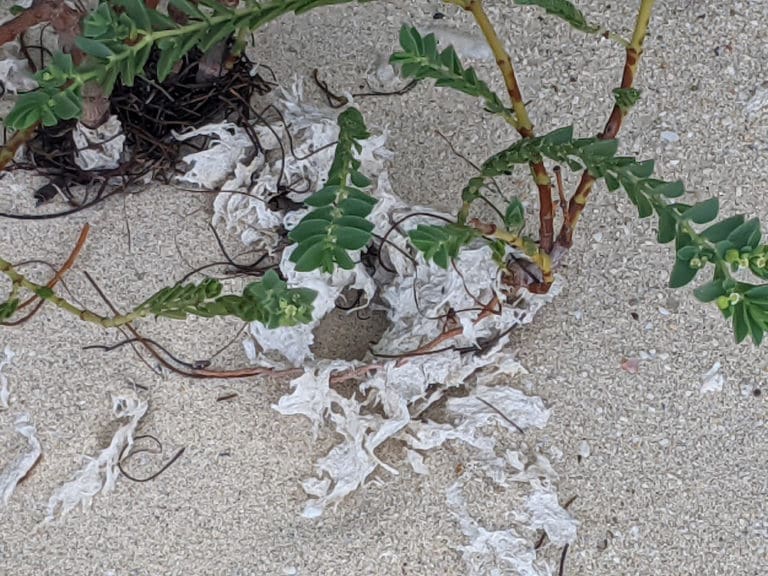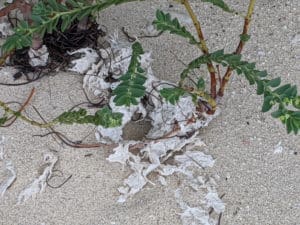 Vessels are supposed to travel three miles out to sea to empty their sewage tanks, but during the pandemic, competition to find a place to anchor became so intense that boaters were unwilling to leave their spot, according to one live-aboard boater.
After numerous complaints, DPNR enforcement officers showed up one late afternoon in April 2020 and demanded that boats leave immediately, sending them scrambling to find a safe anchorage for the night. One boater described her experience in a blog post, "Stuck in the US Virgin Islands."
"It's been over a month since the COVID-19 pandemic began to significantly impact our life here," the blogger wrote. "When the USVI implemented a Shelter-In-Place order, we were lucky to be hunkered down in Hansen Bay (part of Round Bay), a remote area of St. John. For four weeks we enjoyed beautiful snorkeling, clear water, and the companionship of two other family boats, safe and very isolated.
"We communicated diligently with welcoming local homeowners and heeded their requests for using our sewage holding tanks and emptying them three miles offshore, driving our dinghies at idle speed in the anchorage, and making sure our anchors were placed in sand as to not harm sea grass and coral. We were welcomed there by many kind-hearted locals who offered us the use of their cars in case of an emergency. We arranged for groceries to be delivered to the beach near our boats in order to minimize any potential for COVID exposure," she continued.
"Unfortunately, this time was also shadowed greatly by ever-changing governmental rules, and more significantly by a few mean-hearted individuals. I'll skip to the end of the story and tell you that at 3:30 p.m. we, along with 32 other boats, were kicked out of our safe anchorage by the USVI DPNR authorities. Thirty boats were forced to find shelter late in the day among already over-crowded anchorages. All because a few wealthy local homeowners wanted us out," she wrote.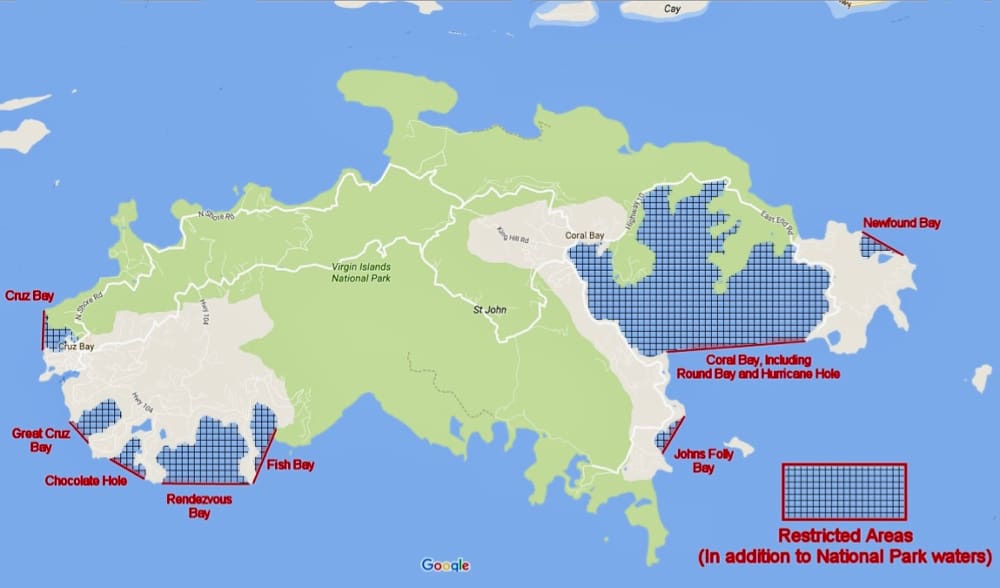 "To be fair – the laws were on their side," the blogger continued. "The USVI government has required all boats anchoring in USVI waters to apply for a long-term anchoring permit and anchor in a designated location, or to pay $26 a day to use a National Park mooring ball. Hansen Bay where we were anchored was not a designated long-term anchorage. Neither are many of the other protected, and populated anchorages where many boats are safely anchored and quarantined far from any towns."
In the last part of her post, the blogger blamed "wealthy homeowners," with their "Not In My Back Yard" (NIMBY") attitudes, for DPNR's enforcement action.
Asked to comment on the situation in Round Bay described by the blogger, Jamal Nielsen, media relations coordinator for DPNR, wrote, "This action was taken during a peak time of influx to the territory to reduce impacts to that specific bay." Nielsen confirmed that "since then patrols have continued."
The pandemic made DPNR's job even harder. In the spring of 2020, an already-established anchor permitting process was made mandatory "according to the governor's proclamation in response to COVID-19," Nielsen said.
Although Nielsen did not provide the number of permits issued or the amount of fees collected, he said, "Vessels are permitted to anchor in any bay in the territory, and vessels obtaining anchoring permits are required to produce an agenda listing each bay they plan on visiting. The locations are then approved by the department and adjusted as need be."
Although boats may be allowed to anchor in any bay with a permit, regulations for restricted areas exclude them from "operating" close to shore or anchoring over seagrass or coral reefs.
The language of the legislation has led to confusion. Some members of Friends of Round Bay interpret the laws to mean that no overnight anchoring can be allowed in Round Bay, especially as most of the bottom is covered by seagrass and coral.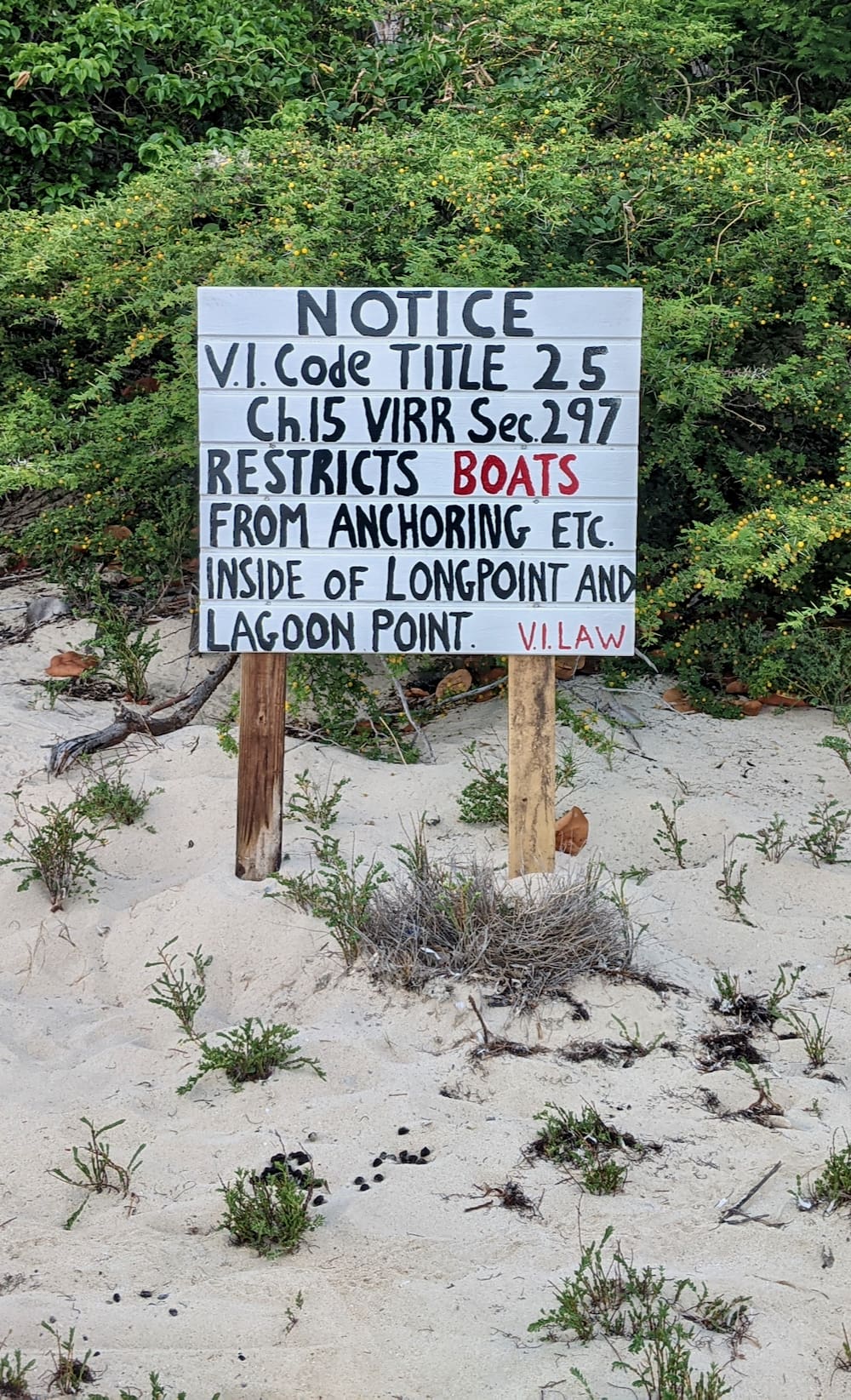 Marlon Hibbert, director of Coastal Zone Management, clarified regulations regarding anchoring in restricted areas. "A vessel in motion (operation) should be no less than 500 feet [from shore,] a vessel at anchor or on a mooring is not operating. A restricted area does not prohibit vessels, it prohibits the speed and operation of the vessels in that area in relation to other non-motorized uses," he wrote.
In any case, yachts too often violate these restrictions, say homeowners, and DPNR has not been able to keep up its enforcement with the influx of boats. The problems only began to diminish in August as the peak of hurricane season approached.
When asked if DPNR has the personnel and boats to patrol boating activity on three islands, Nielsen responded with a simple "Yes."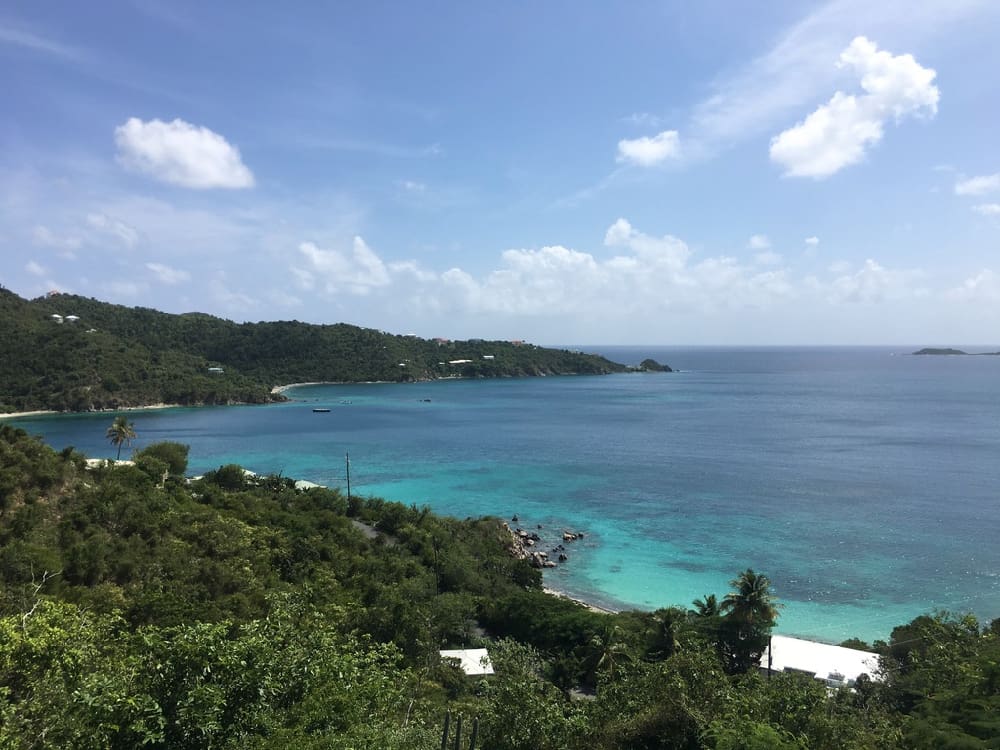 But economist Mark Wenner seemed to contradict that statement in an opinion piece published in the Daily News on July 7. "We benefited greatly from provisioning the yachts and having the visitors spend money on shore. But public authorities seem to have paid minimal attention to detecting and measuring potential adverse environmental impacts and fully enforcing existing rules," said Wenner.
"It seems doubtful that DPNR, with just two boats and limited personnel, could have effectively enforced mooring and anchorage rules for hundreds of visiting vessels, police the use of personal watercraft and recreational activities in restricted zones, and requirements for boats to move either three miles offshore to dump sewage or pump out at marinas," he continued.
Even when DPNR officers try to enforce the laws, the effectiveness of the actions is questionable. One resident reported watching DPNR officials move a number of vessels out of Round Bay. As soon as the DPNR boat sped away, almost all the boats returned to their anchorages.
In Part 5, the Source will look at the argument for preserving Round Bay as a marine sanctuary; Part 6 will present the argument for managing it for the recreational boating industry.
In an upcoming story, the Source will focus on what can be done to further the recreational boating industry while preserving marine, coastal, and cultural environments. We welcome your comments and suggestions. Please send them to amy.roberts@visource.com.
We also will publish a story on the growth of the charter business from the early days. If you have photos or anecdotes to share, please send them to amy.roberts@visource.com. Be sure to include the approximate dates, and names of any people, boats and locations in the photos as well as give credit to the photographer if possible.
Previous stories in this series:
– Boating in the USVI: Recreational Boating Industry Thrives on St. Thomas and St. John
– Boating in the USVI, Part 2: Laws to Create Restricted Areas Offer Inadequate Protection
– Boating in the USVI, Part 3: Tensions Mount in Quiet East End of St. John