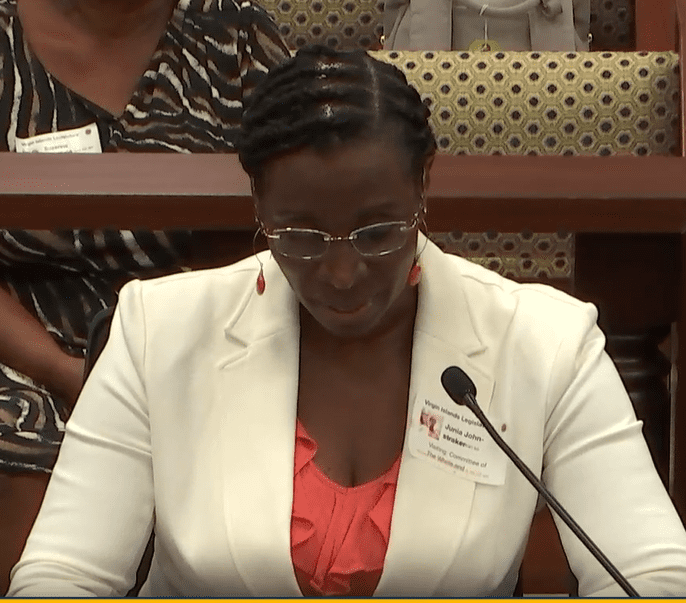 Residents on the west end of St. Croix could see a new bakery, a new church building, and a new Sister Emma cottage at the Queen Louise home if the three zoning requests heard at the Committee of the Whole Friday keep moving forward. The Senate will make a final vote on the requests on June 14.
Indications from the session Friday are that the requests will be approved when they come up at the full Senate.
Senate President Novelle Francis, Jr. said he was "delighted" to chair Friday's hearing as the requests contained nothing "controversial."
The Senate, in recent months, has been involved in two controversial zoning requests on St. Croix – one for a cement block plant across from Pueblo in Estate Orange Grove and the other a request for a zoning change allowing for a business/residential development in Beeston Hill.
All of the new requests had positive recommendations from the Department of Planning and Natural Resources. Sen. Franklin Johnson, like most of the senators present, expressed support for the projects and said, "When you have DPNR in your corner, you have our support."
Sen. Donna Frett-Gregory said about the requests, "These are good for the territory, especially for the island of St. Croix,"
Sen. Milton Potter said approving the requests was "a no-brainer."
Junia John-Straker, represented Lutheran Social Services, requesting a zoning change in Estate Concordia from Residential-Low Density-One and Two Family to Residential-Medium Density. The Children's Home was grandfathered in when the territory adopted its zoning code in 1972 but now had to confirm because it was building a new building to replace Emma's Cottage, which provides 24-hour foster care for up to 10 children and young adults with severe developmental and physical disabilities. John-Straker said the new cottage could house up to 16 individuals. The old cottage, which has been damaged by storms, was a three-bedroom house for the Queen Louise superintendents' families before being converted in the 1980s to a home for handicapped children.
Pastor Michael Jules represented the Church of God to rezone Plot No. 52-B Estate Hannah's Rest from Commercial to Business Scattered. Church services are now held in a trailer on that plot. Jules said the trailer would be converted to a home for a caretaker after the church builds a church building on the property.
Clarence Brown represented the property owner of Plot No. 140-H Estate St. George, Prince Quarter, St. Croix. The owner is requesting a zoning change from Residential-Low Density-One and Two Family to Business Scattered. This would allow the owner to build a two-story building that would have a business on the first floor and a residence upstairs. The proposed business is of a bakery type.
Attending Friday's session were Sens. Frett-Gregory, Javan James, Sr., Angel Bolques, Jr., Dwayne DeGraff, Samuel Carriόn, Francis, Alma Francis Heyliger, Carla Joseph, Potter, and Johnson.