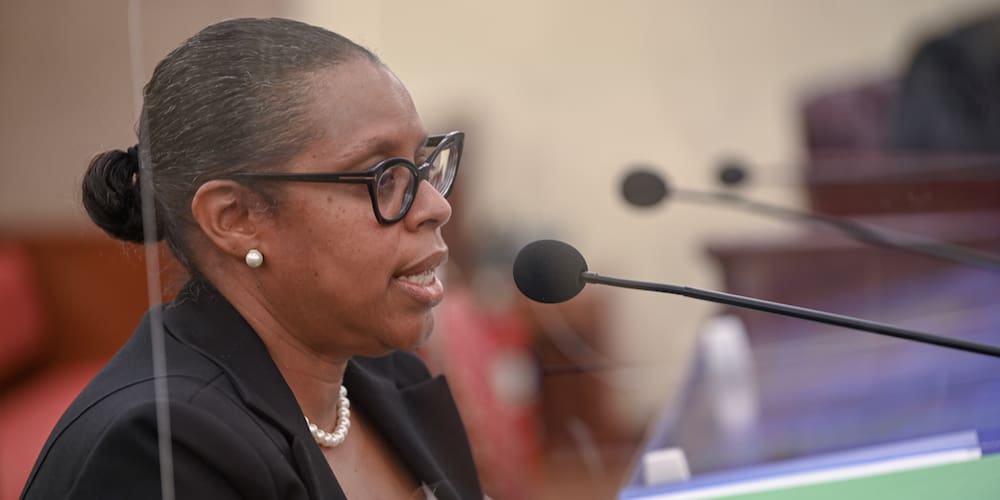 The V.I. Senate approved Bosede A. Bruce to be Finance commissioner Tuesday, along with a slate of eight nominees to the Nurse Licensure and other boards.
Two of the nominees had languished for nearly a year without a vote.
A St. John native, Bruce was most recently comptroller for Echelon Property & Casualty Insurance Inc. in Chicago. She worked there from 2012 to 2017 and again from 2019 to the present, according to her resume.
Before that, from 2017 to 2019, she was senior financial reporting accountant at Attorney's Title Guaranty Fund Inc. in Chicago.
Bruce replaces Kirk Callwood, who Bryan ousted in October for giving extra payment stipends to his rank and file staff without proper authorization. According to Government House, while the amounts were within his allotted budget, the action was not previously approved.
Assistant Finance Commissioner Clarina Modeste took over the post in an acting capacity at that time.
Languishing Nominations
Two nominations were approved after languishing unaddressed for nearly a year. Bryan nominated Deepak Bansal to the V.I. Board of Public Accountancy in September 2020, resubmitting it in January.
Bansal is a certified public accountant with his own accounting firm on St. Croix. He has been chief financial officer at Gov. Juan F. Luis Hospital and at the V.I. Next Generation Network publicly owned fiber-optic network. He is the controller at GEC LLC, a large construction company doing large post-hurricane recovery projects in the territory. He has been working on and off on St. Croix since at least 1990.
Bryan nominated Stephen Samuel to the V.I. Board of Architects, Engineers, and Land Surveyors in September 2020, resubmitting it in January. Samuel is a licensed, professional civil engineer working for the Leumas Engineering Group. From 2008 to 2013 he worked at the Water and Power Authority.
The Legislature approved Dr. Chase Greep to the V.I. Board of Dental Examiners, Akil Petersen to the V.I. Historic Preservation Commission and attorney Cherrisee Woods to the V.I. Parole Board.
It approved Brittany Dawson, Elizabeth Dumas and Celia Nurse to the V.I. Board of Nurse Licensure.
All of the nominees were supported by nearly all the senators. Sen. Alma Francis Heyliger said she supports the nominees but also wants to see boards consolidated at some point.
"I think that for a population this size we have quite too many," she said. "I am of the belief that some of these boards need to be consolidated or reduced."
The territory has well over 100 boards and commissions, many of which do not have quorums. There is a long history in the territory of creating new boards.
Thirteen of the 15 senators were present. Sens. Janelle Sarauw and Milton Potter were absent.