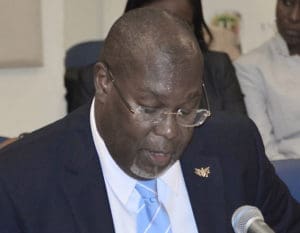 The Casino Control Commission owes the Department of Labor roughly $2.8 million in funds tied to the agency's Disadvantaged Youth Fund, Labor Commissioner Gary Molloy told lawmakers on Thursday, and the amount represents several years of missed payments.
Molloy, along with a team of Labor Department officials, testified before the Senate Finance Committee on the agency's Fiscal Year 2020 budget.
"There's not really a debate whether or not they need to turn over those funds to you; it's law. They can't decide yes or no. It's law," Finance Committee Chairman Sen. Kurt Vialet (D-STX) told Molloy.
According to Molloy, the Labor Department communicated several times with Casino Control Commission officials to no avail. Before Molloy took office, former Labor Commissioner Catherine Hendry also wrote several times to then-Casino Control Commission Chairman Violet Anne Golden about the owed amounts, Molloy said, but received no response.
On Wednesday night, Molloy also sent a letter to Casino Control Commissioner Usie Richards and had several dialogues with the former senator, according to Molloy. The $2.8 million represents between $600,000 and $700,000 in annual payments for the fiscal years 2015 through 2019.
The Casino Control Commission took the spotlight in May when the Department of Justice served Golden with a summons and complaint seeking Golden's removal from office for misconduct, neglect of duty and unfitness for office. The summons was based on a report from the Office of the Inspector General that said, from 2013 to 2016, the Casino Control Commission kept and used pre-signed blank checks, bought first-class plane tickets and other dubious travel expenses, including a trip to a Disney theme park, and spent millions of dollars without proper formal financial controls.
Recently, Sen. Kenneth Gittens (D-STX) announced that he would introduce legislation eliminating full-time salaried Casino Control commissioner positions and would propose regular stipends instead.
On Thursday, Vialet hinted that the Casino Control Commission may have to come before the Senate so lawmakers can determine if the commission is fulfilling its lawfully mandated responsibilities to disburse money to certain funds.
Labor officials also revealed that the agency was unable to expend some $191,000 in federal funds that expired June 30 and had to return those funds to the federal government. According to Molloy, the Workforce Innovation and Opportunity Act state-wide funds are normally administered through the Workforce Development Board and its executive director, who retired in April.
"We focused on spending our monies first and tried our best to be able to expend the $191,000, and we came very close, but we could not because they are multi-year funds," Molloy explained. "We could not get everything encumbered and liquidated on June 30. Unfortunately, we lost the $191,000."
The Labor Department is also dealing with multiple vacancies across its divisions. In its budget submission to the Senate Finance Committee, the agency lists 37 vacancies out of a total of 138 positions. Sen. Marvin Blyden (D-STT) urged Molloy to get creative in filling the vacant positions, something that Molloy said is harder to do than it sounds.
According to Molloy, many of the current vacant positions are long-standing vacancies for a reason.
"Those positions and the functions are very, very technical, so we run the risk of the job descriptions being very detailed and very technical for those individuals to fill," Molloy said. "The requirements are very, very high, and the salary is very, very low."
For Fiscal Year 2020, the Department of Labor's recommended budget from local funds is $11.8 million. Of that amount, $10.7 million would come from the general fund, a 22 percent decrease compared to last fiscal year's general fund appropriations, while $1.1 million would come from the Government Insurance Fund. The department is also slated to receive roughly $731,000 in local non-appropriated funding and another $6.2 million in federal non-appropriated funding.
Virgin Islands Public Broadcasting System
Tanya-Marie Singh, chief executive officer and chief operating officer of the Virgin Islands Public Broadcasting System, also appeared before the Senate Finance Committee to defend the agency's $4 million budget for Fiscal Year 2020.
According to Singh, the Virgin Islands PBS is still in the thick of recovery from the 2017 hurricanes. Outstanding projects still being processed include repairing damage to the system's main office and studio at Haypiece Hill on St. Thomas. The system's video media library was housed at that facility, according to Singh, prompting ongoing rescue, restoration and digitization efforts.
The system's 2020 goals include recovering its locations on St. Thomas, adding more local programs and getting local news on the radio.
Present during Tuesday's hearing were Sens. Donna Frett-Gregory (D-STT), Dwayne DeGraff (D-STT), Vialet and Blyden. Non-committee members Sens. Novelle Francis (D-STX), Allison Degazon (D-STX) and Gittens were also present.