Gov. Albert Bryan Jr. ordered a moratorium on new hotel guests for the next 30 days, during his COVID-19 update on Saturday.
"No hotel, no timeshare or no Airbnb will be allowed to accept any new guests," Bryan said.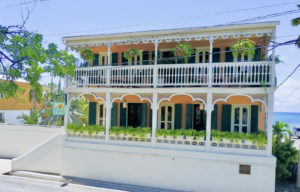 "If you are coming to the Virgin Islands, you will not have anywhere to stay for the next 30 days," Bryan said, adding this could change "depending on what we see as far as the spread of the virus in the community."
The ban does not apply to guests that are already here. But the only new guests allowed are government or emergency personnel, he said.
Hotel bookings were likely to plummet anyway. But this, along with the cessation of all cruise ship arrivals, means a sharp drop in the territory's largest source of revenue, biggest economic driver and industry with the most impact on employment.
March is historically the busiest month for hotel occupancy, often seeing close to 100,000 visitors before the 2017 storms reduced the territory's hotel capacity. April and May are typically busy too.