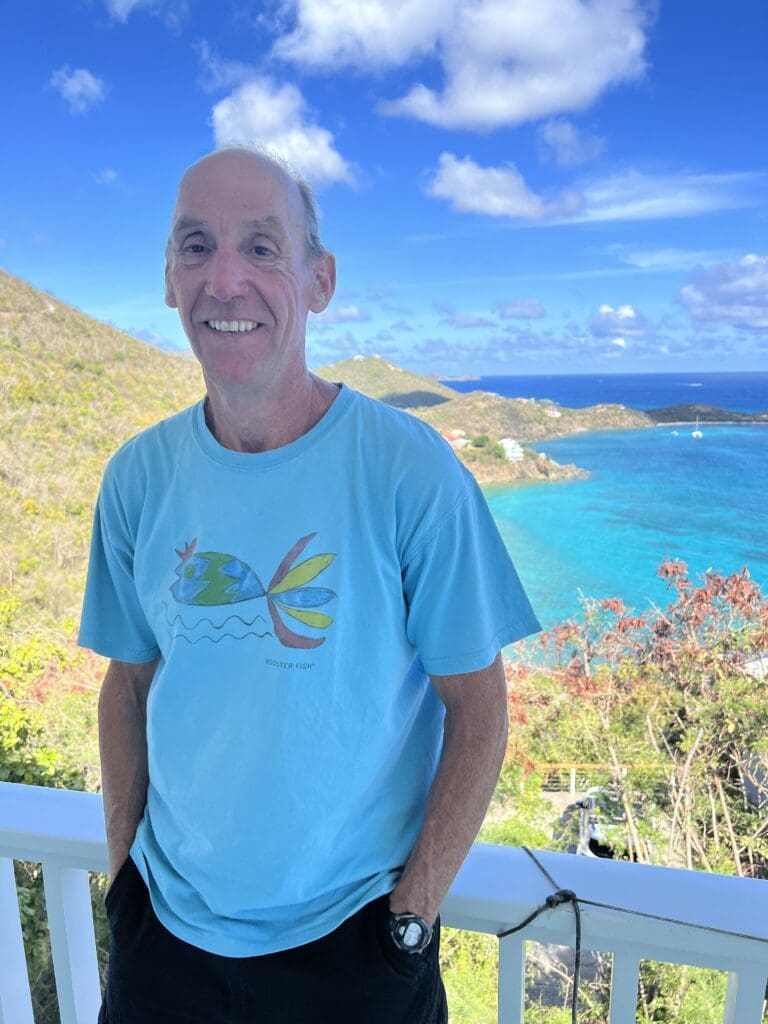 Jeff Miller, the first person to swim around St. John nonstop, has formulated his next challenge: a 15.5-mile swim from the British Virgin Islands to the U.S. Virgin Islands.
"This has been on my mind for three or four years," said Miller, who completed his record-setting circumnavigation of St. John – a distance of 23 miles in slightly over 12 hours – in 2016.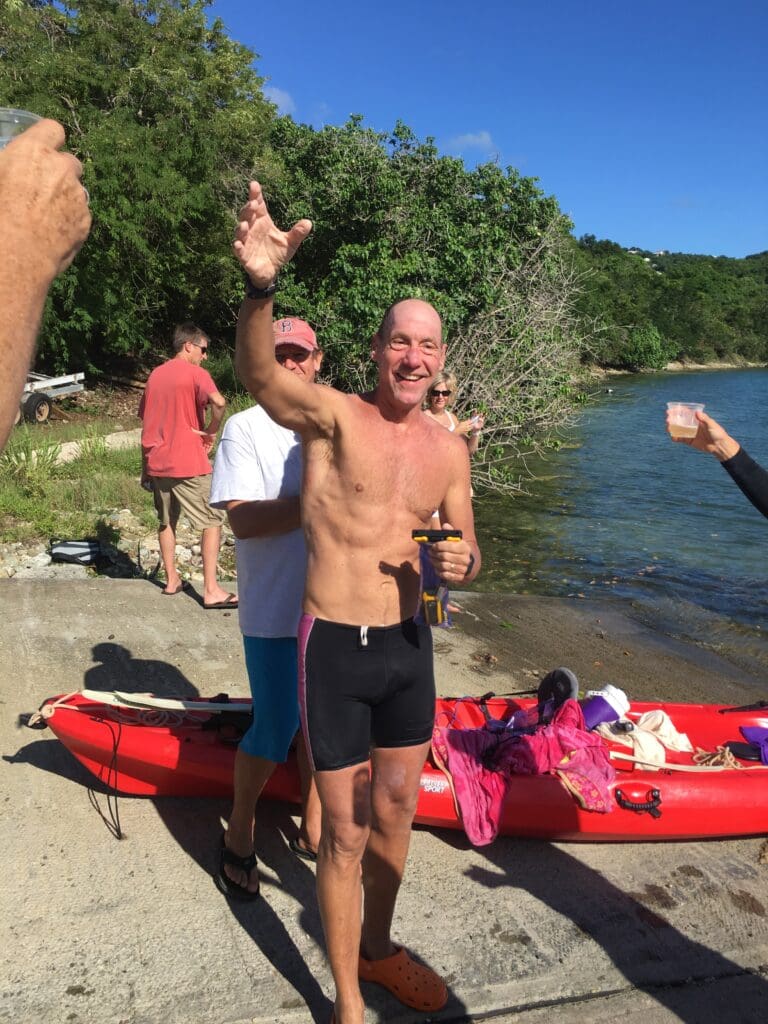 This time, Miller is planning to swim from the southern tip of Virgin Gorda – either from Spanish Town or the Baths – straight down the Sir Francis Drake Channel to the northeast tip of St. John – perhaps into Newfound Bay or Haulover – depending on the currents. He estimates the swim will take between 8 and 12 hours.
Miller hasn't yet set a date for the project, which he's calling the Drake Channel Swim for Soldiers and Survivors. He's shooting for late May, when the water typically warms up and the sea calms down, but he's willing to wait for the proper weather conditions.
"The temperature is a big concern," Miller said. "In the winter, the water temperature is around 79 degrees. That may sound warm, but if you're in the water for 12 hours, that's cold! It's already warmed up a degree or two in the past month, and by September, the water is usually between 83 and 85 degrees."
Wind is also an issue. Although 10 mph winds may feel like a light breeze, it's enough to kick up waves that can seriously impede his progress.
When it comes to forces of nature, however, Miller is most concerned about currents; they could ease his trip down the channel or rip him far off course if he's not going with the flow.
The easterly trade winds work in his favor for this course, but currents are much harder to predict. "There is a website that monitors currents, but it is only updated a day in advance," said Miller. "When I swam around St. John, I'd been through the entire course already, and I was very familiar with the waters (through my work,) but this time the reconnaissance will be minimal."
Miller, who worked as a fisheries biologist for the National Park Service for 25 years, has logged more than 2,150 miles in the water since 2014. He often keeps a GPS tucked in his swim cap, which records his distance on an athletic tracking site.
To prepare for the big swim, he's now putting in 12-15 miles in the water a week. On Easter Monday, he swam 8.9 miles following the route of the Beach-to-Beach Power Swim 
– with many detours.
To Miller's knowledge, no one has yet completed a swim from Virgin Gorda to St. John, and he plans to follow the regulations outlined by the Marathon Swimmers Federation. This means he can only wear swim trunks, goggles and a swim cap. No one is allowed to touch him, and he's not allowed to hold on to a boat or any object until he reaches his goal.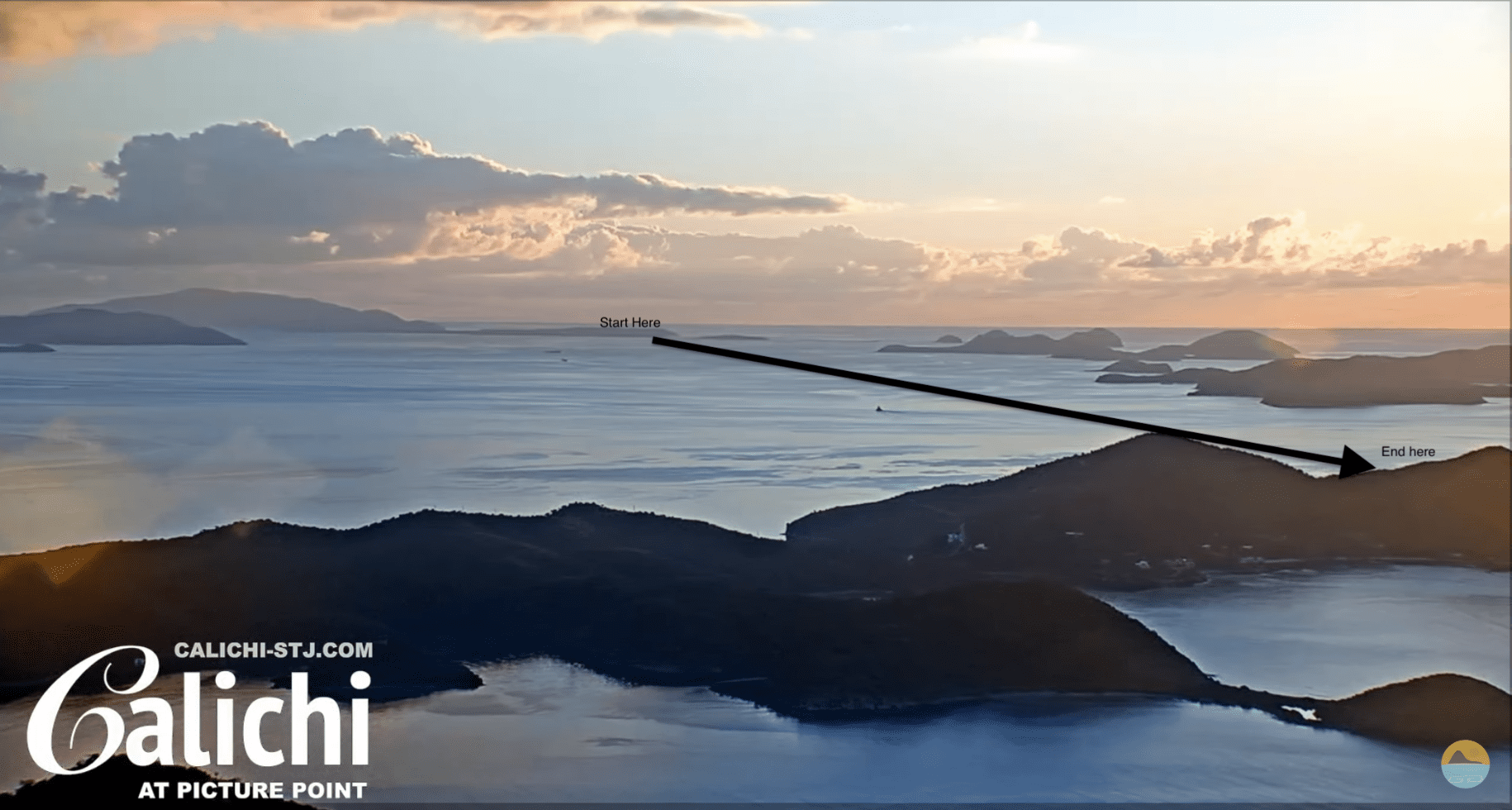 The Sir Francis Drake Channel is a busy waterway, and Miller will be accompanied by a support team on a boat and in several kayaks to keep him on track, warn other boats away, and toss him drinks and high-energy snacks. "People may see this swim classified as a 'solo unassisted' event, but it is only possible with the help and support of a team of four to eight people. I am swimming by myself, but I can't do this without the help of a fantastic support team."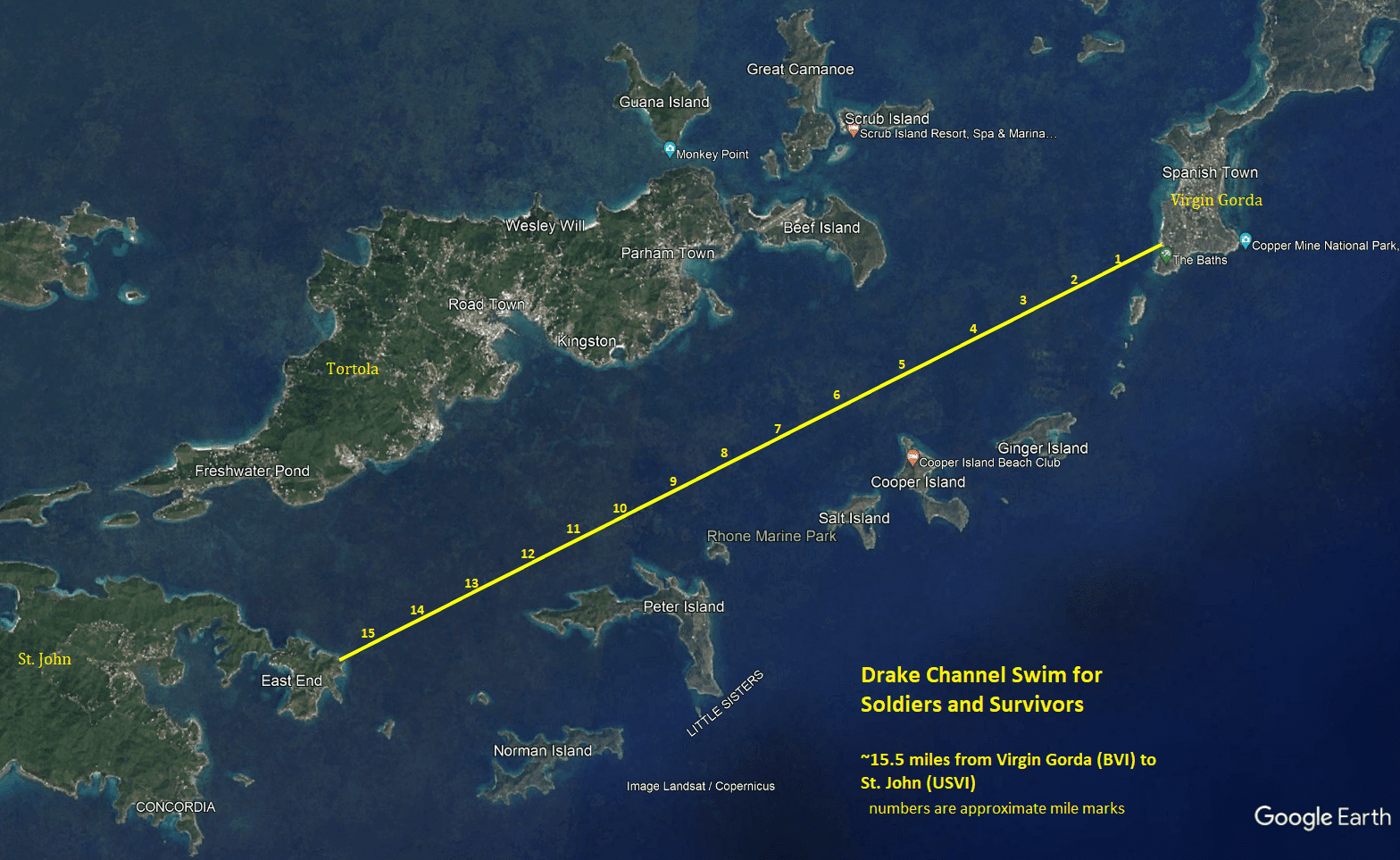 Miller faces another challenge which is a matter of logistics and international formalities. Since Virgin Gorda is in the British Virgin Islands, Miller and his support team will need to clear in and out of the BVI before he sets out, something that could be tricky as he plans to be in the water before dawn. He's hoping to secure the cooperation of Customs and Immigration officers and overnight accommodations in the BVI for him and his team.
The Drake Channel Swim for Soldiers and Survivors will be a fundraiser to benefit two non-profits that are close to Miller's heart – Team River Runner and the St. John Cancer Fund.
Team River Runner organizes recreation and outdoor adventures for wounded veterans of the armed services. Throughout the years, TRR members have participated in the Beach-to-Beach Power Swim and 8 Tuff Miles. The Chaotic Kayak Race, usually held on St. John during the fall, is a community-wide fundraiser for the organization.
Much of this swim will be conducted in British Virgin Islands waters, and Miller wants to highlight the recent outreach between Team River Runner and the British Limbless Ex-Servicemen Association. Founded after WW1, this British veteran's support group has a mission of "Enabling limbless veterans to lead independent and fulfilling lives."
"These two groups, TRR and BLEMSA, are connecting their members together, sharing their experiences and skills for the betterment of servicemen and women and their families in the UK and USA," Miller said.
"In fact one of the main reasons to try the swim at the end of May is that there will be two or three people from Team River Runner here to do the Beach-to-Beach Power Swim, and I will be able to involve them in the support team. That is really important to me. Their group financially benefits, but by being on the support team, they can directly participate too," he added.
Miller plans to split the funds he raises equally between Team River Runner and the St. John Cancer Fund. "I've lost a couple of my family members since my last swim, and I think it's important to support people who are fighting for their lives," he said. "One hundred percent of the donated funds will go to these charities; no donated funds will be used for the cost of conducting the swim."
Miller, now 62, is aware that it has been seven years since he last attempted a record-setting swim. "My arms have done a few hundred thousand rotations more than when I did this before, but training for the mental part is as important as training physically."
In general, he says he passes the time on long swims by focusing on optimizing his swimming technique with each stroke. "It's a nice opportunity to forget about anything else other than what you're doing. In a multitasking world, that's a relief," he said.
"One of the things I really enjoy about the swimming here is that I get the opportunity to really learn about the underwater animals," Miller continued. "Swimming around here is like walking down your favorite trail. The reefs that I swim over I started monitoring more than 25 years ago; it is like visiting old friends. That is why it is sad to have seen so many of them die, but I still really value having that familiarity with the near-shore marine community here."
Miller knows the BVI-USVI swim will be different. "I won't know those waters at all, and in most places the bottom will be likely out of sight. The actual swim may seem long, but it is short compared to the many miles that go into preparing for it."
To contribute to Miller's fundraising effort, please click here.