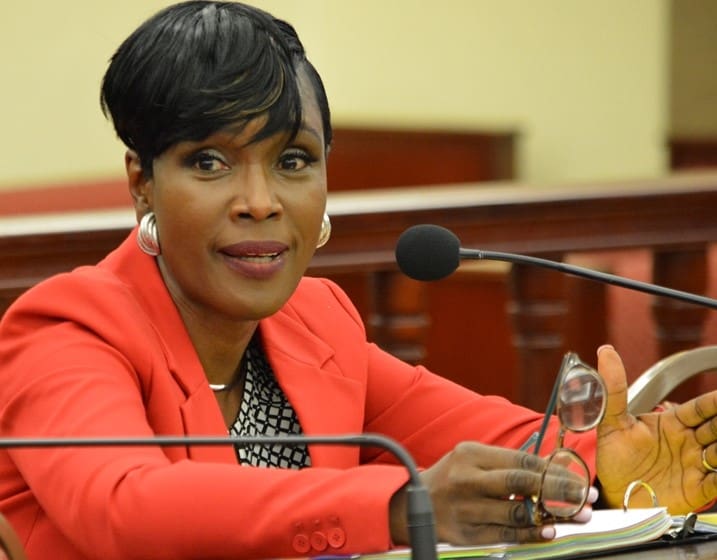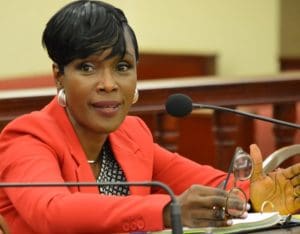 Denise George, nominee for attorney general, had a message about inadequate staffing at the Justice Department to deliver to the Senate Committee on Rules and Judiciary Wednesday. However, senators appeared more concerned about to whom the attorney general is accountable.
George's qualifications to lead the department did not seem to be in doubt to senators. She has served 18 years at Justice. Her nomination was moved with a favorable recommendation for consideration at the full Senate.
George said during testimony that during the month she had been in charge of the department she has found its 134-member staff to be its "greatest asset." However, she added that "the department's staffing levels are woefully inadequate. In order to fully comply with the department's statutory obligations and duties more critical staff are required."
St. Croix, she said, does not have a victims' advocate, while St. Thomas has two victims' advocates. She said she has found grant money to fill that position on St. Croix and is in the process of remedying the situation. Other holes won't be as easily filled, George testified.
"The Division of Paternity and Child Support staffing level is below critical mass," she said, adding that the division once had five case workers on St. Thomas but now has only one, who is responsible for roughly 5,000 cases.
The White Collar and Public Corruption Crime Division, according to George, has virtually been dismantled. She said members who once served in that division have been terminated, have moved on from the department, or have been transferred to other divisions within the department. She said it is "a mere shell of its former self."
Sen. Dwayne DeGraff asked if there is a plan to let the White Collar Division disappear. George answered that it might be more a case of indifference; when staff members left they were not replaced.
She told senators she expects to rebuild that division because "undetected and unchecked corruption in our government can cause serious damage."
Sen. Novelle Francis said he was disappointed to hear the state of the White Collar Division. He said he had no tolerance for public corruption and those caught should be put in jail.
George also discussed the recently formed Medicaid Fraud Control Unit. Justice last December received certification for the creation of this unit and is seeking applicants to staff it. The first employee reported for duty this week and George said the remaining staff will be hired soon.
Sen. Myron Jackson was one of the senators who pursued the line of questioning regarding whether the attorney general acts as the people's lawyer or the governor's lawyer. He cited two recent incidents – the Limetree agreement and the legalization of hemp – in which he said he thought the attorney general acted more as the governor's lawyer. He added this had not sat well with members of the Legislature. George repeated that she would be called upon to represent the governor in some legal matters.
In closing the committee hearing, Sen. Alicia  Barnes, chairperson, also asked George if she would be the governor's lawyer or the people's lawyer. George answered, "The people's lawyer."
Also getting a favorable recommendation from the committee was Daryl George, nominee for the director of the Virgin Islands Fire Service.
All committee members present voted for favorable recommendation for each candidate. They were Sens. Barnes, Francis, DeGraff, Jackson, Kenneth Gittens and Stedmann Hodge Jr. Sen. Steven Payne Sr. was absent.