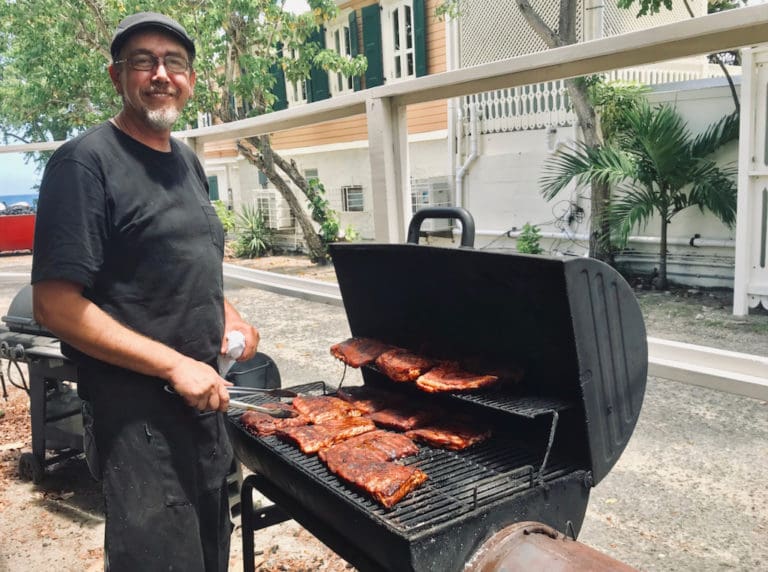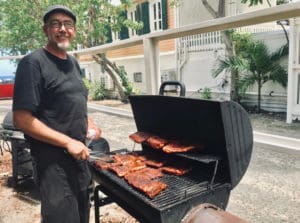 The tangy fragrance of smoke mingled with meat, fish and vegan treats is attracting a growing number of patrons who follow the tantalizing aroma to the Prince Phillip's Passage Courtyard in downtown Frederiksted, where they find Smoke STX.
The BBQ & Bottle Shop, which opened its doors in September 2018, is drawing a clientele attracted by the dishes that come out of owner/chef Joe Smith's offset smokers.
"Offset smokers are the smartest way to smoke ribs," Smith explained. The smokers use convection to cook, and the fire is separate from the food, he explained.
Smith said his "three-day ribs" involve three separate steps: the seasoning and marinating of the ribs, the smoking, and the braising in the oven.
Smoke's' menu offers a starter of a smoked Mahi dip with crackers, a plate served with two side dishes, a combination plate served with one, two or three different meats, and a family platter. In addition to the three-day ribs, there is a honey spiced quarter chicken, and meat, chicken and sausage sandwiches.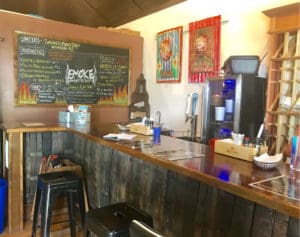 Side dishes include macaroni and cheese, potato salad, baked beans with bacon, coleslaw, and cornbread. Chef Rebecca Lewis serves a weekly vegan special, and the menu offers shrimp and other fish specials. The other weekly specials can include vegan collard greens cooked by Smith or Lewis.
There is something for everyone, Smith said.
"We've been steadily growing and offering the community everything we make from scratch," Smith said. "We don't have enough room to bake our buns and bread, but our buttermilk cornbread is made in-house from scratch."
Smith started cooking at age 15 in Southern Indiana. He later went to music school where he played saxophone, but he quit graduate school and put the saxophone behind him.
His artistic expression is devoted to cooking, he said.
"I wanted to learn everything I could about smoking ribs, so I volunteered one day a week for two years at a restaurant in Texas. It was so much fun," he said.
He moved to Hawaii and worked as an executive chef and then moved on to St. Thomas to help out a friend in his business.
Smoke STX has been off to a great start. Its first season allowed him to pay the bills and staff, he said, "and continue creeping forward."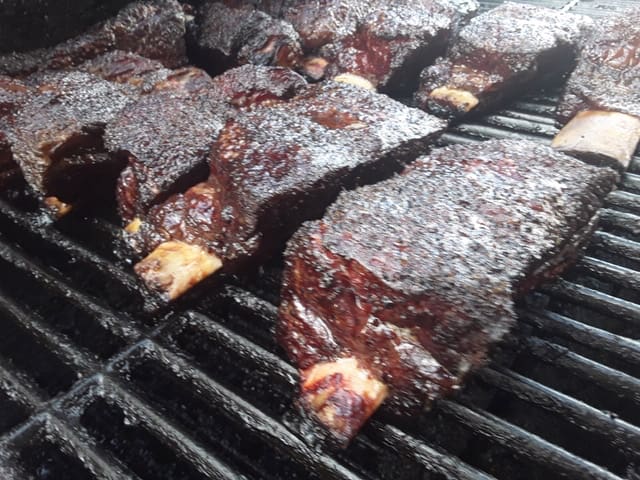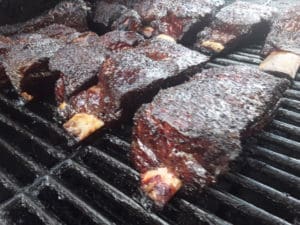 "Of course, we can always be busier, we can always do better – we have a building, a concept, and our talent," he said.
"We don't have all of the little things done – we started on a shoestring." "Actually," he added with a laugh, "We started without shoes."
"We got our license really fast, although our building permit took longer. Every week we add a little more. I'm excited for our air conditioning to come and take care of the fantastic selection of wines we will have for purchase," Smith said.
Smith learned about wine when he worked at Craig and Sally's in Frenchtown on St. Thomas.
"It was like grad school learning the front of the house," he said. It was a high-end restaurant and he learned from the 700-800 bottle wines as a server and bartender.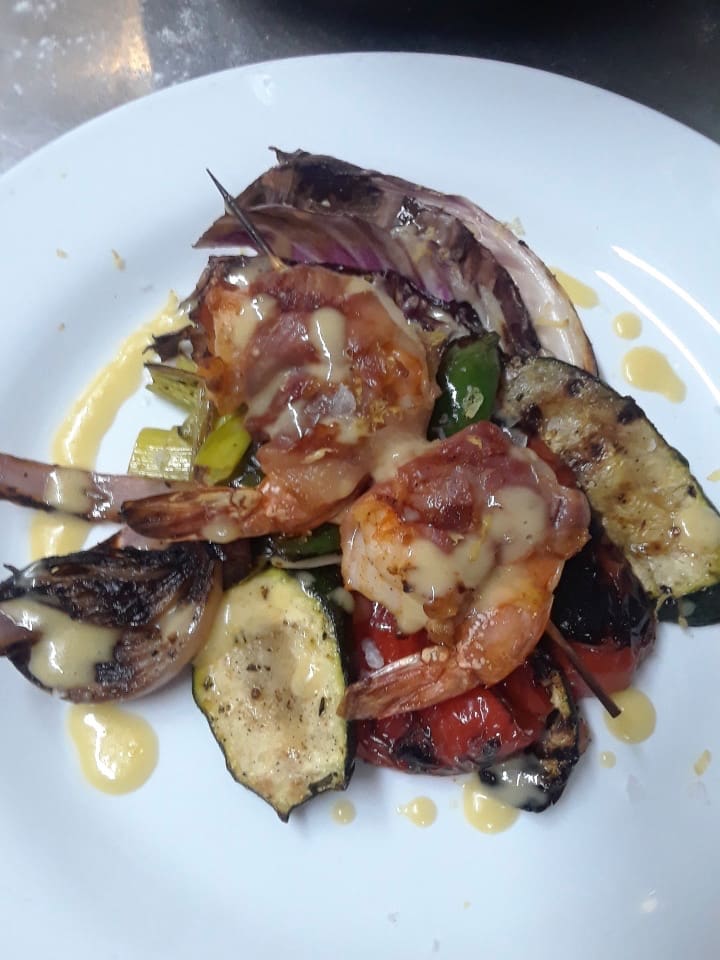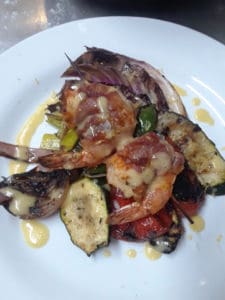 He met his wife-to-be Jennifer Valiulis on St. Thomas.
"We got married and I promised Jen I would not cook for the first three years of our marriage. I kept that promise by working for Bellows International Beverage Distributors," Smith said.
"I always wanted my own restaurant, so that was my motivation when we moved to St. Croix," he said. "We opened Smoke in late September and I was already signed up for the Bush Cook at Sejah Farms in October. In this industry, you don't get to see your colleagues. At Bush Cook, we all got to see each other. It was so much fun," Smith said.
Smith said he is hoping to expand to other islands.
"The 'STX' inside the letter 'O' in Smoke might also be STT or STJ or maybe BVI," he said.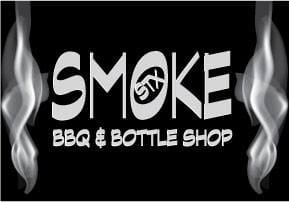 He has two partners with whom he collaborates.
There are plans to continue the five-day week during the summer, close down for two weeks in the fall for vacation for everyone, and start back up increasing to seven days during the season.
Smoke patrons have the option to order and eat inside at the counter, outside at the picnic tables or they can take their order upstairs to Louie and Nachos restaurant to enjoy the view.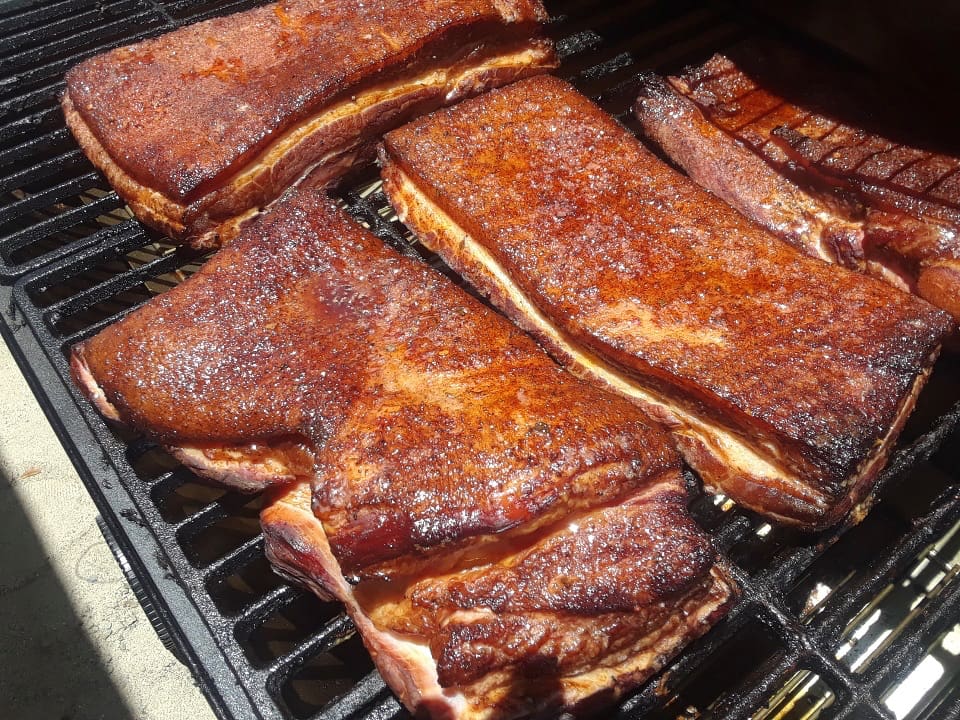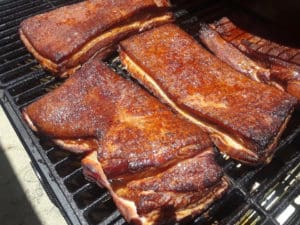 Smith's barbecue expertise has expanded to a catering business with Carambola Golf Course. He supplies the golf course with 90 percent of the drop-off and buffet catering for its patrons.
Smoke leasing the kitchen as a manufacturing facility. Smoke is in the process of manufacturing and wholesaling Smoke sauces to be sold at the local supermarkets.
With license in hand, Smoke will produce four sauces: Original, Honey Spice, Carolina Mustard, and Hell Fire. All of the sauces are based on Smith's original recipe. Smith has created and plans to bottle a dry rub for meats. There is also an avocado spread designed as a hot sauce or sandwich spread.
Carambola's giant walk-in refrigerator and rebuilt kitchen will allow Smith to expand to 100 percent of the catering. Smith can smoke the meats at Carambola with Lewis handling the Frederiksted location, he said.
There's a possibility, Smith said, of opening the Carambola restaurant in November and December, and possibly on Saturdays and Sundays during the summer.
Lewis is a professional chef who works with Smith at Smoke. She comes with a culinary degree from the Art Institute in Phoenix, Arizona. Like Smith, Lewis grew up cooking at a young age.
"I come from a family of cooking people – my mom, my three brothers and I all cook – not my dad," Lewis said.
Her mother had an extensive vegetable garden and had a motto that food is medicine.
Lewis came to St. Croix in 2014 and worked at a variety of places and did her own personal catering business. She started at Smoke in December as a part-time and weekend chef and was later trained as a full-time chef.
"I enjoy working at Smoke. I like the freedom to be creative. I do the vegan specials every week," Lewis said. "I like the size and quaintness of the restaurant," she added.
Smith said that Lewis is phenomenal – an absolute treasure.
"She gets to express herself and be creative," Smith said.
Lewis appreciates Smith as being a hard-working business owner who has an extensive history of the business.
"He is very passionate about what he does – you can taste it in the food," Lewis said. "The biggest gift I get from working with Joe is being appreciated for what I'm doing."
"I value the fact that we can bounce ideas off each other resulting in one vision – then it sparks something else and evokes more creativity. Working at Smoke is satisfying and fulfilling," Lewis said.
Smith looks to the future with the food court concept – sharing upstairs with Louie and Nachos – building the side yard to develop tables and chairs, thus attracting even more patrons.
"People have begun to use the nearby beach again. It's a safe space for families. We have three eateries – Turtles, Louie and Nachos, and Smoke STX – with two of them open three weekend days serving the community," Smith said.