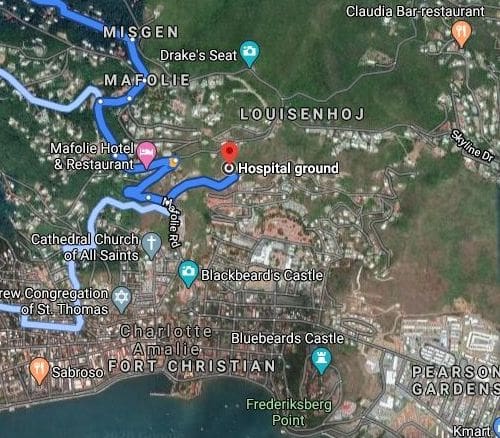 After two* homicides and a third* shooting that sent a woman to the hospital, all within 48 hours and all in the heavily populated St. Thomas neighborhood known as Hospital Ground, residents want to know where the police are. (See editor's note)
One resident described their mental state as "terrified" after bullets that have been whizzing past their home for years have suddenly take on greater significance.
Another said the situation was made much worse by the local "stay-at-home" order issued in the wake of the COVID-19 pandemic sweeping the world.
"I cannot even leave my home to get away from this gun violence," they said.
Community activist Glen Smith, who does not live in Hospital Ground, was happy to discuss the situation in an area he has long publicly expressed concern about.
"I have been alarmed for a very long time," Smith said. "Any decent citizen should be concerned," he said. While he said he understands how stretched all government agencies are right now, especially police, Smith, president of the Horace Callwood Democratic Breakfast Club among other civic engagements, said he and other community activists are "incensed" by the ongoing violence in the Hospital Ground neighborhood, that he estimates is home to 2,500 people.
Police Commissioner Trevor Velinor said the V.I. Police Department continues to have officers patrol the neighborhood. "Yesterday we seized six firearms off the streets of the Hospital Ground area," he said. According to Velinor, VIPD's plan to avert more violence includes, "more police presence, redirecting and community/police engagement."
A release sent Thursday afternoon described four of the confiscated weapons as two assault rifles and two semi-automatic handguns.
A quick and totally incomplete survey of Source stories published from 2010 to the present tallies dozens of homicides and acts of violence in the tiny, congested neighborhood.
A Source story published after two men were shot multiple times in April 2010 – almost exactly 10 years ago – identified the area as a hotbed of violent crime.
Then-Police Commissioner Rodney Querrard, expressing VIPD's frustration at the violence then, said, "We are human beings. This is not supposed to be an accepted practice."
On Thursday, quoting from a famous John Donne poem from 1624 that was commandeered by Ernest Hemingway for the title of one of his most renowned novels, Smith mused, "For whom the bell tolls; it tolls for thee."
Editor's note: This has been updated to correct the number of homicides. As of publication the Source believed there had been a third homicide due to 42-year-old Michael McKie  being known in the neighborhood  by another name. Top police brass when asked in a text if there had been a third homicide, replied "Yes. There was a homicide." The Source regrets the error.