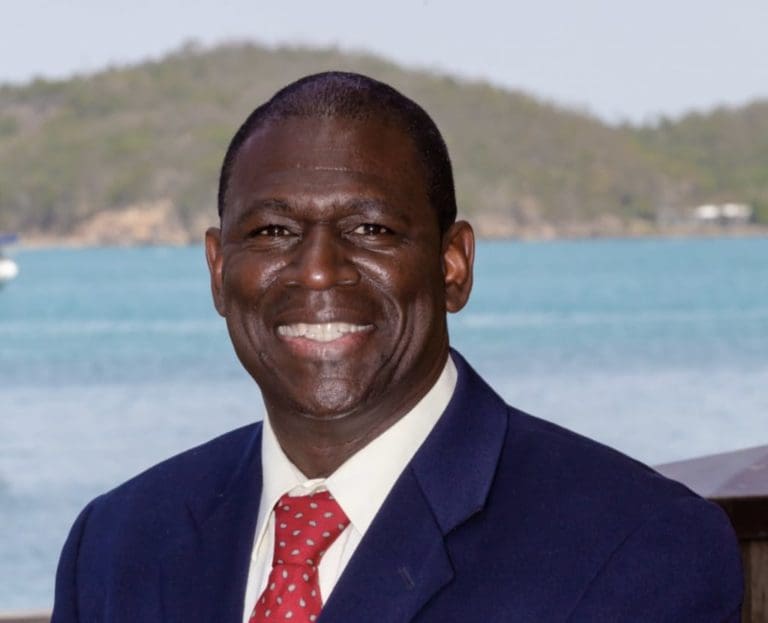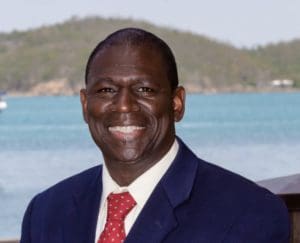 The Source asked every senatorial candidate ten questions, to fairly give every candidate an opportunity to tell our readers about themselves where they stand on some of the most pressing issues of the day. You can see all the candidates' responses and more election news here.
First elected in 2018, Sen. Stedmann Hodge Jr. is a Democratic Party incumbent freshman senator representing St. Thomas/St. John. Hodge is owner of Labor Matters, Employment Training & Development Services. He was elected as a delegate to the Fifth Constitutional Convention and served as Sergeant of Arms and Chairman of the Committee on Labor and Economic Development. He was also the labor relations coordinator at the Schneider Regional Medical Center and labor relations compliance officer at the Department of Labor. He holds an MPA in Government Management & Project Management Certificate from Devry's Keller Graduate School of Management. He did his undergraduate studies at Florida Memorial University and earned a bachelor's in business administration and marketing. He is a graduate of Ivanna Eudora Kean High School.
Here are Hodge's responses:
What will be your top priority as a legislator and why?
Hodge: My top priority going into the 34th Legislature is to do my best in solving the negative cash flow issues by offering new streams of revenue for the Territory. A few of the potential new revenue generators moving forward to Committees include the Intellectual Property Act of the Virgin Islands, The Cannabis Operational Development Fund, the Gasoline Excise Tax, Tourism Enhancement Revolving Fund, and Tourism Enhancement Fee. By making new revenue generation a top priority, the Territory will be positioned to support Law Enforcement, Health & Human Services, The Retirement System, and Education.
The V.I. government had ongoing deficits before the pandemic hit and now faces a sharp loss in revenue due to a significant decrease in tourism. How can the territory avoid a fiscal shortfall that could force cuts to services and government layoffs in order to pay creditors first?
Hodge: New aid is necessary and the second stimulus is underway, but will be far less than the what was received for previous services or benefits. As a Senator in the 33rd Legislature no salary increases or hiring of employees for non-critical positions were funded during the Budget Mark-up. This combined with a major reduction in Government spending will prevent public services from being cut and avoid government employee layoffs, which will also allow for vendors to be paid.
How will you help make government more transparent?\
Hodge: The Virgin Islands Government has a transparency website that provides information on types of revenue collected and allocated throughout the Government. This is at least a step in the right direction for transparency. An additional benefit to the Governments transparency efforts is to establish a platform or portal for sharing of public records and sharing responses to requests for public records by posting them online through social media. Also, consideration should be made for a Phone App to do the same. It takes more than just to consider transparency because access to public information builds trust.
The V.I. Legislature has on many occasions enacted unfunded mandates, from mandatory swimming classes or the unfunded Durant Tower project in Frederiksted, that never occur due to the lack of funding. Will you vote for mandates that government officials have testified require funding that is not provided in the legislation?
Hodge: No, it would be unethical to do so. Historically, this has occurred too many times and it impacts the Territory's financial health. It's important that every citizen pay close attention to when this unethical practice occurs. Although the Legislative Branch controls the purse strings it's important to collaborate with the Executive Branch when certain appropriations are made. Especially, if the Governor Vetoed a measure and provided the justification for not adopting the measure into law.
The territory has around 120 boards and commissions at present, most of which are unable to make quorums and many, like the Civil Rights Commission, the Maritime Academy Board, the Commission on Caribbean Cooperation and the V.I. Wage Board, have not operated in many years. Would you ever vote to create another board or commission and if so, under what circumstances?
Hodge: I would vote for another board or commission depending on its purpose or intent. If there is an agency that has a board but requires a commission that would prevent a conflict of interest occurring between the board and a department, then it may be necessary. In the end, each situation would dictate what would happen. As for the many board and commissions that are not making quorums or have not operated in years. I would propose a task force consisting of various Agency Heads to determine which boards and commissions can be eliminated or combined to assist with streamlining Government Operations. These actions would bring us into compliance with the law.
What would you propose to address the collapse of GERS in light of the $3 billion-plus shortfall and projected exhaustion of all funds between 2020 and 2021?
Hodge: It's important that the GERS develop a proposal to present to a pension bond investor, finance companies, or banking institutions to invest and manage their portfolios. It was stated in the Business Week Article, March 31, 2020, U.S. pension funds may pour $400 billion into stocks, lifting virus-hit markets: JP Morgan, "U.S. pension funds bought $200 billion in stocks by the first quarter of 2009, in the aftermath of the global financial crisis — equivalent to $600 billion today."
If the GERS had issued the $600 million in pension bonds in 2008, those bonds would hold a value of over $1 billion today. The GERS is an "Underfunded Pension System" that is challenged with not having the borrowing capacity to issue bonds and keep the system afloat. It's a fact that if the Government could issue bonds, paying them off may cut funding for everything else; similar to the same fears that the community has for the recent Securitization Bill. Therefore in my opinion, the best option is for the Government to develop their own proposal to present to a Pension Bond Investor and allow them to manage the portfolio.
Where do you stand on medicinal marijuana and what is the Senate's role in getting it on the market and generating tax revenue?
Hodge: The Government has established the Office of Cannabis Regulation that will be under the Department of Licensing and Consumer Affairs. The Legislature previously considered the VI Cannabis Use Act, which amends the VI Medical Patient Care Act (Act 8167). The legislation also contains a revised taxing policy. There would be no tax on cannabis sales for medical patients, a 7.5 percent tax for residents and a 25 percent tax for non-residents. During a Committee of the Whole Hearing, the Chief Economist of the Territory testified that $13 Million will be generated in annual revenues with 75% going directly to the GERS. I'm in support of medicinal marijuana and supporting the Legislature's role in making necessary amendments to ensure that the Territory will be successful in this new industry.
What fuels violent crime in the territory and what should the government, nonprofit organizations and residents do to help alleviate it?
Hodge: Violent crime thrives when there are no intervention measures, low educational standards, stringent police measures are in place, and programs to stimulate and support families with a child's developmental stages. Currently, I'm supporting a measure presented by the Vice President of the Legislature that creates the Office of Gun Violence. This Office will consist of NGO's and residents to work closely with law enforcement and health & human services to engage the community through coordinated outreach.
Climate change is a growing threat to Virgin Islanders with a myriad of effects ranging from an increase in tropical storms to more severe health issues as a result of warming temperatures. What types of policies will you support to educate the community on the risks of climate change and to increase the territory's preparation and mitigation efforts?
Hodge: In order to educate the community on climate change, the Territory would have to participate or move toward "100 percent clean energy." This is a theme that sells while identifying how changes in the last few decades has affected the Territory. The Territory has been had longer droughts over the last 30 years while Hurricanes has intensified from an average category 1-4 Hurricane to now category 5 hurricanes back to back. The University of the Virgin Islands is actively developing Hazard Mitigation & Resilience Plan and has already updated the Territory's Hazard Mitigation Plan. The policies that I would support includes strengthening the building code (example: concrete roofs), developing culverts to direct water and wastewater runoff, install bay barriers, coastal barriers, and mangrove for coastal defense.
Why do you want to be a Virgin Islands legislator and why should voters choose you over other candidates?
Hodge: Why are you running and why should voters choose you instead of another candidate? I'm asking the Voters to re-elect me based on my record of introducing significant legislation, attendance record, visibility, and community service. I'm seeking re-election based on my love for our community and the opportunity to address the issues that impact us all. Nearing the completion of my first term as a Senator in the 33rd Legislature, being previously elected as a delegate to the Fifth Constitutional Convention, obtaining an MPA in government management (2017), and an undying passion for community service are a reflection of my choice to continue as a policy maker and public servant.
During my first term, the following Legislation was adopted into law:
– Establishing a Public Restroom in downtown Charlotte Amalie for locals and visitors alike. (Sponsored by Senator Stedmann Hodge, Jr.)
– Providing Civil Relief Protection for members of the VI National Guard from legal proceedings when on Territorial Military Service. (Sponsored by Senator Stedmann Hodge, Jr.)
– Creating a new methodology for the Unemployment Insurance Fund which finally gives relief to small business owners who have been carrying the weight of larger companies that constantly laid off employees. (Sponsored by Senator Stedmann Hodge, Jr.)
– Seeking the Gasoline Excise Taxes that are owed to the Territory and petitioning the Governor and Delegate to Congress to join the 33rd Legislature in this effort. (Sponsored by Senator Stedmann Hodge, Jr.)
– Established penalties for employer that do not place Employment Poster in a visible area for employees ensuring that employees are aware of VI Labor Laws & Protections. (Sponsored by Senator Stedmann Hodge, Jr.)
Upcoming legislation to be heard before committees are:
– Tax exemption for small businesses that hire persons with Disabilities. (Sponsored by Senator Stedmann Hodge, Jr.)
– The Tourism Enhancement Revolving Fund. (Sponsored by Senator Stedmann Hodge, Jr.)
– The Tourism Enhancement Fee. (Sponsored by Senator Stedmann Hodge, Jr.)
– The Superintendents of Schools shall be hired by the Board of Education. (Sponsored by Senator Stedmann Hodge, Jr.)
– Increasing the fine and penalties for businesses that are in violation of the Virgin Islands Health Code. (Sponsored by Senator Stedmann Hodge, Jr.)
With the support of the Voters, I will continue to apply common sense principles in all of my decision-making, and work diligently and cooperatively with my colleagues to find common ground that serves the best interests of all Virgin Islanders. Lastly, Voters should consider re-electing me to service because I will continue to bring transparency and accountability to the First Branch of Government. It's about doing what is right for all Virgin Islanders.