What started as a public nuisance 18 months ago on St. John has grown into a daily battle for neighboring residents who have filed numerous complaints, spoken with various authorities and have not found relief from the perpetual cries of several dogs left on plot 14A Johns Folly Bay.
St. John resident Donald Durante told of his family's struggles with the neighborhood issue during a public meeting held by the Department of Licensing and Consumer Affairs in December.
In the video above, dogs from the 14A Johns Folly property can be seen leaving the property and are able to roam. (Video submitted by Donald Durante)
"In the summer of 2019, a gentleman appeared and built a structure down there [14A Johns Folly]. He had no permit, there was no septic, no water and no electricity. He started a dog farm there, raising and selling dogs there," Durante said. "People are afraid to walk by and use the beach. There is constant barking, howling, crying and whining. We go to sleep with dogs barking and we wake up with dogs barking in the middle of the night. Dogs are sometimes barking 24 hours a day."
Neighbors drew the help of Sen. Steven Payne Sr. and the Animal Care Center of St. John, resulting in some of the 16 dogs being removed from the property. In spring 2020 the Department of Planning and Natural Resources cited the dog owner, "But nothing has happened," Durante said.
"Since he was cited, the gentleman has moved off the property. So now there is a property with an abandoned structure with dogs down there 24 hours a day barking," Durante said. "It appears he only shows up every few days to feed the dogs. On the first day they are relatively quiet after having been fed, the second day they start whining and by the third day they are really barking because I believe they are hungry."
The dogs also frequently go beyond the fenced property line blocking road access for traversing cars and onlookers.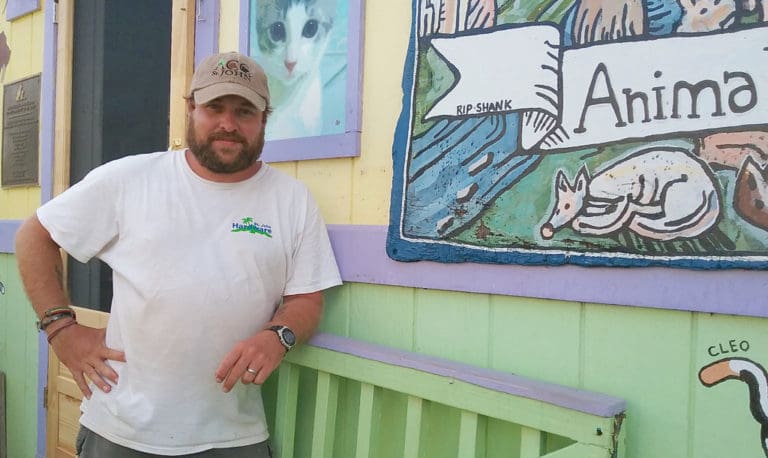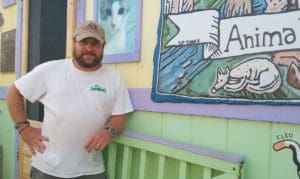 Animal Care Center of St. John Shelter Manager Ryan Moore said, "We were able to go to the property with the help of a local government official and, after having conversations with the owner, were able to remove four dogs from the property. The verbal agreement was that once these dogs were removed no other dogs would be brought onto the property."
But since removing the original four dogs from the property, Moore confirmed the person living on the land has attained more dogs than there were originally, "which is extremely frustrating."
"Animal laws can be a tricky thing to navigate here. The ACC staff are not peace officers and we cannot go onto private property. We can help assist in removing dogs, but it has to be at the discretion of local authorities. When we went to the property the first time the dogs were in OK shape and had shelter, food and water – which is all that is required. There are no chain laws or tie-out laws in the Virgin Islands. So, he wasn't necessarily doing anything illegal, but obviously, when you have a large amount of dogs living outside, the barking could become an issue."
Like the other shelters in the territory, the Animal Care Center is a nonprofit organization that operates as animal control but does not have the legal authority to remove animals from properties without the involvement of law enforcement. Moore said the Virgin Islands Police Department has been notified "numerous times but have yet to follow up with us, which is what they are supposed to do."
While the public nuisance is a neighborhood issue, Humane Society of St. Thomas Director of Operations Amanda Kennedy highlighted a much larger breeding issue that impacts the territory as a whole.
"The breeding of dogs for resale isn't nearly as big an issue in the U.S. Virgin Islands as other issues," Kennedy said. "We have a huge problem with stray and free-roaming animals that are unowned, under socialized and cause issues within the neighborhoods they frequent. All of these issues come back to the fact that we don't have adequate spay and neutering services available in the U.S. Virgin Islands, and it is not affordable for everybody."
Kennedy said, "Tons of unwanted litters are being born," and it is causing a growing concern for shelters across the territory that must operate with little government assistance and funding.
Currently, 258 animals are under the care of the Humane Society of St. Thomas, but that number "is well above our capacity," Kennedy said.
"For the last six months, we did three major transports where we shipped tons of animals to stateside rescues where they were able to find adoptive homes for them. Those spaces that freed up when we shipped those animals out have quickly filled back up. What that points to is that we have an overpopulation problem."
Overpopulation is not unique to the territory.
"We saw it in the continental U.S. 20 to 30 years ago," Kennedy said. "And the way they were able to rectify that in the U.S. is through aggressive spay and neuter programs."
"We have a huge need to provide aggressive spay and neuter assistance in the community. Both to educate and encourage people to spay and neuter, but also to provide financial assistance so that we can make that service affordable, to reduce the overpopulation problem that is causing us to be overrun with animals," Kennedy said. "If we don't impact the spay and neuter issue, the path here for the Virgin Islands is to continue to have numbers that never reduce, and then we will start to see them increase."
Moore said the problem is out of control, and "All these unwanted litters end up in the shelters."
Though the numbers of stray animals have not abated on the bigger islands, Moore said, St. John has seen a reduction in stray animals after transporting more than 500 animals to stateside shelters in the last four months.
The Humane Society of the United States has estimated that six to eight million animals are brought to shelters each year, of which three to four million are euthanized, including 2.7 million considered healthy and adoptable.
Should any number of the dogs from the 14A Johns Folly property stray too far, they too will become part of the recurring problem of stray overpopulation in the territory – an issue the territory's shelters have cited as their single largest concern.